Considering the immense significance of investment, many user-friendly and cost-effective investment platforms have come into the picture. Due to the enhancing demand, various developers have designed easy-to-use, saving mobile apps with innovative and unique features.
It is important to note that a timeous investment guarantees future financial security. With the availability of these micro-investment apps, you can now start saving without hefty deposits and lengthy procedures within a few minutes.
In this article, we have discussed several features of Acorns, a saving app that has an automated system to direct your money into specific investment portfolios.
What is worth knowing before starting to use this app? 
It designates you a specific portfolio after taking a survey of your saving goals.
It directs the spare change of the app-linked debit/credit purchases into your investment account.
You can open a custodial investment account for your children with its help.
What is the Acorns saving app? 
It is a micro-investment and savings app that incorporates various services and features. It is a robo-advisor platform that primarily works on the "round-up deposit" principle. Acorns round up the purchases made with the app-linked debit or credit cards and deposit the spare change into your savings account.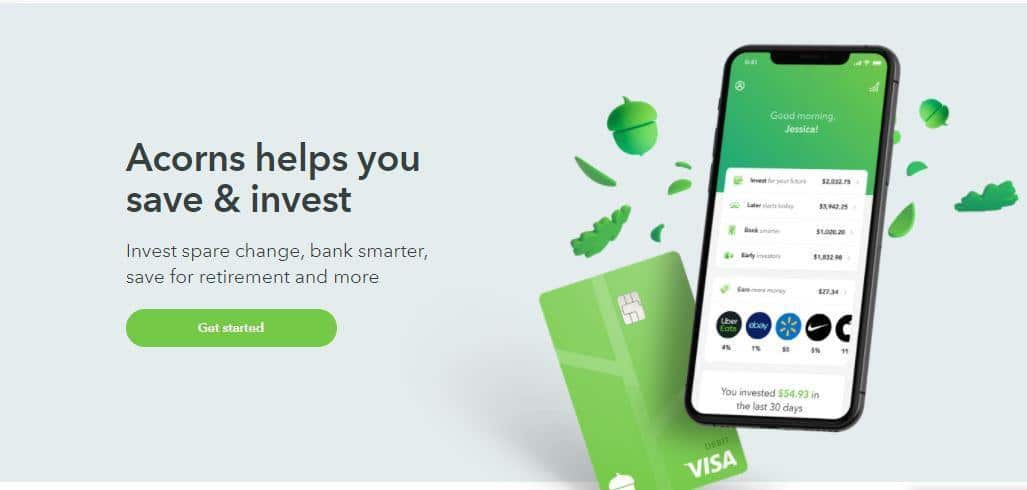 In addition, users can set up "one-time or recurrent fixed deposits" aside from the spare change transfers to accentuate the monthly contributions. Moreover, the app is suitable for beginners due to its automated handling of funds and user-friendly interface.
Acorns security

The company ensures the security of its app and website with secure sockets layer encryption. Its checking account has FDIC insurance of up to $250,000. Moreover, Acorns offers bank-level security, multi-factor authentication, account alerts, and ID verification to protect against suspicious activities.
Its SPIC- protected accounts, including Invest and Later, have protection up to $500,000.
Acorns pricing 
It has no account minimum and offers two basic subscriptions plans with a flat-fee structure.
Acorns personal
This tier provides access to the fundamental investment account, retirement accounts, and checking account for $3 per month.
Acorns Family
For $5 /month, Acorns Family accommodates all features of a personal plan and allows you to open investment accounts for your kids.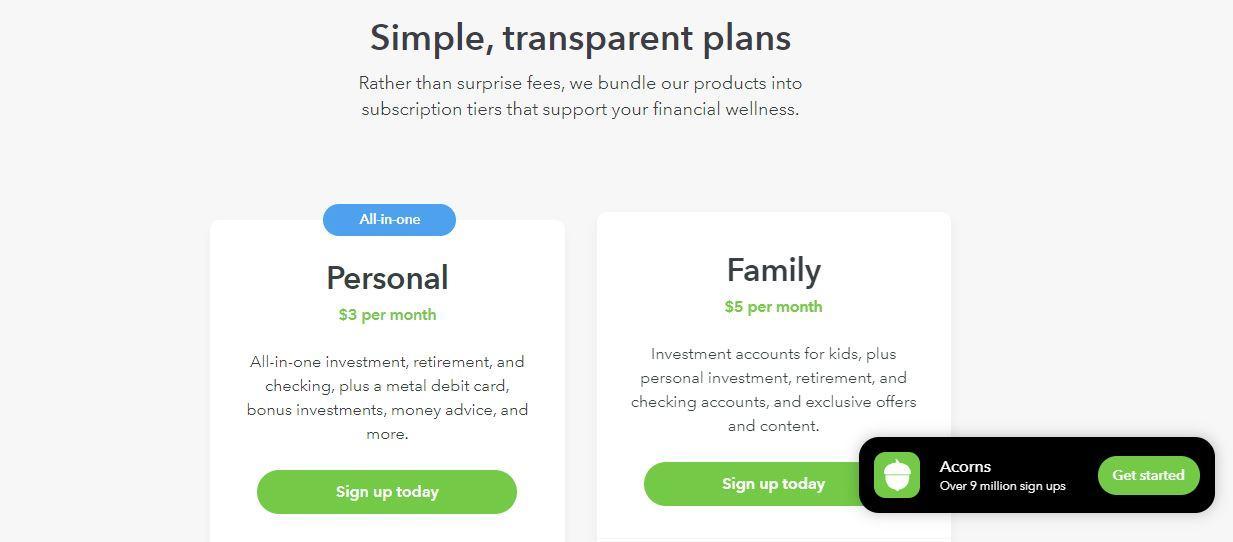 As of September 2021, the app has terminated its Lite tier (1$ per month).
However, individuals facing economic hardships can opt for a new Acorns Assist (1$ per month) plan that provides Invest, Earn and Grow access.
Acorns features 
It is popular due to its five golden features that exhibit the diversification of this platform.
Acorns Invest is the app's primary investment account that automatically invests a user's deposited amount into a portfolio of stocks and bonds.
Acorns Later incorporates the tax-privileged retirement accounts, including Traditional IRA, Roth IRA, SEP-IRA, and roll-over 401(k) options. You can contribute to these accounts by spare change dollars, scheduled deposit, or SmartDeposit that automatically transfers a part of your salary every month.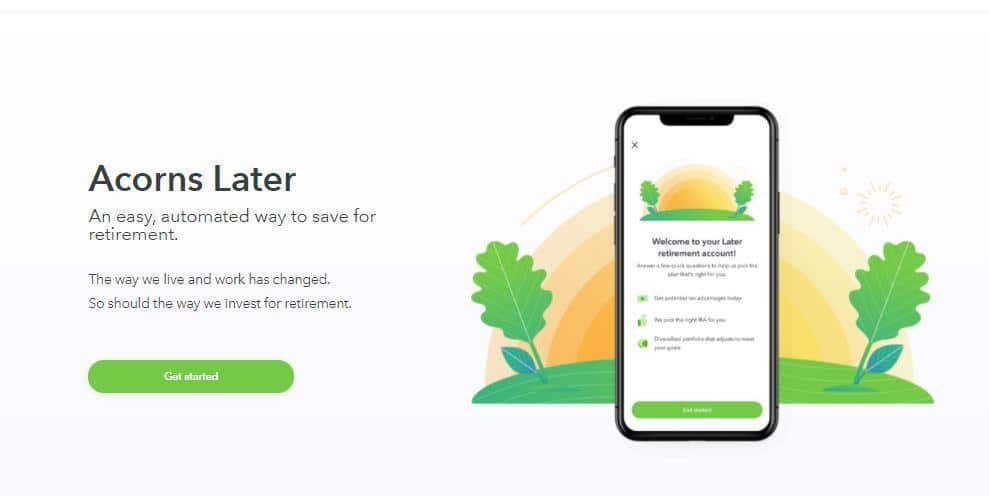 Acorns Earn is another unique and exciting feature of this app. Users can boost their investment earnings by purchasing from Acorns-partnered brands through the app-linked debit/credit card.
Acorns Spend provides a checking account that comes with an Acorns visa card. You can use this card on 50,000+ ATMs across the US, do everyday purchases and invest by round-up or recurrent deposit system.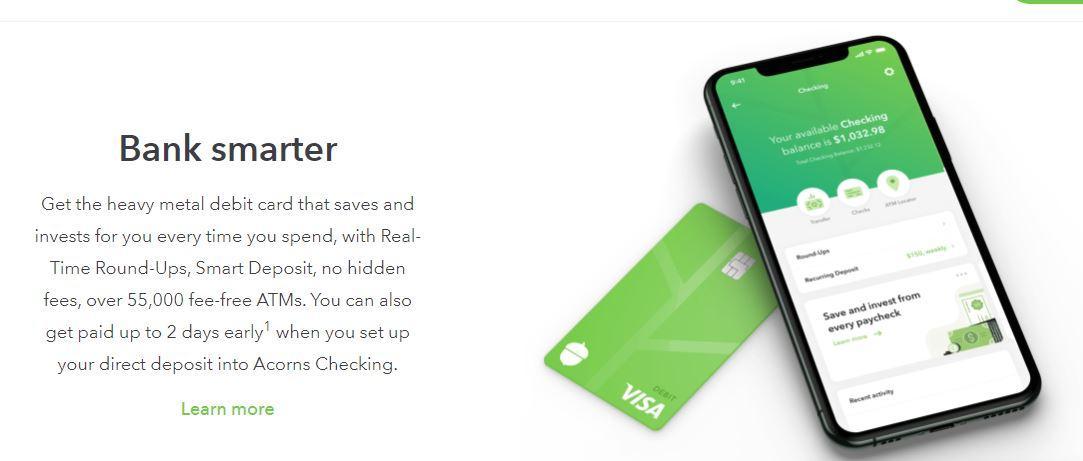 In addition, if you want to open a custodial investment account for your kids, Acorns Early allows you to handle up to five such accounts.
Acorns ratings 
Forbes Advisor has given this app a rating of 3.6/5, whereas Business Insider has allocated this platform 4.2 stars out of 5.
The app has more than nine million sign-ups and has thousands of reviews on google play store and apple store.
Following are the ratings of the app at the time of writing:
Google Playstore rating: 4.3 by 163,690 users
Apple store rating: 4.7 by 773,991 users

Acorns advantages 
It is an easy-to-use savings app with various advantages:
Helpful for new investors as it provides automated round-up investing from $5.
Allocate its users a suitable portfolio, keeping in view their long-term goals and risk appetite.
Allows boosting of round-up transfers ranging from two-fold to ten-fold.
It partnered brands deposit a percentage of purchases into users' investment funds.
Accommodates various investment account types including basic, retirement, and UTMA/UGMA accounts.
Acorns alternatives 
If you feel that the app is not the right one for you, here are some alternatives:
Betterment
It is a robo-advisor investment platform that offers customized portfolios of ETFs, stocks, bonds, and mutual funds for each financial goal. The fee structure is suitable for low-balance accounts as Betterment Digital charges an annual fee of 0.25%.
Moreover, Betterment allows the building up of an emergency fund aside from basic and retirement investment accounts. Users can set up recurring deposits or a one-time transfer from the linked bank account for submitting funds.
SoFi Invest
It offers automated investing as well as active trading for the investors who don't prefer a hands-off approach. The platform allows the trading of stocks, ETFs, and cryptocurrencies with the availability of fractional shares.
There are no trading fees, commission charges, and account minimums. Automated investing works similarly to other apps and designates the users a tailored portfolio according to individual goals.
Qapital
This app takes savings to the next level by allocating funds to your every saving goal according to some specified rules. Like Acorns, Qapital accepts round-up deposits or fixed amount deposits.
The service also offers a Qapital Visa debit card with an FDIC-insured checking account. Moreover, the platform has introduced Qapital Invest, an investment account with stocks and bonds funds.
Is the Acorns app worth using? 
This app is suitable for millennials and young investors due to their automatic functionality. The platform has lowered the hurdles for investors by allowing them to begin their saving routine with only a few round-up cents or dollars.
Moreover, the app gathers retirement accounts, custodial accounts, and regular investment accounts in one place. However, the flat-fee structure of the app can be burdensome for small accounts and nullify their profits.
Final thoughts 
Though it is challenging to start a saving schedule, investing apps like Acorns have simplified the process by allowing you to invest without significant burdens.
The platform is an excellent choice for beginners as it automatically handles your deposits and invests those funds in various stocks or bonds. Moreover, it is a promising investment app that offers automated investing procedures, customized portfolios, several account types, a transparent fee structure, an educational blog, and an easy-to-navigate interface.