What is the Metaverse? Long the subject of science-fiction movies, the Metaverse is now a reality of our lives. Someone once said that science-fiction is delayed reality. Since the Matrix movie took the world by storm, the Metaverse tech space has grown in leaps and bounds.
The end of October marked the name change by the world's leading social media network, Facebook, to Meta, in line with its new focus of Metaverse building.
Facebook is not responsible for Metaverse's creation but just one of the latest frontline companies to tap into this $390 billion market, piped to grow to $800 billion by 2024.
What are Metaverse stocks?
It is first essential to understand the term. Metaverse origins go back to a science fiction book, Snow Crash, by Neal Stephenson in 1992. In Neal's book, characters interacted in a game-like universe via virtual reality headsets. Borrowing from this, the term "Metaverse" describes a non-physical world where participants interact via different technology mediums.
Therefore, Metaverse stocks represent all technological organizations involved in virtual reality, entertainment, and augmented reality. All the equities in the value chain develop integrated virtual online environments that enhance people's work, play, and live. As computing power, connectivity, and technology evolve, the Metaverse universe will only evolve and merge the digital world with the real world.
How to buy Metaverse stocks?
Now that we understand the Metaverse universe and these equities, how do you invest in them?
Step 1. Compare stock investment platforms
Nowadays, there are numerous choices of both traditional and online stock brokerage firms. Dive into the history of a broker and ensure they have all the required certifications to ensure you are dealing with legit stockbrokers and your money is safe.
You then analyze the broker fees to ensure that the investment expenses align with your goals and don't eat too much on the bottom line.
Step 2. Open your brokerage account
Once a choice is made on the broker account, open an investment/trading account with them. Most brokers ask for documentation to verify your identity, after which you can fund your account. Depending on the broker chosen, the available deposit methods may range from a single option to as many as to include cryptocurrency.
Step 3. Search for your Metaverse company
Find a stock screener website among other research materials and analyze these stocks in-depth to identify those with the most significant probability for success. To start you off, we review the best three Metaverse stocks to invest in as we close 2021 and usher in 2022.
Step 4. Decide on the number
The rule of thumb is diversification, and according to experts, no single investment asset should account for more than 5% of your portfolio. Decide on the number of equities to purchase and stake your investment according to your investment objectives.
Step 5. Check-in on your investment
The stock market is one of the riskiest and volatile ventures, to the extent that analysts don't believe one can successfully time the market. Despite this belief, people have made money in the stock markets, and it remains one of the most popular investment assets. It would be best to track your investment and always have an ear on the ground to take corrective measures whenever fundamental and technical indicators may affect your Metaverse stock investment.
The best three Metaverse stocks to invest in 2021/2022
With the Metaverse universe revenues expected to grow by 43.3%, this market can mint serious bucks in the worst-case scenario. These three stocks not only have a foothold in the Metaverse market but still, have the potential to grow and make your portfolio returns legendary.
No.1 Meta Platforms (MVRS)
Price: $341.13
P/E ratio: $3.22
Market capitalization: $933.59B
The technology giant formerly known as Facebook, Meta platform changed its name to align with its new interests. Having dominated the social media space, Zuckerberg has identified Metaverse as the next tech frontier that will connect people. Through its subsidiaries in the virtual reality space, Oculus and Horizon, Meta already has some foothold in the Metaverse and is already working on a technology that combines VRs and ARs.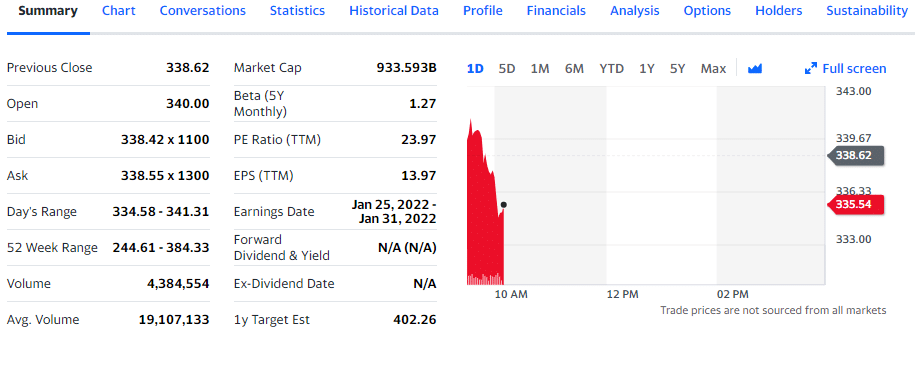 Having already conquered the social media space, Meta can easily bridge the gap between social media and virtual reality to facilitate digital visits. Its virtual reality offering also contributed to 3% of Meta's earnings in the last year. With their dynamic CEO now turning his focus to the virtual reality universe, Meta is a Metaverse stock worth having on the crosshairs.
No.2 Nvidia Corp. (NVDA)
Price: $297.52
P/E ratio: $0.94
Market capitalization: $780.05B
As one of the best semiconductor stocks for long-term investing, Nvidia's Corp, in fast-processing, chips, and graphics are where technology is evolving the fastest. This company is already working to integrate the 3D world into one integrated universe through its Nvidia Omniverse offering.

With a deal to buy out ARM, a major player in-licensing and patenting software used in running high-performance computing, Nvidia might be able to build an end-to-end virtual reality value chain. In addition, as long as this company remains the big boy in the production of high-performance chipsets and graphics, it will always remain a significant player in the Metaverse universe.
No.3 Roblox (RBLX)
Price: $104.21
EPS: -$0.24
Market capitalization: $60.03B
On the surface, Roblox Corporation is a video game company. The truth is that Roblox might be the organization to launch its Metaverse offerings, given that it already has the framework in place. It employs different video game developers to design games that connect different age groups. In addition, it has a digital currency with which gamers buy in-game accessories, experiences, content, and even virtual fashion items.

The fact that Gucci patterned with Roblox to offer its products in the virtual realm and even launched an exclusive event with them shows that this company is a force that cannot be ignored. With 43.2 million daily users, who in the second quarter of 2021 alone logged in 9.7 billion hours of engagement, they already have the market for a Metaverse universe. With a 126% year-on-year jump in sales, Roblox is a Metaverse stock not to be ignored.