The Wall Street Forex Robot is a trading advisor that cuts out profits from the markets during various sessions. The system received several major updates for a year or so. Two of them weren't successful. The current trading results are far from being great as well.
We have decided to write a review about a quite known advisor. People use it wave-based depending on the update.
What is behind Wall Street Forex Robot?
The presentation has more information that we can effectively consume:
Wall Street Forex Robot was designed as a fully automatic trading solution for Forex.
The only platform to trade is MT4.
The low spreads is a must option for the system.
It works with all types of accounts: Standard, Mini, and Micro.
The system follows NFA regulation rules.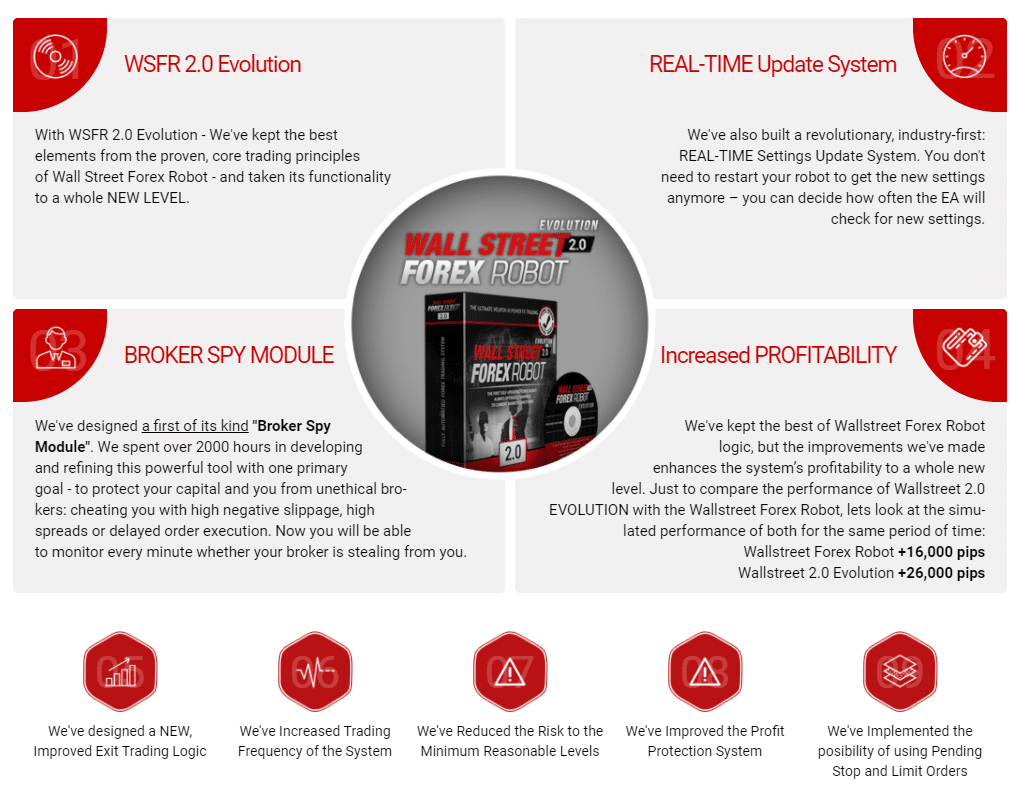 There's a broker spy module to prevent a broker from eating SL levels.
There's a self-updated feature that can update the robot even during its working.
The robot was updated to a 2.0 version about a year ago to increase its profitability.
The system knows when to stop trading before the market goes another direction by using exit trading logic.
The robot is a frequently traded trading solution.
It sets pending stop and limit orders on the terminal.
An average profit is from 10 to 15 pips.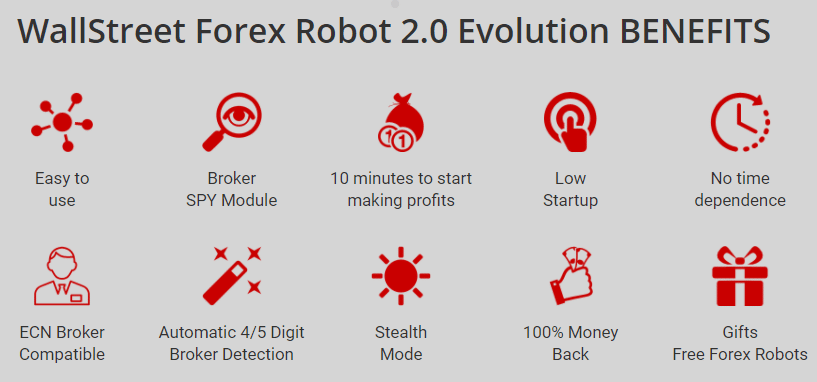 The robot can be installed within 10 minutes.
The pack includes some free advisors.
Key Features
The system works automatically.
It calculates TP and SL for us.
It works with USD/CAD, EUR/USD, USD/JPY, USD/CHF, GBP/USD, NZD/USD, and AUD/USD.
The system can be used on 4 and 5 digits brokers
Trading Strategy
The robot is a scalper. So, it cuts out profits from major market moves triggered by news, breakouts, and other activities.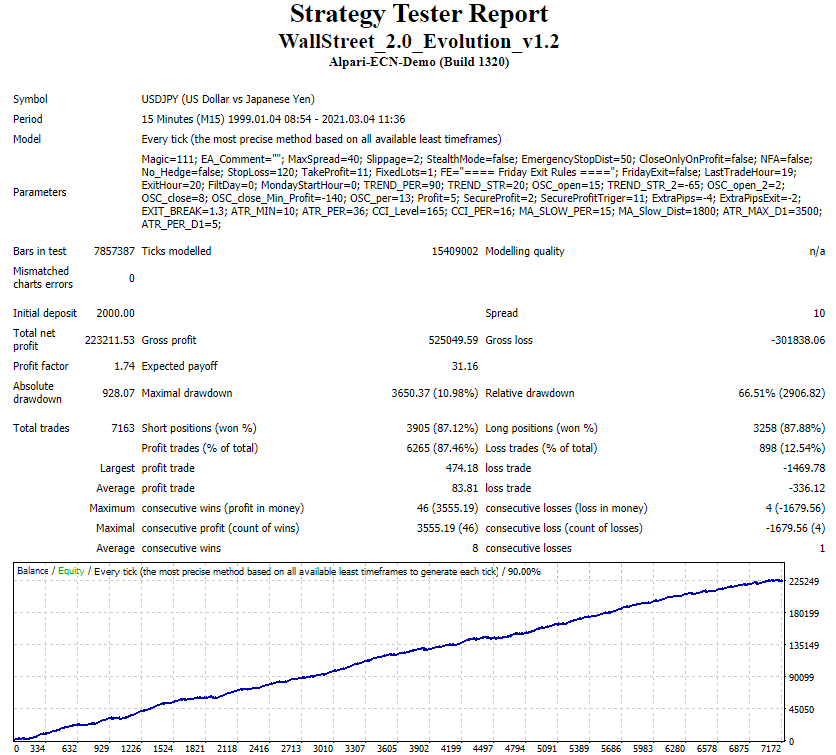 The presentation is featured by many backtest reports. It's a USD/JPY report on the M15 time frame and on the 22-year data. The maximum drawdown was 10.98%. An initial deposit was $2000. The total net profit was $223,211. The Profit Factor was 1.74. The robot has closed 7163 orders. The win rate was 87%.
Pricing

It's common to see some discounts provided.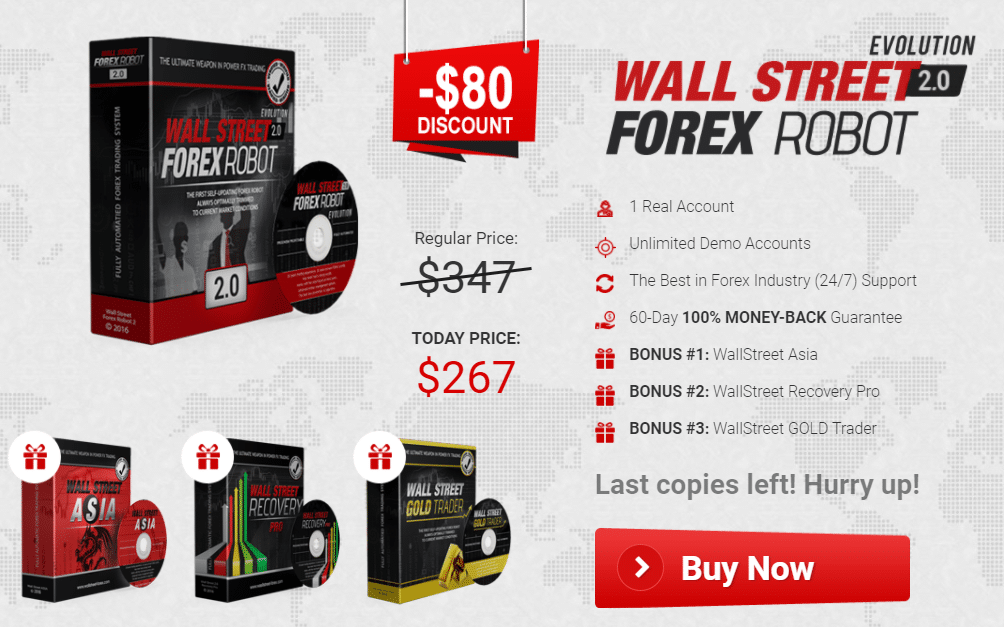 The current offers at a $267 price. We will receive:
One license for a real account.
Unlimited number of demo account licenses
The best in Forex industry 24/7 support
The 60-day money-back guarantee.
As  a bonus we will get WS Asia, WS Recovery Pro, and WS Gold Trader EAs.
Trading Performance of Wall Street Forex Robot
Wall Street Forex Robot has been working on a real AUD account on IC Markets automatically with 1:500 leverage on the MT4 platform. The account has a verified track record. It was created on December 22, 2017, and deposited at 866.10 AUD. Since then, the absolute gain has become +193.06%. An average monthly gain is +2.51%. The maximum drawdown is 21.17%. The account is tracked by 124 users.

The robot traded 3153 orders with 9636.8 pips traded. An average win is 14.43 pips when an average loss is -39.83 pips. The win rate is 79% for Longs and 78% for Shorts. An average trade length is 4 hours and 50 minutes. The Profit Factor is 1.14.

The system doesn't work equally with all pairs. The most profitable and most frequently traded symbol is GBPUSD, with 1654 deals and $778.77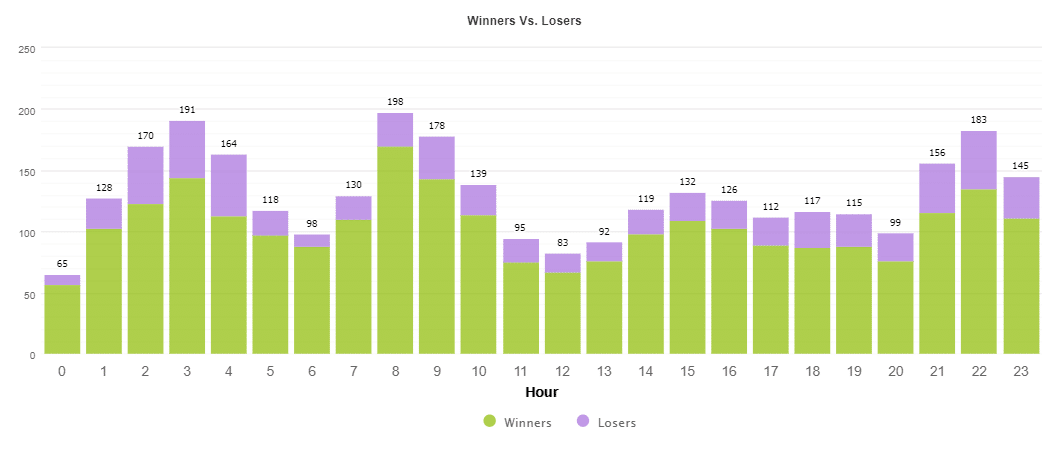 The robot works during all sessions.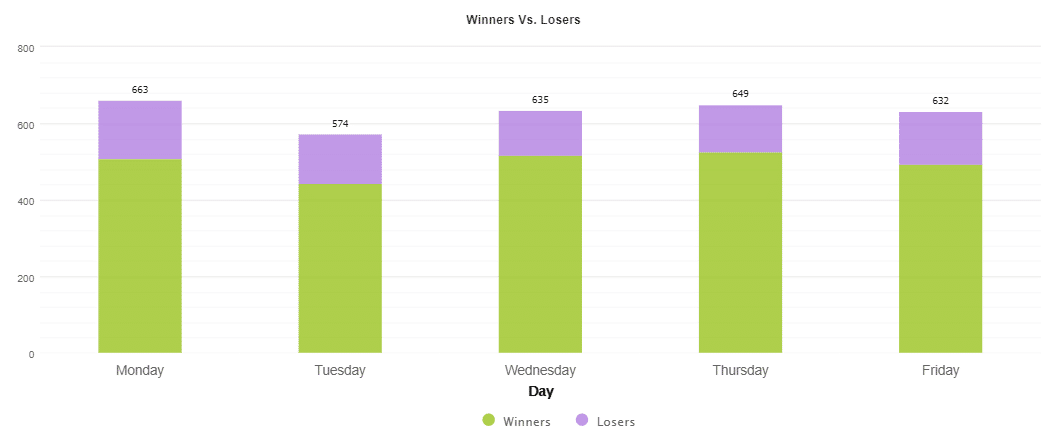 Tuesday is the less traded day, with 574 deals.

There are moderated risks to the balance. There is a 24.04% chance of losing 10% of the account balance.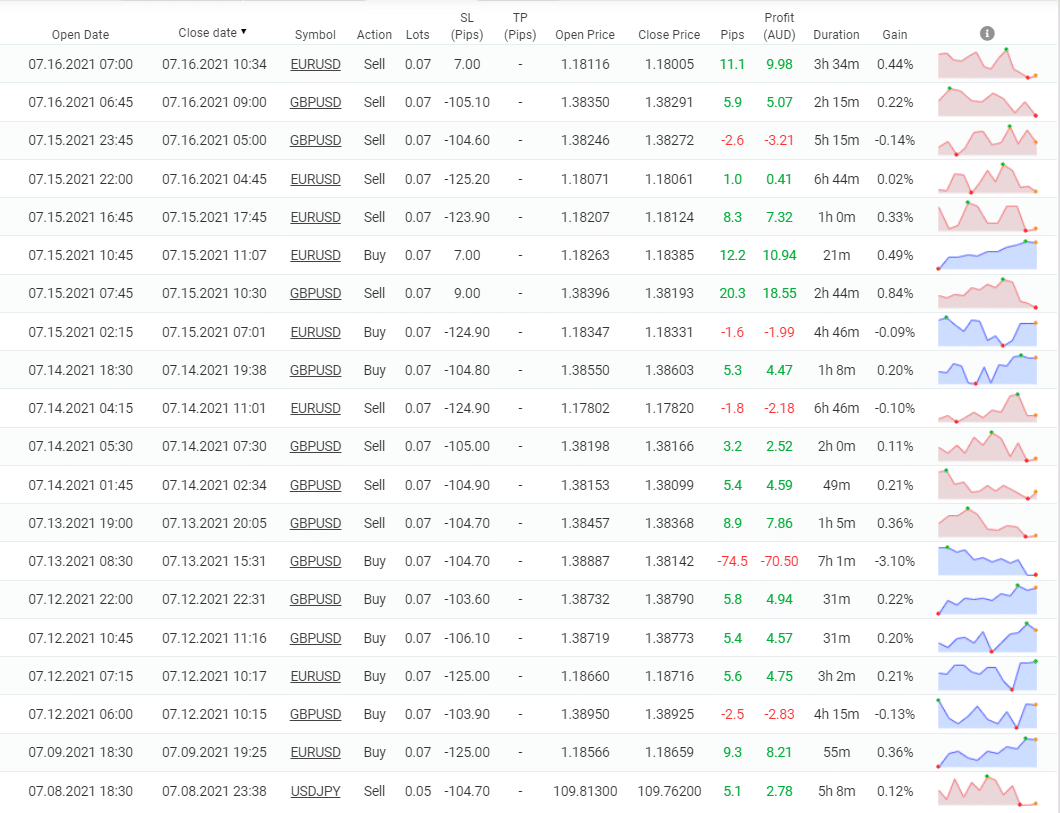 The robot sets dynamic SL levels.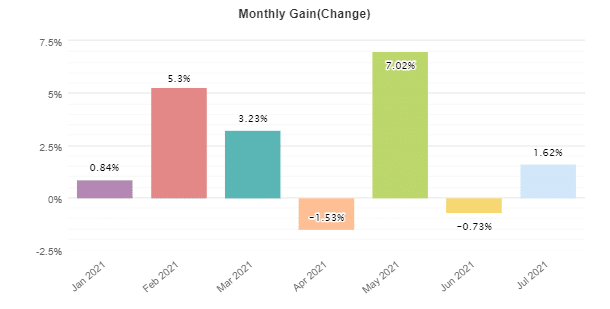 The system challenges to be consistently profitable.
Customer Support
FXAutomater provides solid support for everyone who wants to ask questions. Usually, it's informative and welcome.
People Feedback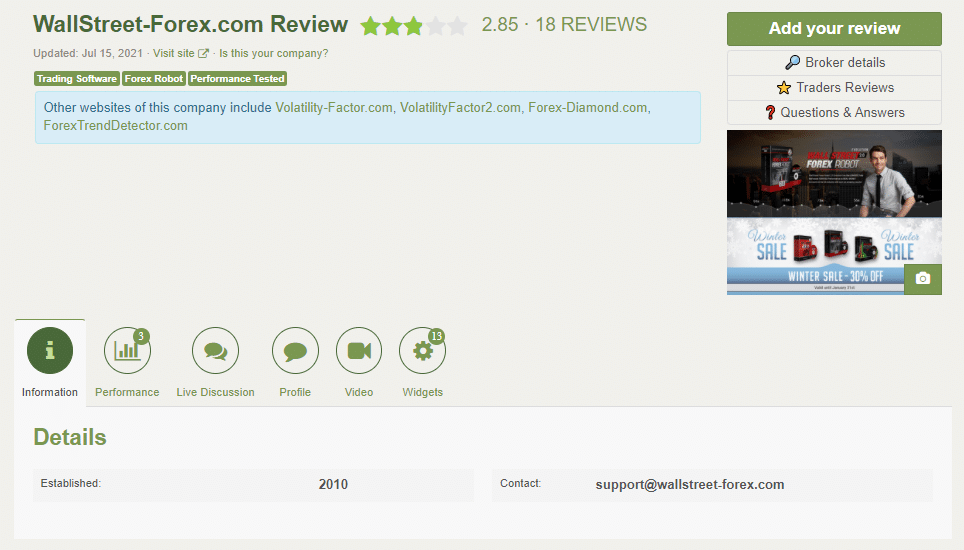 There's a page of Wall Street Forex Robot on Forex Peace Army. Clients published 18 reviews, so the final rate has become 2.85.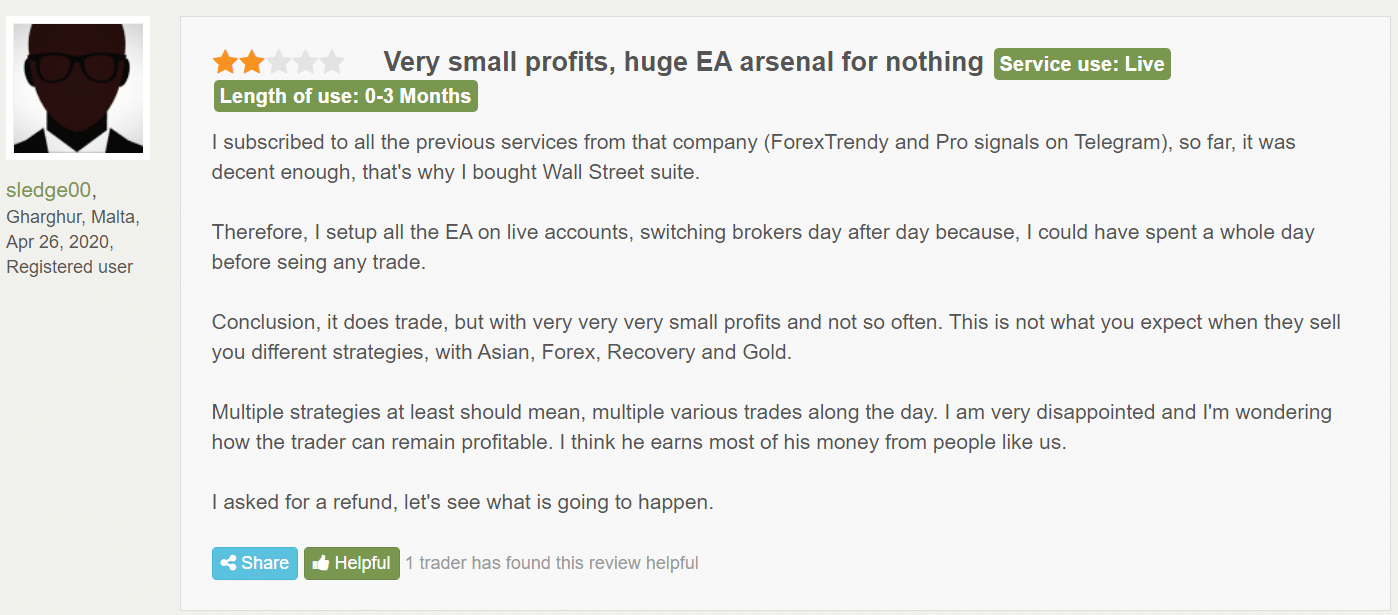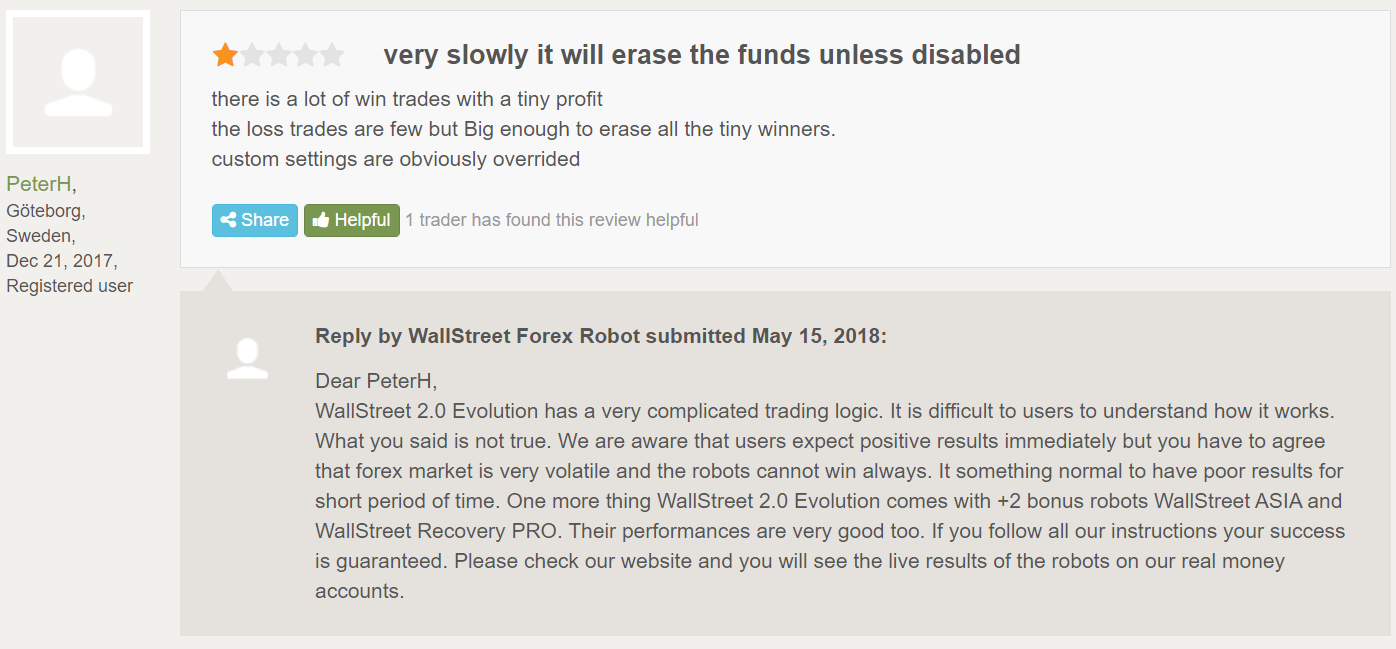 People noted that the system doesn't trade frequently, and SLs are deep and unfriendly.