ADA (Cardano) is a unique crypto asset that provided a decent profit in the last 12 months. Moreover, its stability and potentiality managed to catch the attention of investors.
Cryptocurrency investment requires a lot of attention and study than traditional markets. As this market is unfamiliar, investors remain unaware of a proper channel of research. As a result, they often end up trading by losing money.
Is ADA a reliable investment opportunity than other traditional cryptocurrencies?
In the following section, we will see how much you could earn from ADA in the last 12 months with a complete investment guide.
Basics of Cardano 
Cardano refers to a proof-of-stake blockchain network where the primary aim is to change the globe positively. This open-source project can redistribute power from unaccountable structures that may make a society transparent and secure.
ADA token was founded in 2017 and has become a power source to owners that can participate in the network's operation. As a result, people holding this crypto asset can have options to vote on any changes in the system and software.
ADA teams are layered blockchain and have been using this technology to allow DeFi apps and smart contracts to develop and get maturity. The primary users of ADA are agricultural companies who produce goods from fresh to fork, and among other users, there are educational platforms.
ADA price change in last one year
This crypto coin price surged higher as soon as it got ready to trade through exchanges, but the initial movement was recovered by almost 100%. Later on, in 2019, and 2020 the price remained calmed below the $0.20 level with no significant change.
Notably, in 2019, the price was highly corrective due to the absence of critical fundamental releases. However, this type of price action is common for new coins because investors need faith and reason for investing that requires some time to come.
Later on, in 2020, the Covid-19 pandemic caused a massive change in the global economy. The global stock market crashed, oil prices became below zero levels, and many unexpected situations started. Most of the country's economy got shut down with social distance and travel ban. However, people got aware of their money, and the fear of inflation allowed them to think of decentralized finance. As a result, after the first wave of the pandemic cryptocurrency market started to rise, which provided a massive return to investors.
In the image below, we can see the price change in ADA, where the most significant bullish pressure came from the beginning of 2021.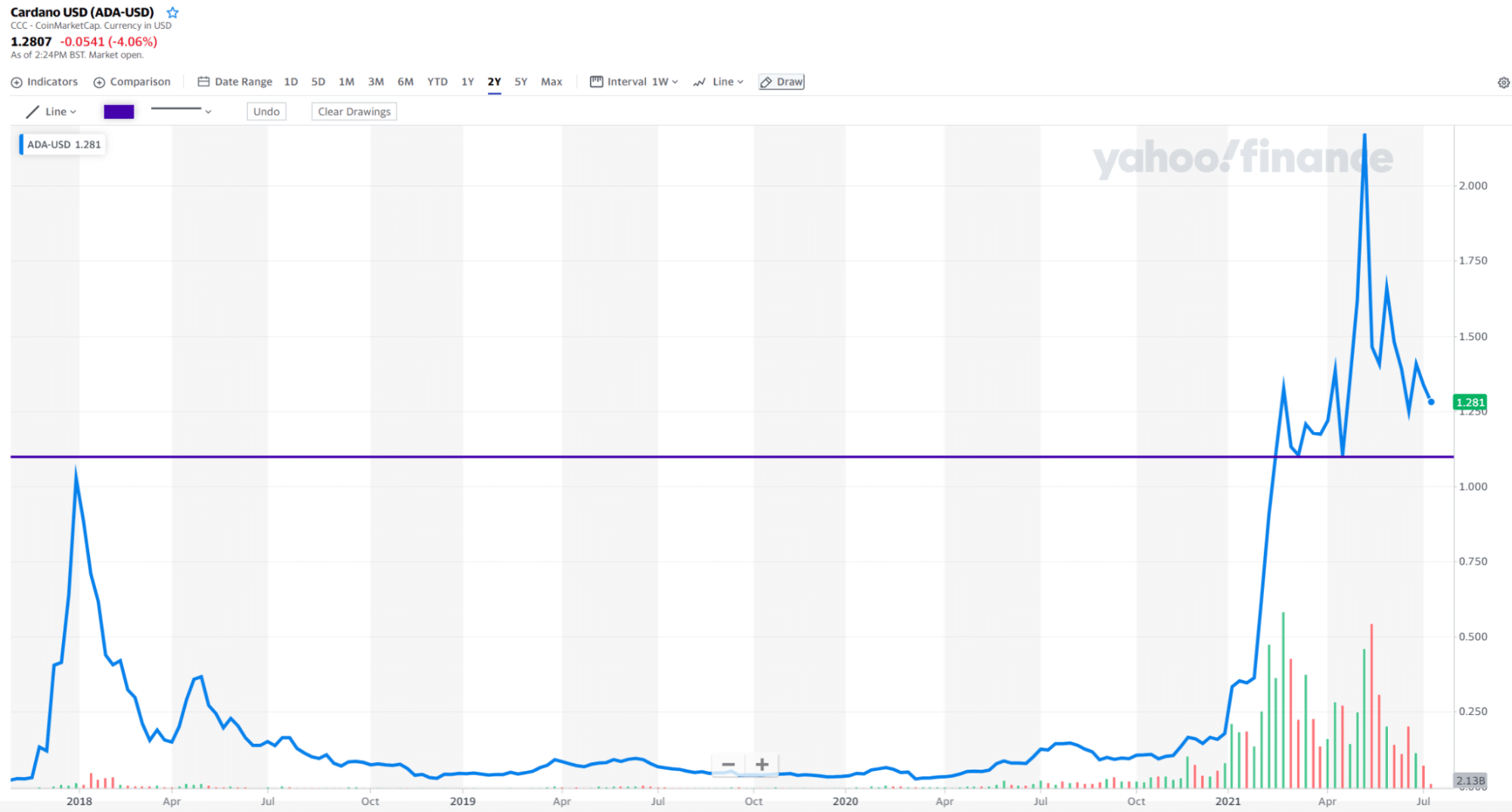 The most significant move in ADA came since the beginning of 2021. Its price moved higher from $0.20 to a maximum of $2.45 per ADA in that time. Therefore, this instrument provided a 1,200% profit in just a few months.
However, the price sentiment changed as soon as the price peaked at the all-time high at $2.45. It crashed the price down towards $0.9496. However, the price started to recover in mid-2021 and remained stable above the $1.00 level.
What if you invested in ADA $100 a year ago?
If the Covid-19 pandemic's first wave is over and you were in time to buy ADA on $100, the price would be around $0.12 per ADA. Therefore, after one year, in June 2021, the price would be $1.25 per ADA.
| | |
| --- | --- |
| ADA value in 2020 for $100 | ADA value in 2021 for $100 |
| 833 ADA, each $0.12 (100/0.12) | 833 ADA, each $1.25 (833×1.25)= $1,041 |
So, if you bought ADA for $100 a year ago, the value of your investment right now would be around $1041, which means 900% profit a year.
Why should ADA grow in the future?
Charles Hoskinson created Cardano, who was famous for being co-founders of the Ethereum network. Currently, he is holding the CEO position of IOHK, the company that created Cardano's blockchain.
Cardano background
Hoskin was involved in the cryptocurrency market back in 2011, and his primary focus was on mining and trading. However, his professional involvement in this field came in 2013 by creating a course about Bitcoin with 80k students. Being a tech person, Hoskin was an entrepreneur and mathematician, and he donated nearly $500,000 worth of ADA in blockchain research and development to the University of Wyoming.
The involvement of technology enthusiasts made Cardano a solid investment opportunity with massive price growth in the future. However, investors should focus more on the product than the people behind it.
Cardano algorithm
Cardano is an example of a successful proof-of-stake consensus algorithm. One of the most prominent features of this technology is that it is less energy-intensive than the PoW of Bitcoin. On the other hand, it lags from the Ethereum PoS because ETH uses a more significant transition to PoS while Cardano uses a gradual transformation.
On the other hand, when we anticipate a crypto product based on its development, we should focus on what technology is going through. According to the Cardano team, this blockchain is more durable and stable than other platforms, and it may hold a strong position in the future.
In 2020, Cardano completed the Shelley upgrade that made its blockchain 50 to 100 times more decentralized. Now, Cardano can run hundreds of assets through this network, and the most significant benefit of this improvement would attract mass investor sentiment.
Final thoughts
After the above discussion, we can conclude that ADA is a reliable investment opportunity for 2021. Based on its recent development and structure, it can provide a decent profit in the coming days.
However, trading in the cryptocurrency market requires a lot of attention and research. In that case, investors should follow a trading strategy and technical analysis before opening a buying position.