Commodity investment is as ancient as the financial market, maybe even more, but it is still a top-tiered investment opportunity in 2021.
However, commodity trading or investment is not like stocks or currency trading. It involves several risk factors that do not apply to the stock market. So it deals with raw products that are parts of the primary economic sector, such as oil, gold, gas, agriculture products, cattle, and so on, not like manufactured products.
Commodity investment occurs similarly to other financial markets, but there are some unavoidable facts for the commodity market that you must follow. Often investors find the commodity market as a safer place when the stock or currency market is volatile.
For instance, it is a typical story that someone blasts missiles in the middle east, the gold and oil price may climb high. It happens as the investors' fears of war and worry of oil supply as the middle east is the largest oil manufacturer.
To trade or invest in this market, you must know the best commodities and learn some stable investment strategies with good money and trade management. In this article, we have listed the five best potential commodities for investing in 2021.
Commodity investment in 2021
Commodities have been traded since the beginning of trading in history. With time style of trading has changed with the requirements of traders. In ancient times people used the trade goods of their desire for the goods they have in their possession.
After centuries the concept of trading is still alive of exchanging goods, but people now purchase goods in exchange for money or wealth. From ancient times to now, there was a time when humankind passed an era of metal. Gold and silver became famous back then, and people used to trade goods of their desire with these metals. Some countries still use gold coins, although central banks issue all coins and banknotes.
With the development of technology and investors' requirements, two types of transactions occur in commodity trading available nowadays. The first one is known as 'physical market' or 'cash market' that allows participants to have a physical exchange of goods and rapid delivery. The other is the 'derivative market,' where there is no physical exchange, just some future contact. Simply traders make money by being part of the deal at the current price, and when the delivery occurs, they can close the contract or continue.
5 best commodities to invest or trade in 2021
Anyway, there are four kinds of commodities that are available to trade. The metal type includes gold, silver, etc.; the energy type involves oil, gas, etc. There are also livestock and meats covering cattle, pork, and other livestock, and lastly, the agriculture commodities such as corn, soybean, rice, etc.
Thus, there are nearly 100 commodities available to trade in, likely 50 marketplaces worldwide. In this part, we discuss the best five.
Platinum
It is a precious metal that is primarily used for commercial industries. It is a rare metal produced, and South Africa has approximately 90% reserve of this precious metal. Investors may see this metal as an investment asset and store. While the automobile industries demand platinum for catalytic converters and jewelry buyers, they find it a shiny metal used as jewelry.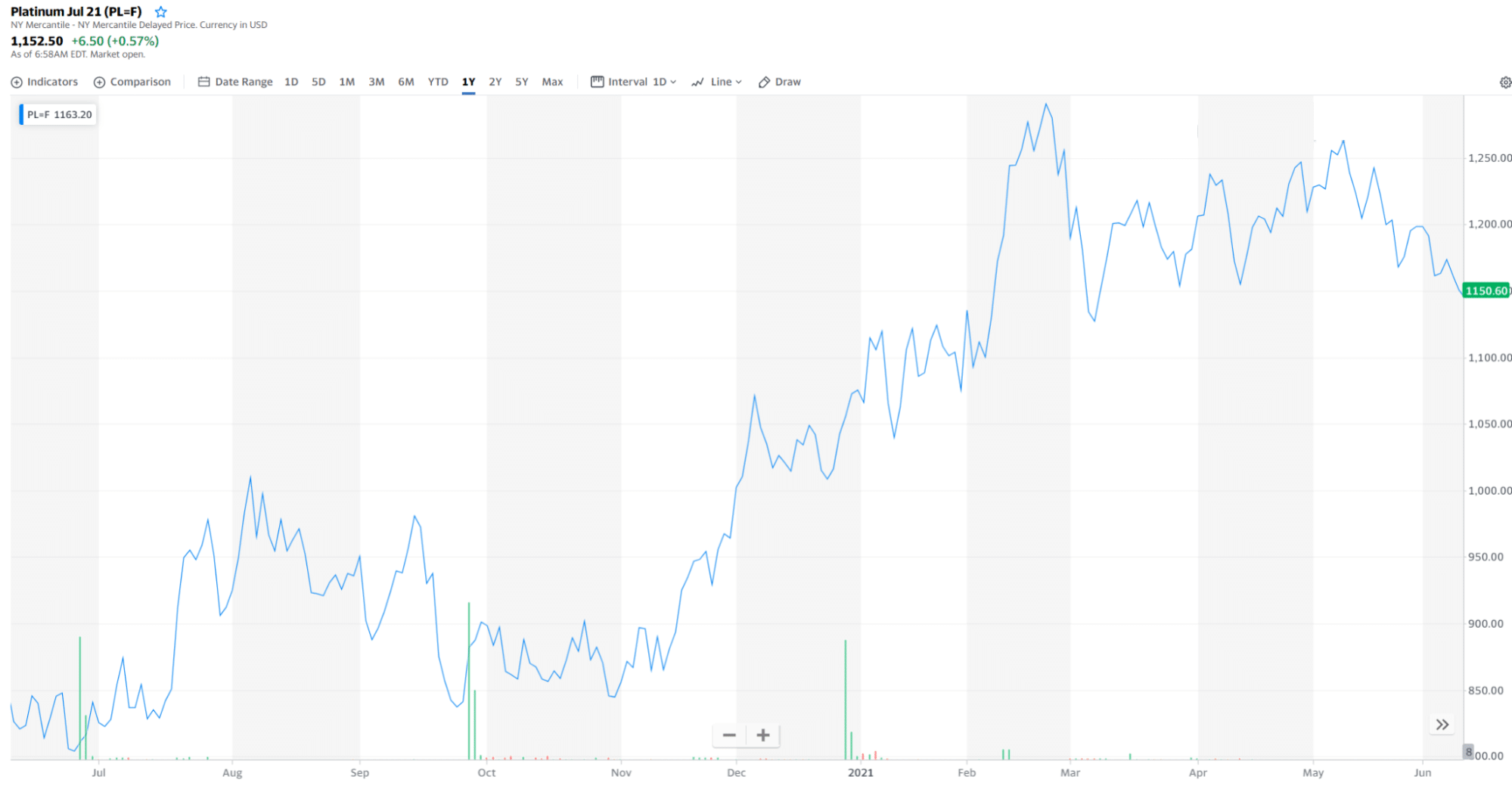 As of writing, platinum has been trading near 1150.60$ per ounce. The opening price for platinum was $1,071.50 back in January 2021 and made a high near $1,293.10 till May 2021. By the end of 2021, platinum may hit again near $1293.10 or above it. Some experts predict the price may reach near $1,407 per ounce by the end of 2021.
Silver
The second attractive commodity is silver that is widely used for photographic films, solar panels, and electrical contacts. Somehow silver is more reliable than gold or platinum for its industrial use.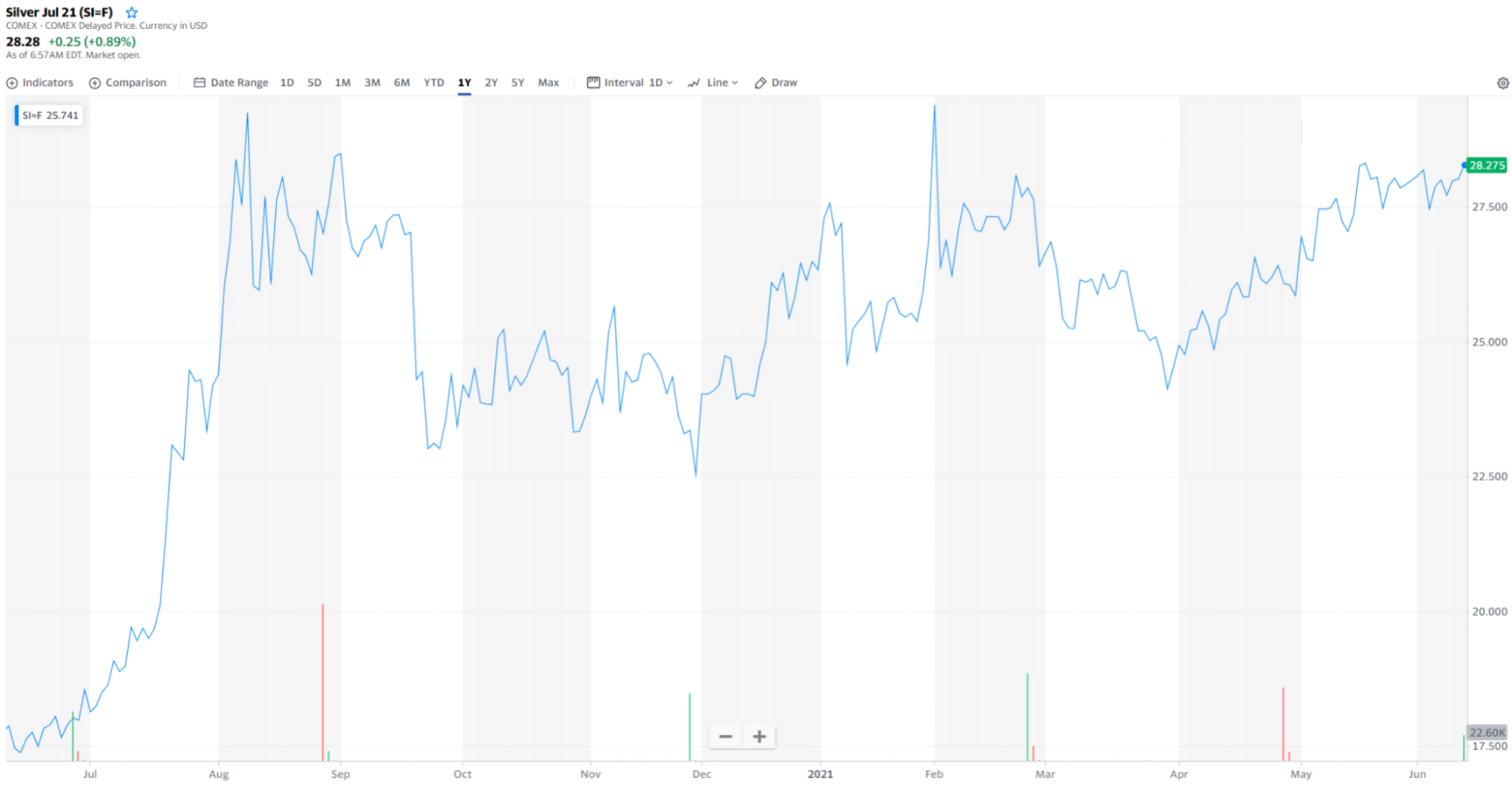 The price of silver rose 27% on average of 20.55$ per ounce in 2020 during the pandemic. With many other expert metal traders, we also think the price of silver will hit another high, maybe near 30$.
Crude oil
There is no doubt that oil is a demandable commodity worldwide. Two types of oil are prevalent to trade in the energy sector: brent oil and crude oil. However, since the beginning of the coronavirus pandemic, the oil price has reached lower than zero. It even went to minus as the oil demand fell with the lockdown effect.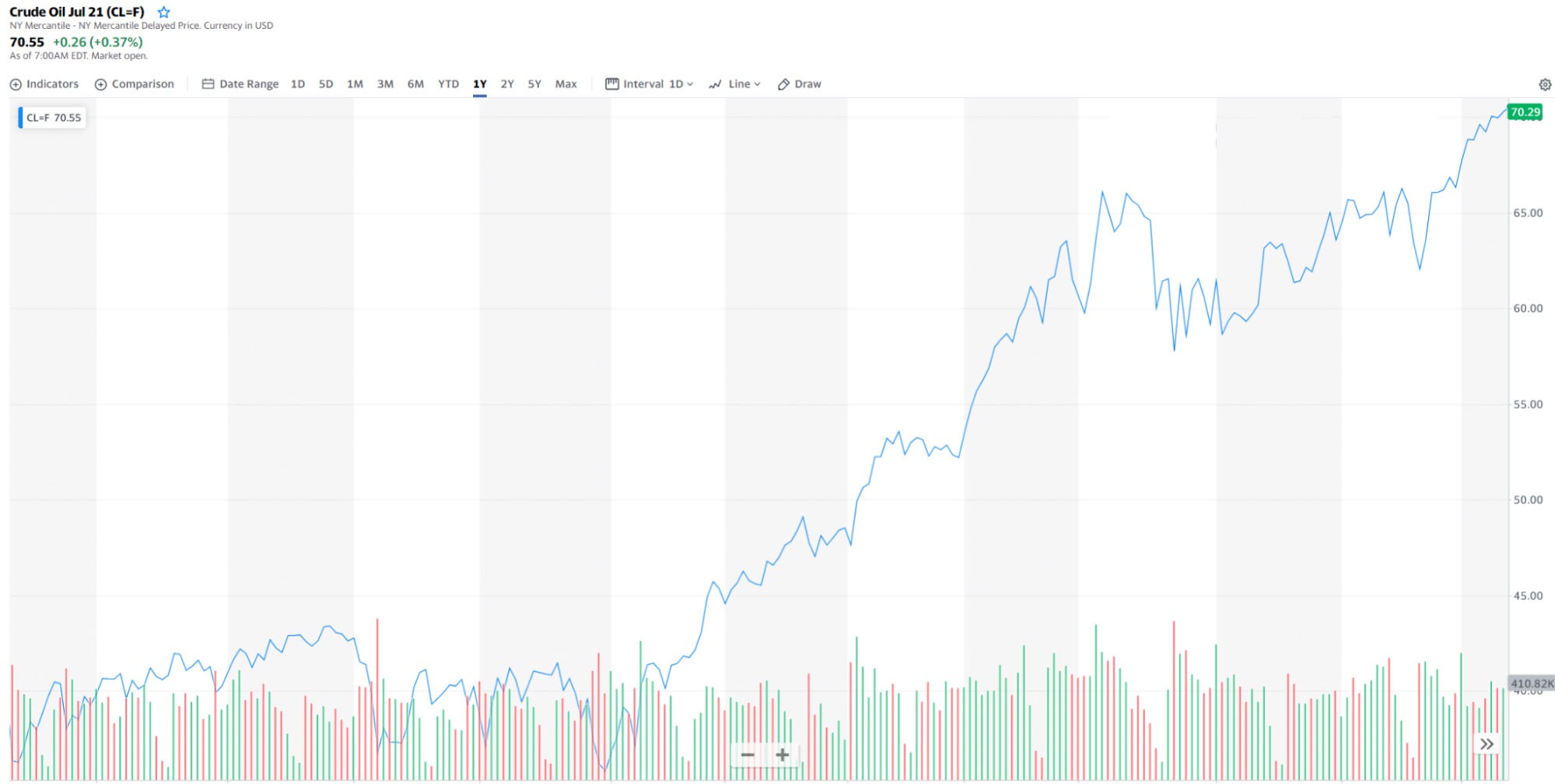 However, the oil price recovered, and now as of writing, it's been trading near 70.29$ per barrel. If no lockdown or uncertainty happens, the oil price can make near 85$ per barrel by the end of 2021.
Gold
Gold is a precious metal that is a derivative that is popular to invest in for a long time. Gold is used for jewelry production, investment, a small portion is used for chemical reactions. Most gold is mined in China, followed by Australia, Russia, and the United States. It is a safe-haven asset to invest as the price of gold rises with any political and economic uncertainty.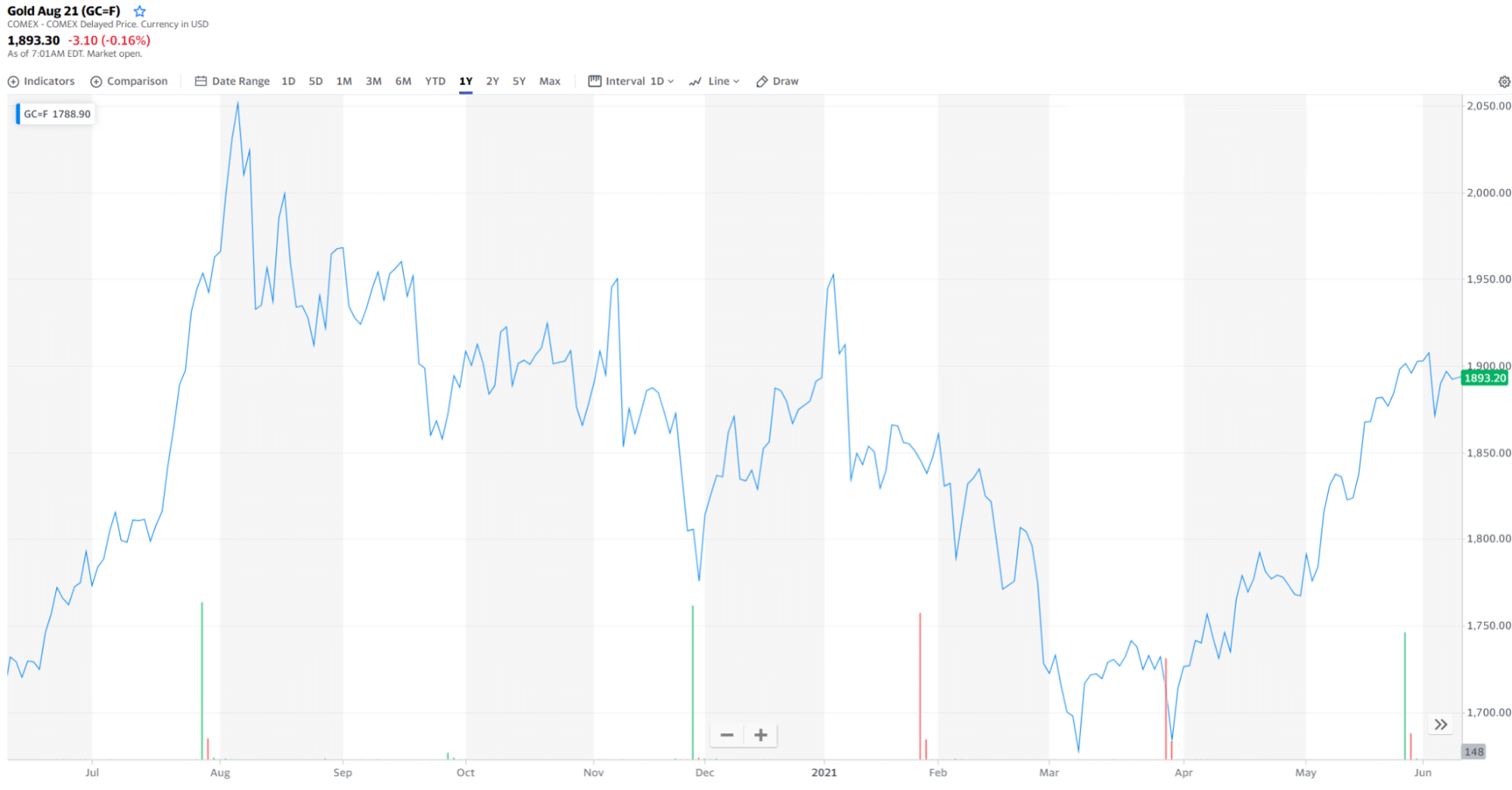 In Jan 2021, the gold price made a high near 2071$ per ounce. Since then, it's been falling as vaccination occurs for coronavirus and the economy starts to run. It's been trading near 1893.20$ per ounce as of writing. Many experts believe it can reach near 2071$ again or more than that by the end of 2021 as many countries are still suffering from coronavirus, and it would take time to vaccinate the whole world.
Soybean
Soybean is a trendy agricultural commodity that has low production costs and contains high protein. The United States is the biggest producer and exporter of soybeans, and the most significant importers of soybeans are Mexico, China, Japan, the EU, and Taiwan.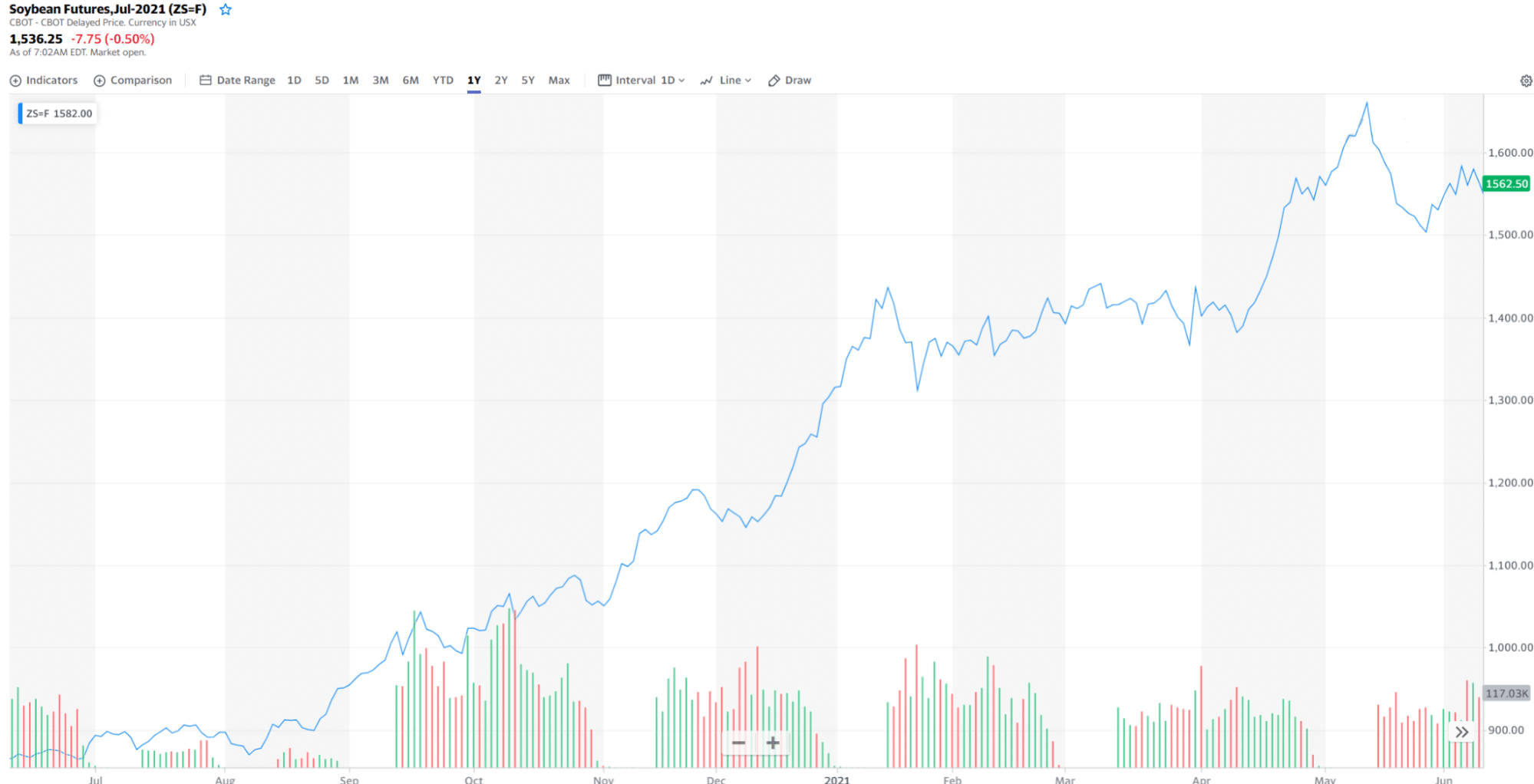 No price is forecasted for soybean for the season-average ending price of the year. It has been affected by weather and many other factors, but we predict that soybean prices may increase gradually.
Conclusion
Finally, before trading in the commodity market, you must have sufficient knowledge about the trading asset. Therefore, learn every available data of that particular commodity before investing your money.
As we mentioned above, commodity trading is somewhat riskier than the stock market. So follow fair trade and money management rules to trade in the commodity market.