A cryptocurrency is a digital currency that allows users to conduct online transactions, such as buying products and services. It employs a public ledger that uses robust cryptography to validate and record transactions. Crypto as an investment vehicle appeals to many because of the great potential for huge returns over a relatively short period.
Bitcoin is by far the most successful cryptocurrency in terms of market acceptance. As a result, its price rose to unprecedented levels in recent years. Bitcoin almost reached $65,000 in April 2021. 
Before this run, JP Morgan already made a statement in January 2021 that Bitcoin could reach $146,000 if its market capital soars to greater heights. It could even compete with gold when that happens.
Pros for crypto investing
Pro № 1. Bullish long-term outlook
Cryptocurrency has its ups and downs in terms of valuation. However, the overall outlook for a long time is favorable. Take Bitcoin, for example. It reached a peak in December 2017, where it almost got $20,000. Then, after a long time of silence, its volatility returned, breaking the previous high and hitting nearly $65,000 in April 2021.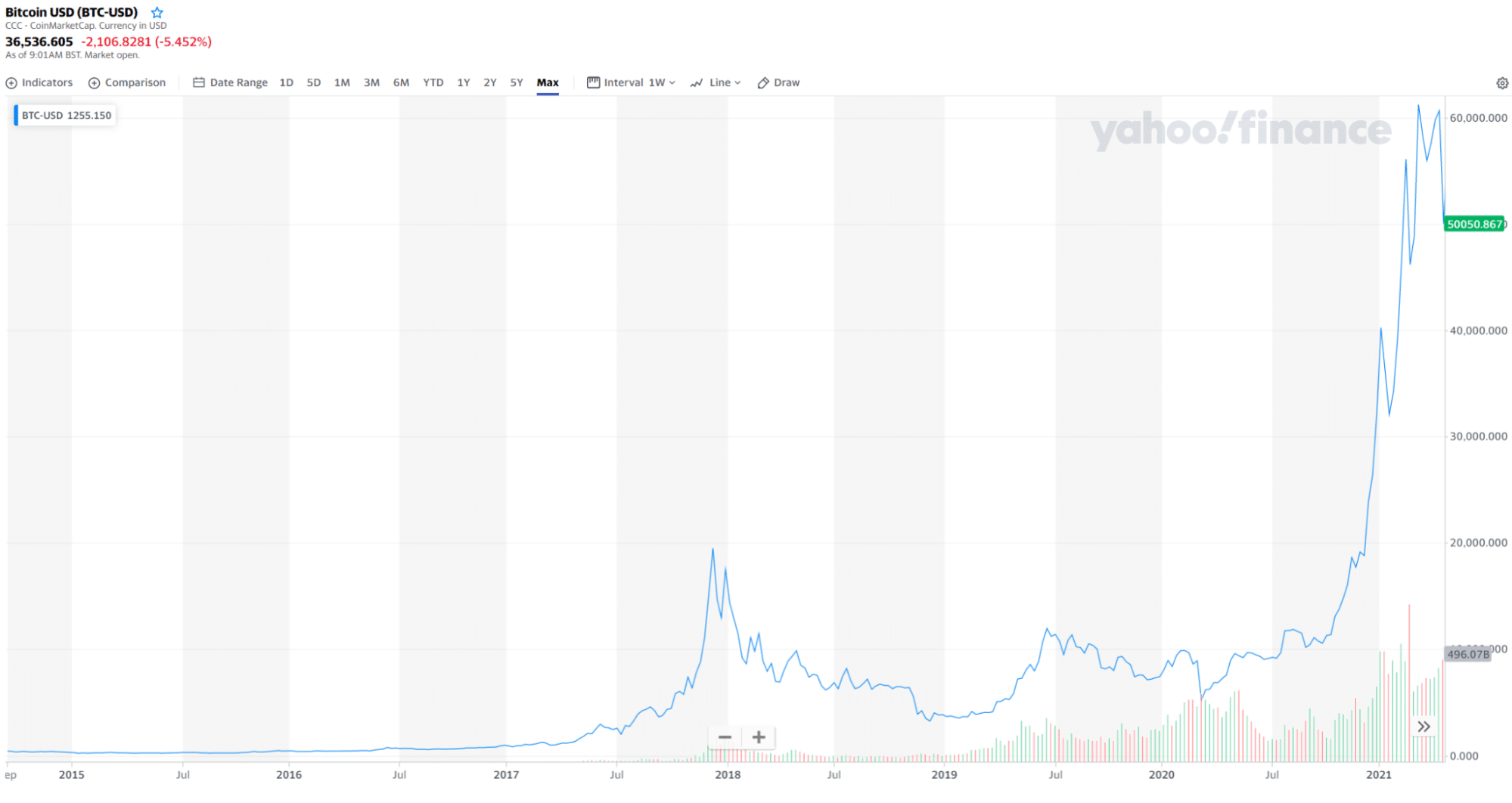 When the main cryptocurrency moves in any direction, other cryptocurrencies follow. Besides, it is the first digital currency, and the rest is its byproduct. At the moment, Bitcoin's price is above $36,000 (4th of June, 2021). Meanwhile, other cryptocurrencies seem to have found support. So who knows when the next bullish cycle comes about? 
By reading price action, Bitcoin makes higher highs and higher lows, and you know what it means. It is a clear indication of a bullish trend.
Pro № 2. High return on investment
No one can deny that the main appeal of cryptocurrencies is due to the promise of high returns. Bitcoin, for instance, is undoubtedly the best-performing investment asset in the last decade. 
Imagine having bought BTC when each coin cost only 10 cents in October 2010. If you had 10 dollars then, you could have had 100 BTC. At this time, each Bitcoin is worth around 36,000 USD. This amounts to 3.6 million dollars already.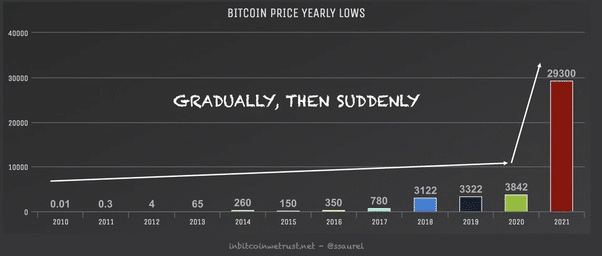 There are many other altcoins available to you. Unfortunately, not many have come close to the price yet, and most struggle to hit the one-dollar mark. Nevertheless, investing in any of these low-price cryptocurrencies might transform your life in the coming years.
Pro № 3. Diversification of portfolio
If you want to understand what crypto is and how it works, consider putting a small portion of your portfolio into cryptocurrency. Opening a real account with a small capital is better than trading with a demo account in currency trading. The same is true in crypto investing. You will find it more interesting to learn and monitor the crypto space if you have an actual investment in it.
Because cryptocurrency price is highly receptive to market speculations, see that you invest just enough to give you a good sleep at night. However, be aware of the highly volatile nature of crypto. In addition, invest wisely. Try not to buy cheap coins simply because they are affordable. Instead, perform due diligence to find crypto with some promise.
Cons against crypto investing
Con № 1. Unpredictable surges of volatility
Extreme volatility in cryptocurrency is both good and bad for investors. It is good because it can multiply the investment several times in a short period. It is not good because it can lead to significant losses or, worse, a complete collapse of investment.
For example, at one point, Bitcoin lost nearly 80 percent of its value. While the long-term prospect is still bullish for cryptocurrencies, price fluctuations are turbulent, making investors anxious about their investments' safety.
Well, nothing is safe when it comes to investing. But if you cannot handle the stress involved in watching the value of your investment fluctuate up and down, this type of investment might not be suitable for you.
Con № 2. A new type of investment
No one can tell how the future holds for crypto. Not everyone agrees that cryptocurrency is a good investment option. Some big names in investing, such as Warren Buffett, think cryptocurrency, particularly Bitcoin, has no inherent value. This is in stark contrast with stocks. Stocks offer real value because investors buy shares in real companies.
While there is no guarantee that companies bring in profit continuously for shareholders, the risks in cryptocurrency are far more significant than stocks. Digital currency is a new investment vehicle. It is not clear whether, at some point, society accepts this new form of payment.
Con № 3. Coin security is a big issue
Securing coins is one of the main challenges of crypto investment. The risk comes in the storage of these coins in crypto exchanges or digital wallets. While crypto wallets do not store coins, they hold private keys that allow you to make online transactions.
Your private key is your ticket to the crypto network. Anyone getting hold of this key can steal your coins and can execute transactions you do not authorize. Hacking is a primary concern that many exchange providers are still trying to address. 
On the part of coin holders, losing the private key is a common problem. Imagine losing all your investment because you forgot where you stored your private keys. Be aware that losing your private key is equivalent to losing your coins forever. Unlike passwords, you can never reset your private keys.
Most popular cryptocurrencies today
This section presents the most popular cryptocurrencies today. This is if you have come to terms with the downsides of crypto investing and you are ready to engage. The order in which the crypto appears in this list is based on market capitalization. In addition, there is a short description of each crypto's origin and critical facts for your information alongside each item.
Top of the most popular cryptocurrencies

Cryptocurrency

Coin
Ticker

Definition

Bitcoin

BTC

Bitcoin is the first digital currency that came into existence. It allows peer-to-peer digital transactions through the Bitcoin network. A public ledger known as blockchain contains records of all these transactions.

Ethereum 

ETH

In terms of market capitalization, Ethereum is the second-largest cryptocurrency in the world. It is also the most actively used blockchain of today.

Tether

USDT

Considered a stable coin, Tether is a blockchain-based digital currency claimed to have fiat-money backing such as the US dollar.

Binance Coin

BNB

The Binance exchange released its cryptocurrency by the name of Binance Coin, whose number is set at a maximum of 200 million. As a result, this crypto exchange has become the most significant exchange the world over as of April 2021.

Cardano 

ADA

Cardano is open-source, decentralized blockchain technology. It uses its cryptocurrency ADA to facilitate peer-to-peer transactions. This coin validates such transactions through proof of stake.

Ripple 

XRP

Ripple is both a remittance network and cryptocurrency exchange. The XRP crypto is designed to facilitate payments. Unlike other crypto, Ripple tokens are pre-mined.

Dogecoin 

DOGE

Dogecoin is an open-source cryptocurrency that started in 2013 to pay homage to Bitcoin in a satirical way. Critical features of dogecoin are unlimited supply and low price.
Final thoughts
This article outlines the advantages and disadvantages of crypto investing. Of course, you can find more reasons for and against this type of investment elsewhere. However, our standpoint is that there is no harm in trying. If you have performed your research and due diligence, considered the risks, and you will invest in moderation, you might find that crypto investing is a viable option after all.