Investing in trending stocks can be a transformative strategy to make a massive profit in the stock market. The term "trending" refers to the on-demand popular business models or contents currently discussed worldwide. However, every company or content cannot be on-trend for a more extended period.
So, when it comes to investment, you should follow some rules and strategies. You cannot choose any trending stocks for investment because not every company or asset will give you profit. Some companies may lose value or go out of business altogether. In such events, Investors can encounter huge losses. 
Therefore, it is always better to invest in multiple companies and keep your money spread rather than trusting only one. But, first, you have to set up an account then invest in stocks whenever you want. You can also get them through a broker, a financial planner.  
In this article, we will look at the five best trending stocks to invest in 2021. With these stocks, you'll be able to build your portfolio position for long-term success. But, before that, let's first understand what stocks are and why invest in stocks?
What are stocks?
Stocks or shares are an investment in a company representing ownership of the company and its profits. In simple terms, stocks are a method for investors to build their wealth. When you buy a stock of a company, you get a small share of that company. Investors first analyze and predict, then purchase stocks in companies that might go up according to them. If stocks go up, their values also increase, and then an investor can sell the stock for a profit. 
Let's look at the example. David wants to start a travel business. The total investment required for the business is $20000. But, he has only $5000. So, he asks three of his friends to become his partners and invest the remaining $15000. And in return, he gives 25% ownership of the company to each one of them. After two years, David's travel business value is $80000. His business performed well in 2 years. Now, along with David, his friend's value also increased five times of their investments.
That's how stocks work, you invest in a company as a stakeholder, and when company value rises, your investment increases too. Similarly, when a company loses value, investors can also lose their investment.
Why invest in stocks?
Investing in stocks can be a life-changing decision. If we look at history, stocks have gone up. There are many reasons to invest in stocks. Also, there are several millionaires out there who earned their wealth through investment in the stock market. Now, you would think that you should have thousands of dollars to start. But, instead, you can begin investing with a few dollars. But never forget to spread your investment, and at some point, you will have enough money to change your lifestyle. 
Here is another reason to invest in stocks. It is effortless to purchase companies' stocks because of the stock market. Also, you can sell your stocks whenever you want through the stock market.
Some of these stocks have been successful for a long-time and appear to be fully prepared to continue success for another year.
PayPal (PYPL)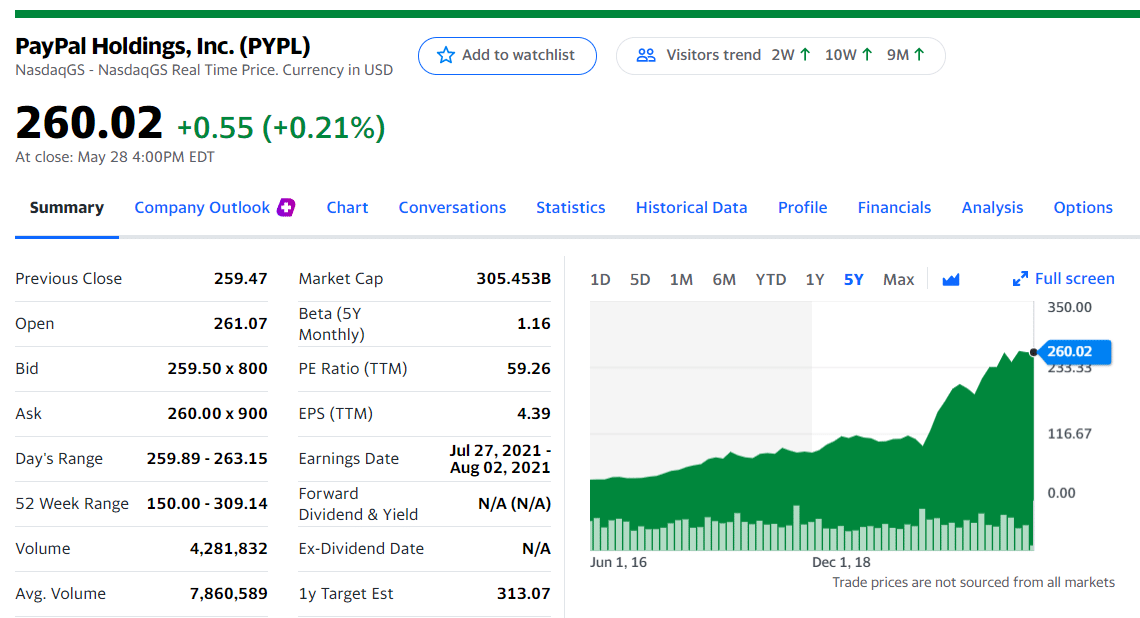 Sector
PayPal is well known for helping pioneers with the safest digital payments online. Two hundred countries and regions support PayPal money transfers. They update their securities and add services every year. Recently, in the last year, new services have been added to it, such as check cashing, pay later, and cryptocurrency services. Adding all these new services can further increase their marketing. 
There is no doubt that PayPal leaves no stone unturned in attracting its customers. According to a McKinsey report, cash transactions in the US reduced from 51% to 28% between 2010 and 2020. As a result, PayPal reported tremendous revenue growth, by roughly 20 percent year-on-year. 
Market cap
Currently, the market capitalization of PayPal holdings is around $318 billion. Company stock price increased 112% in 2020 and is still showing good performance in 2021.
Holdings
PayPal annual EPS for 2017, 2018, 2019 and 2020 was $1.47,$1.71, $2.07, $3.54. So it is rising from year to year, which is a good signal for traders.
Zoom Video Communications Inc. (ZM)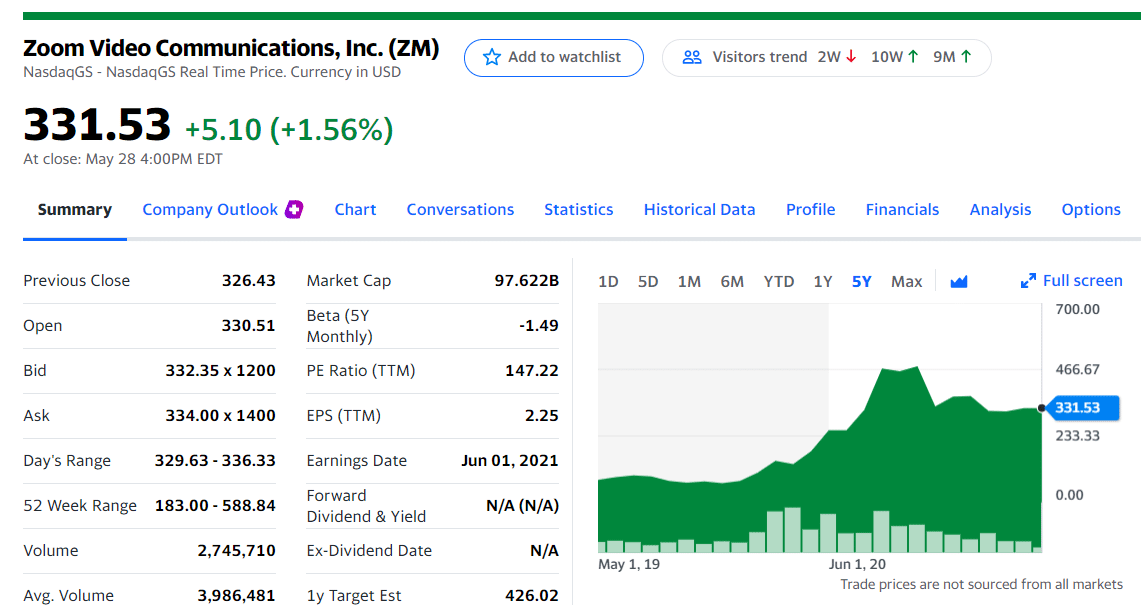 Sector
Zoom Video Communications Inc., an American company, is one of the most popular companies in the communications technology segment. It helps organizations, entrepreneurs, and institutes with a video-first communication platform and web conferencing services — the zoom cloud platform designed to offer video, voice, content sharing. 
Zoom was one of the best-performing stocks of 2020. But, recently it has fallen back a little bit. Still, it is a brilliant choice for long-term investment. Zoom's daily usage numbers have seen unprecedented growth from 10 million in December to over 200 million in March. The response has been tremendous. In 90,000 schools across 20 countries, teachers are now hosting video meetings for up to 100 participants with no limits on video call time. 
Market cap
Zoom Video Communications market capitalization as of May 27, 2021, is $95.77 billion. 
EPS
Zoom video communications annual EPS for 2018, 2019, 2020 and 2021 was $-0.11, $0.00, $0.09, $2.25. 
Spotify Technology SA (SPOT)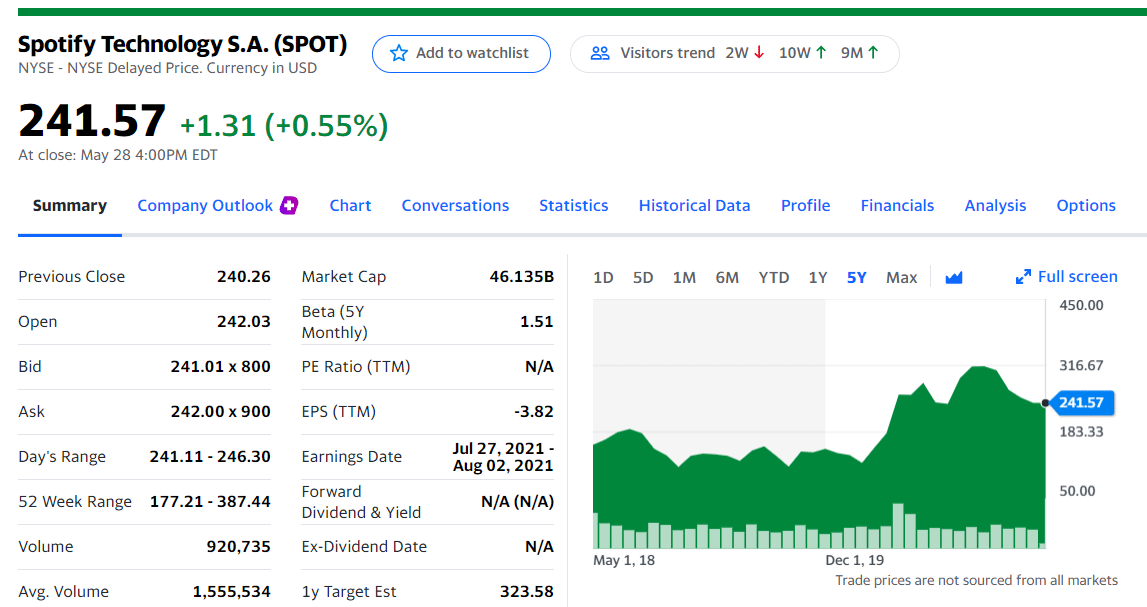 Sector
Spotify is a Swedish digital music streaming platform where you can access millions of songs, podcasts, and videos from artists worldwide. It has not shown consistent profit yet, but its business model is growing strong. 
Podcasts can appear as both a media and marketing channel. As the interest in this industry continues to grow, so will the opportunities for the investors. 
Market cap
As of June 2021, Spotify has a market cap of $45.52 billion.
EPS
Spotify Technology annual EPS for 2018, 2019, 2020 and 2021 is $-0.60, $-1.15, $0-3.54 and -0.36 which is a 663.71% increase. 
Redfin Corporation (RDFN)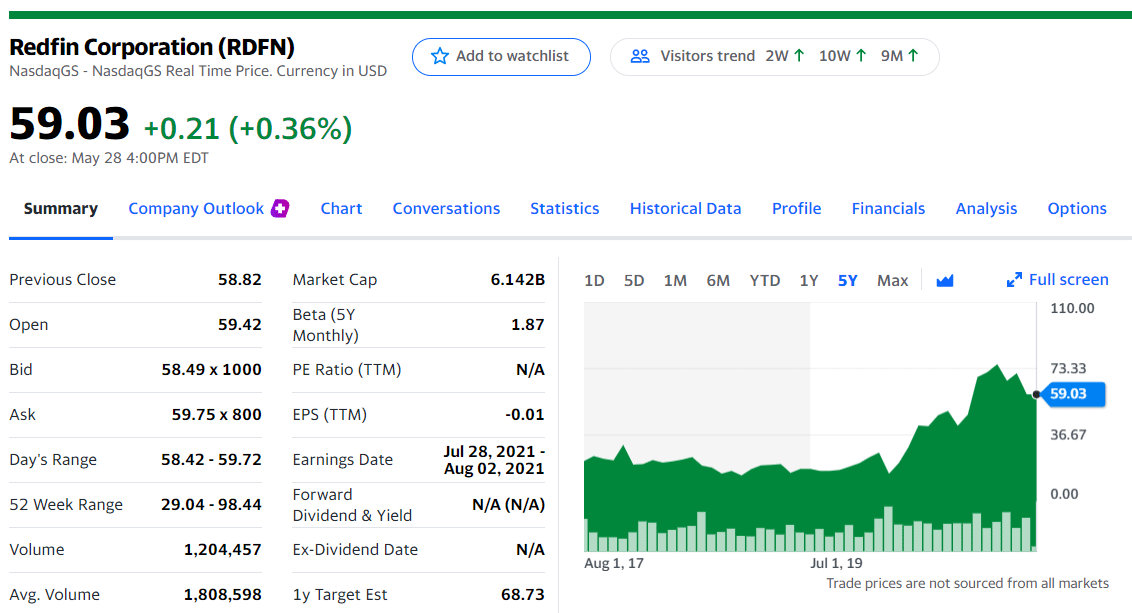 Sector
Redfin provides real estate brokerage services. Redfin seems to be becoming a leading player in the real estate sector. According to an actual Redfin survey last year, two-thirds of the property buyers made an offer on a home, avoiding getting it seen. With such a trust factor, investors are getting attracted to Redfin. 
Market cap
As of May 2021, Redfin has a market cap of $6.13 billion.
EPS
Redfin Corporation annual EPS for 2017, 2018, 2019 and 2020 was $-4.47, $-0.49, $-0.88 and $-0.23.
Twilio Inc. (TWLO)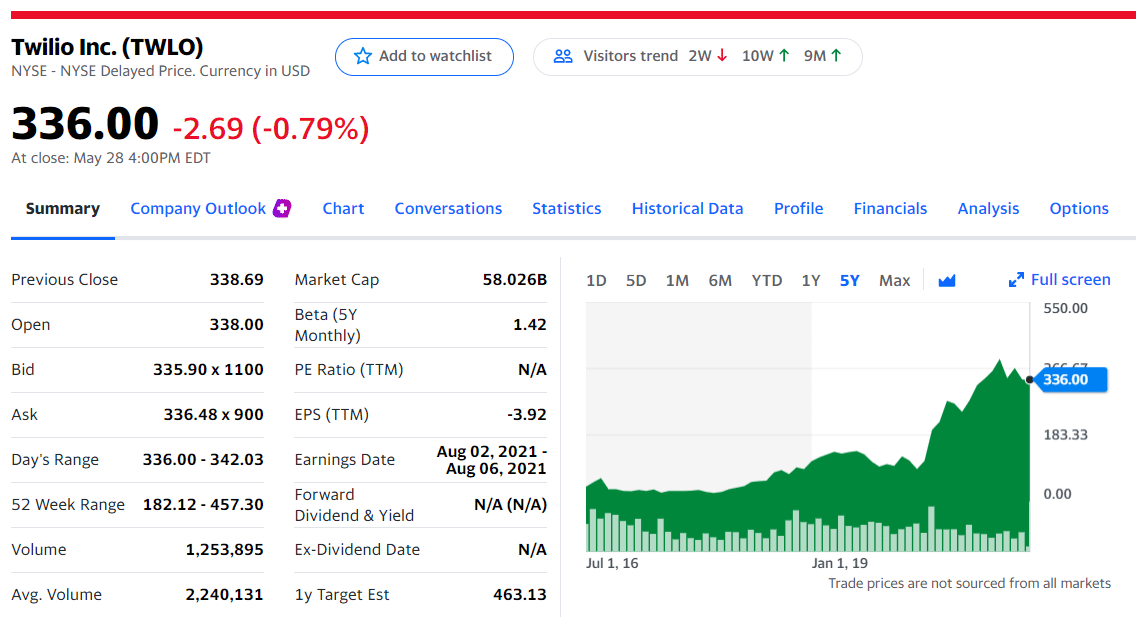 Sector
Twilio Inc. helps developers and businesses to integrate communicational features like text, chat, email, voice, and video into their apps. Thus, allowing developers and enterprises to boost customers. Twilio is a clear leader in this business model, and the number of active customers increases from 49,000 to 221,000. 
Market cap
As of June 2021, Twilio has a market cap of $54.33 billion. Undoubtedly, Twilio can be best for long-term investment as no other company seems as popular as Twilio in this business.  
EPS
Twilio Inc. annual EPS for 2017, 2018, 2019, 2020 and 2021 was $-0.70, $-1.26, $-2.36, $-3.35 and $-1.24.
Risk involved
Looking at the success and trends of the above stocks doesn't mean these stocks will speed straight up in the coming months. But these companies have a growing market opportunity for the future from which they can create heavy value for all their Investors. The opinions and analyses we shared with you are for informational purposes only. So, It should not be considered specific investment advice.
Conclusion
Stock investing is very popular among investors around the globe. It is one way you can compound your money for a certain amount of time. However, as we also know, investing is risky. Therefore, we should always either do our analysis or take expert advice before putting in your hard-earned money. 
Many stocks have shown a significant rise in recent years, like Tesla, Netflix, Amazon, etc., but these stocks are volatile and are already at their peak.