The primary aim of getting into the investment market is staking money on an investment asset that will result in returns. In a world driven by technology, blockchain, and the resulting cryptocurrencies it carries currently provide investors brave enough to dare opportunities to make serious cash.
As the world changes, the available investment assets also change, giving brave investors numerous opportunities to diversify their portfolios and expand their investment income base. For example, an investor who staked $10,000 and bought Bitcoin in June 2020, a single Bitcoin back then, now has the same single coin but valued at $34,024, a 240% return investment.
At the end of this guide, you get answers to:
What are cryptocurrency coins?
An understanding of cryptocurrency coins calls first to understand the technology that powers them — the blockchain. The simplest definition of blockchain technology is a complex of decentralized digital information blocks. In Layman's tongue, a digital ledger of unalterable and secure transactions available to all participants via a decentralized in real-time.
While many use blockchain and cryptocurrency interchangeably, they are not the same thing. As the definition earlier suggests, blockchain technology powers cryptocurrencies.
Therefore, cryptocurrencies are digital payment methods, money, with no attachment to any single central system. Bitcoin is the most popular of the cryptocurrencies, but as more people jump into the crypto payment and investment bandwagon, the coin pool market has grown to over 5000 coins and is still rising.
Why bother investing in coins?
Investing in coins exposing one to the following merits:
Complete control over individual coin investments.
Transparency; all coins are blockchain-based technology hence the availability of transactions publicly.
Being an emerging investment market, there is enormous potential for coin appreciation.
How to be part of the coin market?
To be part of the coin market, you need to open an account with an online broker providing all the coins of interest on their platform for investing and trading purposes. Therefore, it is a simple three-step process.
| | | |
| --- | --- | --- |
| Step 1 | Step 2 | Step 3 |
| Find a broker providing cryptocurrency coins of interest | Analyze the coin's market value and price patterns to identify ideal entry points | Buy the cryptocurrency of choice |
Top 5 coins to invest in with $100
As more mainstream wall street organizations and other global organizations accept the use of cryptocurrency as a means of payment, the appetite for the coin market is only going to grow. The launch of blockchain ETFs also shows that this emerging market is here to stay, providing opportunities for minting severe cash.
In emerging markets, investors have to be careful in the assets they pick lest they lead to financial ruin. As such, the following five coins represent the best investment for less than $100, keeping in mind:
How long they have been in existence if there is enough data for market comparison.
The number of people trading in a coin informs its liquidity; the higher, the better.
Longevity helps analyze the market performance of the coin and establish any patterns that can provide opportunities.
Does the coin provide for a seamless and secure transaction environment?
№ 1. Ripple Coin (XRP-USD)
Creation date: 2012
Price: $0.638
Market cap: $8.1 billion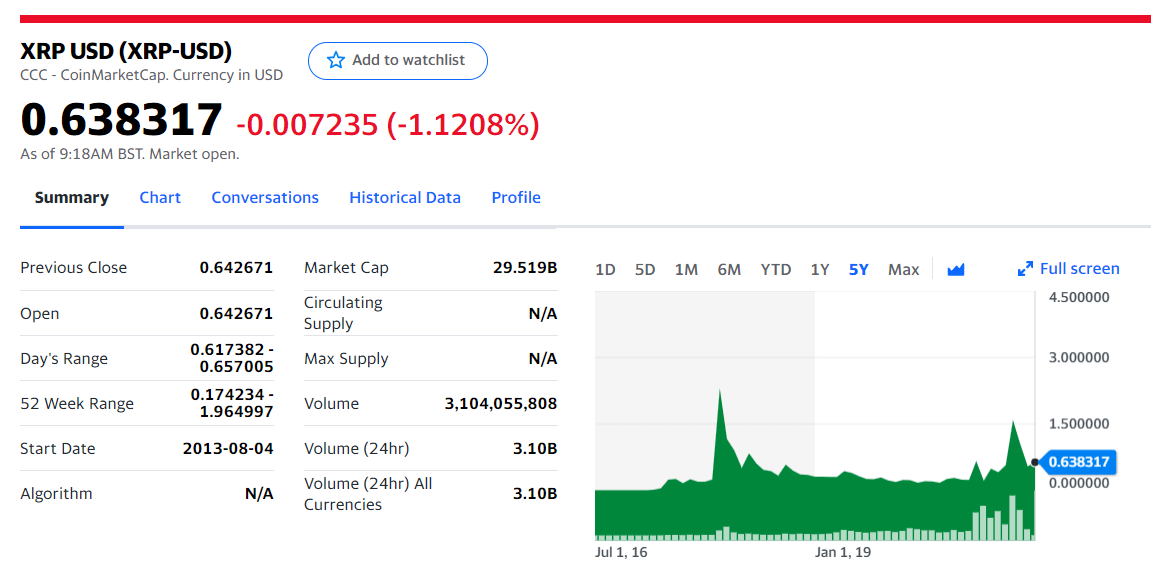 Created in 2012, Ripple coin utilization primarily powers ripple technology, a digital payment network for international money transfer. It is the reason why the XRP, Ripple coin, is commonly known as the "King of banking infrastructure."
Unlike Bitcoin, Ethereum, and other cryptocurrencies, the XRP has always maintained consistent volatility. The XRP is not for short-term investment but rather a long-term investment instrument.
The main risk of the XRP coin is counterparty risk. The coin transactions operate through a gateway, a third-party broker. Hence the creditworthiness of the gateway in use impacts the process; if the gateway doesn't honor held liability, the coins lose value.
№ 2. Chainlink (LINK-USD)
Creation date: June 2017
Price: $18.43
Market cap: $29.5 billion

Created in June 2017, the Chainlink coin spin on the traditional employs intelligent blockchain technology to provide blockchain-based data providers common channels. Its primary objective is to create an oracle for conventional blockchain technology allowing for transaction data editing by users, an old age problem facing traditional blockchain-based technologies.
The market participants utilizing the Chainlink channel then earn tokens, LINK, to use the technology. This coin's potential for growth in the future is not up for debate given that organizations such as Google Cloud, ETHA, Dapps Inc., among others, have a partnership with LINK for their cryptocurrency.
The significant risk of this coin investing is that it is based on Ethereum; anything happening to Ethereum positively correlates to Chainlink. In addition, 60% of this coin supply also remains under the tight control of the parent company. As such, the supply and demand of the coin are not wholly a product of market forces.
№ 3. Cosmos (ATOM1-USD)
Creation date: March 2019
Price: $9.76
Market cap: $2.2 billion

Cosmos aims to be the internet of blockchain technology, seamless communication between blockchains. The Cosmos' objective remains a dream, and until their technology gains widespread adoption, it is a risk investing in this coin, especially as a short-term strategy.
№ 4. Dogecoin (DOGE-USD)
Creation date: March 2019
Price: $0.234
Market cap: $30.9 billion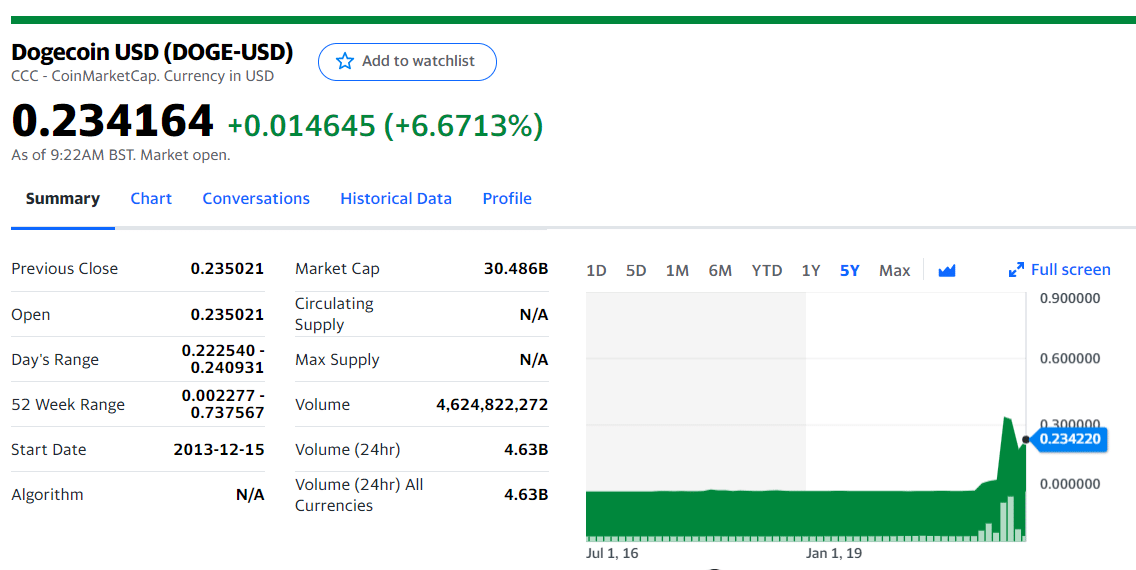 Commonly known as the lighthearted cryptocurrency and named after an internet meme, this coin recently made a 13000% bullish rally. The significant risk of investing in Bitcoin is its slow value growth, given how easy it is to mine. In circulation, Dogecoin might be the most popular cryptocurrency, 129 billion coins compared to approximately 21 million Bitcoins.
№ 5. Stellar (XLM-USD) 
Creation date: July 201
Price: $0.261
Market cap: $6.1 billion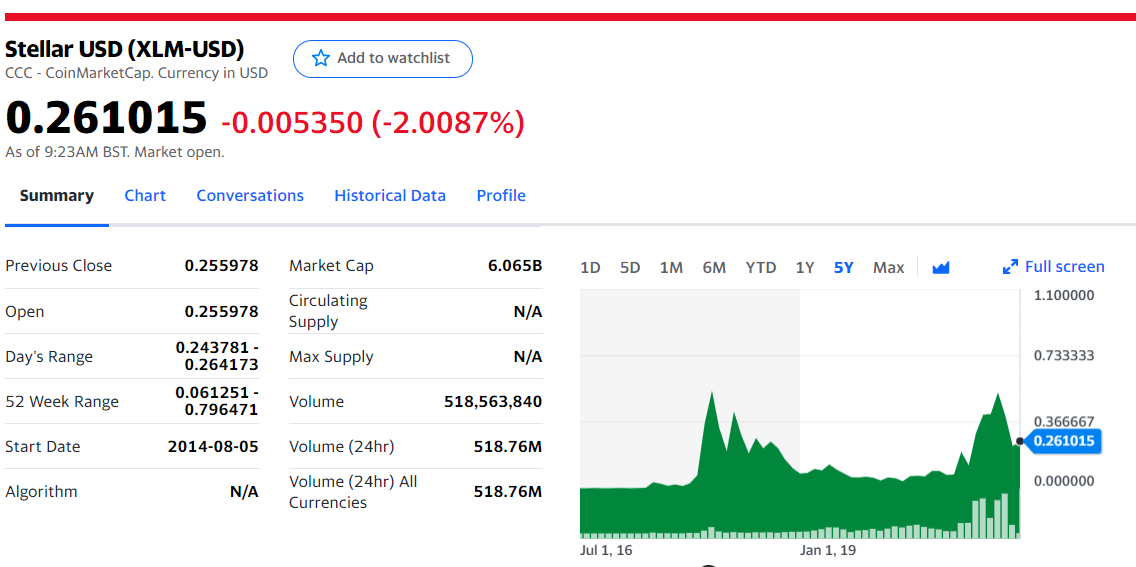 The stellar coin is the go-to intermediary between traditional banks and blockchain-based digital wallets. Therefore, it is a cryptocurrency that serves a particular niche within the cryptocurrency market.
The risk of investing in the XLM is in the form of market risk. Right now, it operates as a monopoly within its niche, but other organizations might join the fray to take advantage of this ripe market.