There are market prices published. It's weird to publish them here because people are here to find an advisor that would do everything for them.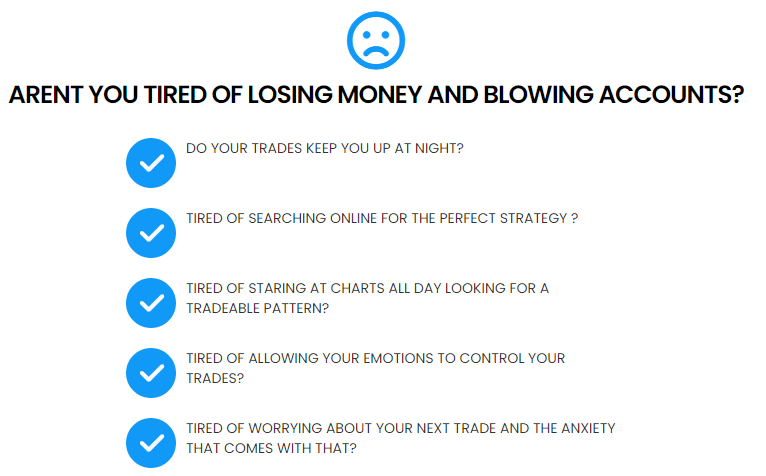 Next we see some statements that should scare us. It's an unprofessional way to attract clients.
FX Scalper X Robot Review
The system has been consistently profitable since January 2021.
The robot trades on the real account providing almost 10% of the monthly gain executing Scalping and Grid of orders trading strategies.
So, these two reasons are probably the most important ones that made us analyze this EA, its weaknesses and strengths and write a detailed FX Scalper X review.
What is behind the FX Scalper X?
Let's talk about some introduced features and others we had to find out looking at trading results:
FX Scalper X is a trading solution that can trade fully automatically for us.
The developers claimed that they could make $150,000 from $100. It's a scam and lie.
There are backtest reports provided. It can be a sign that the system is good to be used on a real or demo account.
The setup takes several minutes before everything is set.
Auto trading allows putting emotions away from trading.
The system allows us to trade even without having previous trading experience.
We receive a copy of a product within a day.
Key Features
We have to run a $100 balance to get started.
The time frame to work is M1.
We can trade the next currency pairs: EUR/USD, EUR/GBP, AUD/USD, GBP/USD, and USD/CAD.
The leverage may be 1:300 according to the intel from the trading profile.
Most likely, we can use any low spread broker.
Trading Strategy
FX Scalper X runs two strategies – Grid and Scalping.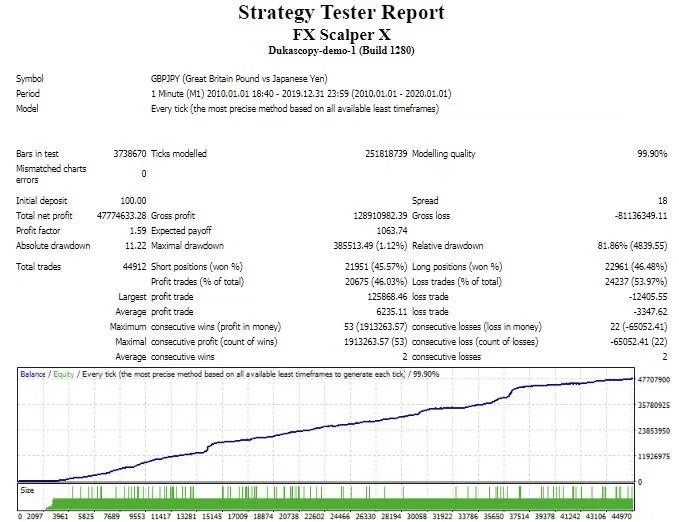 We have got a GBP/JPY backtest report on the M1 time frame to analyze. The period of data was from 2010 to 2019. The modeling quality was 99.90%, with high spreads of 18 pips. An initial deposit was $100.It was turned into a $47,774,633 total net profit. The Profit Factor was 1.59. FX Scalper X has traded 44,912 deals with 45% of the win rate for Shorts and 46% for Longs. It's a scam level of accuracy.
Pricing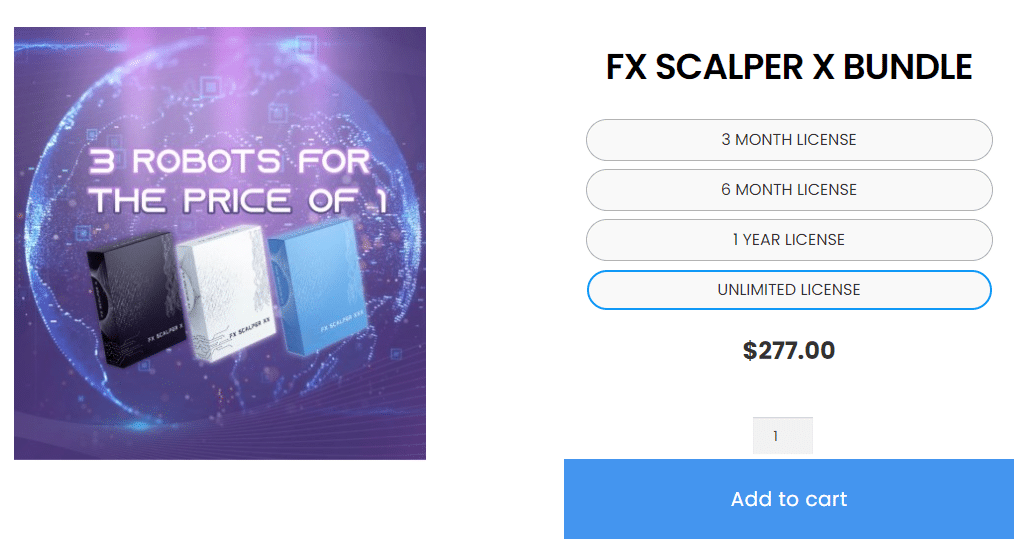 We have four-packs. There's a single lifetime pack and some subscription options. The lifetime pack costs $277 for an unlimited license. The three-month rent costs $117. The six-month rent costs $157. The annual rent costs only $197. The details about features in the packs are not provided.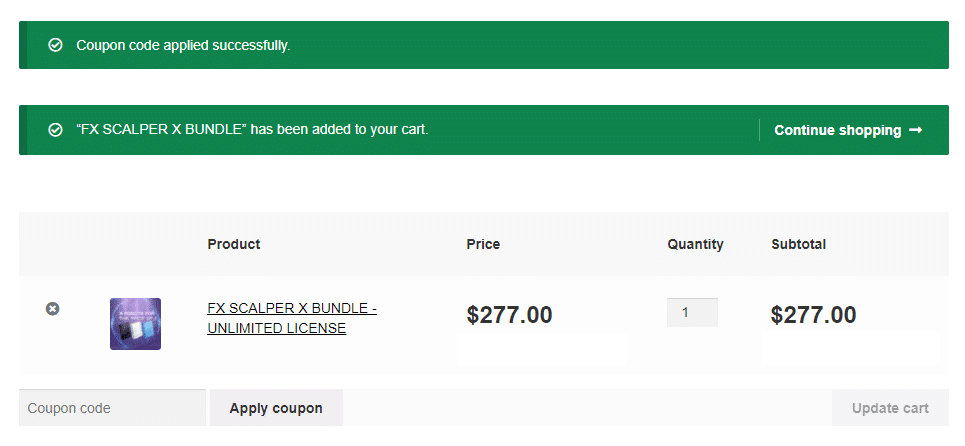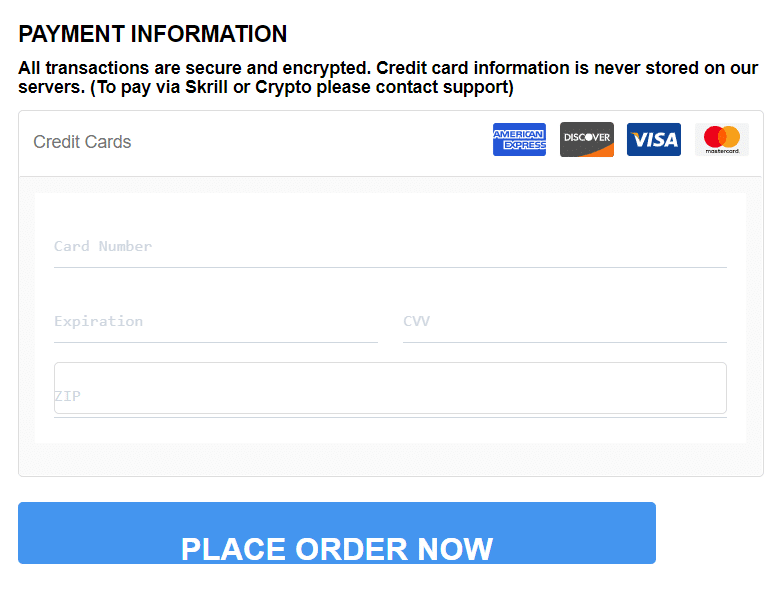 The developers ask for our card data. Paying via PayPal and other safe methods is not allowed. We can't be sure that our data will be stored well. There is no money-back guarantee provided: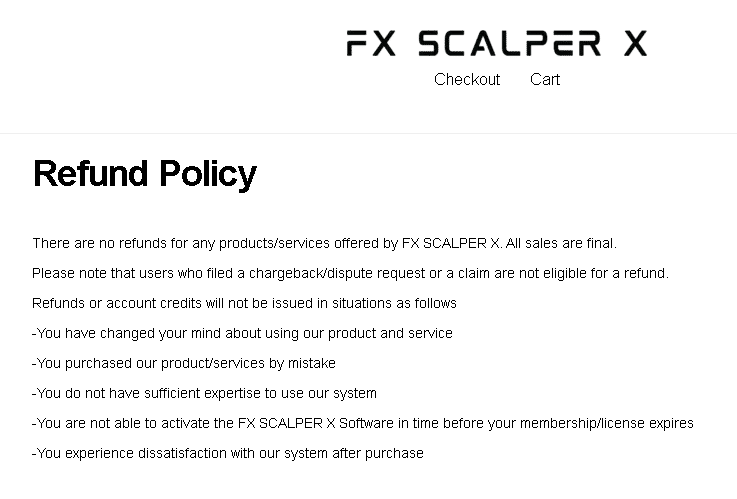 Trading Performance of FX Scalper X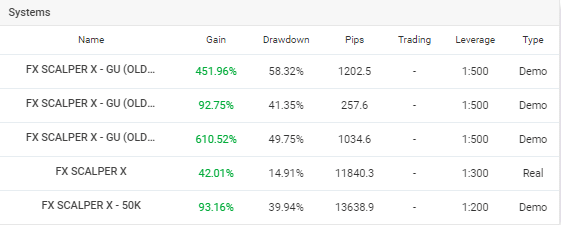 Clicking on the on-site widget, we see the list of active accounts.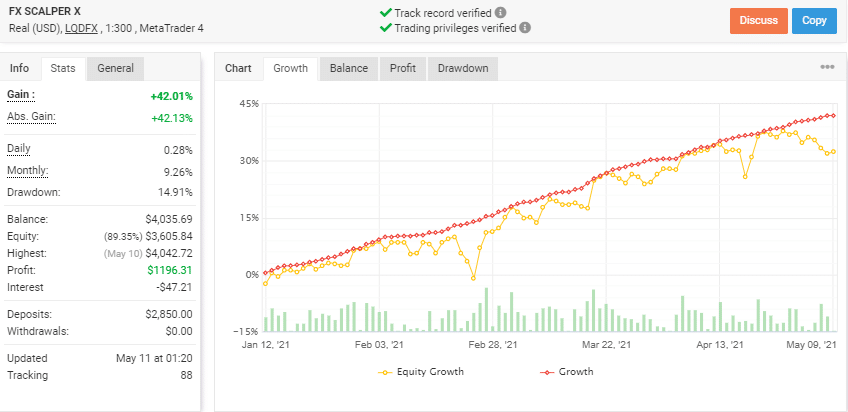 We have picked a real account over others to analyze. The broker is LQDFX. The advisor works automatically with 1:300 leverage on MT4. The account has a track record verified and trading privileges verified. Eighty-eight traders track the account. It was created on January 12, 2021, and deposited at $2,850. Since then, the absolute gain has amounted to +42.01%. An average monthly gain is +9.26%. The maximum drawdown is 14.91%.

FX Scalper X traded 3101 trades with 11840 pips. An average win is 11.81 pips when an average loss is -21.25 pips. The win rate is 75% for both directions. The trade length of an average deal is sixteen hours and forty-seven minutes. The Profit Factor is 1.72.

We may trade the next cross pairs AUD/USD, EUR/GBP, EUR/USD, GBP/USD, and USD/CAD. GBP/USD takes advantage over other pairs – 1103 deals and $462.77.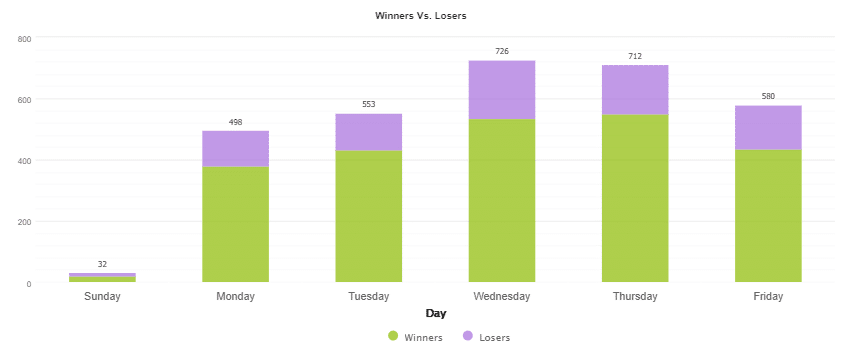 The system trades all day, focusing on the opening and high-impact news periods during the European trading session.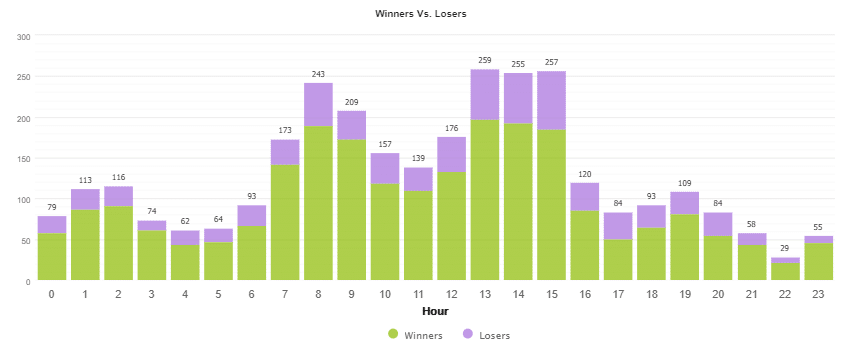 Wednesday with Tuesday are much ahead in trading activities over other days.

The advisor doesn't set the account at high risk. We have to lose 162 deals to lose 10% of the account balance.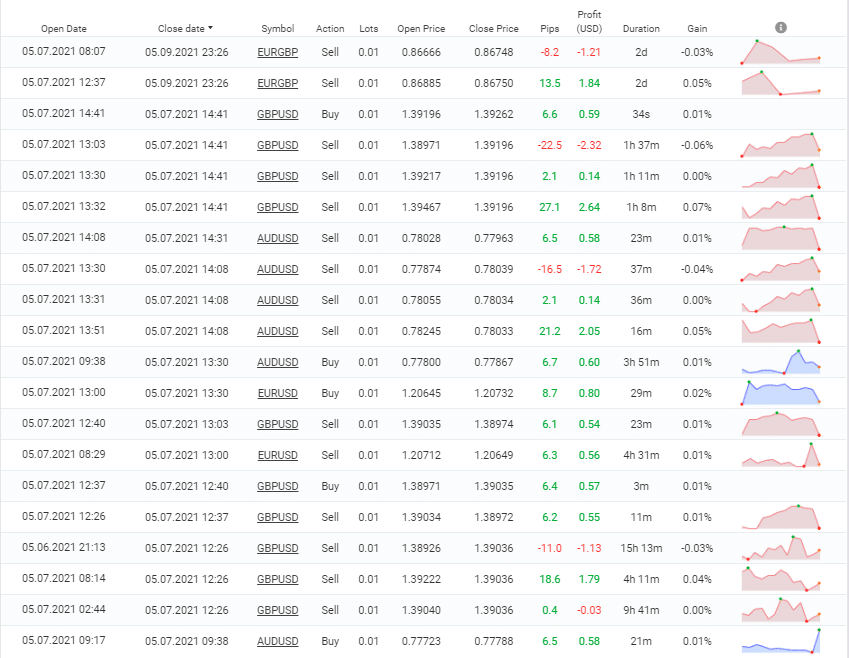 The advisor works with the lowest possible fixed lot size.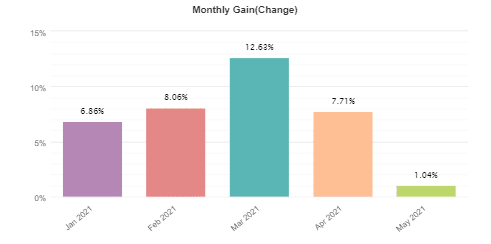 The monthly profit varies depending on the month. May 2021 doesn't look great so far.
Customer Support
We have no idea how their support works. There are no third-party verified comments which would mention this.
People Feedback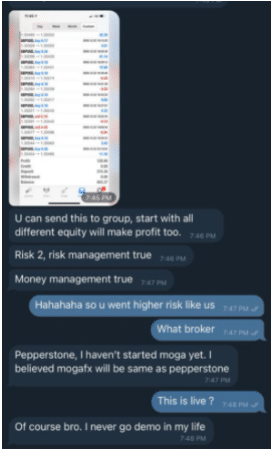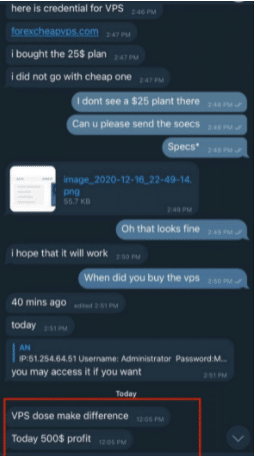 There are some screenshots of people's feedback. We cannot trust them, as they could be easily photoshopped.
FX Scalper X Summary: Worth it or not?
| | |
| --- | --- |
| Pros | Cons |
| Strategy explanations provided | No team revealed |
| Backtest reports provided | No settings details provided |
| Real-account trading results published | No risk advice given |
| | The system is young trading solution |
| | No refund provided |
| | Risky strategies on the board |
| | No people testimonials provided |
Conclusion
FX Scalper X the system that executes Grid as risky and other strategies on the real account. The presentation doesn't look trustworthy because it lacks much information to answer all our questions. The developers don't create a page on Forex Peace Army or other similar sites to gather comments from clients. The offer doesn't include any kind of money-back guarantee provided. So, all purchases are final.
3/5