Climate change is no joke. Even though many have already written on the topic extensively, it doesn't hurt to explain the basics. As our society progressed, the industry became more and more advanced and also widespread. While that has made our lives easier, it also came with a price.
The factories and plants affect our environment in a very tangible way, the most prominent of which are climate change and global warming. It means that the climate is not the same as the pre-industrial era, leading to dire consequences.
The dichotomy originates from the businesses' desire to make a profit, which is understandable. But, it usually collides with the firms' ability to operate to don't damage the planet. That's why more and more countries are taking steps to ensure that the companies are not doing more harm than good.
This brings us to the topic of investing in sustainable companies via exchange-traded funds, or ETFs for short.
What are ETFs?
When we invest, we usually buy security, like a bond or a stock, and hope that its value will grow over time, allowing us to make a profit. However, to avoid putting all of our eggs in what basket, it is important to diversify our assets. That means investing money in multiple securities to protect our investment from possible losses if one of our assets depreciates.
Creating and managing such a group of securities can be complicated, and expert advice can significantly add to your costs. That's where exchange-traded funds come into play.
To put it simply, exchange-traded funds are groups of different securities bundled together that we can buy at an exchange, much like we do stocks. As most of them consist of multiple holdings, we can diversify our assets without too many complications and significantly lower costs.
The ETFs may not provide you with an opportunity to tailor your portfolio to your taste completely. Still, they will make investing a lot more convenient and easier to understand and follow.
Top 5 best climate change ETFs
Keep in mind that not all ETFs were created equal, nor is every fund appealing or fit for every trader. That's why we are listing the funds in no particular order.
1. iShares Global Clean Energy ETF (ICLN)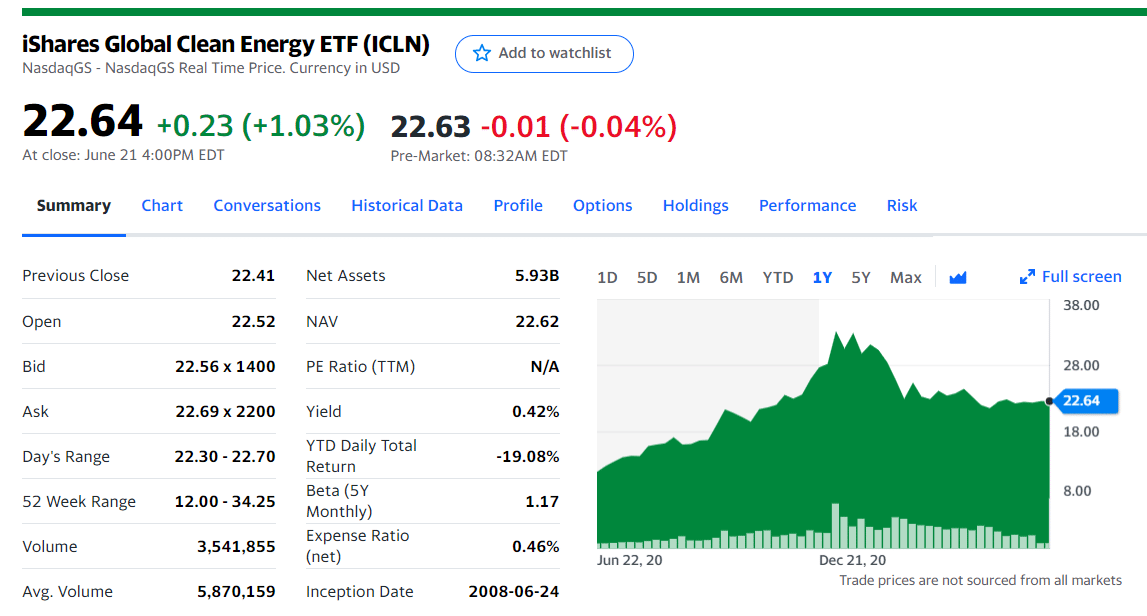 Blackrock Financial Management initiated ICLN in 2008, and it comprises 83 holdings. It was made to track the S&P Global Clean Energy benchmark, and it currently boasts a dividend of $0.12 at an 0.46% expense ratio. The fund's average annual return stands at over 83%.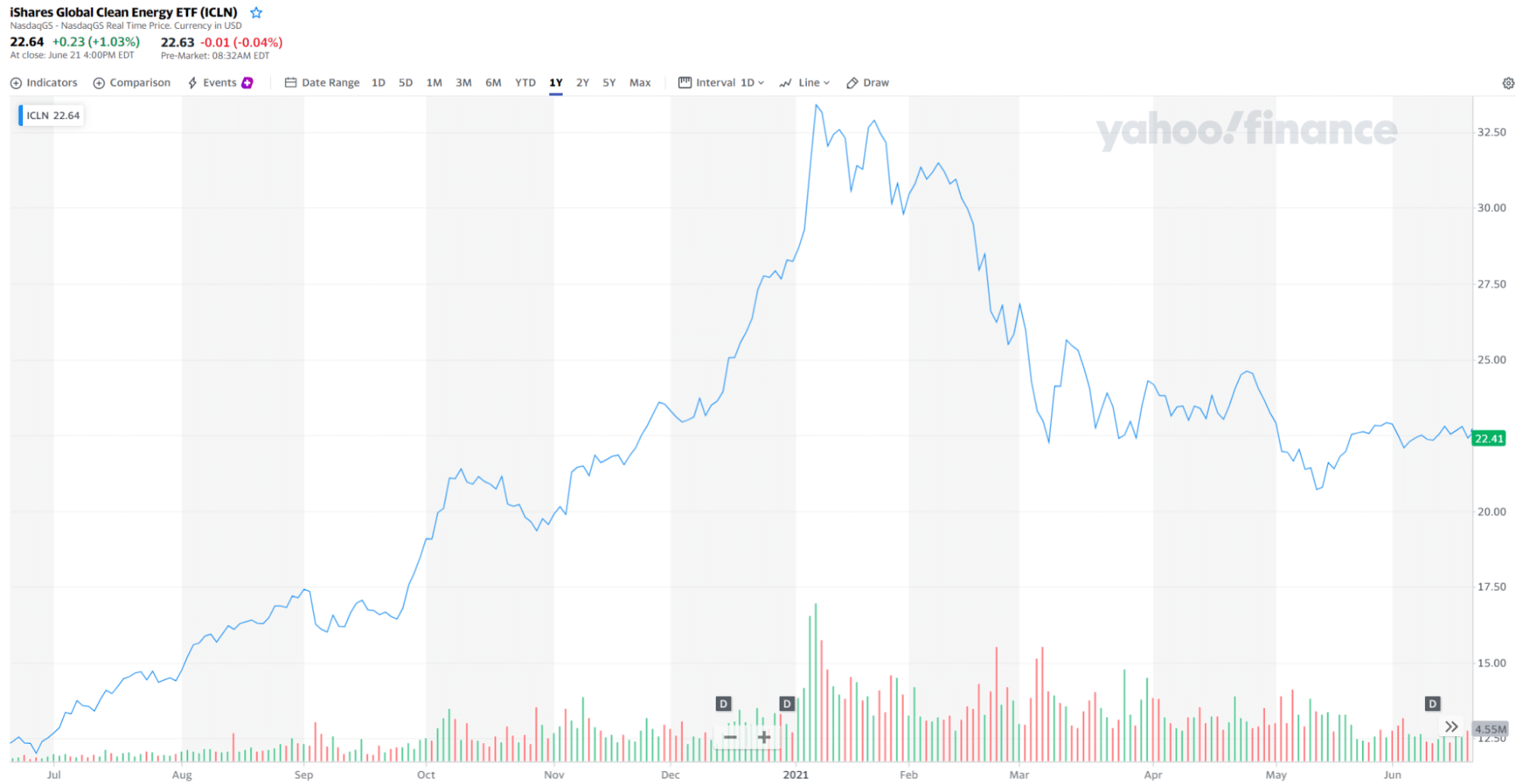 The fund has an MSCI rating of 6.65/10 and a market capitalization of $31.28 billion. Therefore, this exchange-traded fund can be a favorable solution for investors who believe that companies based on alternative energy sources will prosper long-term.
Apart from other, more targeted ETFs, ICLN offers broader exposure to firms dealing in solar energy, wind energy, and other alternatives to fossil fuels.
2. ALPS Clean Energy ETF (ACES)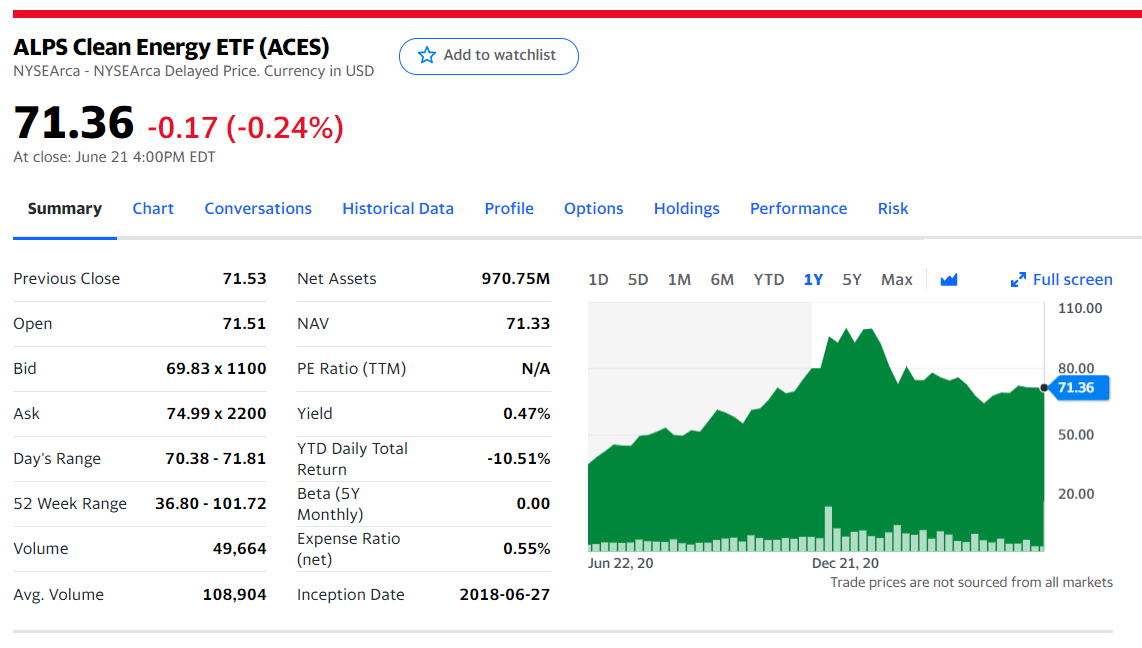 Talking of broad-based climate change ETFs, ALPS Clean Energy ETF ACES is yet another formidable investing option. ACES tracks CIBC Atlas Clean Energy Index and allows investors to obtain a share of North American companies involved in clean energy, such as wind power, solar power, and others.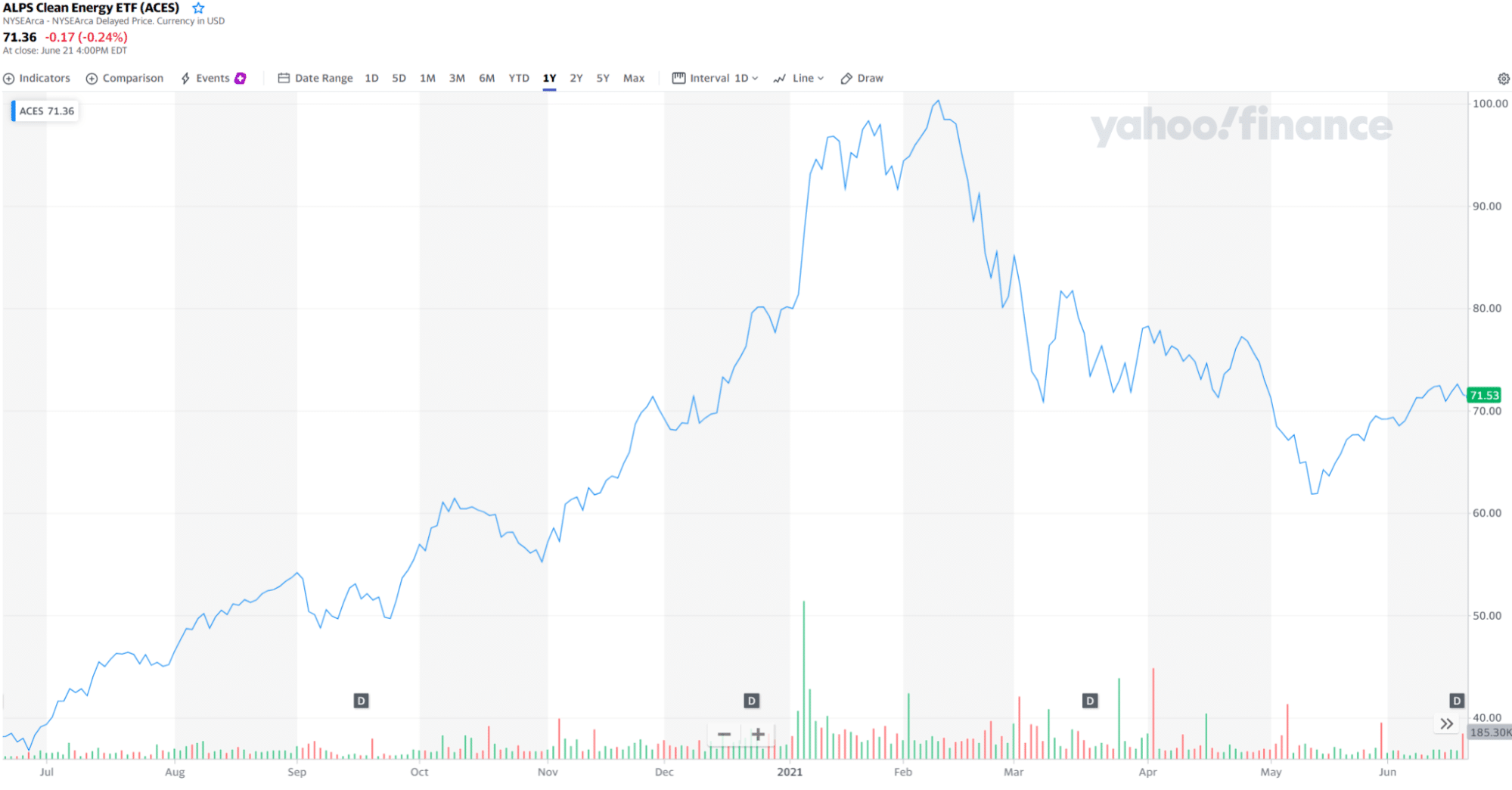 It was initiated in 2018 and gathered 48 holdings, 77% based in the US, and the remainder located in Canada. It boasts a market capitalization of $44.62 billion and an MSCI A rating of 7.10/10. Its last quarterly dividend came in at $0.18 at an expense ratio of 0.55%. The fund's yearly return amounted to 87.97%.
3. KraneShares MSCI China Clean Technology Index ETF (KGRN)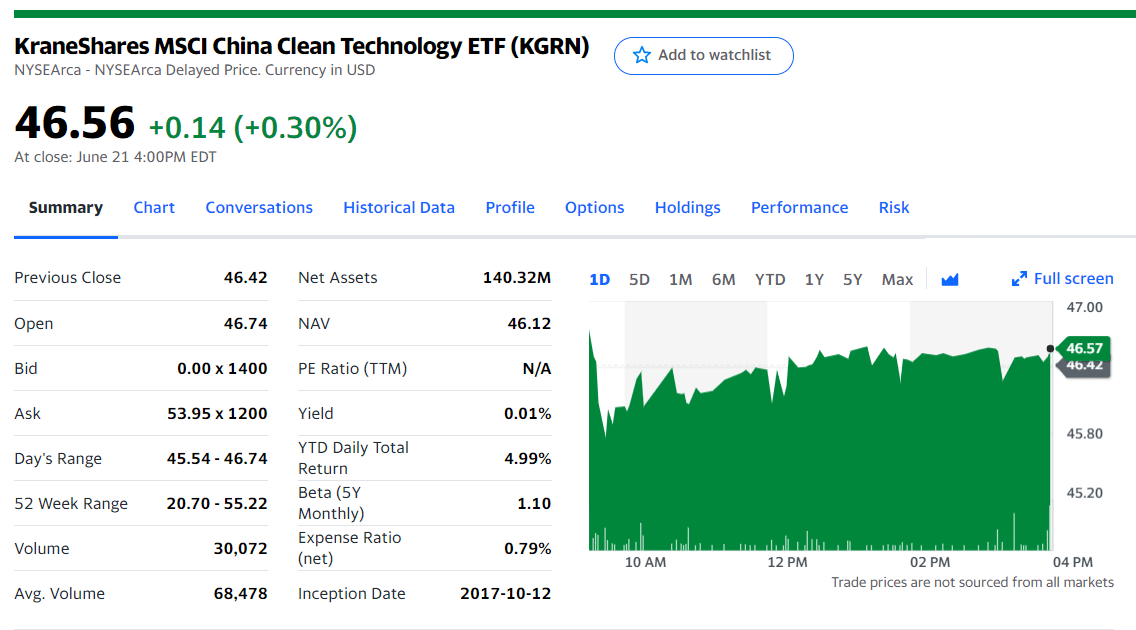 If, for some reason, you want to diversify your assets in terms of geography, as well as the sector, the KraneShares MSCI China Clean Technology Index ETF allows you to do just that, given that it consists primarily of companies based in China.
Initiated in 2017, the KGRN ETF tracks the MSCI China IMI Environment 10/40 Index, which includes companies that get at least 50% of their revenue from products and services that benefit the environment.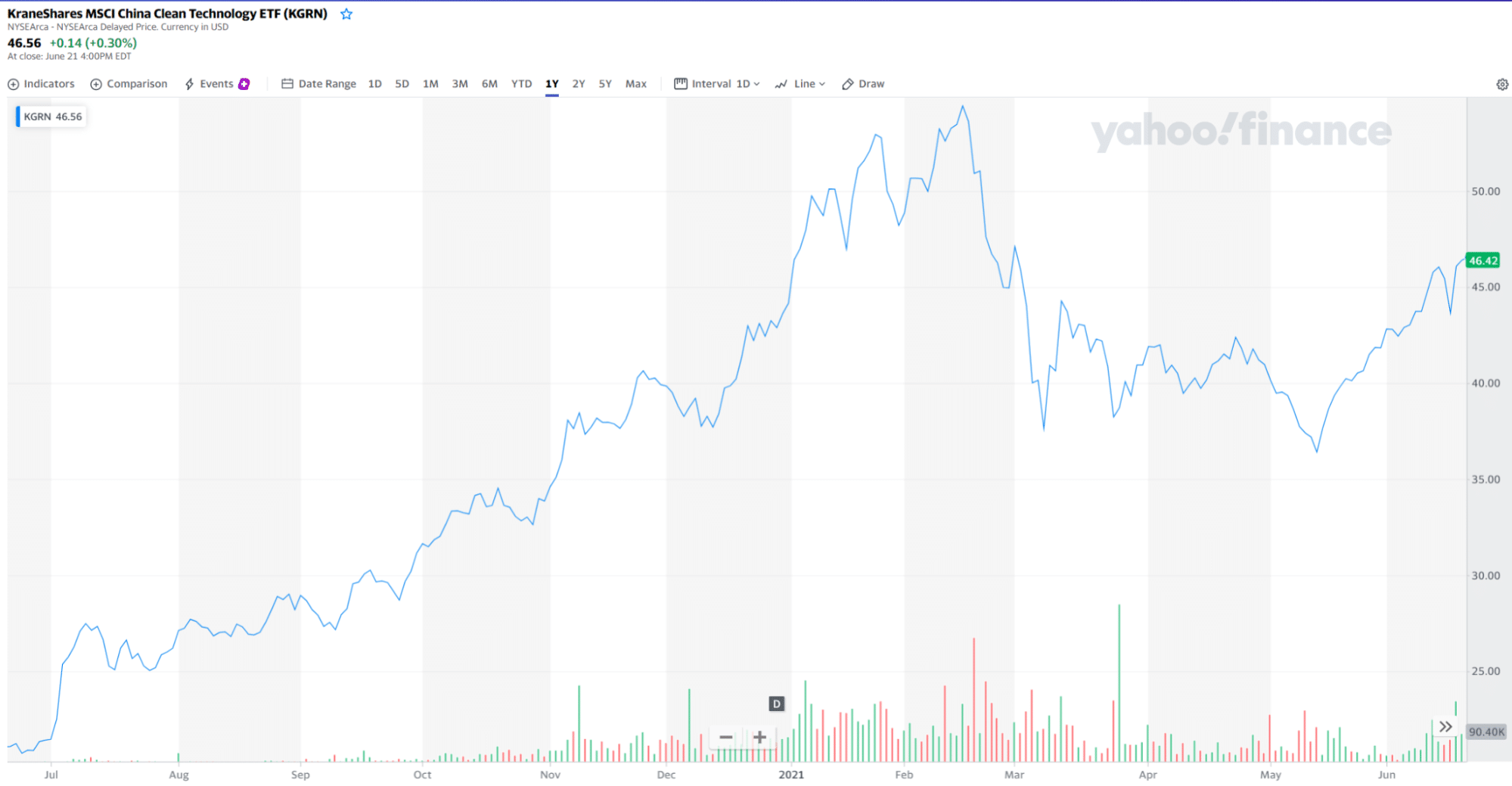 Most of the fund's 44 holdings deal in either alternative energy, energy efficiency, sustainable water supply, green infrastructure, or pollution prevention. It has a 5.77/10 MSCI rating, while its market capitalization stands at $33.53 billion. KGRN's yearly return amounted to 122.09%.
With China's electric vehicle giant NIO Inc. as the fund's top holding, the volume is not something you will have to worry about.
4. Invesco Solar ETF (TAN)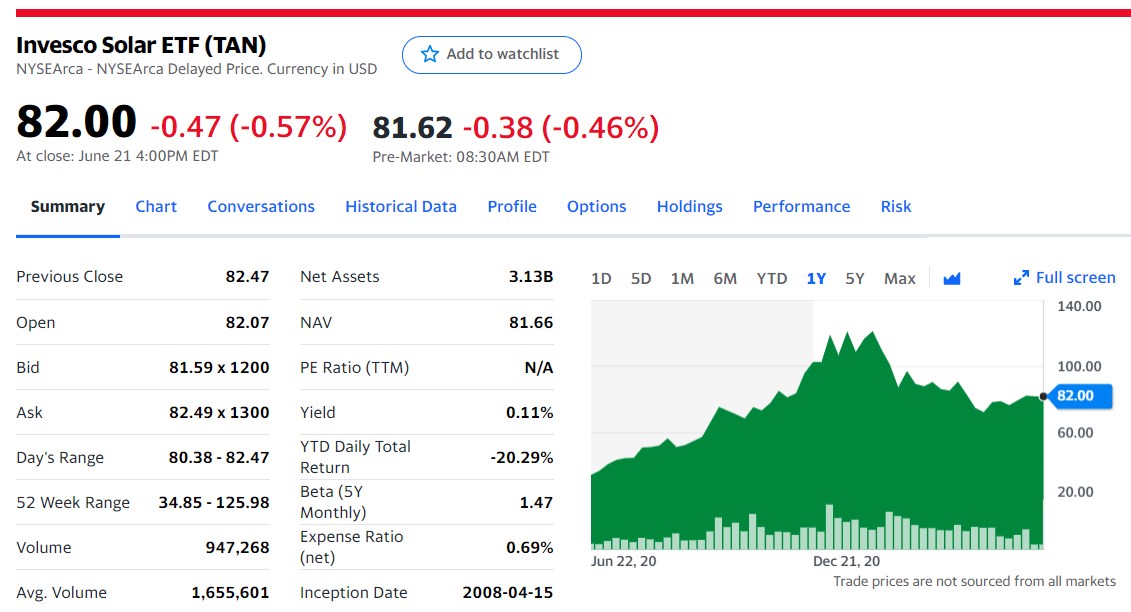 While the previously listed ETFs offered somewhat broader exposure to eco-friendly companies, Invesco Solar ETF TAN is as targeted as they come. As the name implies, this fund enables investments into companies that count on growth in the solar energy sector.
With industry giants like SolarEdge, Sunrun, or Xinyi Solar Holdings comprising more than 30% of the ETF's pull, the fund is geared towards the investors looking to maximize exposure to the solar energy niche.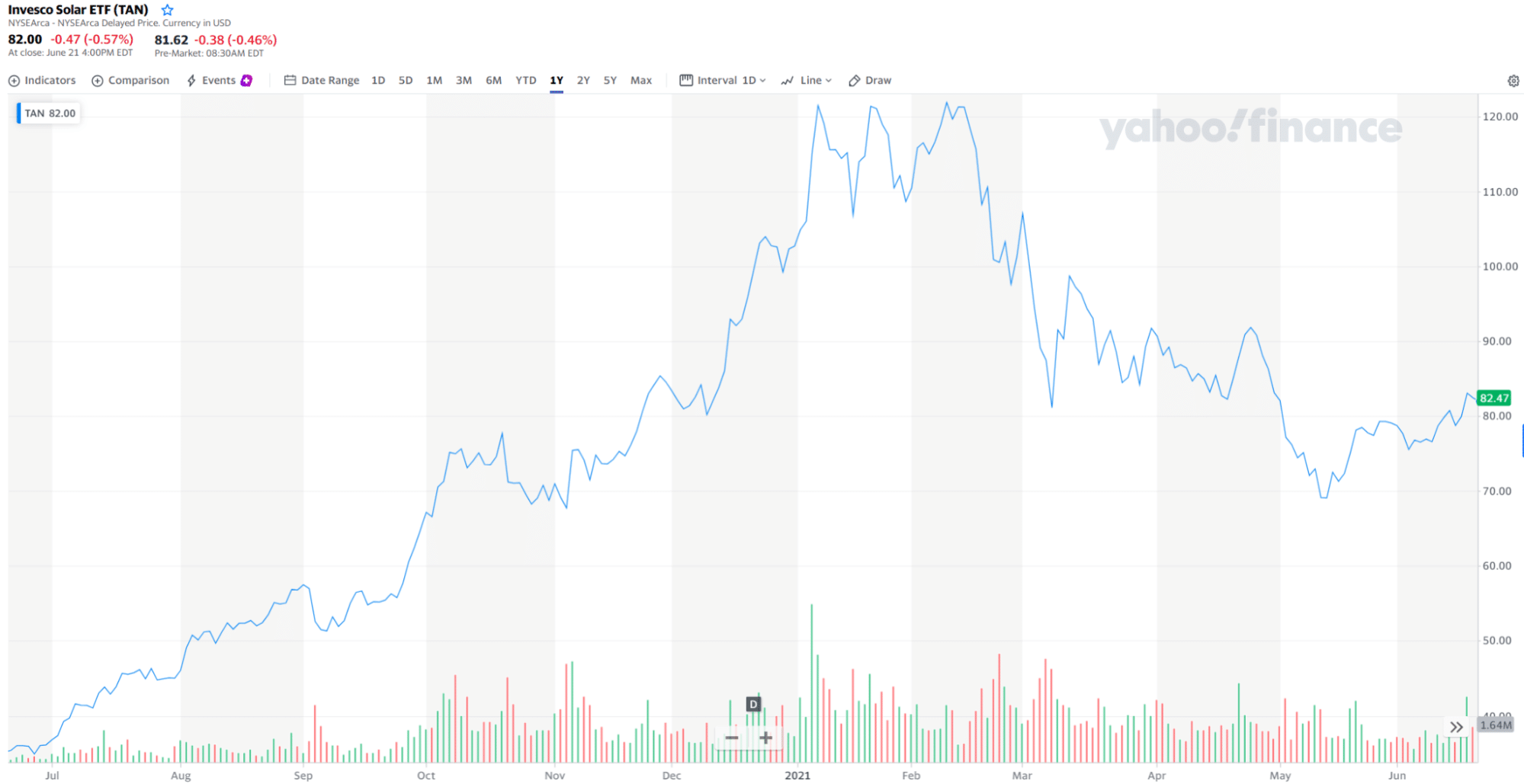 TAN's MSCI rating stands at 5.98/10, with an average yearly return of a whopping 144.57%. In addition, its dividend stood at $0.09 in the last quarter, at an expense ratio of 0.69%.
5. Invesco MSCI Sustainable Future ETF (ERTH)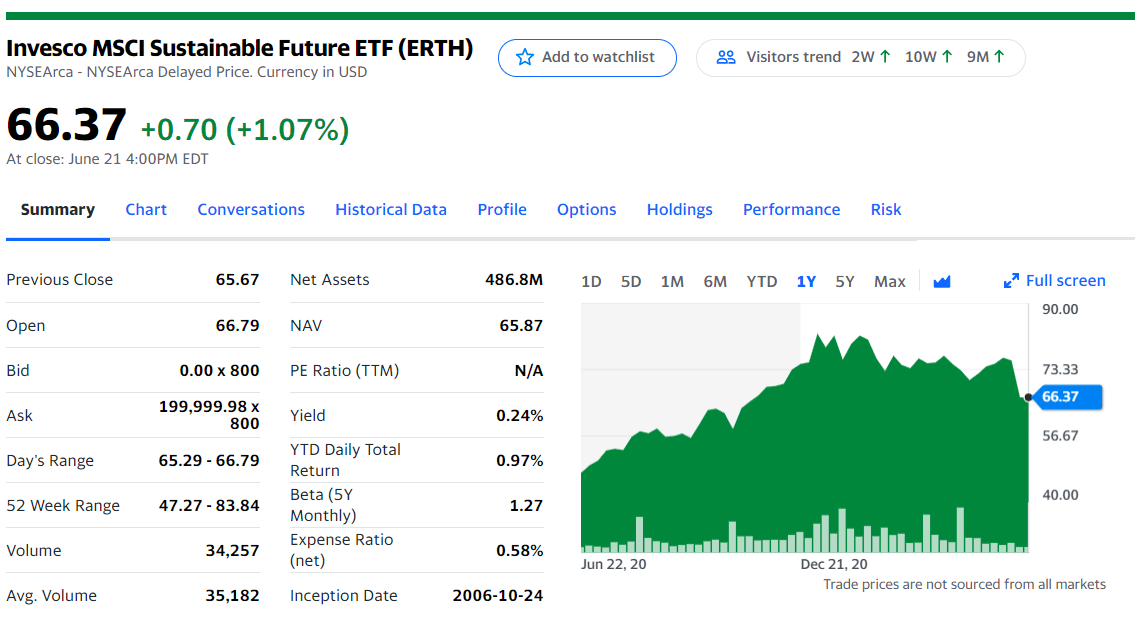 Invesco MSCI Sustainable Future ETF ERTH, previously known as Invesco Cleantech ETF, is one of the names that pops first in most lists of best options for clean energy and climate change ETFs.
Founded as far back as 2006, the fund has an MSCI rating of 5.49/10 and a market capitalization of $51.83 billion.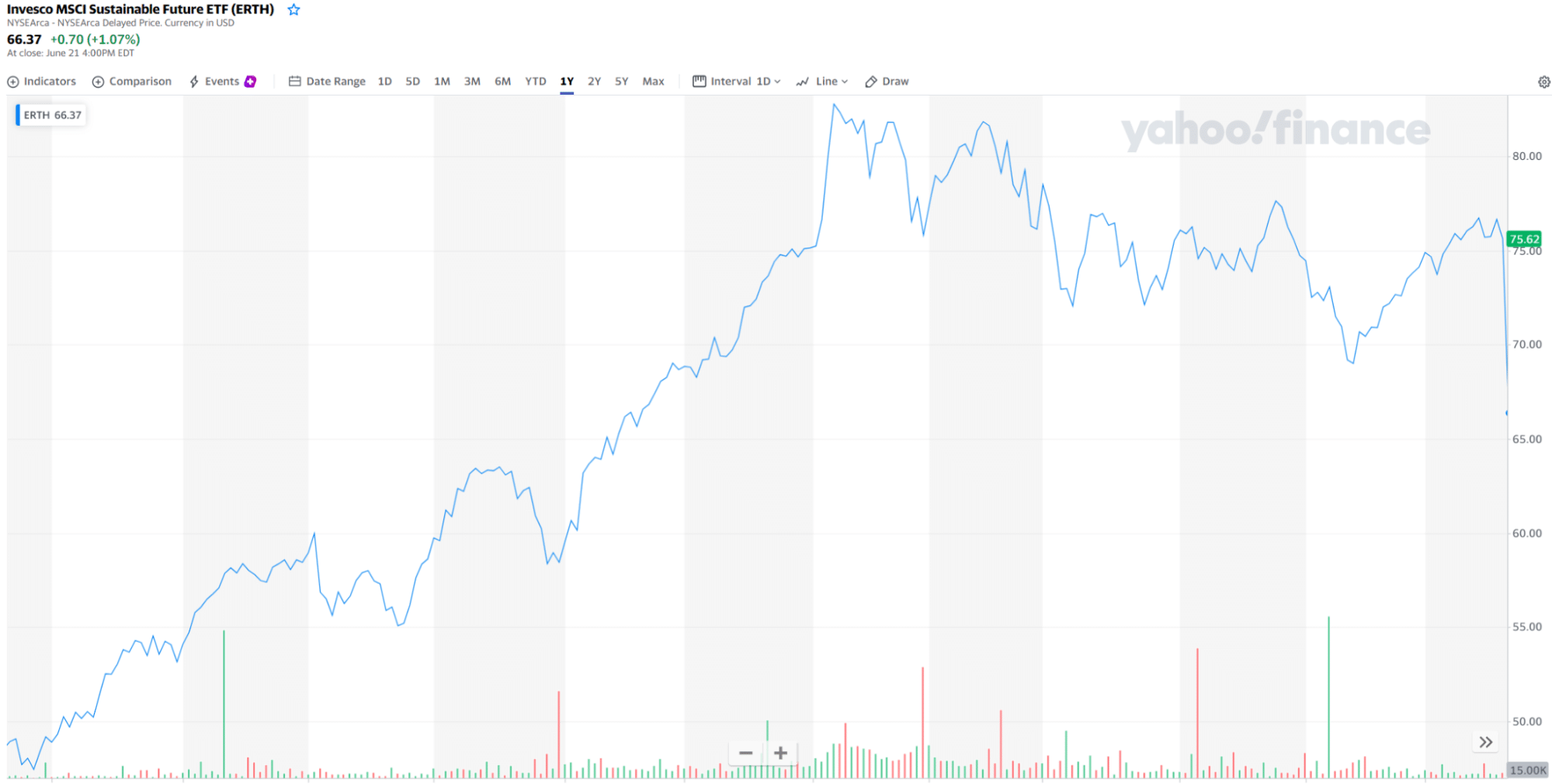 Out of 137 holdings in total, two names are hard to miss, even if you are new to the game: Tesla and NIO. With a combined pull of about 10%, the Chinese electric vehicle maker, along with its US counterpart founded by Elon Musk, is a reason enough to set the volume-related concerns aside.
The fund's annual return amounts to 55.46%, while its quarterly dividend climbed to $0.1. Benchmark-wise, the fund mimics the movements of the MSCI Global Environment Select Index.
Conclusion
After Joe Biden took office as the 46th President of the United States, climate change came roaring back into the spotlight of the public discourse. Most of the funds we mentioned here climbed to their appreciation peaks in early 2021, when Biden first took over the White House. The reason behind this could be his promise to return to the Paris Climate Agreement, which his predecessor Donald Trump left during his time in the oval office.
While it is impossible to predict what will happen to almost any stock, it is plausible to assume that the world isn't going just to scrap the environmental progress made so far and return to the dominant utilization of fossil fuels.
Whether you opt to invest in a greener option out of your beliefs or as a hedge against potential long-term losses in dealing with oil, climate change ETFs can be valuable assets in your portfolio.