This article will present the top five stocks for HODL according to ARK's Cathie with the following list: Tesla, Square, Teladoc, Roku, and Zillow.
ARK investment management gained more than 100% in 2020, which is the best year in history. ARK's CEO, Cathie, sees a 20% average return this year after the unbelievable outcome from 2020.
ARK Investment Management is a registered fund management advisor under the US Securities Exchange Commission. Cathie Wood founded it to focus on innovation in investment management, besides the new dimension of research. ARK focuses on multiple factors to anticipate the price movement like sector performance, market capitalization, geopolitical effect, etc. According to the ARK's website,  they focus on large-scale investment opportunities in multiple sectors.
Let's start with how to invest like Cathie Wood before moving to the core part of this lesson.
How to invest like Cathie Wood
ARK Funds got a massive gain in 2020 — came from the investment in tech sectors: robotics, energy stocks, artificial intelligence, DNA sequencing, and blockchain technology.
In the traditional investment system, it is often impossible to get such gain. Therefore, Cathie Wood focused on what would be the next ultimate opportunity.
"The coronavirus created a tremendous number of problems, and our portfolios are all about solving problems," Cathy stated. "Our investors have been rewarded for helping to solve some of the world's most profound problems." She added how she and her company made their investors earn money in uncertain market conditions during an interview on Bloomberg.
The impressive gain in 2020 allowed investors to consider Cathie Wood as a reliable person for getting investment-related suggestions. Therefore, the top five stocks to HODL, according to ARK's Cathie, would be a dedicated opportunity for investors in 2021.
Top 5 Stocks to HODL
Let's have a look at the list of top 5 stocks to HODL according to ARK's Cathie:
Tesla Inc. (NASDAQ: TSLA)
Square Inc. (NASDAQ: SQ)
Teladoc Health, Inc. (NYSE: TDOC)
Roku, Inc. (NASDAQ: ROKU)
Zillow Group, Inc. (NASDAQ: Z)
1. Tesla Inc. (NASDAQ: TSLA)
Tesla will be in a leading position due to artificial intelligence and, most notably, electric cars. Moreover, Tesla's battery technology is better than other competitors in the next three to four years. Currently, Tesla has a proven record of 15 billion miles drive data, which is a clear sign of strength in the company's growth.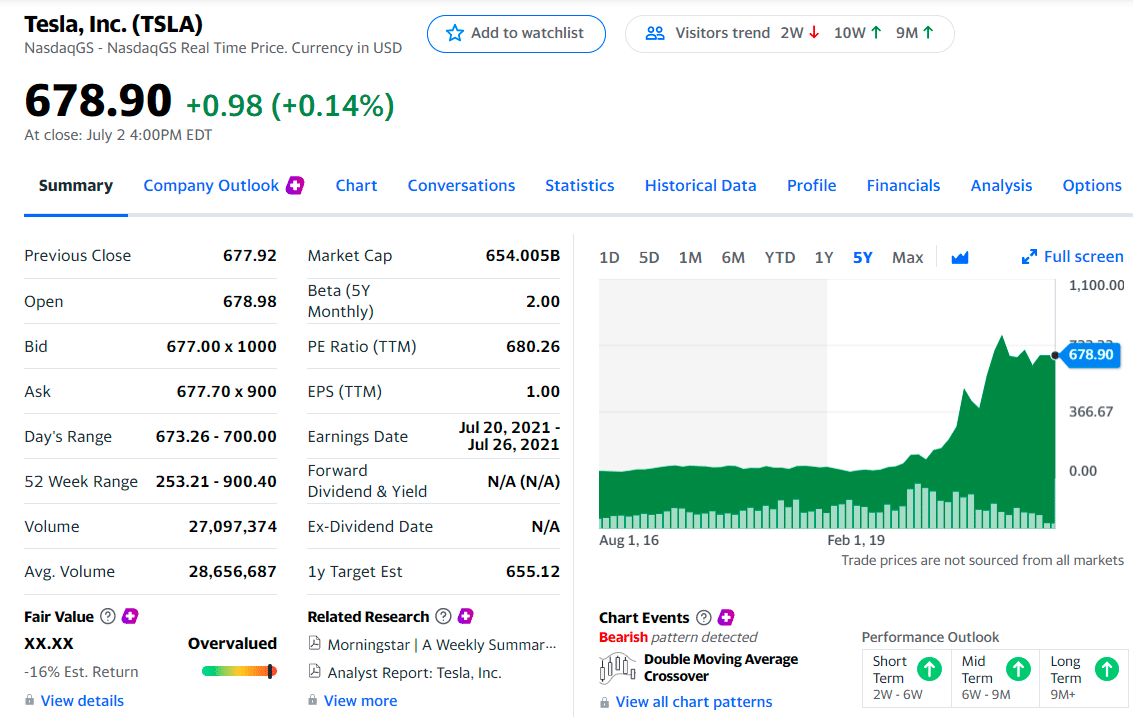 As a result, Cathie Wood kept Tesla in the number one position in the portfolio from September 2020. Currently, Wood's holds 3.43 million Tesla shares that represent 8.7% of their 13F portfolio. Now, this investment value is more than $2.4 billion, pointing out the most significant growth of ARK's portfolio.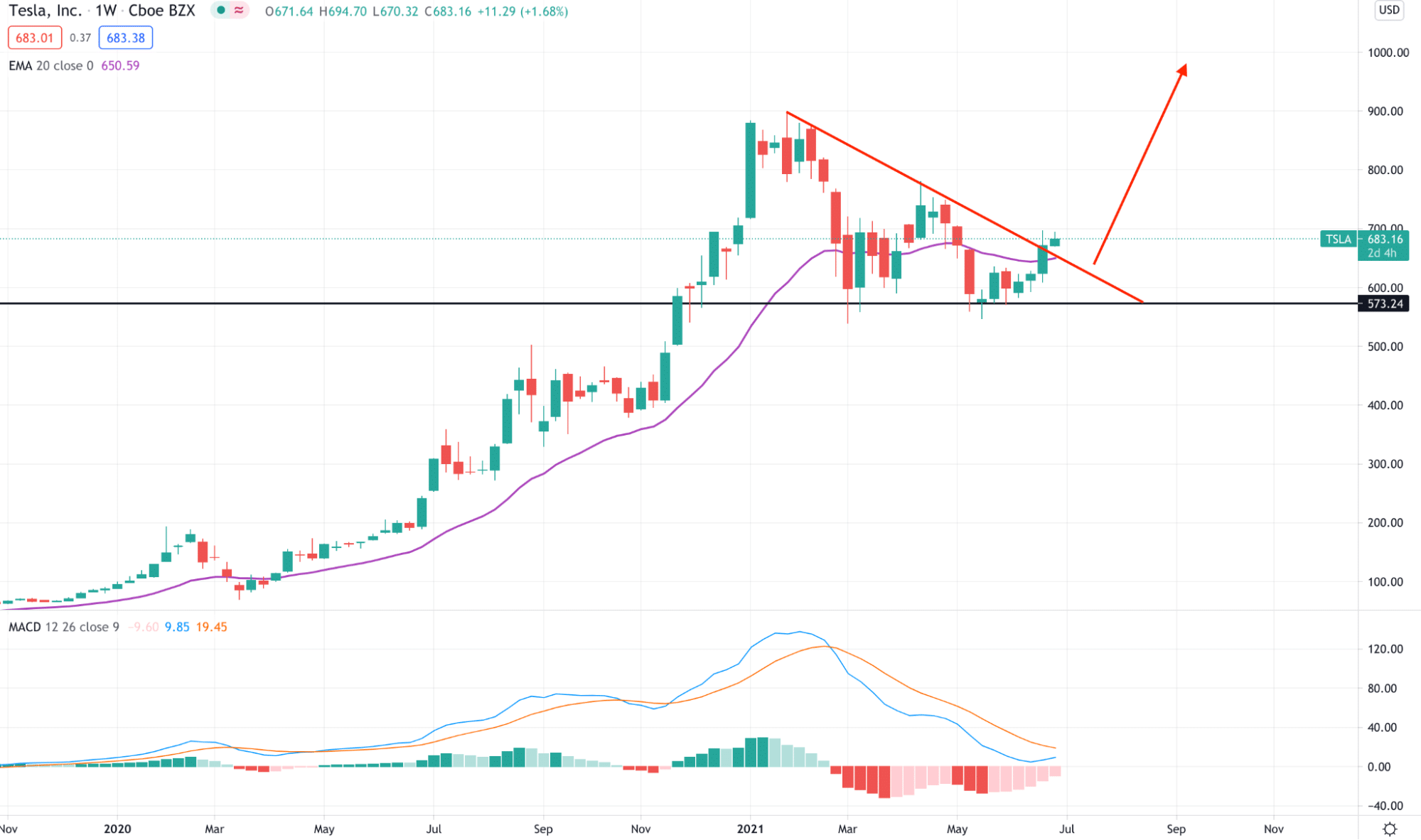 In the price chart, Tesla stock made a vital support level at 573.00 level where the current momentum is bullish as long as the price is trading above this level. Moreover, the 161.8% Fibonacci extension level from January 2021 high to May 2021 low is at 1107.20 level.
Therefore, the primary price target would be 1107.20 level, and any surge of the price above this level depends on how the company performs.
2. Square Inc. (NASDAQ: SQ)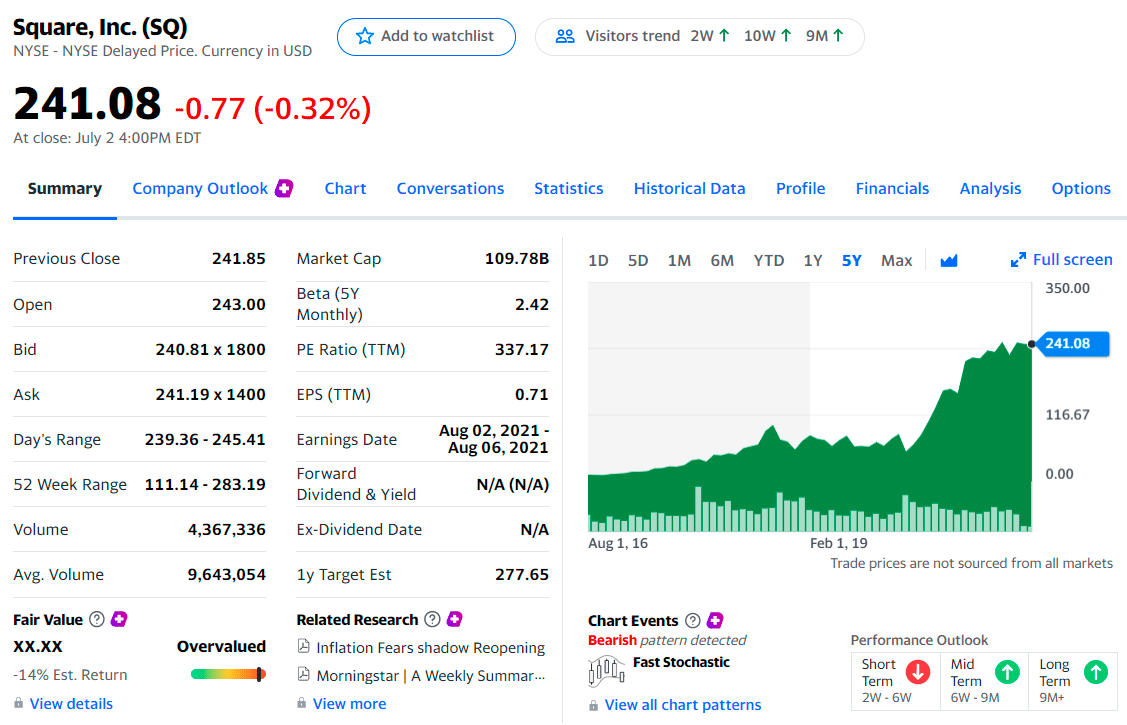 Square Inc. is a digital payment firm, and Cathie Wood thinks this instrument will have potential shortly.
This company was founded in 2009, and within that time, it started to provide a decent profit to investors. In 2020, this company provided a 151% return to its investors and became a reliable investment opportunity. Currently, ARK Investment management holds almost 11 million shares of Square Inc., with a value of $2.4 billion.
This company is now facing an adverse movement in the stock price due to heavy investment in crypto that harmed the fiat world. However, SQ announced to raise $2 billion senior notes for its corporate purpose.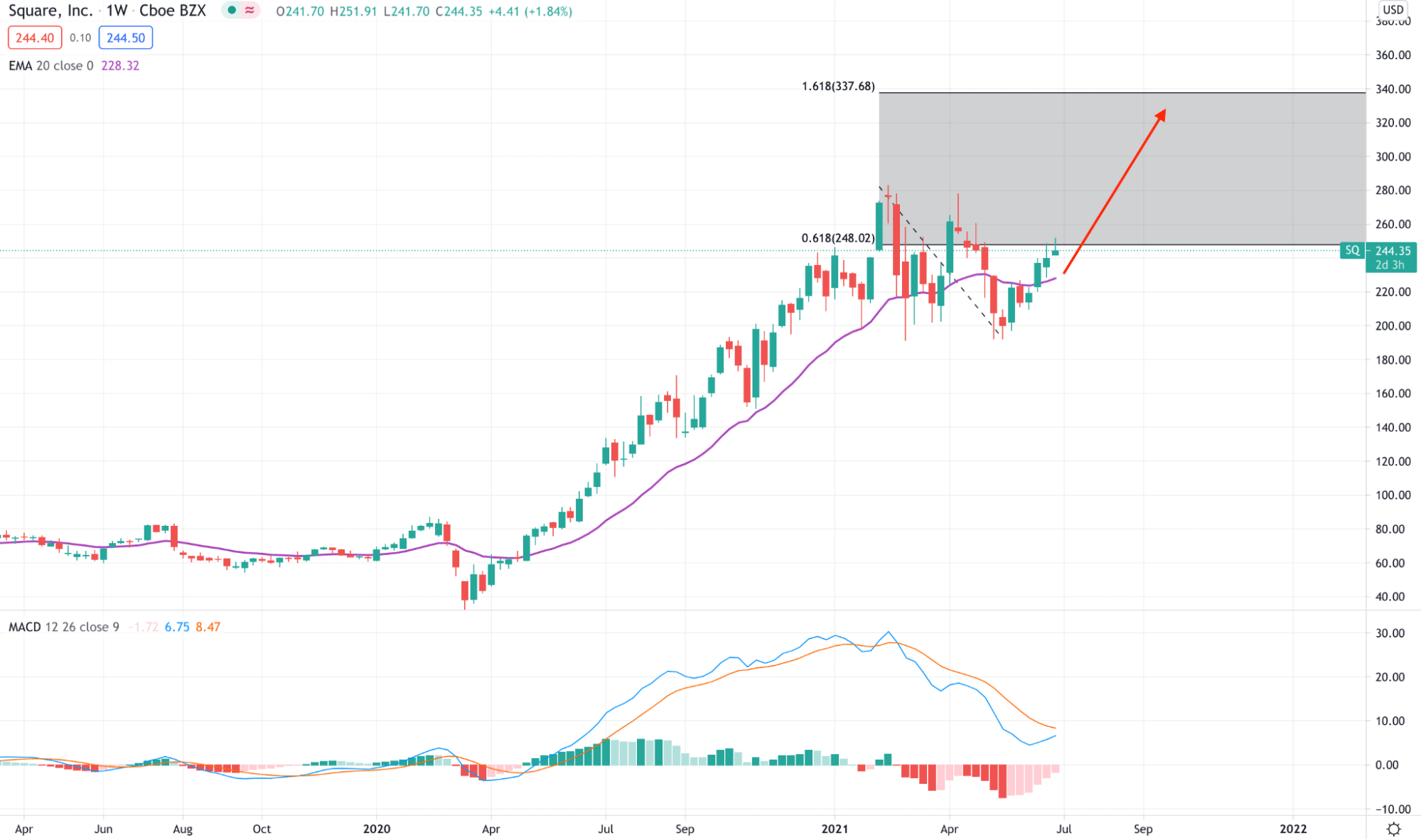 As per the current price chart, Square Inc. stock is reaccumulating orders after a strong bull run in the weekly chart. As per the recent price action, the price may grow higher towards the 340.00 level in 2021.
3. Teladoc Health, Inc. (NYSE: TDOC)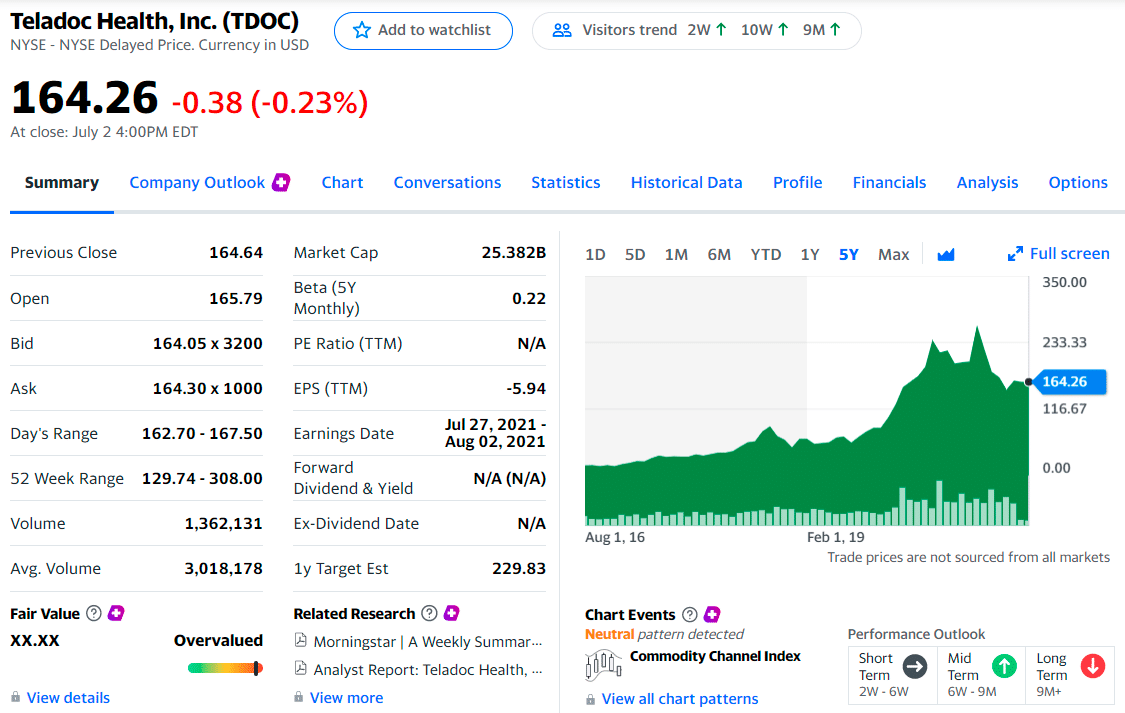 Teladoc is a Fintech company in New York who focuses on providing services in virtual healthcare since 2002. ARK Investment is optimistic about this company and holds more than 14 million shares with a value of more than $2.6 billion.
TDOC may grow higher towards the $210.00 level with a 21% upside potential, according to an investment advisory firm.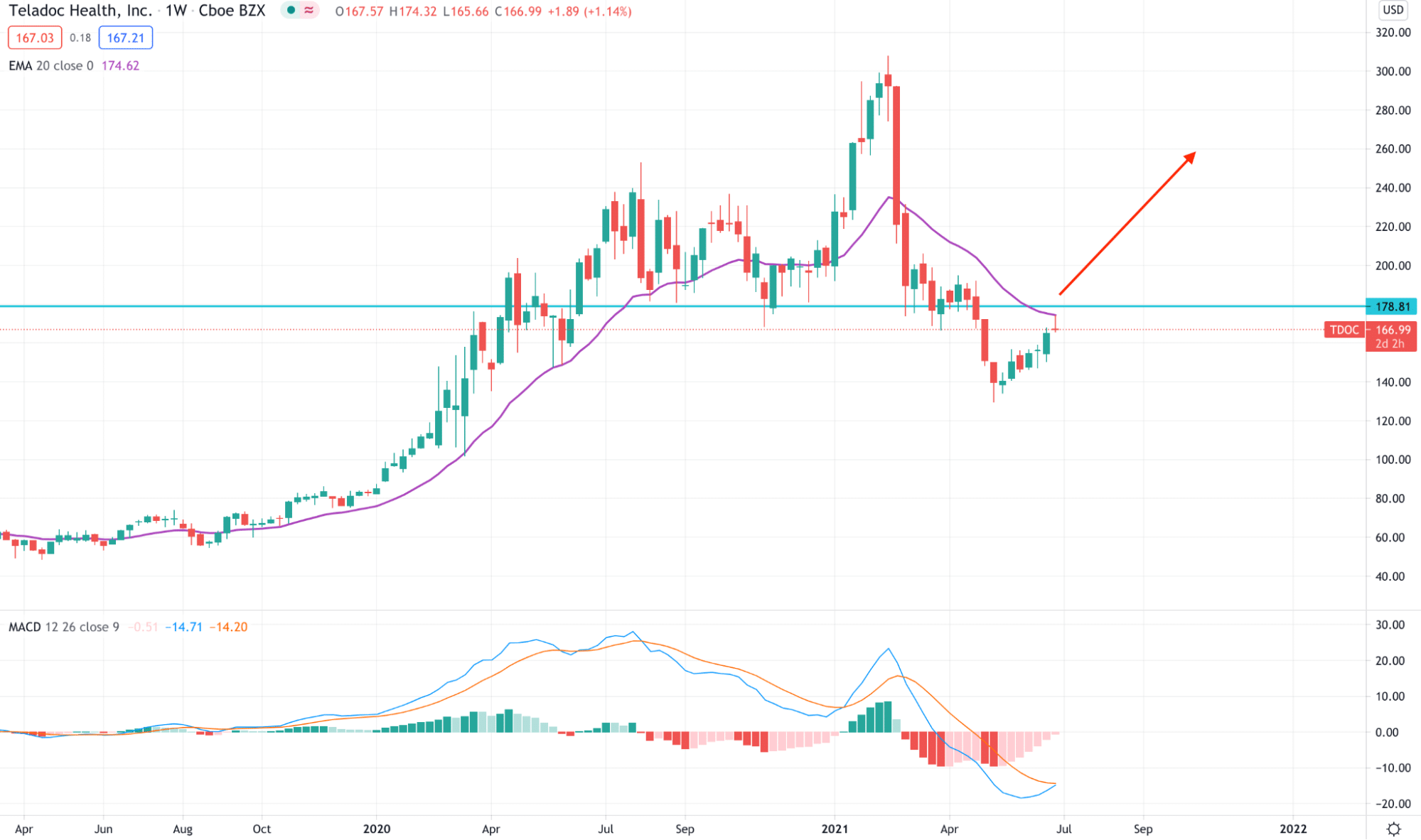 In the weekly price, Teladoc Health Inc. stock is facing bearish pressure in 2021. Still, MACD started to lose its bearish pressure where investors should find the price above the 178.80 event level to consider the upcoming pressure as bearish.
4. Roku, Inc. (NASDAQ: ROKU)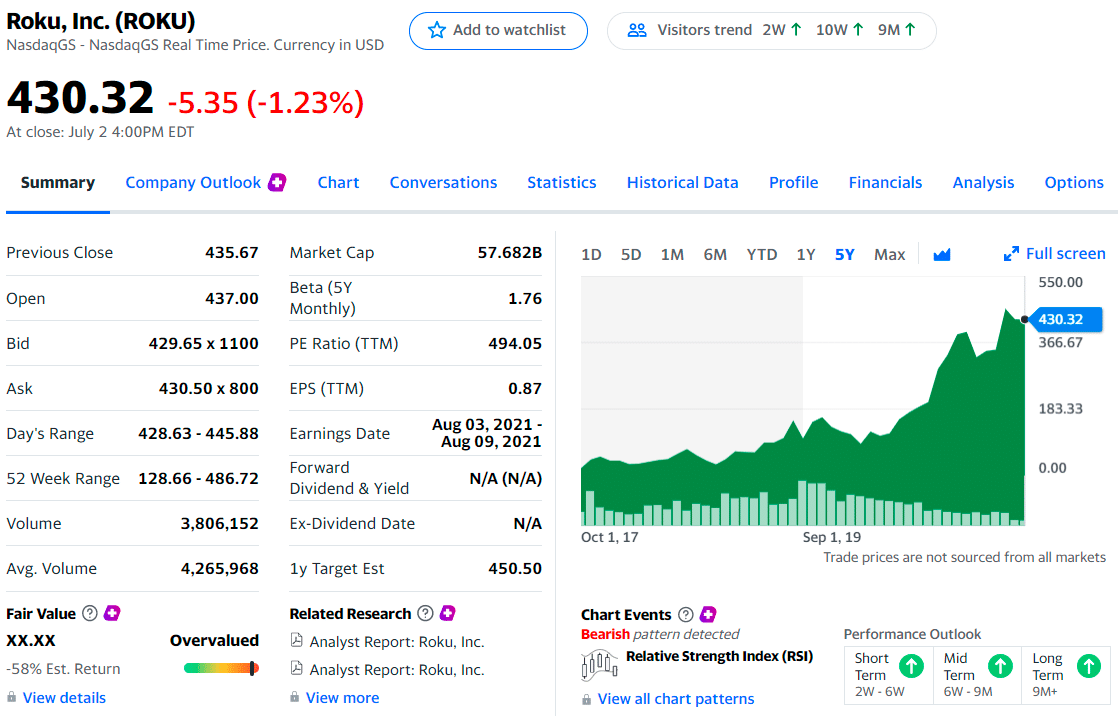 Roku Inc. is a US company based in California that has operated streaming services since 2002. In the past year, this company has provided more than 2005 profit to investors. Cathie Woods holds more than 5 million ROKU shares with a value of $1.6 billion.
In May 2021, ROKU stock surged by 13% with a better-than-expected earnings report that allowed several Hedge funds to remain optimistic about this company.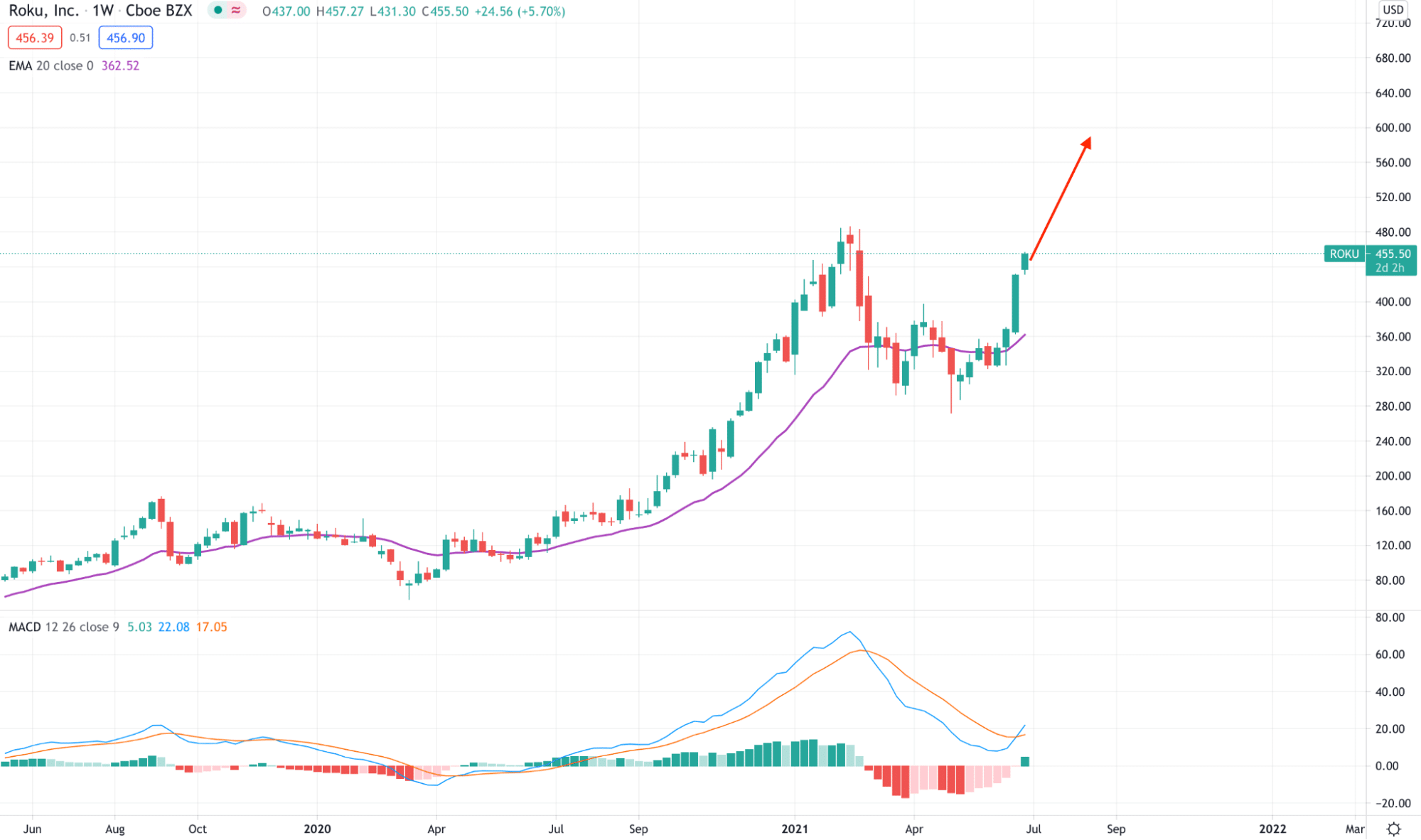 Roku Stock moved higher above the dynamic 20 EMA with an impulsive bullish pressure that may take the price higher above the all-time high of 485.50 level in the weekly price chart.
5. Zillow Group, Inc. (NASDAQ: Z)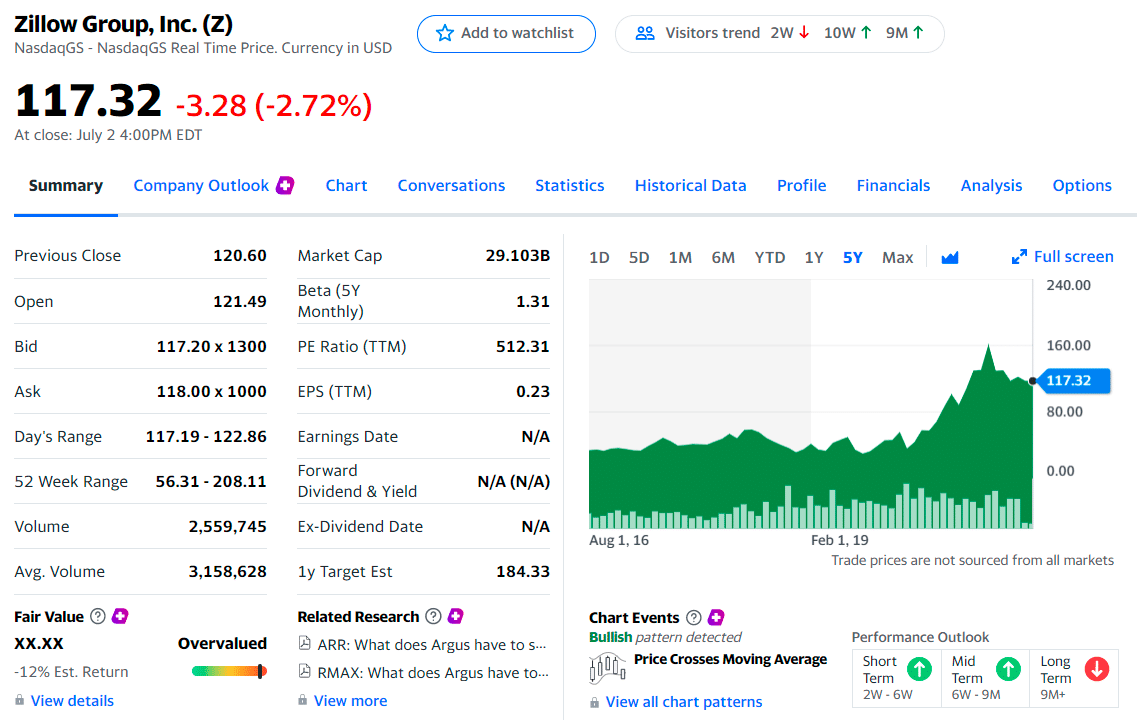 Zillow Group is a real estate marketplace that started business in 2004. ARK Investment holds more than 10 million shares of this company, with a value of over $1.3 billion. Zillow Group, Inc. provided almost 100% return to its investors with its financing and insurance products in the past year.
Zillow Group released its Q1 2021 earnings report with an EPS of $0.2, beating the expectation of $0.13. Moreover, the revenue came at $1.3 billion, 8% above the previous year.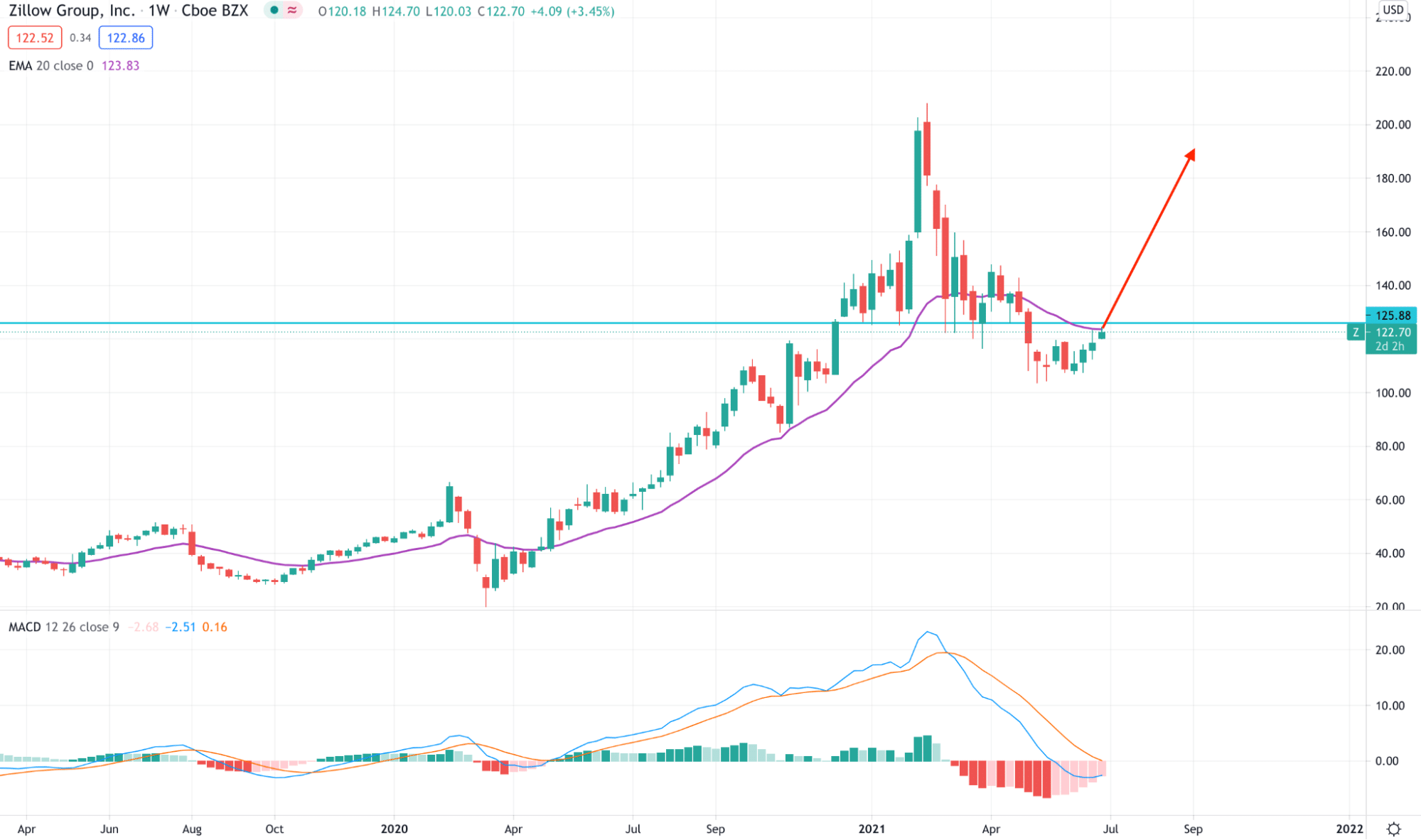 Currently, Z stock is trading below the event level of 125.88, and any bullish weekly close above this level may initiate a bullish pressure on the price.
Final thoughts
We have seen the top five stocks to HODL, according to Cathie Wood. If you invest in these stocks, there is a  higher possibility of winning. However, success in financial trading depends on how you are utilizing your funds with proper allocation and management.
The best approach is to use technical analysis to find a reliable trading entry and HODL for more than a year to achieve the ultimate result.