For the first time, TIME magazine has published a ranking of the "most influential companies." Traditionally, the magazine annually compiles a rating of the most influential people in the world. The new rating includes those who, in the opinion of the editorial board and experts, "help chart an important path forward."
The result is a diverse set of 100 organizations, from tech startups developing more innovative disposal methods to cryptocurrency firms rethinking money and pharmaceutical giants creating vaccines.
The rating of the most influential companies includes five categories — Pioneers, Leaders, Innovators, Giants, and Disruptors. Each of the categories has from 16 to 21 companies.
Why did TIME choose these categories?
The first category of Pioneers is represented by companies and services that promote new technologies to the masses or change their daily lifestyle. These pioneers include, for example, the world's largest plant-based meat substitute manufacturer, Beyond Meat, and the famous running, cycling, and another fitness app Strava.
The Leaders category includes companies that hold leading positions in their market sectors: for example, the National Basketball Association, Apple, Pfizer and BioNTech, Sony, Mattel, Nike, and others.
The list of Innovators included companies that offer users new ideas that resonate well: companies such as Netflix, Nintendo, Zoom, Spotify, Ikea, Adidas, TikTok, and others.
Titans in the list are companies that are leaders in their segments and impact the global economy. These are, in particular, such companies as General Motors, Alibaba, Facebook, Google, Microsoft, Samsung, PayPal, UPS, etc.
The Disruptors category lists companies that have revolutionized the conventional wisdom of business and technology with their ideas and developments. The list's compilers recognized such companies as Tesla, SpaceX, Robinhood, Huawei, Coursera, Airbnb, Clubhouse, etc.
What if you invested in some of these companies at the beginning of 2021?
TIME 100 has prepared the top 100 most influential companies, which are still worthy of investment now in 2021. We analyze the four companies from the list according to their performance in the last five months. Let's look at them.
Tilray, Inc.: PIONEER from the TIME 100 list
Tilray, Inc. is one of the pioneering companies on the TIME 100 list. Tilray is a pharmaceutical and cannabis company incorporated in the United States with primary operations headquartered in Toronto, Ontario.
Irwin Simon was best known for creating a health-food giant before signing on to head Aphria, a cannabis company based in Canada, where recreational marijuana is legal.
The plan from now on involves supporting studies that might widen approved medical targets, like epilepsy, pain, and anxiety, and marketing consumer products like THC-infused drinks wherever recreational pot goes legit.
Is this company attractive to investors?
As of December 31, 2020, the share price was $8.26. If we talked about five months, the share price escalated to $14.15 on May 6, 2021. So, if one had repurchased shares of $1000 in December 2020 at the cost of $8.26, they would've obtained 121 shares which would be now worth $1712.15. It means that the person would earn a profit of 71%.
But let's look at February 10, 2021, when the price was impressive and reached almost $64! Anyone who bought shares in this company in December could have earned excess profits in February. According to these statistics, purchasing shares of Tilray would be a very positive investment in terms of profit margin.
General Motors Company: TITAN from the TIME100 list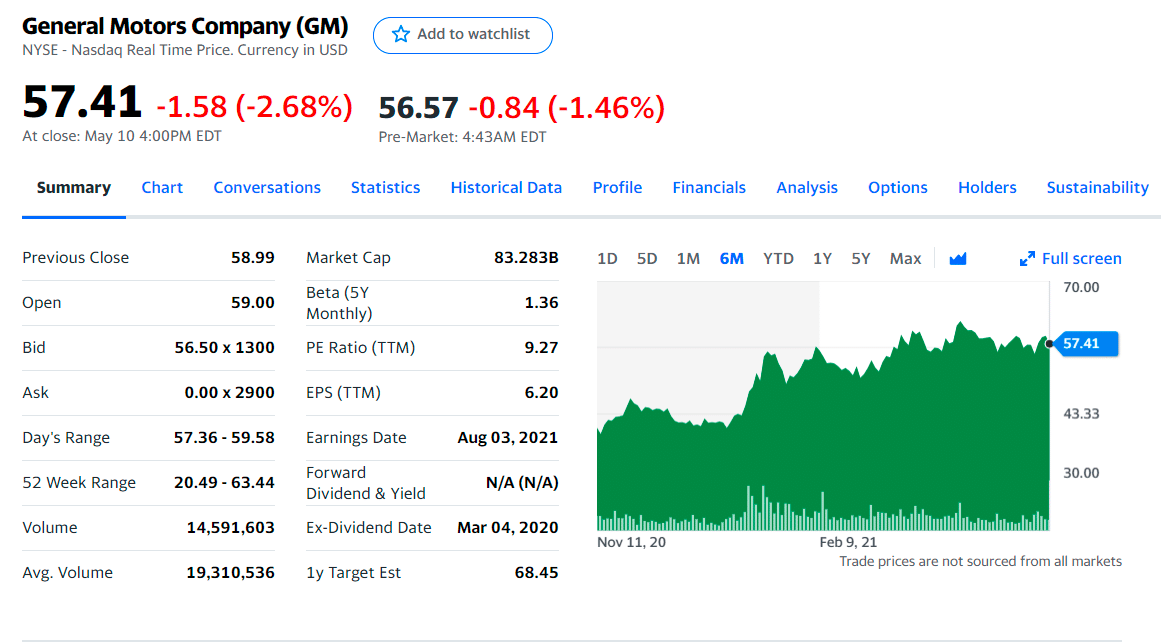 General Motors Company is an American multinational corporation headquartered in Detroit, Michigan. It designs, manufactures, markets, and distributes vehicles and vehicle parts and sells financial services, with global headquarters in Detroit's Renaissance Center. General Motors Corporation was the world's largest motor vehicle manufacturer for most of the 20th and early 21st century. The company's primary products include automobiles, trucks, automotive components, and engines.
To help jump-start EV sales, which currently account for about 2% of the US market for cars, President Biden's recently unveiled infrastructure plan includes $174 billion explicitly targeted at EVs. Barra. The daughter of a GM auto-worker who herself started at GM inspecting fenders is a rare CEO who has spent her entire career with one company. It has recently joined TIME for several conversations on GM's plan to invest $27 billion in EVs and introduce 30 new models by 2025 — and its "aspiration" to quit making cars with tailpipes by 2035.
Is this company attractive to investors?
GM's stock prices have shot up in the last five months. Its stock was worth $41.64 on December 31 at the end of the year 2020 and, after five months, increased to $58.72. Talking about profit margins, if one had bought $1000 worth of shares at the price of $41.64 back in December 2020, they would've obtained 24 shares, which would now be worth $1409 in May 2021.
Alibaba Group Holding Limited: TITAN from the TIME 100 list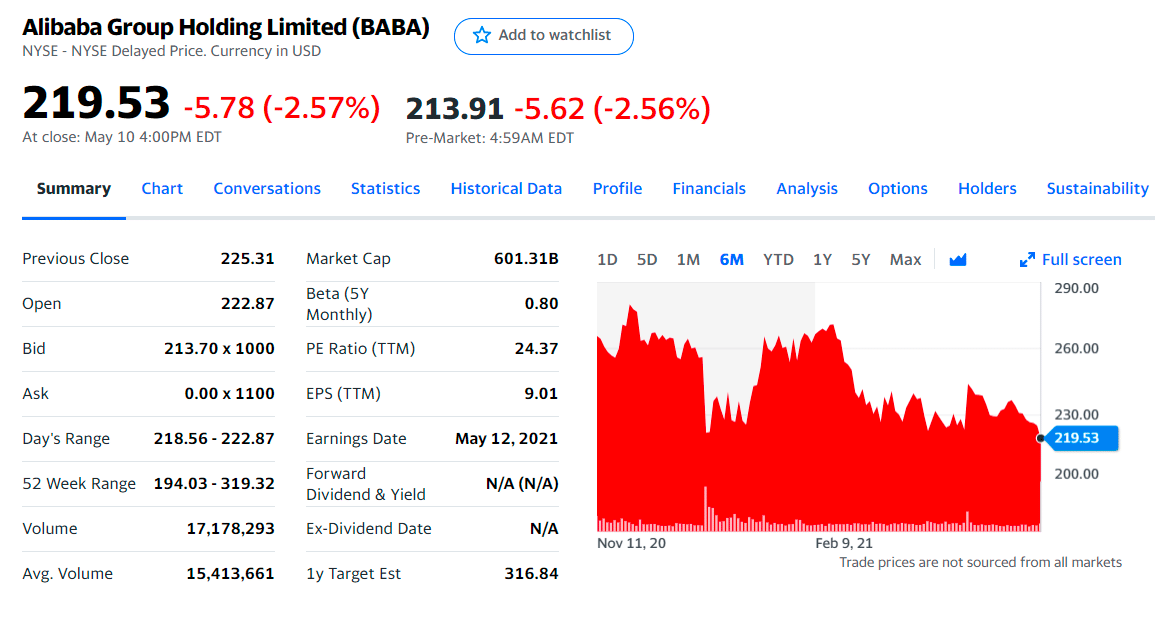 Alibaba — one of the titans from TIME 100 list is China's largest e-commerce company. By 2021, gross merchandise value has reached US$1 trillion, and revenue has reached the US $91 billion. However, the invasion of mobile payments, i.e., its service, has attacked 1.3 billion users worldwide.
This has plunged the business giant into a crucial political stakeholder, demoralizing China's top leaders. Tensions between the mesmerizing founder of Alibaba, Jack Ma, and the Chinese government caused regulators to withdraw a $37 billion IPO from Alibaba's Fintech arm and Ant Group. In April of this year, Alibaba agreed to be fined $2.8 billion for violating anti-monopoly rules.
Is this company attractive to investors?
The record fine on BABA has primarily affected its position in the stock market. At the end of the year 2020, on December 31, its share was worth $232.73, but after five months and the IPOs, the company's stocks took a downfall, its stock price has fallen to $226.42 now in May 2021.
The analysis depicts that Alibaba is not in a good position right now, but of course, it has vast potential.
Tesla, Inc.: DISRUPTOR from the TIME 100 list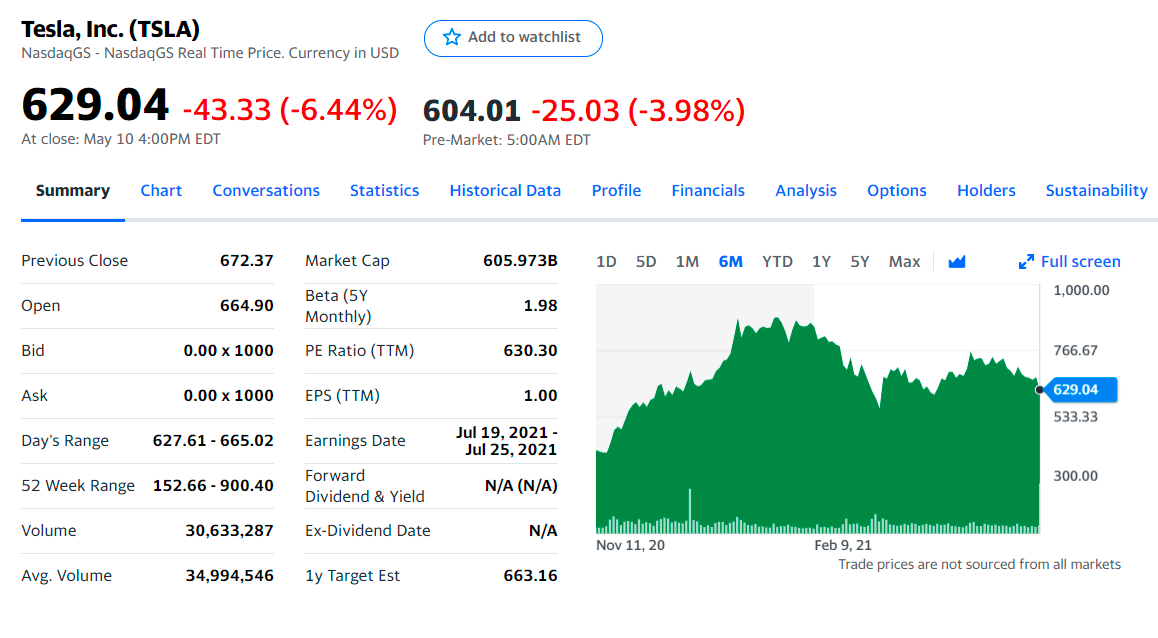 In 2020, Tesla became the most valuable car company globally, earning it on the S&P 500 index. Just 18 years old — a newcomer compared with the legacy automotive companies — and with its first profitable year now under its belt, Tesla continues to move beyond just manufacturing some of the world's most glamorous cars.
It has also established itself as a leader in the renewable electric-energy sector. Its powerwall, powerpack, and solar roof divisions provide electric-energy generation and storage for businesses, utilities, and homes.
Is this company attractive to investors?
Tesla had a stronghold in the stock market over recent years, but its profit margins are currently in question because of the downfall of its stock prices in recent five months. First, its share was worth $694.78, which went down, and now in May 2021, its stock worth is $663. So if one bought $1000 worth of shares of Tesla five months back in December 2020 for $694.78, they would now sell at $663, earning a loss of $31.78 per share in May 2021, which is an evident loss.
Final thoughts
In this article, we have analyzed only the changes in the value of the shares of some companies. If you are seriously thinking about buying shares of this or that company, you need to conduct a more thorough and in-depth analysis.
When assessing the investment attractiveness of an issuer, it is better to rely on an integrated approach consisting of the following methods:
Macroanalysis, the cyclical nature of the company relative to the business cycle.
Fundamental analysis — key business indicators, efficiency, financial health.
Deep internal analysis of the company and its reporting.