Ohlsen Trading is a new Forex signal provider, claiming that it's one of the best trading tools that can offer a high monthly gain of 4-13%, and a decent win rate of 99%. The copy trading solutions are fully autonomous, so they do not require any human intervention.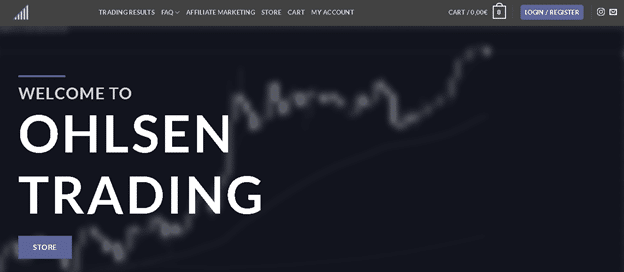 There's no information behind this FX trading system provided. We do not know anything about them or their whereabouts. So, when you decide to pay for their service, you should be ready to provide 60-65 EUR to an unknown person who did not even care to provide a money refund. So, trading with this copy trading tool is extremely risky.
Ohlsen Trading Signal Service Review
Although it is a newly launched FX market service, we can neither trust its developers, nor the signal service itself. Keep on reading out Ohlsen Trading review to get more details. The Robot is on the FX market.
What is behind the Ohlsen Trading?
To start trading with Ohlsen Trading, we need to register with a broker who can handle forex transactions. The broker should have access to the MT4 platform. Then we need to choose the desired subscription plan and pay for it. We can choose one, three, or six months at a time. The devs point out that the longer the subscription plan we choose, the cheaper our monthly average cost will be.
Unfortunately, there is no information available on the website on the working of this Forex trading system. Nevertheless, we may only deduce some conclusions about the trading performance of this trading system basing on backtest report and live trading results:
It works on the H1 timeframe

Runs on MT4 platform

Trades EUR/USD currency

Recommended account balance is $1000

The average number of trades is 10-25 trades per month
To set up this trading system we need to follow the below-listed steps:
Registration process:

provide information about the name of our broker, our MT4 account number, and password.

VPS:

the team behind Ohlsen Trading will download our MT4 to their VPS service, where all their customer accounts are hosted.

Settings:

then the devs will apply their client expert advisor to our trading account and set the correct settings.

Copy-trading:

we will get our account set for copy trading.
Key Features
The vendor behind this trading system has pointed out the following features of Ohlsen Trading:
It offers a fully automated trading experience

The system offers 4-13% of monthly returns. They also point out that it depends on the subscription plan we choose

In case of loss, (they say that usually, losses are big), their robot will generate the same amount in 14-30 days. Why have we waited so long?

There are no hidden fees

We are provided with a copy trading service that works 24/5 without a pause
Trading Strategy
Unfortunately, there is no word mentioned about the trading strategy behind the system. On the FPA page, we are told very little about the Ohlsen Trading copy trading signals. We are told that the system trades with very small TP and a very large SL, which very often results in small profits and very rarely in large losses.
From the backtest report we can see that the system was tested on EUR/USD. The test started in 2013 and ended in 2018. It ran on an H1 timeframe. The modeling quality of the backtest was 90%. There were 31975 bars tested. Being deposited at $1K, the account has brought $1885555 of the total net profit. The system had a high-profit factor of 4, 35 and a high win rate of nearly 100% for both Long and Short trading positions. The high win rate comes from the fact that it had a broad SL and a small TP. The average loss trade was x35 times higher than the average win: -$11266.91 and $319.70.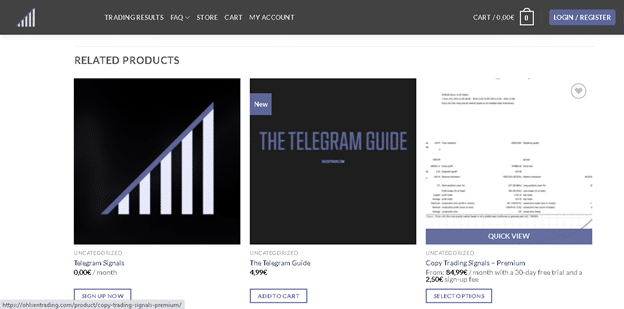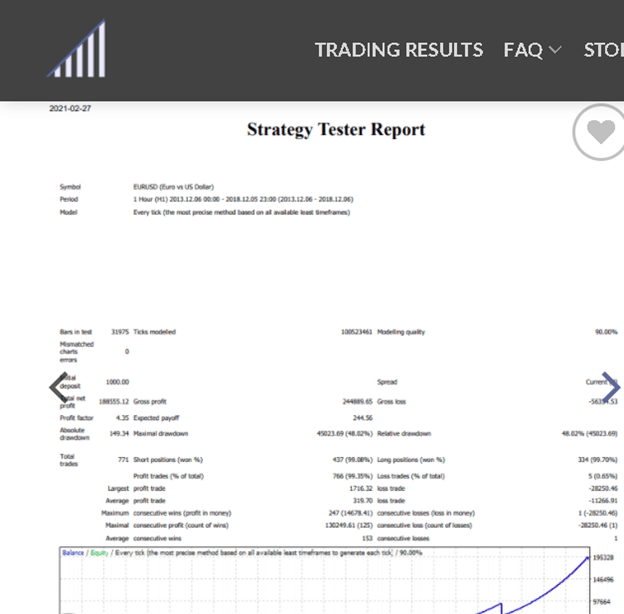 Pricing
There are different packages with different monthly gains and associated sets of drawdowns. They also offer a 30 days trial period for only 2,5 EUR. This applies to all their subscription options. In comparison with the other competitive services that range from $100-$200 per month, this one is quite affordable.
Telegram copy trading signals can be achieved for free and are manually copied by traders. They do not have any hidden fees and offer signals via the Telegram group 24/5. There also are 2 paid monthly subscription plans offered. One of them comes for $60/month and offers up to 4% of the monthly gain. The other plan is sold for $65/month and offers up to 13% gain per month. Both packages are fully automatic, do not include any hidden fees, and offer copy-trading signals 24/5.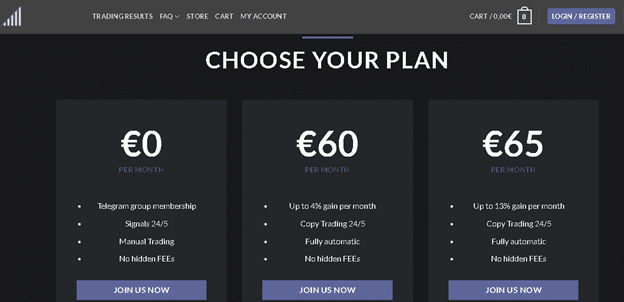 Trading Performance of Ohlsen Trading
The dev provides a link to OhlsenTrading live trading results verified by myfxbook.com: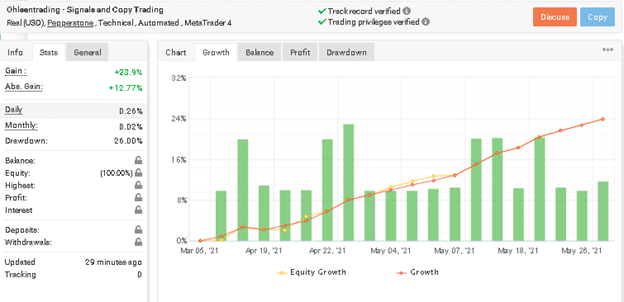 For 20 days of trading activity, this Real (USD) account could reach a gain of 23,9% with an absolute gain of 12,77%. The average daily and monthly gains are 0,26% and 8,02%. The peak drawdown was 26% which is too much for this trading account. A trader has to have 1 month of successful trading activity to recover after losses. As you may see, trading activity is hidden which raises suspicions around the vendor's transparency. What does he hide and why? It looks suspicious.
The robot trades with low trading risks and with the highest trading activity on Wednesday. It trades only 1 currency pair, the same we have in the backtest report – EURUSD (has traded 25 trades and won 96% out of them). The profit factor is 46,02, which is too high to be true.
The trading history is hidden so we cannot analyze the trading approach the EA uses in trading:

Customer Support
There is no way to get in touch with support. The link to send them an email does not work:

People Feedback
Ohlsen Trading has a page on FPA. The test started on March 8, 2021. It shows a 1.12% weekly return. The maximum equity used was 4.79%.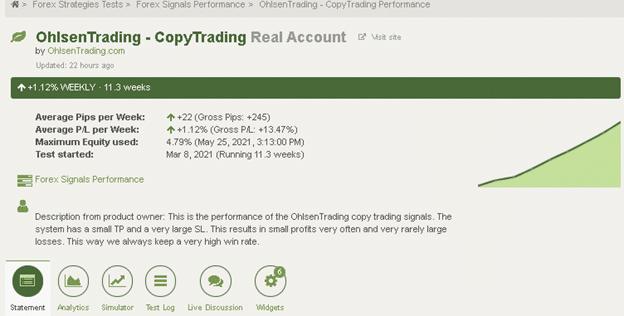 Unfortunately, there are no reviews from customers:

On Trustpilot, we could find 2 customer feedback. Not surprisingly, both are positive and have a high 5-star rate.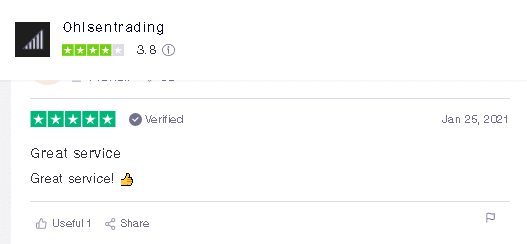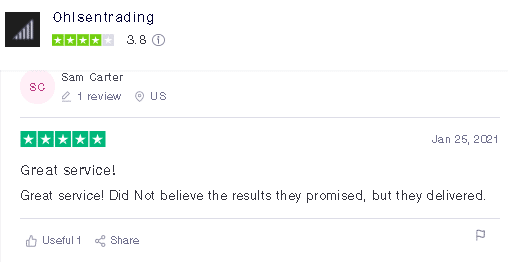 We cannot trust them as they seem to be fake ones, as they were published the same day, and have the same text which seems to be copy pasted.