Killa Gorilla FX Master is a trading solution that spreads for free. The presentation is simple and not professional. Using anything that is download-free for making money is the most common mistake of beginner traders. The main page suggests we register and provide our emails for getting instructions.
The presentation doesn't include backtest reports or trading results. There are no explanations about how the system truly functions.
What is behind Killa Gorilla FX Master?
It's hard to tell for sure what we have to expect from this system. We've gathered everything written with some extra thoughts about it in the following list:
It's confirmed that the system is a fully automatic trading advisor.
The system trades quite frequently on a terminal.
The next statement sounds scammy that we can make from $50 to $20,000 daily.
The profit target can be set hourly, daily, etc.
It sounds all over the place too.
There are Equity Stops based on a percentage of account balance or in USD.
The system can trade specific trading hours if we set them.
There can be variable SL and TP levels.
The system is enhanced with a news filter that allows not to trade determined hours.
There's a "Built-in Info Panel – displays key performance live data as the robot trades."
We have Spike and Trend Protection to not to trade when a spike/trend is detected.
It can work on the MT4 only.
We are free to use it on all charts and time frames.
We can skip trading on Friday.
The system doesn't require us to have a proper trading experience.
The main strategy is price action.
There is a Grid with Martingale in addition.
The operating system is Windows 7 or later.
The advisor has to be tested on a demo account.
We shouldn't trade during periods of high and medium-impact news.
There's the first page of settings. It looks like there are four of them.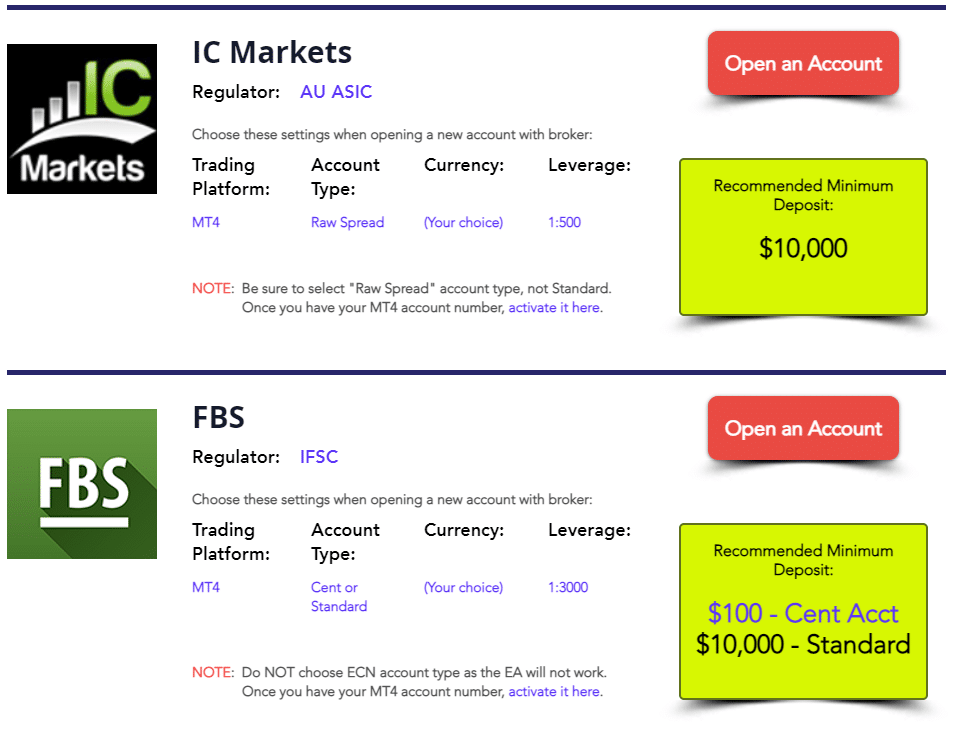 The other suggested brokers are FBS and FX Choice.
There are several lists of settings provided on the dev's website.
Key Features
The system is a fully automated trading solution.
It comes with money management and news filter features.
The main settings were customized for trading EURUSD.
The minimum deposit is $1000.
The optimal deposit should be $5,000-$10,000.
Performance on an ECN account will be better.
It's compatible with all MT4 brokers.
The recommended broker is IC Markets.
The system should be used on VPS.
Trading Strategy
The robot uses a Price Action as the main strategy.
The supporting ones are Grid and Martingale.
We are free to trade any pair at any time frame.
The presentation doesn't include backtest reports at all. This is a significant disadvantage because we don't know if the robot was tested properly. It means no details for us from the final table report.
Pricing
The pricing is not available. It looks like the system is free to go. Sometimes this happens. We cannot be sure that the developer designed it well.
Trading performance of Killa Gorilla FX Master
There are no trading results as well. The developers didn't share with us details of their trading experience. We have no idea if the system is profitable on the best-customized EURUSD, which the developers mentioned. Lacking detailed results hides from us information about the absolute growth during a proper period, monthly gain, leverage, trade length, win rates, average win and loss, profit factor, trading hours, and many other details we usually explain in our reviews to help our readers to pick the robot wisely.
Customer support
The developer provides support because all communication goes through emails. We don't know about its quality.
People feedback
There's a page on the Killa Gorilla site on Forex Peace Army. There are five testimonials that form a 3.66 rate.

The clients weren't happy with the support and how the system performs orders on a real account.