JP Morgan and Goldman Sachs published their quarterly earnings report on July 13, 2021. The Dow Jones giants beat second-quarter estimates before day's market open as both saw better than expected earnings.
Goldman Sachs's second-quarter earnings edge past the Wall Street expectation.
After taking $734 million in charge-offs, JP Morgan earned $2.3 billion from releasing $3 billion in loan loss reserves, resulting in a $2.3 billion profit.
The more substantial IPO market added to the upside of both Goldman Sachs and JP Morgan.
JP Morgan and Goldman Sachs technical analysis: what to look for next?
Extensive bank stocks have recently been under pressure as Treasury yields have begun to fall and trading revenue has started to normalize following pandemic-induced volatility. However, the rapid pace of IPOs and mergers and acquisitions boosted investment banking results.
Net revenue
JP Morgan's net revenue was down 7% to $31.4 billion. The company's non-interest revenue was $18.5 billion, a 7% decrease, owing to lower corporate and investment banking revenue and $678 million in markups on held-for-sale positions in the bridge book12 recorded in the prior year.
These were primarily offset by higher Investment Banking fees in CIB, higher card income, and higher AWM management fees.
Net interest
Net interest income was $12.9 billion, an 8% decrease, primarily due to lower CIB Markets net interest revenue and lower card loans.
Following a record first quarter, Goldman's investment banking division reported its second-best quarter ever with $3.61 billion.
Net investment revenue
Investment banking revenue accounted for 24 percent of overall revenue in the quarter. Goldman said its investment-banking backlog increased significantly compared with the end of 2020, ending the quarter at a record level.
EPS
Goldman Sachs diluted earnings per common share (EPS) for the second quarter of 2021 were $15.02, compared to $0.53 in the second quarter of 2020. The bank's EPS was $18.60 in the first quarter of 2021 and was $33.64 in the first half of 2021.
JP Morgan and Goldman Sachs both saw a spike in revenue as investment banking revenue increased. A thriving IPO market further aided this. Asset management was also excellent. Fixed-income trading revenue increased, while stock trading revenue decreased for both companies.
JP Morgan and Goldman Sachs key levels in action 
Price trends often pause at certain critical levels. Those levels provide technical traders a logical way to enter or exit a trading position. Let's compare the required levels for both companies.
After clearing the stress tests, top banks are repaying capital to shareholders without the majority of the pandemic-era limitations.
JPMorgan fell less than 1% in premarket trade following the results report. Before Tuesday, the bank's stock had risen 24 percent this year, outpacing the S&P 500 Index's 17 percent gain.
JPMorgan raised its quarterly dividend to $1 per share from 90 cents last month after launching a $30 billion buyback program in Q1.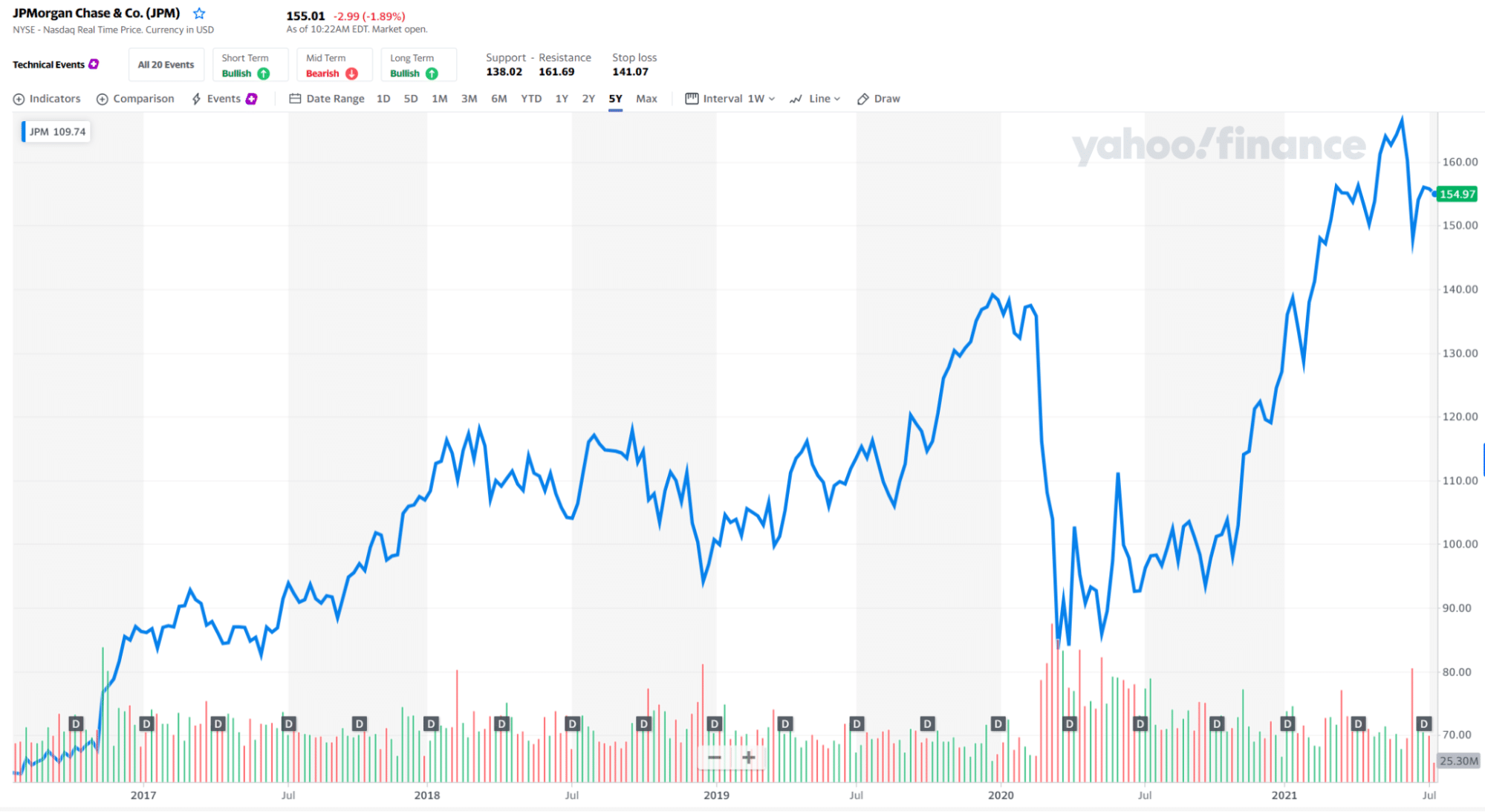 As you can see on the chart above, JP Morgan is trading near its overbought territory, and we can expect a price reversal.
On the other hand, Goldman's stock increased by 0.5 percent in premarket trade following the earnings release. The stock is already up 45 percent in 2021, as investors predicted significant profits in the aftermath of the pandemic.
Goldman Sachs increased its dividend from $1.25 to $2 per share but did not announce a new buyback program.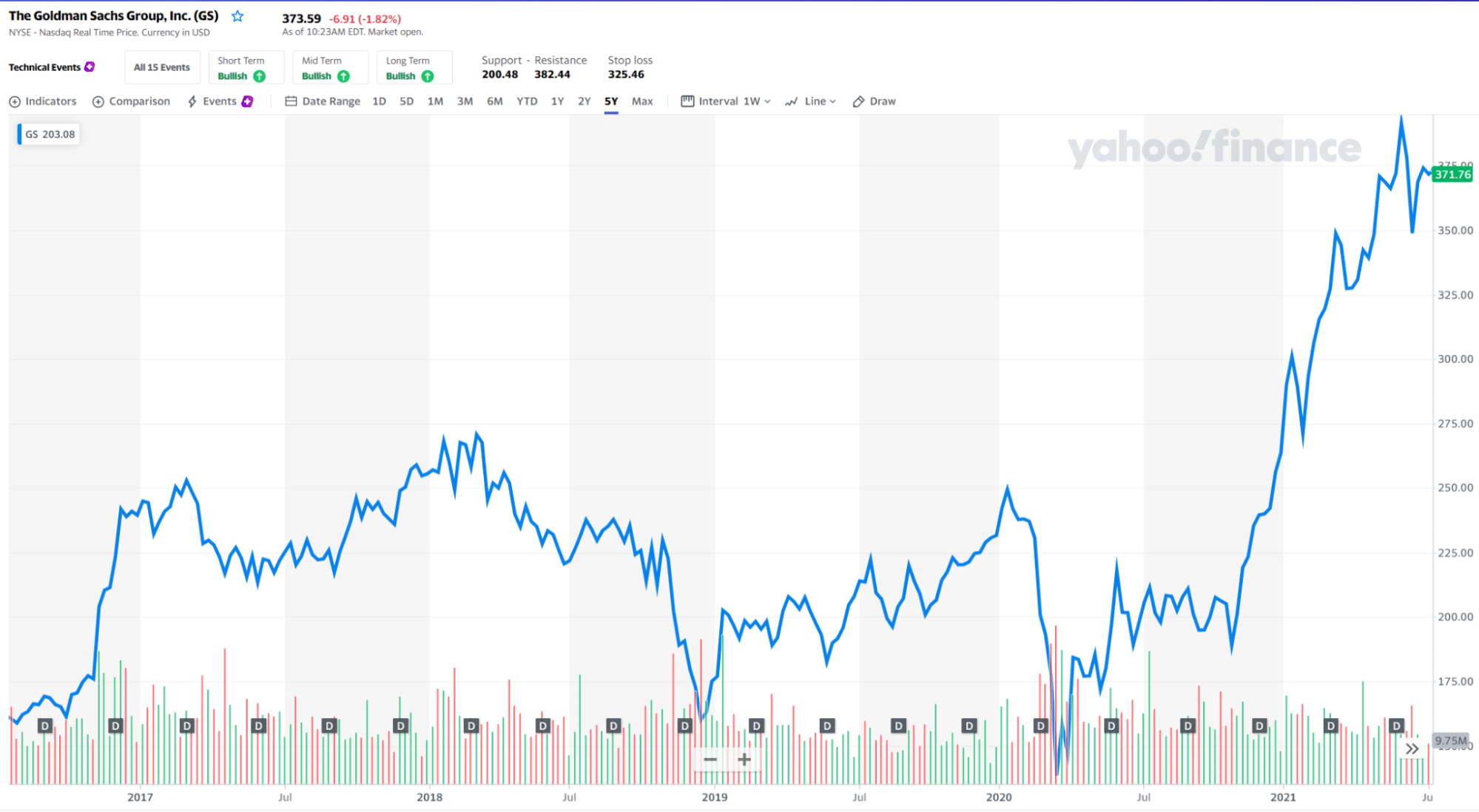 Currently, GS stock is well above its overbought zone. As the IPO market is surging, the investment bank may perform well in the upcoming days.
Things are looking good for both Dow Jones giants; however, both have a poor track record when beating the market for the long-term.