As technology advances and the global population gains in size, it is expected for the global energy demand to follow suit. While oil, coal, and gas aren't likely to be dismissed, it is the renewable energy sources that will be the stars of the show.
According to Bloomberg's report, clean energy sources will account for more than 60% of the new energy capacity by 2030. More interestingly for you, the same study showed that the businesses dabbling in renewable sources would draw more than 65% of the investments.
While we can't make any ironclad statements about the future, given the growing number of green initiatives, as well as the ever-increasing demand for energy, it is plausible to expect solid returns from the industry's trailblazers.
What are ETFs?
ETF stands for an exchange-traded fund, and this is how it works. When we invest, we are betting that specific security will gain value over time, like a stock or a bond. This way, we can profit when we sell it later on, and in the meantime, we reap extra benefits from the company's dividend.
As putting all your money on single security is not a risk-free option, investors reach for something known as diversification of assets. Simply put, it means investing in multiple assets, so you don't rely solely on the performance of a single holding.
Creating and managing a group of securities can be a daunting task, so experts charge a lot of money to do it for you. Exchange-traded funds are a way to minimize your expenses and still have a broad enough portfolio to protect your investment from losses.
Blatantly put, exchange-traded funds are groups of securities put together. As the name suggests, you buy them at an exchange, similar to stocks. As the ETFs already have a set of holdings predetermined at their initiation, you can't wholly personalize your portfolio. But they sure are a convenient way to diversify and target your investments at a lower cost.
Top 5 Best Clean Energy ETFs
Not all clean energy ETFs have the same approach to investing, nor should they. In no particular order, we listed five different options for you to choose from if you think that clean energy ETFs is something you want in your portfolio.
1. Invesco WilderHill Clean Energy ETF (PBW)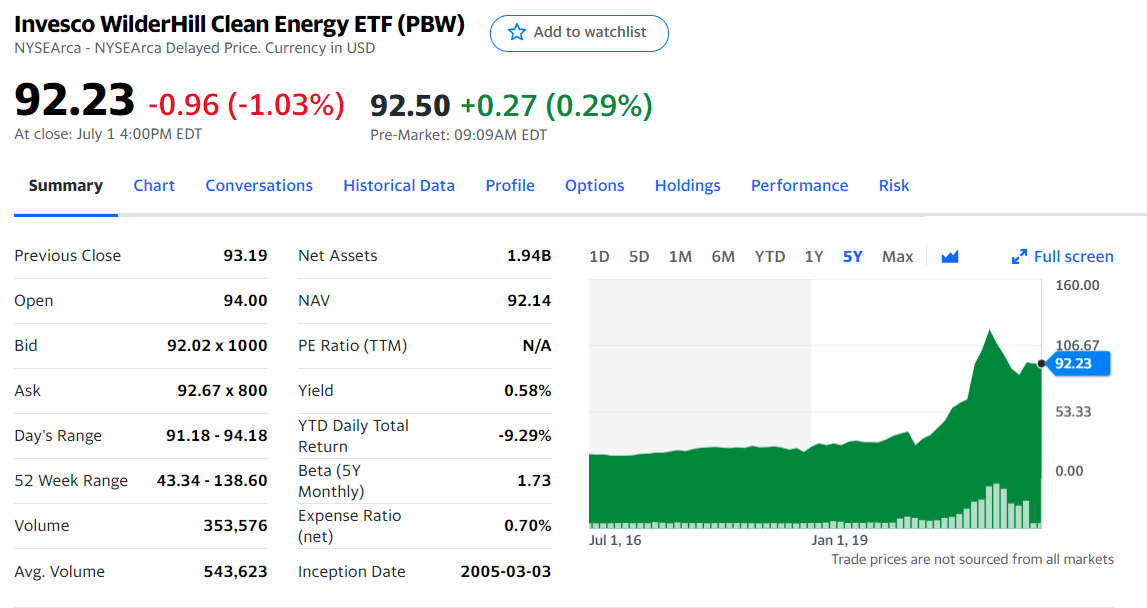 Invesco WilderHill Clean Energy ETF PBW has been tracking the WilderHill Clean Energy Index (AMEX) since its founding in 2005. Unlike others on this list, the PBW ETF offers more targeted exposure to the clean energy niche, as most of its holdings are technology companies that rely on green energy.
Its expense ratio is 0.7%, making it a pricier clean energy ETF than most to attract a specific group of investors. Its market capitalization stands at $19.32 billion, with an average yearly return of 128.59%.
Apart from the tech companies, the fund's 68 holdings also include industrials, materials, health care, consumer companies, and utilities — the lion's share of PBW's units in the US.
2. iShares Global Clean Energy ETF (ICLN)

Initiated by Blackrock Financial Management in 2008, the iShares Global Clean Energy ETF ICLN comprises 83 holdings and tracks the S&P Global Clean Energy benchmark. With close to $6 billion in assets under management, this fund is the most extensive clean energy kind.
Its dividend stands at $0.12 at an 0.46% expense ratio. The fund's average annual return amounts to over 83%. The fund also has an MSCI rating of 6.65/10 and a market capitalization of $31.28 billion.
ICLN's top holdings include wind turbine company Vestas Wind Systems, Danish wind energy giant Orsted, and solar panel company Enphase Energy. As you can see, apart from other ETFs, ICLN offers broader exposure to firms dealing in solar energy, wind energy, and other alternatives to fossil fuels.
3. VanEck Vectors Low Carbon Energy ETF (SMOG)

Founded in 2007 to track the SMOG-US – MVIS Global Low Carbon Energy Index, the VanEck Vectors Low Carbon Energy ETF SMOG skyrocketed 94.28% during the past 12 months. To be included in the fund, the company must attain at least 50% of its revenue from clean energy sources like wind, solar, geothermal, hydro, hydrogen, waste, and biofuels.
Not only does this ETF boast a higher-than $100 billion market capitalization, but it also holds the two industry giants among its top ten holdings. The names are Tesla and NIO. A volume that Musk's electric vehicle maker pulls, along with its Chinese counterpart, doesn't need to be explained, with Tesla's recent popularity in mind.
Regarding the MSCI grade, SMOG has a 6.45/10 A rating, which means that it was assessed as a fund of above-average resilience to environmental, social, and governance changes.
4. First Trust Global Wind Energy ETF (FAN)

The First Trust Global Wind Energy ETF FAN is a cleverly named fund that offers a particular exposure. In other words, FAN provides investors with a chance to put their money into the growing wind energy sector.
Given relatively high volatility in the niche, the fund may not be the best choice for investors looking for short-term gains, but it can prove remarkable resilience in the long run.
While the fund has some overlap with the PBW ETF, it is essential to look at its holdings more closely to understand better what you can expect, both short-term and in the long run.
5. Invesco MSCI Sustainable Future ETF (ERTH)

Founded in 2006, the Invesco MSCI Sustainable Future ETF ERTH is a name you can hardly miss if you explore the world of clean energy funds. The ETF has a market capitalization of $51.83 billion and an MSCI rating of 5.49/10.
Like some other clean energy ETFs, ERTH also lists companies that obtain at least half of their revenues from goods and services geared towards tackling environmental issues.
With 137 holdings in total, electric car developers Tesla and NIO stand out with a combined pull of 10% of the fund's units. Regarding the performance, ERTH's annual returns came in at 55.46%.
Final thoughts
Much like it is the case with the climate change ETFs, clean energy investments can be a solid option if you do your research beforehand. With more businesses realizing the potential these companies have, clean energy stocks have been rising for most of the past year.
Moreover, like US President Joe Biden or European Commission President Ursula von der Leyen, the world leaders hold the green agenda pretty high on their list of priorities.
With many options to choose from, you will not feel restricted when deciding where to put down your investment. Wind power, solar energy, hydrogen cells, electric vehicles, or smart homes can all become a part of your portfolio, should you decide to invest.