iProfit is a trading advisor that should help us with automatic trading on our account. The devs' company is Phibase Technologies. There's a claim that it's "The World's Most Successful Neural Network Strategy." We have decided to figure this out.
The system belongs to the company that has a below average reputation among the robot designers. A Phibase Technologies company was registered in 2012. But this doesn't help iProfit EA to survive, as the system wasted 15% of the account for the last year.
What is behind iProfit EA?
We have six blocks of details and features explained.
The system has many details explained that we would like to describe for you to make the right decision.
We can expect completely automatic performance on our terminal.
"It dynamically adapts  to the most recent price action, and updates predicted high and low levels every hour."
We should believe that the system has a Neural Network based strategy behind it.
It was deployed to trade in 2013.
The system got tests based on the 12 years data.
The modeling quality was 99.99% quality.
The system gained 8000 pips.
Monthly profits can be as high as 170 pips.
It covers open orders with SL and TP levels.
The devs try to convince us that the system does not use any risky strategies.
The system is available in various packs.
The devs haven't changed this intel for a while.
Key features
There are five symbols allowed for trading EUR/USD, EUR/JPY, XAU/USD, GBP/USD, and AUD/USD.
No time frames were mentioned.
The system comes with money management, risk management, and broker protection.
Trading strategy
A neural-network strategy is behind. This can be anything and everything. When the devs don't want to explain a strategy to clients they call it neural-network or AI.
The chart of the EURUSD backtest looks horrible. The modeling quality was 99.90% with 10-pip spreads. An initial deposit was average – $10,000. It has become $6,825 of the total net profit. The profit factor was 1.26. iProfit EA traded 1814 pairs. The maximum drawdown was 5.49% and this is acceptable. Taking into account that the good win rate should be +70%, the accuracy rate of this EA is quite low,  ranging between 58-59%.
Pricing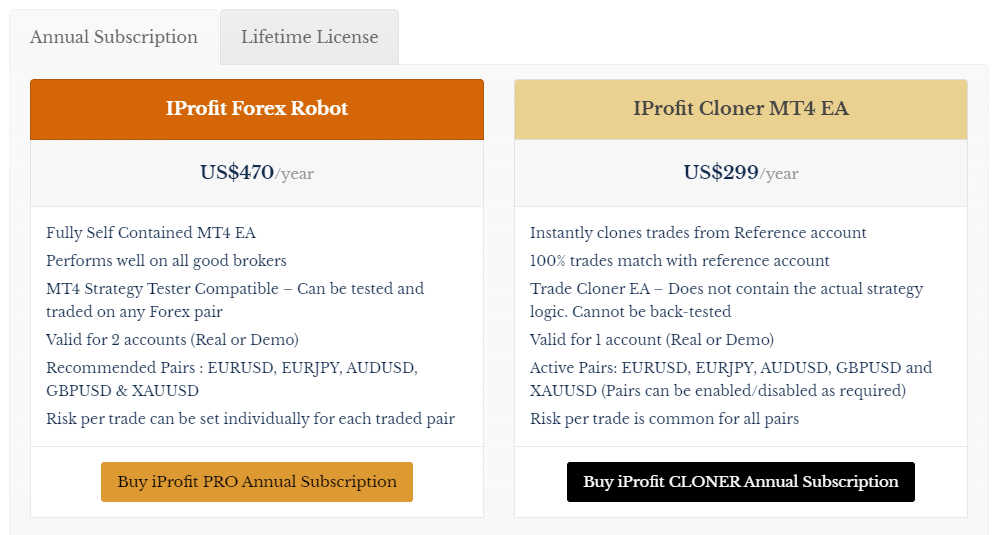 The offer is hard to understand for a nonprofessional trader. An annual subscription is available for $470. An annual subscription for signals can be purchased for $299. The lifetime license is available for $1099. The lifetime copy-trading service is available for $849. The pack with a real copy is featured by two licenses. There's a single license for a subscription. There are no mentions of a refund policy.
Trading performance of iProfit EA
We have a robot running a real AUD account on IC Markets with 1:500 leverage on MT4. We don't know the money details of this account. So, we have no idea how much funds the devs are ready to lose. We are unable to analyze the balance, equity, deposit, withdrawal, and profits. The account has a verified track record. It was created on August 26, 2013. Since then, the absolute gain has become 181.35%. An average monthly gain is as low as 1.03%. It's not professional. The maximum drawdown is 25.47%.
iProfit EA has closed 5435 deals with 41,395.2 pips. The win rate on average is 56% for longs and 59% for shorts. It is not enough. More reliable trading systems trade with a win rate of 70-80%. An average trade length is 3 hours and 37 minutes. The profit factor is 1.11.
We have six pairs traded for now. EURUSD is the most traded pair.
We may note that it traded all day long, focusing on the European trading hours.
The system skips trading Monday because of the lack of data after weekends.
There's a high risk for this account. There should be 39 deals lost to lose 10% of the account.
The win rate was approximately 30% the last time. Red pips means that the system closed orders with losses.
Since October 2021, the robot hasn't been profitable.
Customer support
The support can be good or bad. We have no testimonials about it from clients.
People feedback
We suppose that these testimonials are not real. There is no single proof that people are happy with this system. It would be better if the devs created a page on Forex Peace Army for people to comment.