Gold VIP Signal is a Forex trading software that copies trades of professional traders from their accounts to yours. The team behind this system comprises 15 expert technicians with several years of trading experience.
They are based in Singapore, South Korea, Nigeria, Bangladesh, India, and Switzerland. The developers claim to analyze the market 24/7 and deliver quality results to their clients. With a balance of $1000, they promise to make up to $300 in profit every month. Apart from selling signals, they also run Account Management services. Their daily signals are sent to the traders through a WhatsApp group.
Gold VIP Signal Review
The software, which has been in the market for 6 months now, claims to have a winning percentage of 90%. The developers state that they provide traders with signals and services that they have ever had.

They continue to explain that they always try to understand the market conditions and make their daily strategy according to this.
The developers promise traders success in this competitive Forex world if they follow their rules and make the proper money management.
What is behind the Gold VIP Signal EA?
To use the software, traders are required to do the following:
Create their trading accounts from any of the developers' recommended brokers available on the website.
All trades are instant or pending execution.
Signals provided have entry, take profit and stop loss but don't include swap or spread.
They give a long position signal. Entry signal target 100-300 pips but it's not a must it hits the target all time as this depends on the price movement.
Maximizing profit depends on the traders' experience with the Forex market. They only provide the direction of the price and possible targets.
The implementation of the order depends on the trader.
 Profit made on traders' accounts is split on a 60/40 basis where 60% is for the trader.
The developers however acknowledge that every kind of strategy or signal service is not 100% and sometimes losses can be realized. They urge traders to be emotionally prepared for such situations.
They argue their case by mentioning that the market is often unpredictable and illogical and very often irrational decisions can be made from this fact.
The developers advise traders to follow the risk management strategy attached below.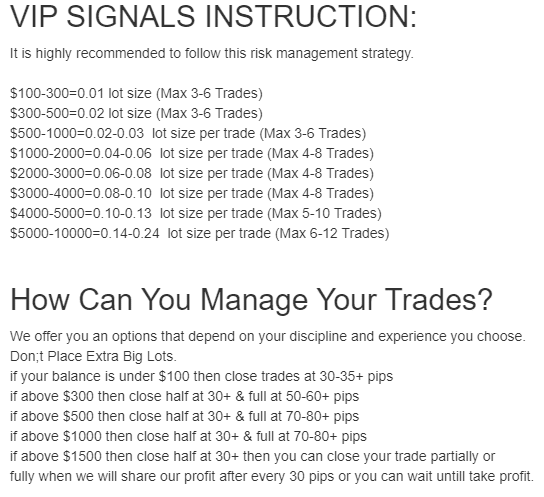 Key Features
Gold VIP Signal trades any currency pair on H4 with the MT4 platform. It works with any broker with a recommended leverage of 1:500 and a minimum balance of $1000.
Other features of the software are:
Only traders have access to their accounts and their funds.
Traders can monitor their accounts 24/7.
Traders can make a withdrawal at any time.
Traders' funds are held at reputable and regulated banks and brokerages.
To trade Gold VIP Signal no previous experience is required.
The developers advise traders to use not more than 5% of their balance in each trade to avoid exposing their accounts to high risks.
Trading Strategy
The software uses a Trend Trading strategy, and the developers explain how they utilize it to arrive at their signals below.
They use a combination of several trend-following indicators in combination with oscillators and support and resistance levels to find the entry point and to identify potential target areas.
They state that they combine areas and levels of past movement with market price together with levels of Fibonacci expansion.
The backtest data to analyze is not provided.
Pricing
The vendor to this system doesn't indicate its price.
Trading Performance of Gold VIP Signal
In the provided trading results, the Gold VIP signal was applied on the account on March 2nd, 2021. With a deposit of $3294, the software made a profit of $6745.45 in 437 trades.
The profit percentage is above 70%. The average profit and average loss are 244.81 pips and 629.83 pips respectively. We can see a sudden loss of capital as shown in the graph, giving the account a drawdown of 99.38%. At this point, the trader decided to withdraw $10039.46 to secure some profits that he had already made. This could have happened because the trader had no trust in the software anymore. The current balance is $0.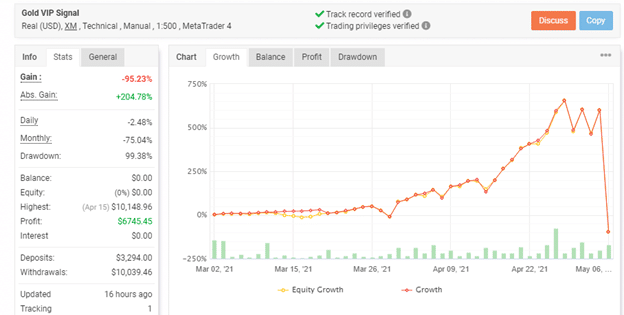 Customer Support
Traders can get in touch with the support via phone call, WhatsApp, or email.
People Feedback
Even though the vendor has a page on both FPA and TrustPilot platforms, there are no customer reviews in each case hence a red flag alert.