Forex Fury is introduced as the most efficient robot in the Forex market. The vendors assert that they have spent a significant part of their life working on this product. They believe that it provides both new and seasoned traders with a safe and aggressive investment opportunity. The robot aims to attain 10-20% monthly profits.
The team behind this EA is headed by Patrick Ryan (CEO), Joe Damien (Head Analyst), and Hossein Nouri (Head Developer). However, detailed background info about these experts is missing.

The vendor does not mention the name of the company they operate under, its physical location, year of foundation, and other pertinent background information.
Just like many other Forex robot vendors, the Forex Fury team promises to enhance their customers' trading experience by delivering consistent profits. Therefore, we examine the different aspects of this EA including its performance in the live market to establish if it is worth the trader's money.
What is behind the Forex Fury Robot?
Once the software is purchased, downloaded, and installed, it will begin monitoring markets. It will then place trades automatically when they become available and close them based on settings. A trader may intervene, but this is not necessary as the robot is 100% automated.
Key Features
Trades with many currency pairs: USDJPY, GBPUSD, USDCHF, and EURUSD
Is compatible with FIFO, NFA, MT4 and MT5 Build 600+
Can work with any MT4 or MT5 trading brokerage
Incorporates many filters to prevent bad market conditions
Its SET files are tested and proven
Applies low, medium and high risk strategies
Trades any indices, pairs, or crypto
ECN support
Can be installed within 5 minutes
Provides full guides and videos
Trading Strategy
Forex Fury uses the scalping trading strategy. According to the developers, the system opens trade 4-5pm EST. They state that this is a period when the market is lacking in volatility, and hence allows the robot to pick up easy wins and limit losses. This means that the EA enters and exits the market within 1-2 hrs daily.
Unfortunately, the Forex Fury team has not provided us with useful backtest results. What is available is a snapshot image highlighting the system's gain (466,725.08%), pips (103,692.5), and drawdown (6.98%).

The stats provided are inadequate as they do not indicate the account's winning rates, number of trades executed, profit factor, deposit etc.
Pricing
Forex Fury is offered in 2 packages. The Gold plan is sold at $229.99 and is the most popular. It comes with 1 live account license. The diamond pack is $439.99 and includes 2 live account licenses. Both plans feature unlimited demo accounts, free updates, high performance settings, and lifetime membership. The vendor has a strict return policy. To qualify to get their money back, the client must adhere to a bunch of rules:
The trader is required to supply the vendor with 30 days of trading results (demo or live) within the first 60 days
The customer must also utilize 1 pair per account
The client must trade the designated time period daily as well
However, there are no refunds for:
Diamond orders
Extra licenses
Forex Fury is very pricey especially when you compare this cost to other EAs in the market, and the strict return policy makes it even more repulsive. So, it is not worth the money.
Trading Performance of Forex Fury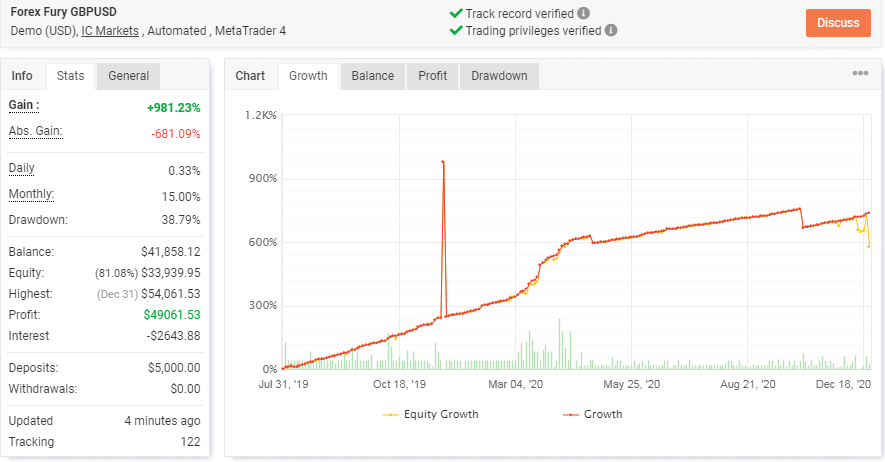 Evidently, the EA trades on a USD demo account on the IC markets. The account was activated in July 2019, and up till now, it has managed to increase the balance from $5,000 to $41,858.12. This is after making a total profit of $49,061.53 which represents a gain of 981.23%. The daily and monthly profits currently stand at 0.33% and 15% respectively. The drawdown of 38.76% is quite high. It indicates that the account uses a risky trading strategy.

The robot has made 2052 trades. Out of these, it has managed to achieve win rates of 98% for both long and short trading positions. The profit factor is 8.47. The system has made 10744.5 pips. The average loss which is -81.25 pips is 13 times higher than the average win which is 6.53 pips. This should concern a trader as the account's risk of making losses is heightened. The account has traded with 770.26 lots. This amount is high and further highlights the high-risk trading approach the EA applies.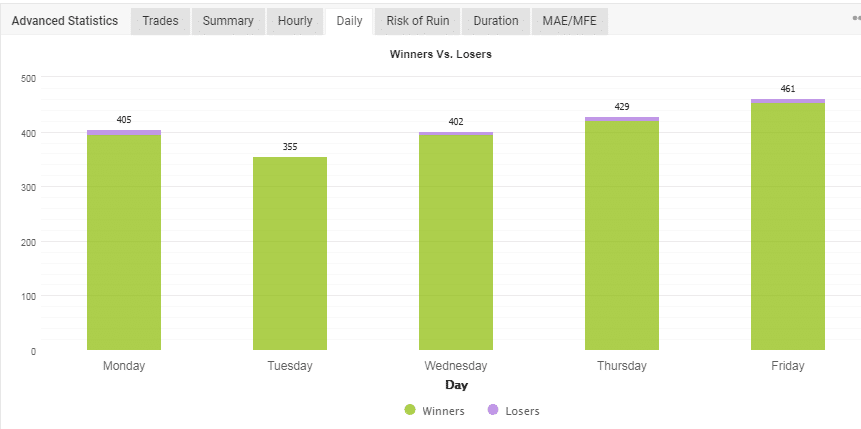 Most trades have been conducted on Friday (461 deals). Tuesday is the least traded day with 355 deals made.

Obviously, the account's risk of ruin is high. There is a 99.99% chance of losing 10% of the account.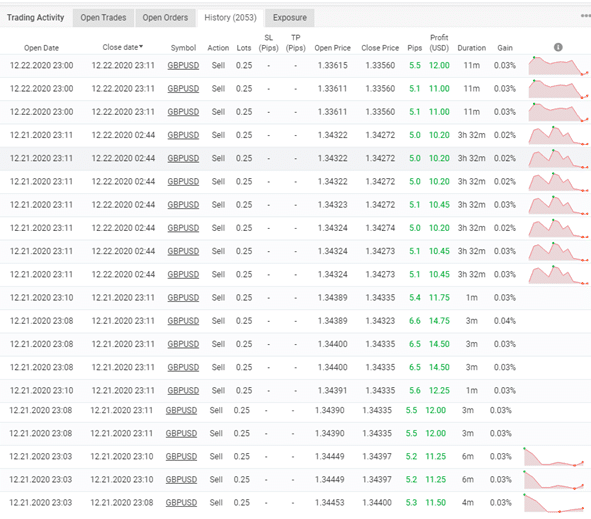 The system trades with fixed lot sizes of 0.25. It does not apply stop losses and take profits. The gains made are very small. The scalping and grid strategies are evident. Trades are open for a short time, lasting anywhere between 1 minute to 3 hours.
Customer Support
The vendor offers customer support for its clientele. They state that they have the best response times in the industry, and traders can expect speedy response time between 8 am. EST-7 pm EST. However, we could not verify this claim. Traders can also email the team at [email protected]
People Feedback
There are several customer reviews on Forex Fury's official website, but they are from Trustpilot. The developers reiterate that the feedback is more than 90% positive. We were discontented with these testimonials since we knew the product's performance in the live market is not that promising. For this reason, we decided to visit the Forex Peace Army website to assess more customer feedback and determine if there are customers who are dissatisfied with this EA and what they say.
We found 140 mixed reviews. Forex Fury has been given a rating of 2.786 out of 5. Most of the disgruntled clients claim that the system is not profitable and the likelihood of making losses is high. The screenshots of some of the negative feedback are shown below: