Today's review is about a Flex EA advisor. The site doesn't look professional, so we don't have high expectations. The promo info is "#1 performing EA with 7 Years Running." Let's check it out.
Forex Flex Robot Review
It's hard to tell if it's a good one. The main reason is that there are many accounts provided with past trading results. The current results are received from only a cent account. It's unprofessional for a paid service.
What is behind Forex Flex EA?
There are some features provided, but there's still a lack of information on the dev's website:
The robot works automatically for us on the terminal.
It can execute orders on 28 currency pairs.
The robot has its own money management that places levels of Stop Loss and Take Profit.
The system works under NFA and FIFO regulations.
We have a package of settings provided.
There are two versions of the system provided for MT4 and MT5.
We can receive free updates and upgrades.
We are allowed to decide what indicators to use, switching them on or off.
We have a Hedge strategy applied.
We can be the next HotForex and FXOpen. If we are from the US – TradersWay.
The minimum deposit has to be $1000 for a Standard Account.
We're recommended to trade through HotForex and FXOpen.
Key Features
The robot works with a broker protection feature on the board.
The system trades with low frequency: 4-8 trades weekly.
Trading Strategy
The system has twelve strategies on the board.
It uses six virtual trades per symbol to find the most precious entry point.
The robot skips trading during periods of high-impact news.
We can work with the following pairs: GBP/USD, USD/JPY, USD/CAD, USD/CHF, EUR/USD, EUR/GBP, NZD/USD, AUD/USD, EUR/JPY, and EUR/CHF.
The presentation doesn't include backtest reports. So we can't be sure it was well tested before getting released.
Pricing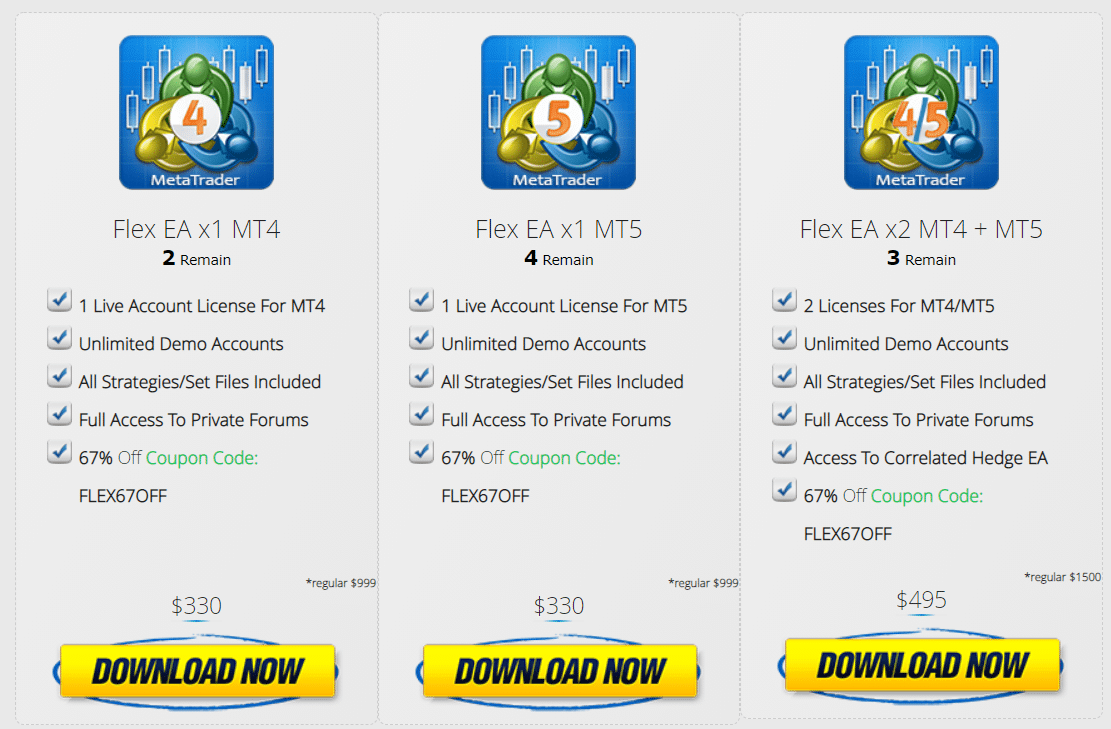 We have several packages provided. The first pack includes the MT4 version of the robot. The second pack includes the MT5 version. The ultimate pack includes MT4 and MT5. The first and second packs include only one real account license. The ultimate pack is featured by two licenses. We have unlimited demo account numbers, all set files, access to a private forum, and a discount coupon. The common packs cost $330. The two-license pack costs
$495. We have a 30-day money-back guarantee provided.
Trading Performance of Forex Flex EA

The robot runs a demo USD account automatically on ThinkMarkets. The system is MT4. There's no leverage mentioned. The account has a verified track record and trading privileges verified. It was created on August 02, 2017. The deposit was set at $50,000. The absolute gain has become 2,607%.
An average monthly gain is 7.24%. The maximum drawdown was 54.82%.

There were 611 orders and 16,238 pips traded. An average win is 38.12 pips when an average loss is -25.42 pips. The win rate is 80% for Longs and 82% for Shorts. An average trade length is 13 days. The profit factor is 3.34.

GBPCHF is the most traded symbol, with 204 orders and $434,236.

The system focuses on two periods: European and before Australian trading sessions.

The less traded day is Friday, with 68 deals.

The robot works with medium risks to the account balance. There should be 21 deals lost to lose 10% of the balance.

The robot works with a Grid of orders trading on different ranges.

The monthly gains went down from month to month.
Customer Support
We have no idea how good the support is. The clients said nothing about it.
People Feedback


We have some testimonials published on their website. We are sure they are not real.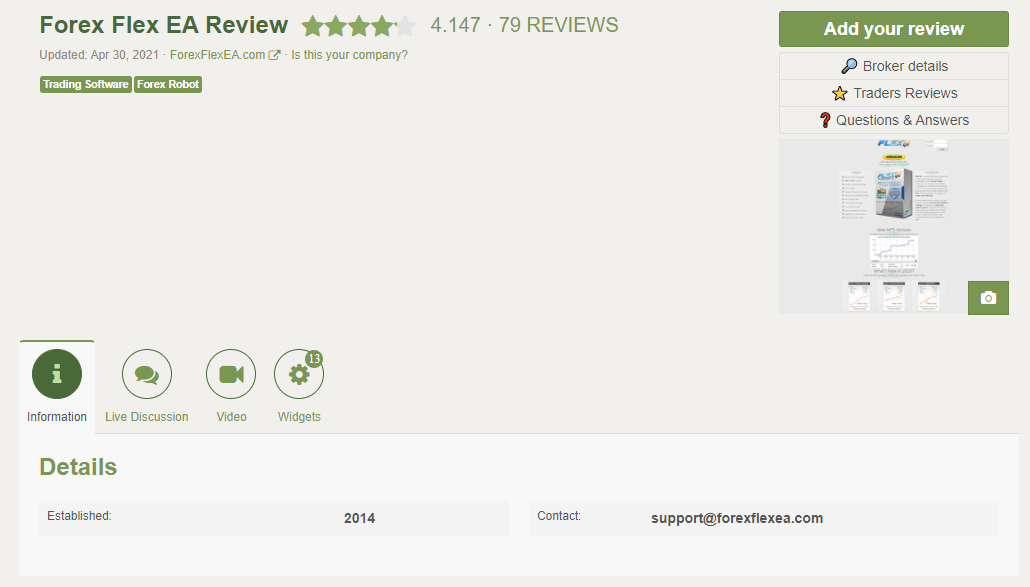 There's a page of Forex Flex EA on Forex Peace Army created. The total rate is 4.147 based on 79 reviews.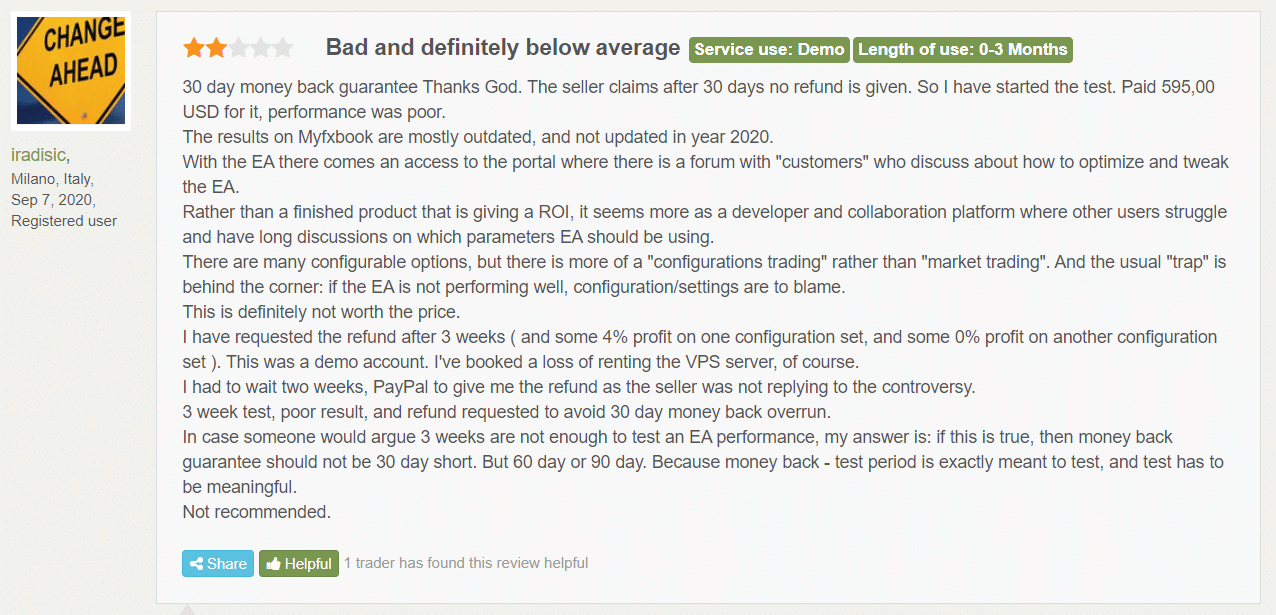 People have problems with an advisor. So, we have no idea if we can be profitable with it on the real, not a demo account.