The developers of Fly Higher Nova claim their expert advisor can increase our wealth in a short period. They believe this is the 'software of the future' that excludes any human interference and thereby emotional factors that are one of the most frequent reasons for losing trades.
Every trader looks for the most efficient, reliable, and safe trading solution, which would be able to generate stable profit on a long-term basis. For newbies and those who have not enough trading experience in the FX market choosing a good and reliable trading system is a challenge. It is because there are hundreds of trading tools to choose from and each of them claims it has the best trading algorithms, effective trading approaches, and in-built features to maximize profits and protect traders' accounts from losses.
Fly Higher Nova (PVT) Ltd is the company that stands behind this expert advisor. Its registration number is PV00223299. On their Telegram channel, we've found that their admin is Shehan. Unfortunately, this is all we know about him. We know nothing about the team that stands behind this EA. Lack of transparency is always a reason for concern.

Fly Higher Nova Robot Review
According to the vendor, Fly Higher Nova is a fully automated expert advisor that has helped more than 5000 traders to earn decent profits in the Forex market. The devs try to convince us that this is the #1 trading bot, able to generate +20% of weekly returns. Let's check whether these numbers are real.
What is behind Fly Higher Nova EA?
The Fly Higher Nova website looks professional and unique looking, but we can see that much relevant information is missing. Lots of information, which would be useful for traders to make an informed and educated purchasing decision is missed.  Their product presentation is filled with different aggressive and unsubstantiated claims, as, for example, their 20% of weekly return or over 5K of active users. They failed to provide any proof that these numbers are realistic. Moreover, if they do have over 5000 active users, there would be much more buzz about this trading tool online.
Key Features
Let's discuss currency pairs, recommended lot size, setting recommendations, and the other important intel:
Fly Higher Nova is a 100% automated trading solution
It trades multiple currency pairs
The devs claim that over 5000 traders have already tried this EA and gained great trading results. We cannot rely on these claims as the devs failed to provide any proof to back up their claims
We can trade any currency pair after proper customization
We are told that this robot is #1 in the Forex market. It's lie
The system has automated Stop Loss and Take Profit levels
The system is a good choice for both experienced traders as well as those who are 'green' in the FX market
The system decides what lot size to trade based on your capital
Traders can also use a fixed Lot size they want
The devs promise us over 20% of the weekly return
The system is easy to set up and the installation process takes less than 3 minutes
Traders are provided with 24/7 support
Mobile and installation supports also included
To start trading with the Fly Higher Nova traders have to follow these simple steps:
Register on their website
Ask the developers to get a payment link
As soon as the payment is done, the trader will receive a user manual, video tutorial, and EA within three minutes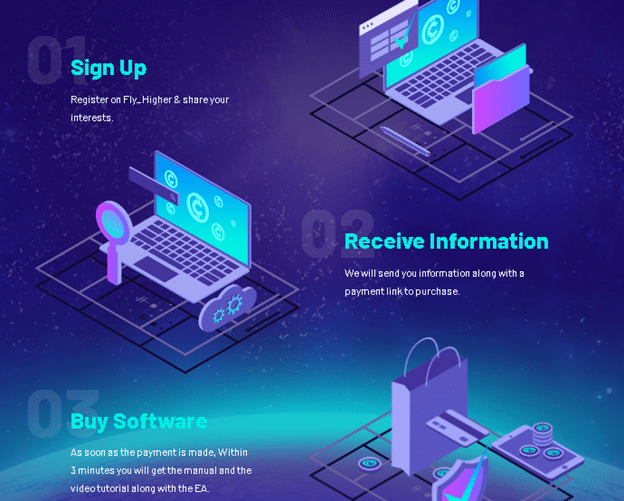 Trading Strategy
Fly Higher Nova is based on a trend following strategy. However, we do not know exactly what it entails. The dev also points out that the robot uses SL and TP and trailing technology to pull more pips from each trade. We expected to see more details about the trading strategy, as there are hundreds of different trading tools in the FX market. So, the developers have to be more transparent and informative to compete. Moreover, an undisclosed trading strategy is a red flag by some of the more technically inclined traders.
We expected to come across backtesting data with high modeling quality that would reveal the historical performance of the system, but even that is missing.
Pricing
There are 2 options offered: 12 months rental or lifetime membership. The first one is sold for $320 (the regular price is $380). The lifetime license is available for $500 (instead of $580). Both packages include full-time support, a user manual, a video tutorial, and free updates.
There is an odd offer for a refund:

One day is an extremely small period to test the EA's performance. Most Forex developers offer a 30-60 day refund policy.
Trading Performance of Fly Higher Nova
This sort of information as well as a trading strategy and backtesting report is also missed. The dev decided not to risk his funds to trade on a real account. Much worse is the fact that they failed to provide even demo account trading results. There is no proof the system can generate 20% of weekly income. Without live trading results, all the info we see on the devs' website is simply a bluff.
Customer Support
To get in touch with support traders have to mail [email protected] or call +94 (77) 771 1738.
People Feedback
There are plenty of screenshots with customers' talks in Telegram. We cannot trust them, as they can easily be manipulated or purposely written by the developer.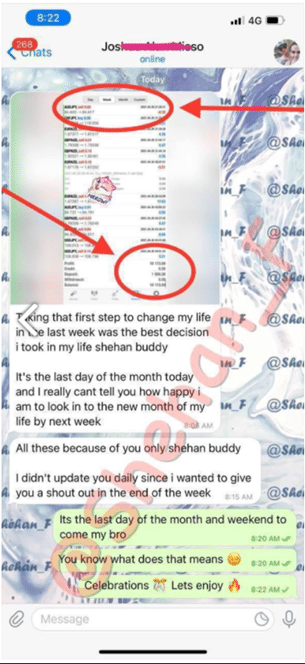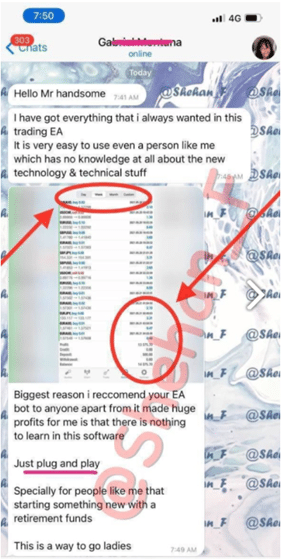 We couldn't find any positive features of this EA. After our detailed analysis, we concluded that Fly Higher Nova is a pure scam.