Dynamic EA is a 100% automatic Forex trading system that is said to be suitable for both inexperienced and seasoned traders. As per vendor claims, this robot has generated an ROI exceeding 220% since it started trading on 16th September 2019.
This EA has been developed by a company called Celestial Trading Tools (CTT) which is based in the UK. Not much information is available about its background or year of foundation, and we don't know the identities of the developers and traders working for this organization. Apart from Dynamic EA, CTT has developed another Forex robot called Sirius EA.
Dynamic EA Robot Review
Although Forex automated systems offer much in terms of convenience, investing in the wrong system can lead to ruin. There are several unproven trading systems being sold on the market. These robots use questionable trading strategies and fail to deliver decent long-term outcomes. That is why we need to thoroughly analyze the different aspects of a system before spending money on it.
This robot was released after a long testing period of 12 months. The vendor claims that it has won huge profits in live trading, but these claims need to be verified independently.
What is Behind The Dynamic EA Robot?
To get started with this EA, you first need to register on the website. Your account can be set up within 24 hours after you've submitted all the required documents. You can email the support team if you require help with installation.
There is no contract between you and the company, so you can cancel your subscription anytime you wish. To cancel, you need to email the support team, providing them with your MT4 account number, email address, full name, and reason for cancellation.
Key Features
Dynamic EA trades in five different currency pairs, namely USD/CHF, NZD/USD, GBP/USD, EUR/USD, and EUR/JPY. It operates 24 hours a day, 5 days a week. There is a money management functionality built into this EA and according to the vendor, it also has an efficient risk management system. The robot uses take profit, trailing stop, and auto stop loss for each trade.
You need to start with a minimum balance of £1200, which is pretty high compared to other Forex robots. The vendor mentions that you need to have this minimum amount in your account at all times for the system to work. Moreover, it is advisable that you start with leverage of 1:500.
Trading Strategy
On the official website, we have no information available on the trading strategy used by this robot. All we know is that Dynamic EA stands by for a breakout to occur after analyzing the market conditions and then trades the continuation.
We don't have the backtesting results for this Forex EA on the official website. Thus, we can assume that the robot has not been tested using historical data. This comes as a major disappointment because backtests reveal to a large extent the ability of a system to deal with unfavorable market conditions.
Pricing
Dynamic EA has a single subscription where you can use the robot by paying £15 on a monthly basis. You can cancel the subscription any time but there is no money-back guarantee.
Trading Performance of Dynamic EA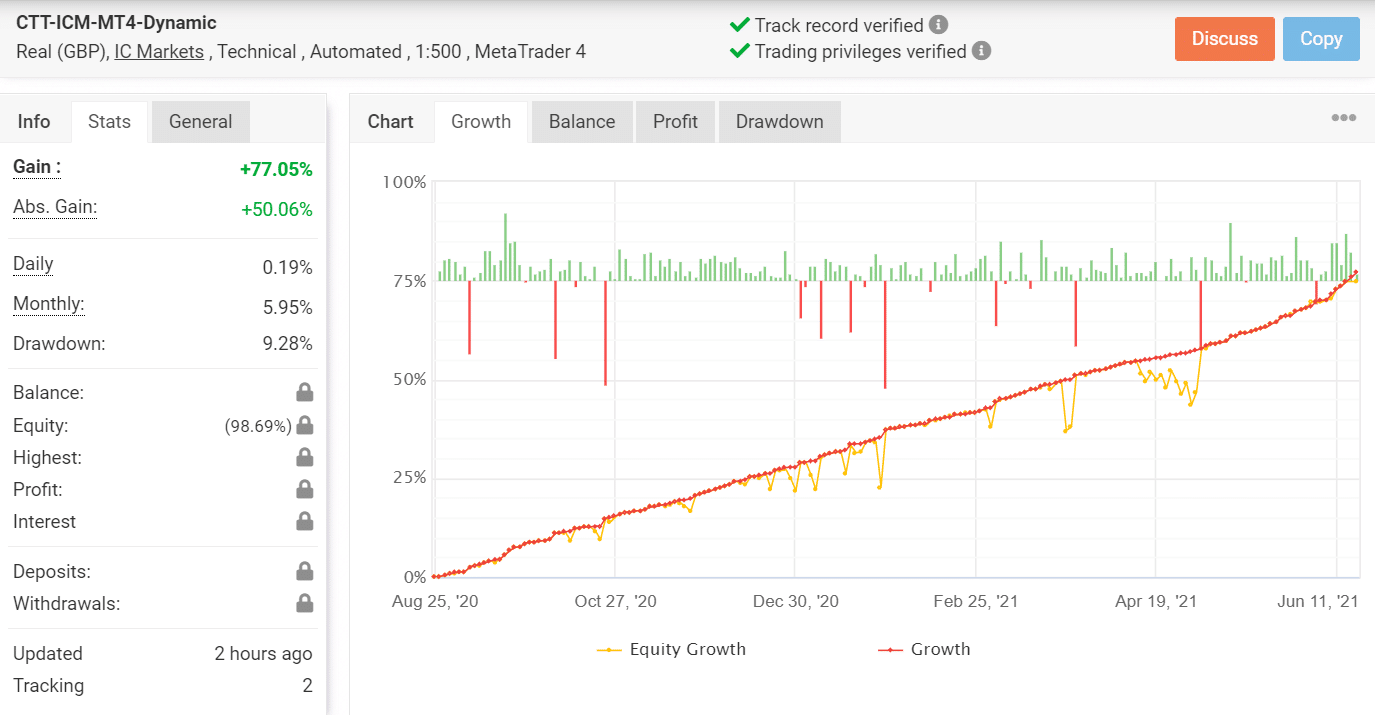 This live trading account on Myfxbook has been active since August 25, 2020. We don't know how much profit it has accumulated to date, because the vendor has chosen to hide that figure, along with others like equity, balance, interest, deposits, and withdrawals.
The daily and monthly gains for this trading account are 0.19% and 5.95% respectively. It has a moderate win rate of 62% and a profit factor of 2.08. Looking at this, we can tell that the vendor has exaggerated the ROI of this system.
Customer Support
To access customer support, you can live chat with a representative on the official website. We also have a phone number that the users can call and a WhatsApp number where they can leave a message.
People Feedback

There are no authentic customer reviews for this robot on third-party websites. We have a few customer reviews on the official website, but these do not look genuine. Therefore, it is evident that Dynamic EA does not have a stellar reputation.