An April 2021 report published by the Pew Research Centre shows that most of the American populace is pro-marijuana legalization for both medical and recreational use. This phenomenon explains why 95% of the companies in the cannabis industry have experienced growth. 
Unfortunately, this doesn't mean haphazard investment in cannabis equities will result in returns. Here we explore the cannabis industry as a whole and the four best stocks to hold to ensure a portfolio high in Q3 of 2021.
Overview of the cannabis industry
There has been a tremendous global shift in perception in matters of cannabis, especially in the last three years. The first spark was the legalization of cannabis for recreational and medicinal use by the Canadian government after more than 20 years of deliberation. 
The fuel driving this adoption, European countries, and Federal legalization is marijuana reclassification by UN-scrapped from its addictive opioid list. Then, come the worldwide pandemic and forced lockdown globally, and the need for not just medicinal marijuana but recreational cannabis skyrocketed. 
Why invest in the cannabis industry? 
First, an understanding of the phenomenal year-on-year growth of the industry is of utmost importance. Projections show that this $20.5 billion industry as of 2020 will hit over $100 billion by 2026. This looks like an underestimate given the widespread acceptance and adoption of medicinal marijuana globally. 
In the US alone, 35 states legally sell marijuana, and the Biden administration expects full federal legalization. Vice President Kamala Harris is a long-time advocate for the decriminalization of marijuana. She might be the face of the next cannabis industry revolution. Still, the democrats, especially right now, are known to be pot-friendly, with the expectation being pro-cannabis legislation. 
Though still illegal in most countries to use marijuana and constituent products, the US and Canada legalization gives an avenue for investors to get into this emerging market legally. These two countries account for 95% of the companies in the industry, with a majority of them already under the umbrella of the New York Stock Exchange and the Canadian venture exchange for American and Canadian сompanies, respectively. 
How to trade & invest in cannabis shares?
To be part of this emerging market, you can either own the physical stocks or speculate on prices through CFDs, contract for differences. Both approaches require the services of a broker. Traditional broker agencies where you call to place investments or online broker platforms where you have complete control over your investment. 
Both trading and investing in cannabis shares is a simple three-step process
The top 4 cannabis shares to buy in Q3 2021
The marijuana stocks below represent the best in this emerging industry because they offer stability in the long term while ensuring short-term gains in the meantime. 
The top 4 pot stocks to buy in 2021 are:
№ 1. Trulieve Cannabis Corp. (TCNWF)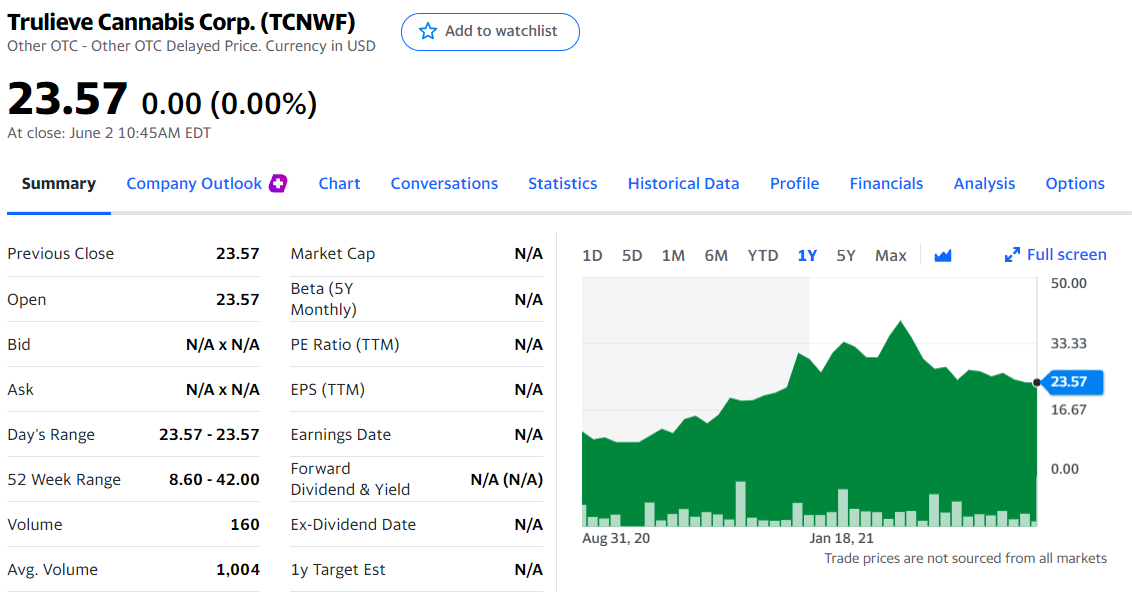 This Florida Cannabis company had 78 local outlets, with an additional five outlets outside the state. It has been a cannabis player since the legalization of pot in Florida, utilizing a controlled expansion strategy to capitalize on economies of scale. 
However, the Covid19 demand for cannabis and democrats to win in the presidential elections seems to have been the catalyst Trulieve needed to adopt an aggressive expansion strategy. It grabbed a spot on the first page of newspapers by declaring an interest in Acquire Harvest Health, a deal worth $1.2 billion, subject to shareholder approval in Q3 2021.
After growing by 200% in 2020 with net sales of over $350 million, 2021 saw the continuation of Trulieve's rock and roll-102% year over year growth Q1. These statistics are reason enough to check out this cannabis stock.  
№ 2. Innovative Industrial Properties, Inc. (IIPR)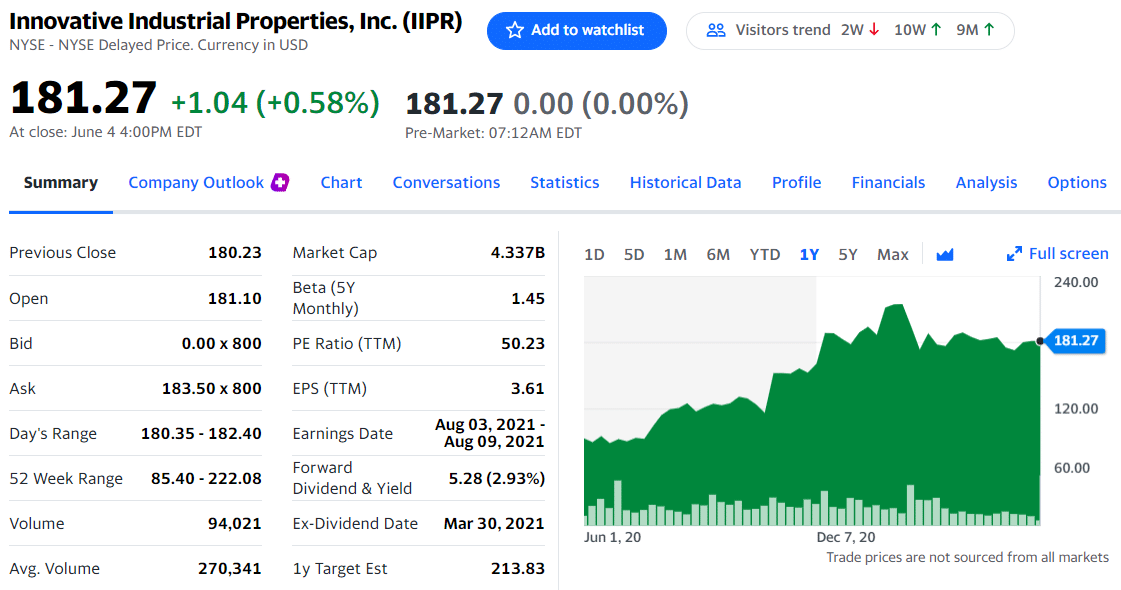 Innovative industries are one of the largest companies, with a net market value of $5.1 billion, in the pot industry, though not directly or distributing the marijuana products. Investing in this stock gives you access to cannabis-based real estate-greenhouses and industrial facilities.
While other real estate firms grapple with how to service the growing cannabis industry, Innovative Industrial is already an expert. It already does triple net-lease agreements: tenants pay for using the facilities and their maintenance, pay for property insurance and associated taxes, in simple a cocktail minting profits. 
With the forecasted expansion of this industry, you can bet on innovative sectors to be at the forefront of the revolution. 
№ 3. Curaleaf Holdings, Inc. (CURLF)
With roots in Massachusetts, Curaleaf is among the few pure cannabis companies in recreational use and medicinal use space. The research and design department gave it an upper edge by ensuring it was among the first companies to avail marijuana vaporizers to the market. It has complete control of its supply chain, from cultivation to retail and provision of lifestyle brands, for enhancing the customer experience. 
The company has yet to rake in profits, but its acquisition in different states in the cannabis manufacturing and dispensing sectors is poised for huge revenues and profits. The fact that more states are jumping into the pot legalization bandwagon makes its acquisition more strategic.  
№ 4. Canopy Growth Corp. (CGC)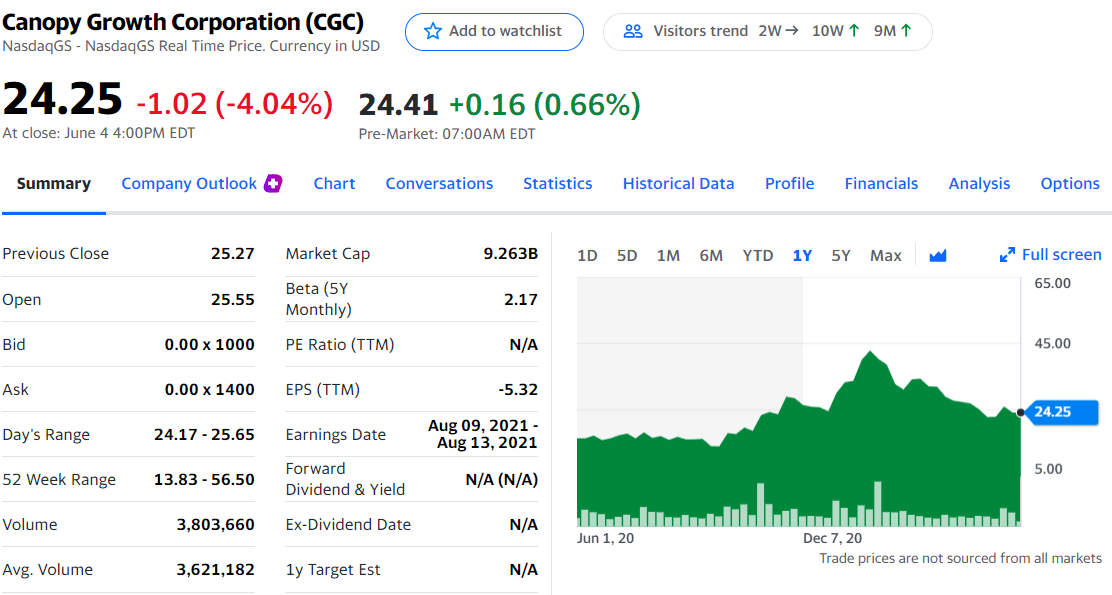 Experts believe that Canopy Growth Corp. shares are hugely undervalued. Couple this with Constellation Brand's investment in the company to the tune of $4 billion, and what you have is a potent recipe for growth and revenues. This investment also moves Canopy Growth to the big boys' club of the pot industry-top three global cannabis companies in terms of market capitalization. 
So watch out for the market re-correction and ride the bullish rally to a new high.