Pinpoint EA is a Forex robot that has been developed by Ryan Brown, an American trader who is known for creating advanced trading algorithms. He has several years of trading experience and has developed systems like Vigorous EA and Ranger EA. This system has been developed after 12 months of extensive development, and according to the vendor, it lets traders safely recover from lost trades.
Pinpoint Robot Review
The Forex market is highly unpredictable, and although there are several Forex robots being launched into the market these days, not all of them are able to generate profits at steady rates. Moreover, there are multiple scam services aimed at siphoning money off customers. Thus, it becomes necessary to conduct a detailed review where all the different aspects of a system are objectively assessed.
As per vendor claims, this robot is based on more than 17 years of backtesting data. It apparently has a 94% win rate and has never suffered from consecutive losses during this period. Pinpoint EA was launched on 29th October 2020, but it has been trading live since 22nd October 2020.
What is behind the Pinpoint EA Robot?
This Forex EA trades the larger trends for a particular timeframe. Positions are taken within the larger trend's pullbacks and it is always in the direction of the trend. By smartly pointing out the trading opportunities, it is able to maintain a high win rate.
It has a smart recovery mechanism that lets it recuperate from its losses without too much effort. Currently, it only works on the Metatrader 4 platform, although a Metatrader 5 version is also available.
Key Features 
Pinpoint EA is specially optimized to trade in the GBP/USD and EUR/USD pairs. It is a FIFO compliant system that trades every week and uses a stop loss for each trade. According to the vendor, it has an expected monthly profit of 2-3%.
You are advised to start with a balance of $1000 and leverage of 30:1. But the vendor has mentioned that higher leverage accounts are also suitable.
Trading Strategy
Pinpoint EA follows a scalping strategy where small profits are made from each trade while limiting risk exposure. The scalping points are identified on the chart with the help of the Relative Moving Index (RMI) indicator. This indicator is not used independently,only in combination with other indicators, although the vendor doesn't mention what they are. We don't think this information is sufficient, especially when most Forex traders wish to know about the minute technical details of the trading scheme.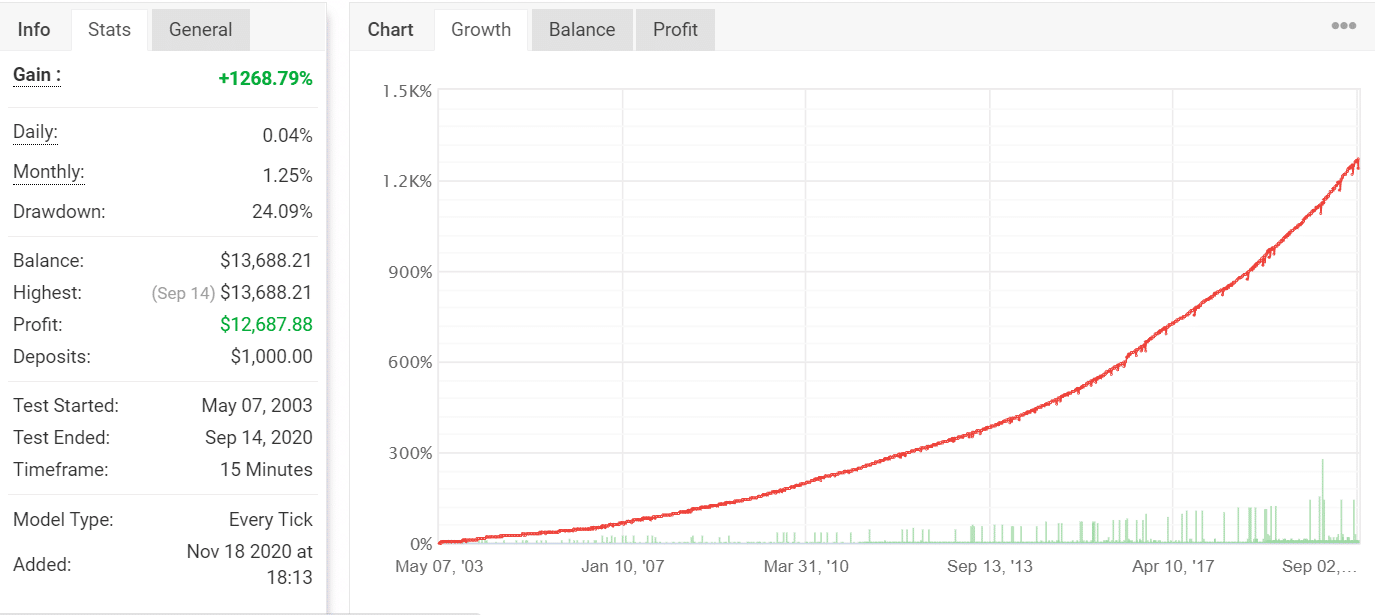 This backtest was conducted for the GBP/USD pair, starting from 7th May 2003 to 14th September 2020. An initial deposit of $1000 was made for this test, from which a profit of $12,687.88 was generated. There were a total of 1691 trades conducted during this time period, out of which 1589 were closed in profit. This represents a high win rate of 94%. The profit factor for this backtest was 2.27.
Pricing
You purchase Pinpoint EA for $397, which is not a cheap price by any standards. There are a couple of rent options available that let you use the EA for 1 month and 3 months at $30 and $90, respectively. There is some confusion surrounding the refund policy. Although the vendor states that refunds can be arranged through MQL5, the website is known for not offering any.
Trading Performance of Pinpoint EA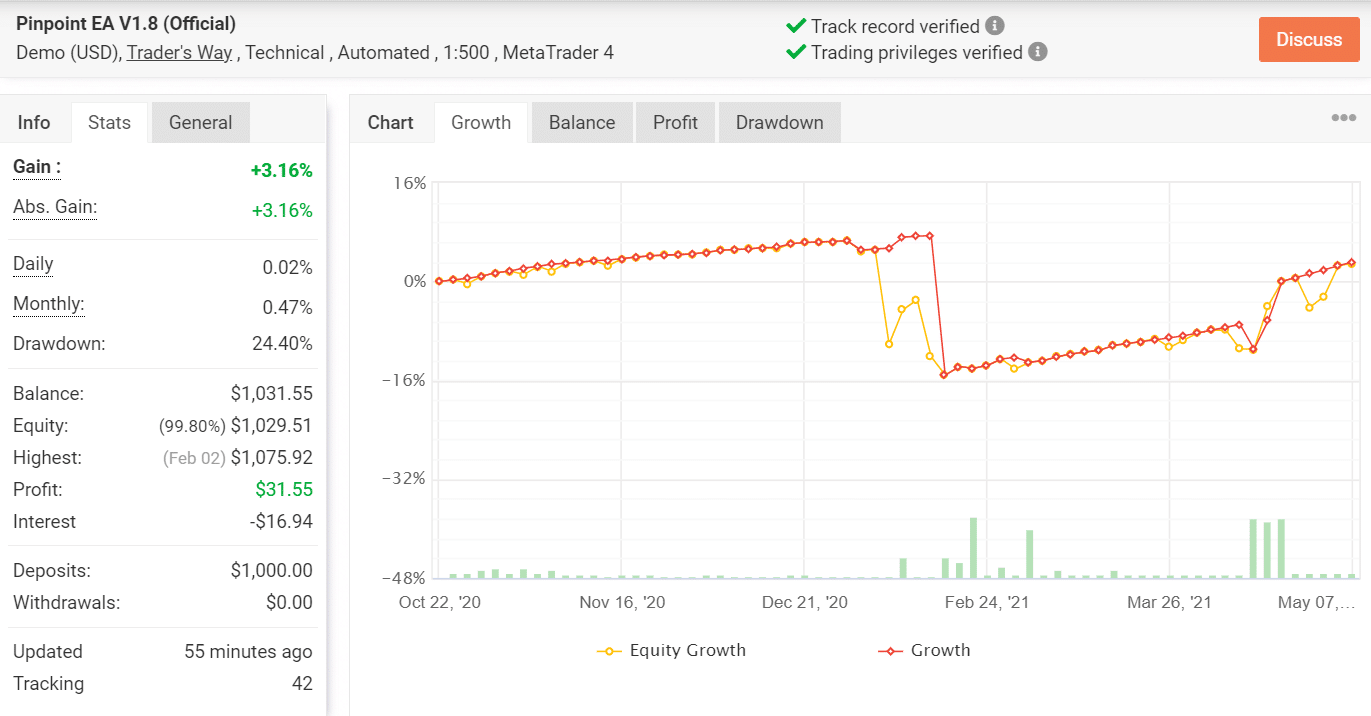 This trading account for Pinpoint EA has been verified by Myfxbook. Only 101 trades have been placed through this account, which is not a large enough sample size to base our assessment upon. Currently, the daily and monthly profits are 0.02% and 0.47%, respectively, and the latter is much less than what the vendor promised on the official website. The drawdown is moderate at 24.40%, while the profit factor is 1.08. Owing to the short trading history and the low monthly profit, we don't think this system would be suitable for traders who wish to make decent gains in the Forex market.
Customer Support 
Support is provided by the vendor in the form of live chat on the website. You can also email the vendor directly, or get in touch with them using the contact form on the website where you need to provide your name and email address.
People Feedback

There are no customer reviews for Pinpoint EA on any third-party websites. While the MQL5 page does have a few user reviews, they cannot be considered authentic.
Pinpoint EA Summary: Worth it or not?
Pros
Verified live trading results
Verified backtesting data
Cons
Monthly profit lower than what's promised
Short trading history
Overpriced system
Conclusion
We think investing in Pinpoint EA would be a waste of your money. It is an expensive robot with a short trading history that does not provide enough information about its trading strategy. Furthermore, the monthly profit is less than what the vendor claims.
Rating: 3.8/10
Features: 5/10
Strategy: 3/10
Price: 2/10
Performance: 5/10
Feedback: 4/10