Forex Steam is an FX robot that claims to be a powerful and reliable system with more than 10 years of proven track record. As per the vendor info, this FX EA has more than 6000 clients and active accounts of over 10,000. With clients from more than 100 countries, this ATS promises profitable growth in a low-risk trading environment.
The official site provides info that this EA has been in the market for more than 10 years. But we are unable to find info related to the founding year and the location of the company. No phone contact is present.
Forex Steam EA Review
Our review of Forex Steam intends to give detailed info and analysis of the ATS including its features, strategy, performance, and other aspects. We have done a meticulous assessment of this FX EA to verify whether it is a reliable system or not. As an MT4/MT5 compatible system, this EA claims to provide gains both in the short and long term. According to the vendor, with experience of more than 25 years, this EA is capable of outlasting its competitors.
What is behind the Forex Steam Robot?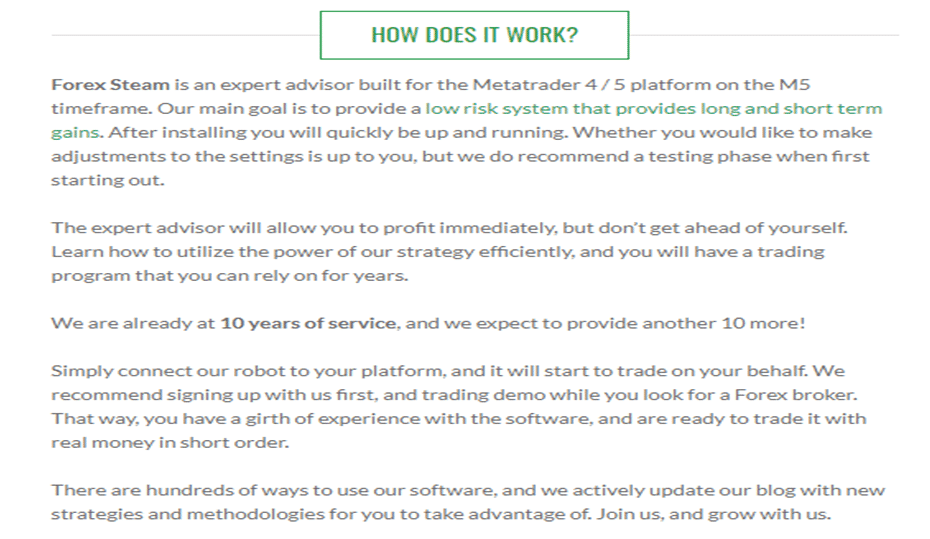 This MT4/MT5 trading tool uses a timeframe of 5 minutes. On purchasing the system, you have to connect it to your trading platform and it will trade for you. You can use the default settings or make any adjustments to them before you start trading. Constant updates in the software along with the suggestion of new methods and strategies for making better returns.
Two versions of this EA are present namely the light and the normal version. As per the vendor, the former version is more profitable. But the latter version is also on offer for traders who prefer a high-risk approach.
Key Features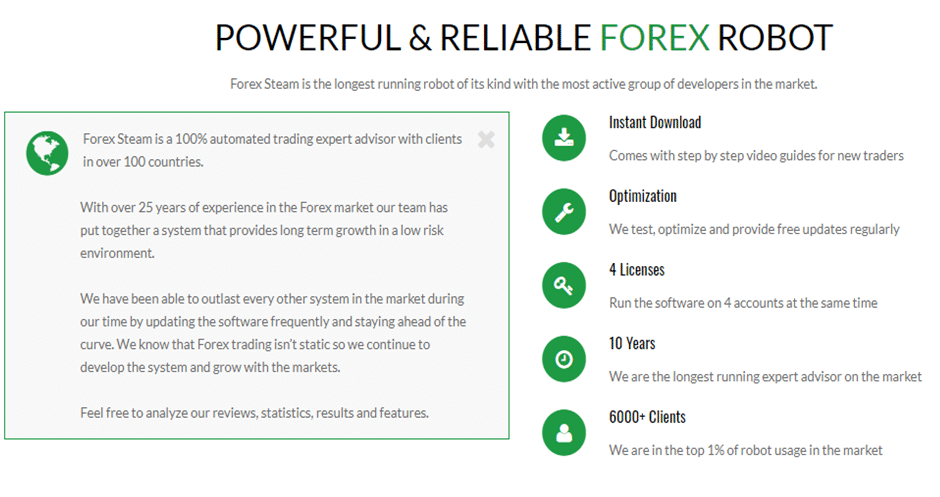 Retrace technology is one of the features of this EA that the vendor claims can limit the losses and secure the wins. When used along with the low-risk approach, this technology is claimed to boost account growth. Other features of this FX robot include filters for spread and holidays. With the trailing stop setting the vendor claims that the EA can ensure bigger wins.
A minimum deposit of $300 to $500 is the recommendation of the vendor for trading with this EA. It is compatible with ECN and 5-digit brokers. While the light version uses the M5 timeframe, the normal version uses the M30 timeframe.
Trading Strategy
This FX robot uses a trend-based strategy and live data-based approaches are used to identify trading features like the entry point, duration, and frequency. The vendor does not provide any further explanation of the strategy and there are no backtests. While backtests are based on historical data and cannot predict future performance, they are useful to know about the efficacy of the approach and the EA's performance capability. The absence raises our suspicion regarding the reliability of the FX robot.
Pricing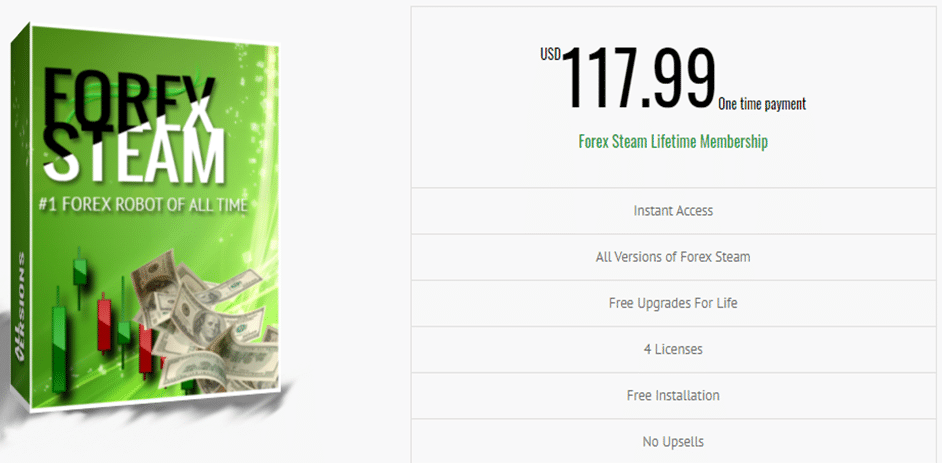 To purchase this FX EA, you need to pay $117.99. This is a single upfront payment that comes with instant access to the different versions of the EA, free upgrades, four licenses, and free installation. No money-back guarantee is present, which further strengthens our suspicion that this is an unreliable system.
Trading Performance of Forex Steam
The vendor provides live results of a trading account of this EA, but the results are not verified by a trusted site like Myfxbook, FXStat, FXBlue, etc. We found a real GBP account with verified trading privileges, but an unverified track record on the myfxbook site. Here are screenshots of the results: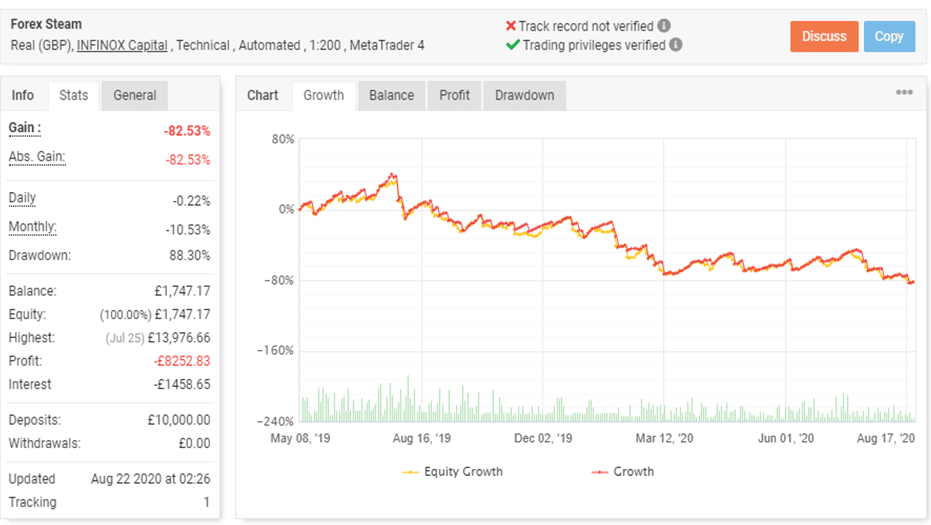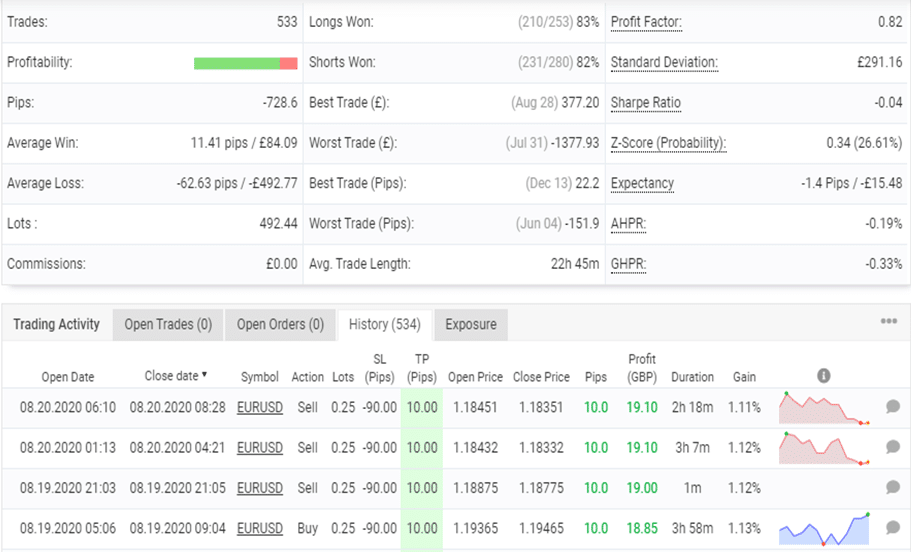 The above trading account uses the leverage of 1:200 and shows a loss of 82.53% and a drawdown value of 88.30%. This account started trading in May 2019 and has stopped trading in August 2020. A balance of £1,747.17 is present for this account which started with a deposit value of £10,000.
The profit factor value is 0.82 and the lot sizes used are very high, ranging from 0.25 up to 0.78. From the huge drawdown value and high lot sizes, we can understand why the account has stopped trading. The poor performance indicates this is an unreliable system.
Customer Support
Customer support options are very limited with only an online contact form available for users to get in touch with the vendor. This shows the poor support offered by this vendor.
People Feedback
We found user reviews for this EA on the Trustpilot site and Forexpeacearmy site. Here are a few of them.




From the above user responses, we can see that this is a scam EA that results in more losses than profits. Further, the Forexpeacearmy site indicates that fake and suspicious positive reviews are present for this FX robot.