Everyone seems to be talking a lot about Bitcoin and other cryptocurrencies nowadays, from central banks to large companies to ordinary folks. What draws so many people toward digital currencies? There are at least two reasons why people gravitate toward virtual currencies, namely:
The anonymity of ownership and transactions
Large return on investment
If you see the potential of crypto and are planning to invest, you must know the risks involved in this new type of investment. If you have fully understood and accepted the risks, then you are ready to engage. But how should you go about it? This article has the answer to this question. Here you will know the process of crypto investing in a step-by-step format.
How to invest in cryptocurrency
As you might be aware, you cannot buy crypto assets from your local banks or brokerage firms. Up until now, financial institutions still view this asset class as an exotic type of investment. Cryptocurrency is not regulated, and not many people understand how it works. That is why it primarily operates within its internal network.
Step 1. Open and fund an account
This step goes without saying. Before you can buy crypto, you need a medium to carry out this transaction. First, you need to open an online wallet. You will use this wallet to convert your local money to dollars, Bitcoin, or any other type of digital currency. After that, you can transfer funds from this wallet to any exchange or platform.
When you open an online account involving money, you need to validate your account first. This is a standard procedure in line with the "know your customer" principle. So this is intended to avoid illegal activities such as money laundering. When your account is verified, then you can fund money to your account. You can use various methods, such as a bank account, credit card, or debit card.
Step 2. Choose your crypto assets
Identifying the crypto options to invest in can be a challenge for investors. This is because the number of crypto coins has increased significantly over the years. Crypto assets now number in thousands, and more coins pop up all the time.
Since you are testing the waters, you should choose stable coins. The number one crypto in terms of market capitalization and adoption rate is Bitcoin. Therefore, you should allocate most of your funds to Bitcoin. Allot only a tiny portion of your portfolio to other cryptocurrencies.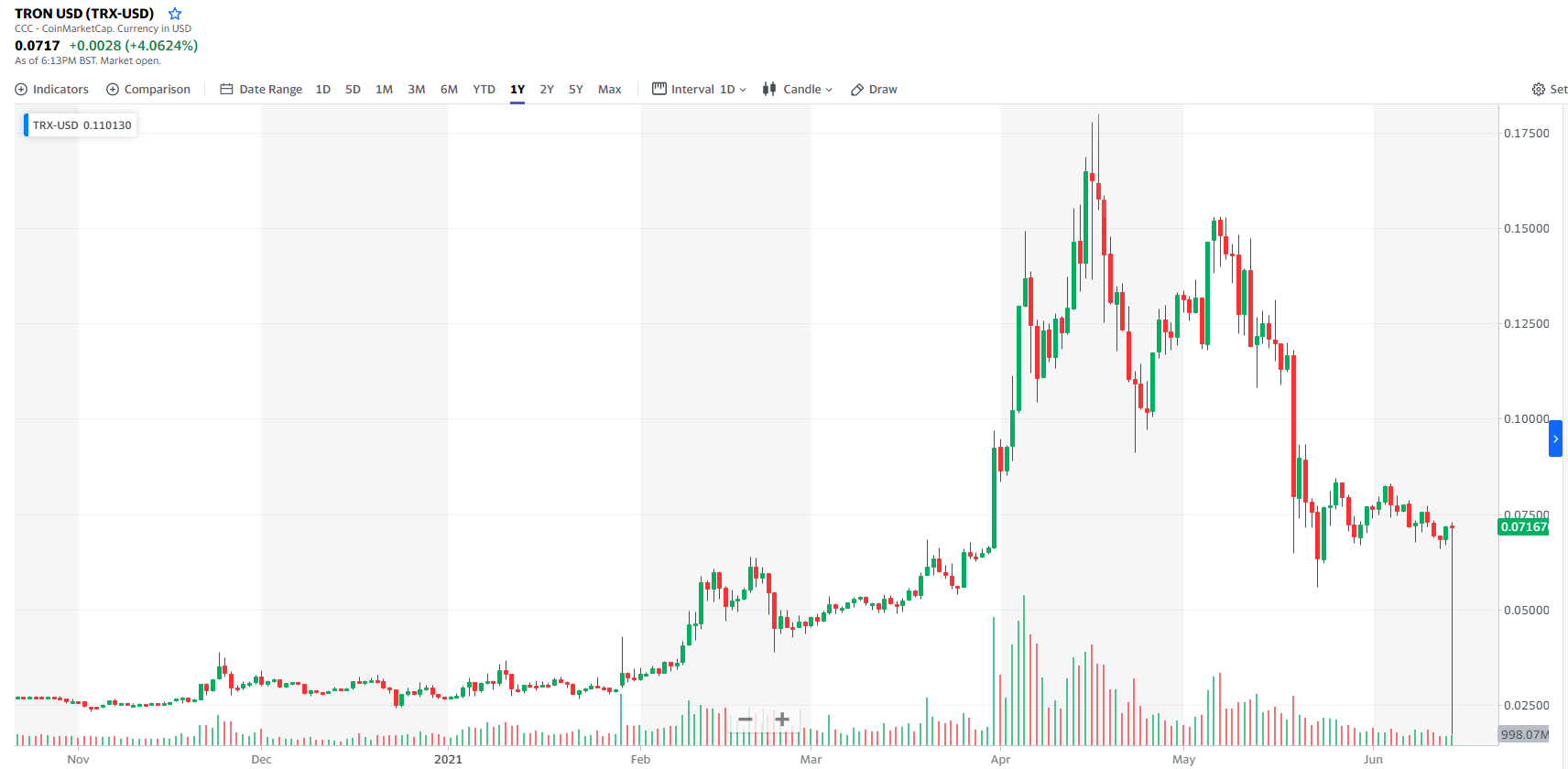 Be aware that many coins have come and gone already. You do not know which ones will flourish and which ones will wither away. There is the possibility that an investment in one asset or two could lose its value without notice. It can happen when the people behind the crypto project drop it and decide to work on another more promising project.
One coin you can consider adding to your portfolio is Tron. The above chart contains one year of historical data for Tron (TRXUSD). While not so many people talk about it, many users root for this coin due to its multiple uses.
From its introduction in 2017, Tron has seen a steady growth alongside significant crypto assets. As of this writing (June of 2021), Tron price is correcting from a big bull run and is looking to find support. Nobody knows what level it may reach next once it starts another run.
Step 3. Select a crypto exchange
As a new type of investment vehicle, cryptocurrency is not available in banks and brokers near you. You need to work with dedicated crypto exchanges to start your crypto investment journey. Before selecting one or two crypto exchanges, do your homework first. Be aware of the security measures put in place in exchanges before you decide to entrust to them your investment.
By all means, you must work only with reputable exchanges in the marketplace. Some of the most prominent names in this business are the following:
Binance
Coindesk
Kraken
Coinbase
You can consider these exchanges as brokers dedicated to cryptocurrencies. Each platform offers the most popular cryptocurrencies, such as Bitcoin and Ethereum. Buying or selling crypto assets through these exchanges involves an upfront fee or transaction cost. This is how these platforms do business, while you make money when the price of your chosen crypto assets appreciates.
Step 4. Store your crypto assets
You usually store your crypto assets in crypto wallets, either cold or hot wallets. This is a simplistic way of explaining how a crypto wallet works. In truth, a crypto wallet does not store your coins. Instead, your coins exist in the blockchain. To connect to the blockchain network, you need to use two keys: public and private, stored in your crypto wallet.
Your public key has the term "public" because any user can see it in the blockchain network. It is also known as your crypto address. However, no one else should know your private or secret key other than you. To execute any transaction, the combination of public and private keys must be consistent. Otherwise, you cannot unlock your crypto on the network, and your transaction fails.
A digital wallet allows you to access, receive and send crypto to other wallets. There you can see the history of transactions you have performed and your current balance. There are many options for digital wallets available to you, such as the following.
| | |
| --- | --- |
| Type of digital wallet | Description |
| Online wallet | This wallet is accessible via the internet. Therefore, you can access this wallet through any device so long as you have an internet connection. This option is not secure, though, because a third party stores your private key in its server. |
| Desktop wallet | You can install a desktop wallet on your computer, so you have full control over your keys. A desktop wallet is a lot safer than an online wallet. |
| Mobile wallet | This wallet is an application installed on your mobile phone. While it offers ease of access, it poses a lot of risks to your assets. |
| Hardware wallet | This wallet is a physical device, such as a USB stick. It stores your private keys in one physical location. This device is often encrypted and sturdy to stand physical shocks. This wallet is only as secure as where you place it. Store it somewhere safe, such as a vault. |
Which type of digital wallet you end up using depends on your need for convenience and security. You have to weigh the pros and cons of each option and go for the one or two that strike a good balance.
Step 5. Protect your crypto assets
If you acquire crypto assets for online purchases, use hot wallets properly and perform your online transactions securely. Avoid connecting to a public hotspot for this purpose. Here are some other things you can do to protect your online wallets:
See that you are entering the correct URL in the address bar.
Never disclose your login credentials to others.
Enable multiple-factor authentication when logging in to your account.
Nominate a strong password.
Do not put all your crypto in one wallet or address.
Final thoughts
Crypto investing is an exciting business that is fraught with dangers. If you are not careful, your investment could vanish into thin air and cause you a lot of stress. Therefore, you have to approach the investing process very carefully. You have to know the traps that catch unwary investors off guard. Follow the steps outlined in this article and go even deeper to be in the right direction.