You might know that trading crypto allows you to make money from the crypto market. However, are you aware that you can make money from crypto for free? Yes, you heard it right. You can earn crypto even without capital. That is possible through crypto mining.
You can use it to mine crypto if you have an existing computer, though you might need to upgrade some parts to earn a good income. Today, you can even mine crypto through your phone, and it does not involve any upgrade. The question is, "How will you do crypto mining on your phone?" You will get answers to these questions as you read through this article.
What is crypto mining?
Technically, crypto mining involves finding solutions to complex equations to authenticate crypto transactions. It refers to creating new crypto coins adding them to the circulating supply. Concurrent with this process is the addition of new blocks to the blockchain.
To become successful as a miner, traditionally, you will need hash power from your device. It is now possible to combine hash power from multiple devices, such as smartphones, to mint new coins.
Does mobile crypto mining work?
Mobile crypto mining works. It is possible to mine any crypto on your phone depending on what a mining application supports crypto. However, be aware that crypto mining has drawbacks.
Mobile crypto mining is less efficient and less profitable than mining through a computer. Naturally, a computer can provide more processing power than a mobile phone. If you are into mobile crypto mining for fun or as a side hustle, you can still earn crypto over the long term.
Steps to mine crypto on a phone
Be aware that Google and Apple banned crypto-mining apps from their stores due to the risks posed by such apps. These apps can drain the battery fast, make the phone too hot, and take a lot of bandwidth and memory resources. Despite the ban, you can still find crypto-mining apps in Google Play and App Store.
However, it serves as a warning about the perils inherent in crypto mining. If you think you can handle the risks and want to engage in this activity, we provide the steps you can follow to start mining.
Step 1. Perform due diligence
Mobile crypto mining sounds like making easy money without initial investments. Since mobile phones have become ubiquitous and part of everyday life, you can start crypto mining without purchasing a new piece of gadget.
However, there are risks involved that you must be aware of before you start mining. Doing research in Google and watching video tutorials can help you on this end. Some of the risks of mobile crypto mining are listed below:
Mining specific crypto might not become profitable. You could run a crypto miner on your phone for days, but you may not gain anything. This is possible for large-cap cryptos such as Bitcoin, Monero, Ethereum, etc.
Some mining applications are responsible or blamed for compromising or leaking users' personal information. Make sure to find legit apps in the market.
The life of your phone could be greatly shortened due to excessive use. This is particularly true if you run multiple crypto miners continuously for 24 hours a day while also using your phone for other activities.
Step 2. Decide which coin to mine
There are over 9,500 different coins right now in the crypto market, according to data provided by Coinmarketcap.com. Not all of them are available for mining via phone. Many crypto-mining apps support only a handful of cryptocurrencies. However, selecting which coins to mine at the get-go will not always succeed. Often, you will need to do trial and error until you find an app that can generate specific crypto.
Step 3. Choose a crypto mining app
Here we assume that you would mine only one crypto using only one mining app. Besides, mining multiple cryptos and using multiple mining apps might not be good for your phone. This is because mining drains your battery fast, discharges a lot of heat, and uses your phone's resources.
Over the long term, this activity could significantly downgrade your phone's performance and shorten its life. Below are three of the best mining apps today. They are available for download from Google Play.
Hi Dollars intends to become a platform for trading crypto. At this time, this platform already has the token HI with a value of $0.185. Having a market cap of $56 million, Hi token ranks 539 in Coinmarketcap. Based on Ethereum, the Hi token was launched on 11 August 2021.
GeoCash app allows you to earn a real token GEO based on the Binance blockchain. Download and install the app, create your wallet, and share your location data to start mining. To convert your mined GEO tokens, you will need some BNB on your Binance account to exchange your GEO tokens for something else.
Storm Gain is a crypto exchange that allows you to trade crypto assets. In addition, it offers free crypto mining through a web browser on your computer or via a mobile phone. To earn crypto, which is USDT, you must push a button every four hours.
Once you reach ten USDT, you can move the funds to your trading balance. You can trade this balance on the platform by buying crypto assets. If you win enough trades and reach a minimum payout, you can cash out money and enjoy the fruits of your labor. If you lose your balance during trading, you will start again.
Step 4. Pick a mining approach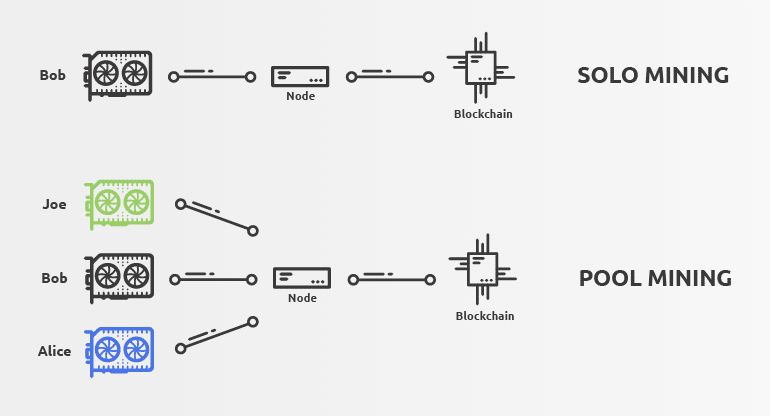 You can take two approaches when you decide to engage in mobile crypto mining. These are explained in this section.
The easiest way to begin crypto mining is simply to do it on your own. It may take just a few minutes to set up a mining system on your phone. You do not even need to create a crypto wallet account. Just install a mining app, create an account, and run it continuously in the background. Just be aware that this mining approach is less motivating as it takes time to mine coins.
The other option for crypto mining is through a pool of miners. You can find plenty of mining pools on blockchain servers. Pool mining combines computing power from multiple devices to attempt to solve sophisticated equations. If the attempt is successful, each member of the pool will get a share of the profits. This amount depends on the computing power contributed by each pool member.
Final thoughts
Starting a mobile crypto mining campaign is a fairly straightforward process. You will need only one device that you most likely already have. Installing a mining app and creating an account will not take much of your time. While you use your phone for its original functions, your app is working in the background, and you generate income.
Selecting which mining approach to take (i.e., solo or pool mining) depends on what matters more. If you want consistent but smaller gains, you can opt for pool mining. If you have the patience to wait for occasional big payouts, you can use solo mining. Because of the risks involved, you must do a thorough study before subjecting your phone to too much stress.