Green Graph EA is a Forex robot that claims to reduce your chances of loss by using a smart trade management system. As per vendor claims, it can enhance your profit margin while following a safe trading procedure.
We don't have any information related to the company profile and its year of foundation. It is also not known whether this team has built other similar systems in the past. The lack of vendor transparency is quite disappointing since we don't know whether these people have the required experience and know-how to develop an automated system.
Green Graph EA Robot Review
Not all Forex EAs are trustworthy, as there are several unscrupulous individuals running scams that are aimed at ripping off traders. As such, it is necessary to conduct extensive research on each Forex EA before you consider investing in it. Thus, we have presented this Green Graph EA review where we have analyzed the various performance aspects of the system for your convenience.
This Forex EA has been trading live only for a few months. According to its profile on Forexpeacearmy, it has an average gain of 11.39% per week. It was founded in 2021 and has placed more than 100 trades to date.
What is behind the Green Graph EA Robot?
This is a robot that trades the trend, and for this purpose, it scans the market for profitable opportunities. After figuring out the trend, the robot computes the best entry time and position. The trades are managed via the smart management system that prevents early losses. According to the vendor, this allows the system to close most trades in profit while maintaining a low drawdown.
Even if you don't have any knowledge about the Forex market, you can still use this EA for generating profits. You simply need to add the EA to your charts and it will start placing trades automatically. 
Key Features 
Green Graph EA trades in all major and minor pairs. The vendor recommends starting with a balance of $100 or 1000 cents. Leverage of 1:500 is suitable for this robot and it is further recommended that you use the default settings during live trading. For using this system efficiently, a decent internet connection is needed, but you can use a VPS as well.
It is a broker-friendly system that is easy to set up. The EA is connected to a server on the official website where ticks are revised and new algorithms are developed. 
Trading Strategy
On the official website, we don't have very little information about the trading strategy. It is mentioned that the robot's algorithm is based on indicators like RSI, stochastic, and EMA, but no further details are provided. This may disappoint some of the traders who are particular about technical details.

Here is a backtest that was conducted from July 2019 to February 2021. Using an initial deposit of $1000, a profit of $362,186.53 was generated. Although the daily and monthly gains were pretty decent at 1.01% and 35.27% respectively, the drawdown of 31.86%, was a bit too high.
Pricing
There are two pricing plans for Green Graph EA, namely Profitable EA and Professional. These plans cost you $45/month and $75/month, respectively. The vendor provides a 30-day money-back guarantee for this product.
Trading Performance of Green Graph EA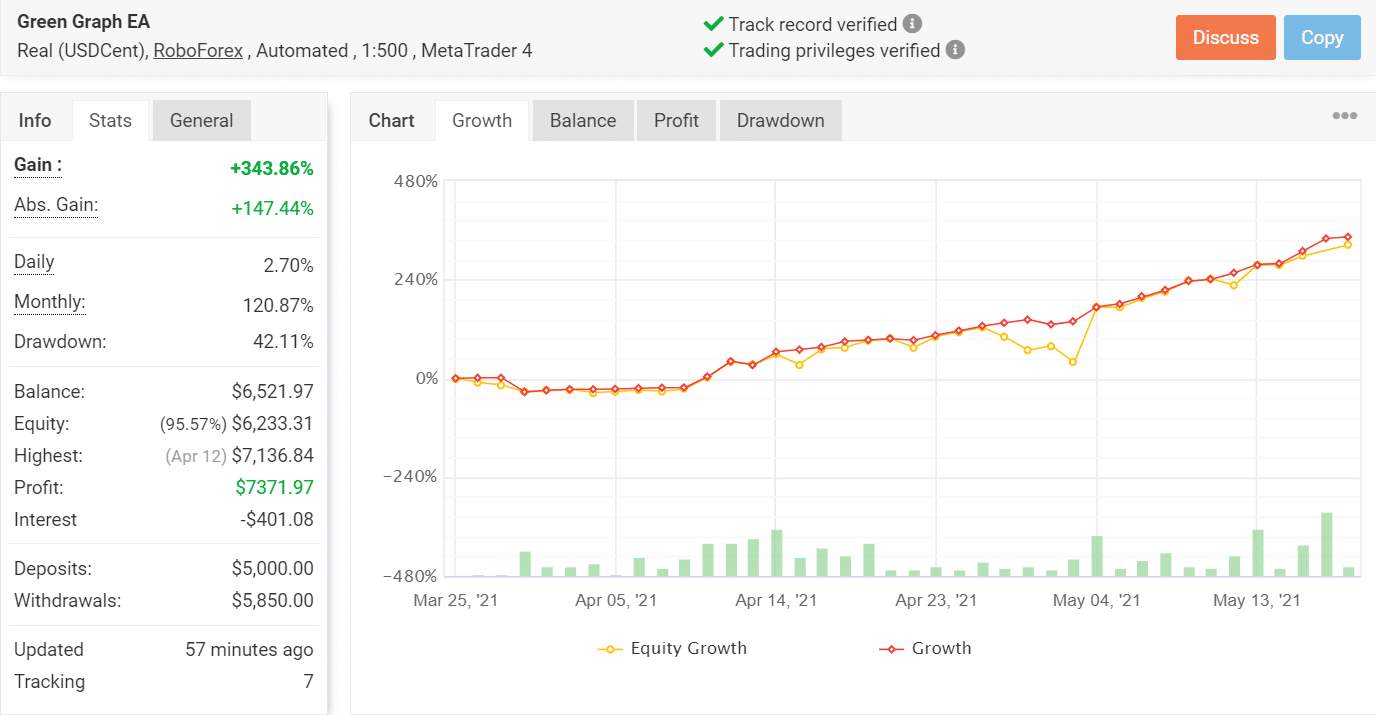 Here we have a live trading account for Green Graph EA that has been active since 25th March 2021. After placing 586 trades, it has generated a total profit of $7371.97. Currently, the daily and monthly gains for this account are 2.70% and 120.87%, respectively, while the win rate is 71%.
Apart from the short trading history, the high drawdown of 42.11% is worth taking into account. Very few traders would trust a system with such a high drawdown, since it indicates a significantly higher risk of suffering losses.
Customer Support
Customer support is provided to all users on a 24/7 basis. There is a contact form on the website where you can send in your query, along with your name and email address.
People Feedback
There are no customer reviews for this Forex EA on the web. Since this is a newly-launched robot, it is expected that not many people have heard about it yet.
Green Graph EA Summary: Worth it or not?
Pros
✓ Live trading results verified by Myfxbook
Cons
✘ Lack of strategy insight
✘ Lack of vendor transparency
✘ High drawdown
Conclusion
In the end, we would like to say that investing in Green Graph EA is a risky prospect. We don't know much about the vendor and the trading strategy used by this system. Furthermore, the high drawdown makes us think that it is prone to suffering large losses during live trading. 
Rating: 4.2/10
Features: 5/10
Strategy: 4/10
Price: 6/10
Performance: 4/10
Feedback: 2/10