The US has been tagged as the "no vacation nation" by the Center for Economic and Policy Research. According to a 2020 US survey, most working populace canceled, shortened, or postponed their vacation. In addition, 26% of all the respondents had taken leave of fewer than two weeks at a time.
Someone once said that some of the best life ideas come while on vacation. According to the world health organization WHO, in 2016 alone, 745,000 deaths were attributed to a lack of vacation time resulting in fatal heart disease and stroke.
For a balanced life and mental health, psychologists encourage uninterrupted vacation time for everyone, especially with people combating the Covid-19 effects. Nevertheless, enjoying vacation time does not have to come with added bills and debts.
Like all the good things in life, a vacation might be a time of rest and rejuvenation, but it needs proper planning to ensure a hassle-free time full of lasting memories and without any debts involved.
How? By learning the basics of vacation budgeting and saving:
Role of cost estimates on vacation budgeting
Savings for vacationing
Vacationing flexibility
Extra-income for vacationing
Vacationing motivation
№ 1. Vacation cost projection
The first indicator of an efficient and effective budget of any sort understands the cost implications. You can make only vacation hassle-free and within your means by understanding and projecting all the associated costs. These estimates don't have to be exact figures. Still, they should be realistic enough to facilitate accurate vacation savings goals, ensuring enough disposable income to cater to any unforeseen expenses without going into debt.
Vacation cost projections start with the categorization of associated expenses into the following broad cluster:
Transportation: car or motorcycle hire, plane tickets, ship tickets, or train tickets.
Food: planned and unplanned hotel dining and groceries for Airbnb.
Lodging: Airbnb fees, hostels, hotels, tents for outdoor vacationing, or camper trucks.
Extracurricular: mementos, attraction tickets, park fees, tours
Miscellaneous: unexpected expenses fund, insurance for any rentals, security deposit fees, among others.
Apportioning correct estimates to each category above informs how much money to set aside for a vacation. According to the Travel Association, in 2019, vacation spending was approximately $793 billion, and you can bet that not all of it was planned, leaving some people in debt at the end of their vacation.
№ 2. Vacation savings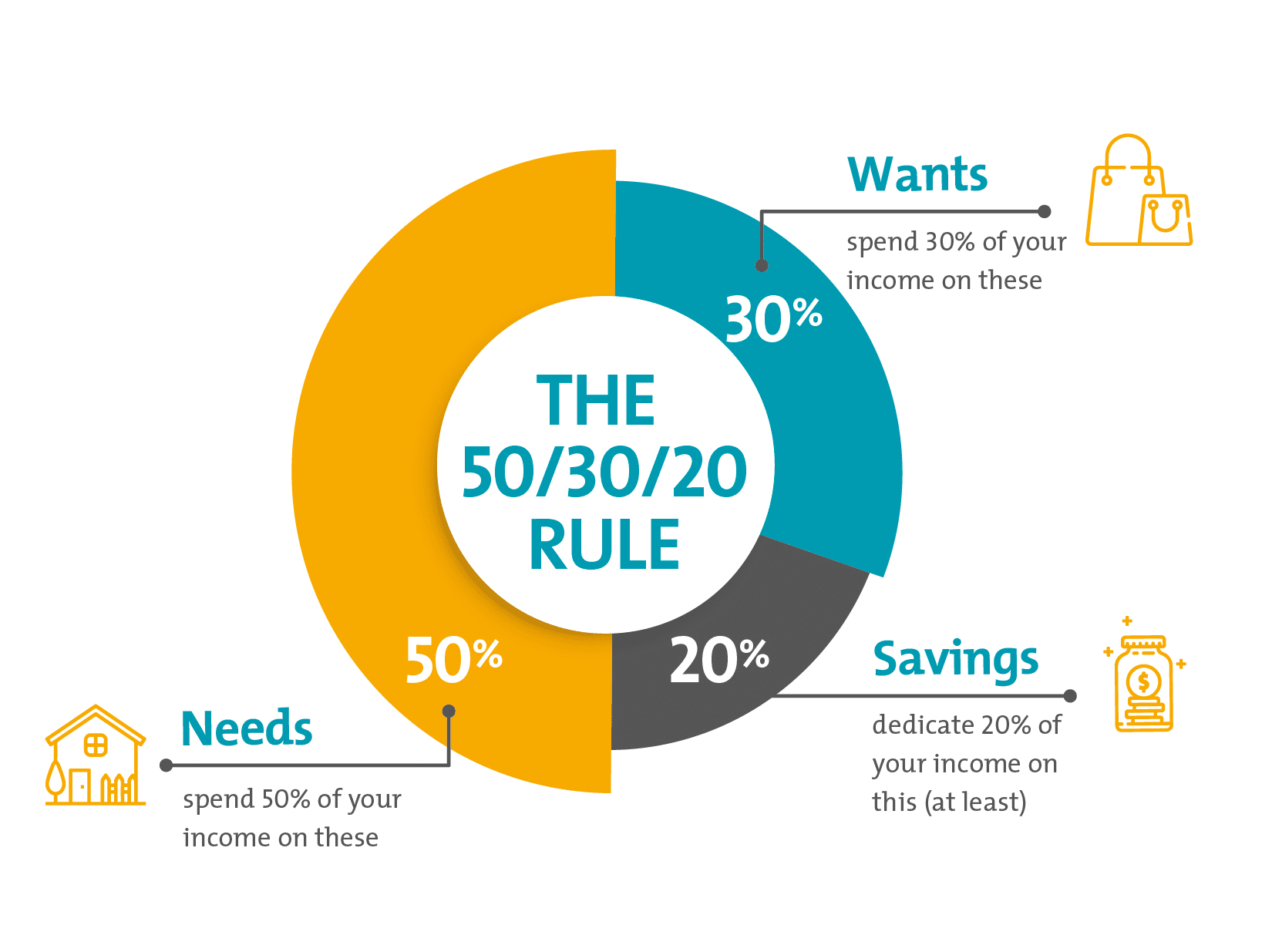 After categorizing the vacation expenses and cost apportionment, the resulting figure might be a bit scary. However, it becomes effortless to break down the figure into monthly savings goals, stretchable over several months with such an estimate.
Assuming all the budget estimates total $4500, an intelligent budgeting approach, the 50/30/20 rule, states that want's expenses should only account for 30% of individual income expenditure. If you have 8 months to go before your vacation, then that means per month, you get to save $563.
If your monthly salary is $2000, this is within the 50/30/20 rules since wants should take up not more than $600 of your income per month.
Rather than use a standard savings account, set up a high-yield savings account and watch your vacation savings attract interest and grow.
№ 3. Earning extra for vacation
Suppose an implication of the 50/30/20 budgeting approach reveals that the monthly vacation savings requirements are beyond the 30% want apportionment. Should you abandon going for a vacation? Absolutely not!
The first thing to do is reevaluate the cost estimates and trim down on any vacation expenses by ranking their importance and shaving off from the bottom coming up. Once expense trimming is done, it is time to look for an extra source of income that bridges the 30% deficit gap. If the monthly vacation saving requirements are $563, and your monthly income is $1500, you need an additional $113 on top of the $450 apportioned to wants.
Sources of extra income might be from taking a job after work such as tutoring, selling unutilized household items via garden sales, renting out spare rooms as Airbnb, among others.
№ 4. Flexibility
Vernor Vinge said, "Intelligence is the handmaiden of flexibility and change." This statement is true when it comes to vacation budgeting. Vacationing does not necessarily have to be during peak tourist seasons. Do it long enough and what you come to understand is that off-peak seasons provide for better services, less crowded activities, and all of this VIP treatment for a fraction of the cost.
The trick is having a list of possibilities with estimates, as earlier mentioned, but being on the lookout for places offering fair deals. For example, if the current year's plans were for the Maldives and next year for the Caribbeans, but in shopping around, there is a Caribbean cruise on offer that can shave off 30% from next year's trip, shelving the Maldives trip for next year.
This flexibility allows you to enjoy the Caribbean islands at a cheaper cost, with the 30% saved being the start point for the next vacation budget.
№ 5. Vacationing motivation
One of the hardest things to do in personal finance management is having the discipline to save consistently. Look at tourist and travel blogs and sites related to vacation destinations to keep you motivated and on track under the vacation savings goals set. In addition, have visibility of the vacation savings account to help you keep motivated as the account balance grows and you get closer to achieving the vacation financing objectives.
Ensure that each time you sacrifice for the vacation, you try and envision the counter vacation benefits that take the sting off the sacrifice.
Final thoughts
Vacation debt is avoidable with proper planning, which involves correct budgeting. Remember that it is all about breaking the routine and not breaking the bank or the savings account. A debt-free vacation is the surest way for rejuvenation and finding oneself.
In the words of Mehmet, "Neglecting vacation is neglecting success because every success needs an accumulated positive energy."