Budget apps help you track the money you receive and spend in a designated time frame. That can be a week, a month, or even a year. Through these neat tiny programs, people see where their money is coming from and how they are spending it.
You can save a lot of money just by having a clear picture of where your assets are going. Moreover, it can also provide a better understanding of your financial priorities.
How much can you expect to save with one of the most popular apps, YNAB?
According to the official site info, new budgeters save $600 in their first two months with this app. And more than $6,000 after one year. In terms of investment, that's a serious return.
Let's go into the details of the application and see if it is the right fit for you.
Why do you need a budget?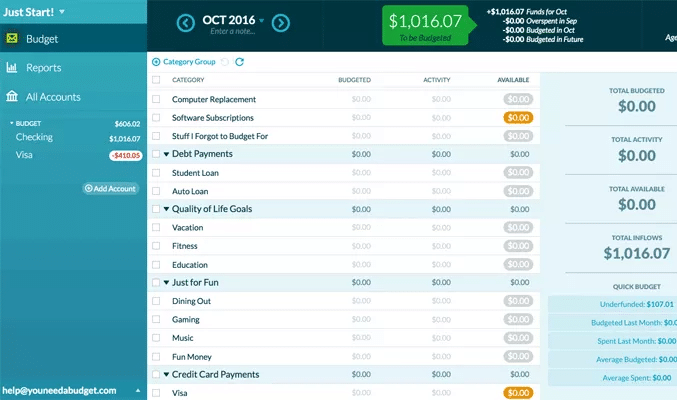 You Need a Budget, or YNAB for short, is a personal budget app. It helps you organize and direct your income towards your future expenses and take the spontaneity and "going with the flow" out of the budgeting equation.
Planning your finances doesn't have to look like much in the beginning, but as your sources of income diverge, as well as your expenses, losing track of it and spending more than you planned tends to occur more frequently.
YNAB uses the envelope system of budgeting, which means that it utilizes a strategy of categorizing your expenses into separate "envelopes." This makes the entire process easier, for sure, but also much more convenient and understandable, as people tend to grasp better and memorize concepts they can visualize.
Pros and cons of YNAB
Let's see some of the upsides of the YNAB and some other aspects that might be subpar in comparison to some other similar apps.
Pros of YNAB
There is plenty to choose from when talking about the positive traits of YNAB, but the bottom ones stand out in comparison to its competitors.
Security
The first thing that you should consider when giving an app the details of your finances is security. The YNAB infrastructure team partnered with Heroku, which is a cloud platform with contracts with the CIA.
To up the game even further, YNAB doesn't allow access to your data to staff members unless required by law, and your passwords are one-way salted and hashed. Thanks to encryption, even if someone steals your data, they can do nothing with it.
Superb budgeting strategy
There is no one correct way to plan your budget, but YNAB became well-known thanks to its simple three-legged approach to saving money and getting your financial ducks in a row.
Give every dollar something to do
That means that no unused funds are lying around.
People tend to underestimate what they spend every month and constantly get frustrated with how little they manage to save or how quickly they end up with no money whatsoever. This app makes it abundantly clear where your money goes.
Sometimes, unexpected things happen, and there is nothing you can do about it. YNAB allows you to spill over some of the funds from envelope to envelope to accommodate the unexpected charges and expenses.
Easy to use and evolving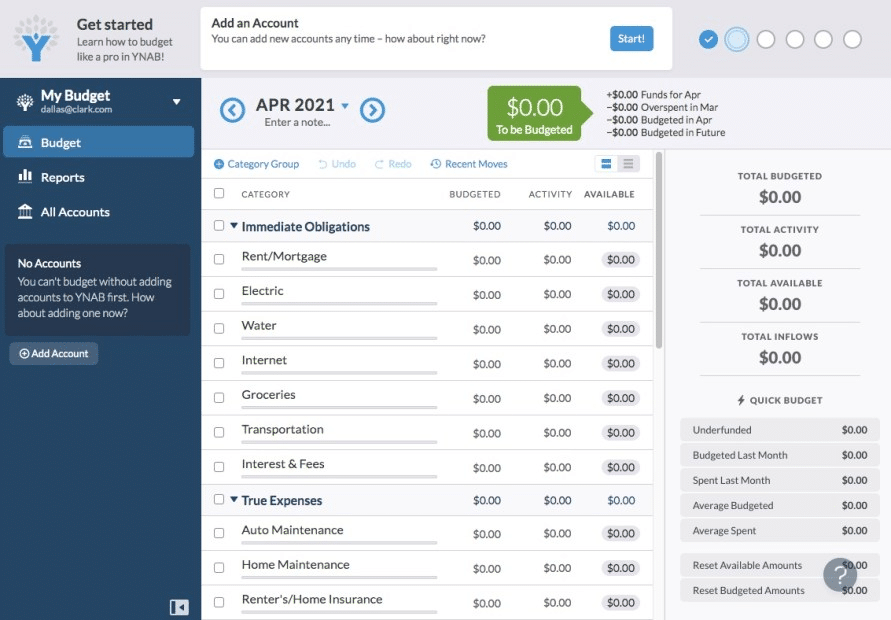 YNAB has gone through many interactions since its inception. The developers were aware that there would be some glitches in the system, so they decided to adapt and learn as they grow.
For example, before you have to upload every bank transaction manually. Now, of course, that is not the case, as the entire process is now automated.
Specialization
There is a reason why people like one-stop-shop services. It's easier, and it saves time. On the other hand, can you compare a burger from a place that sells only burgers to the one from McDonald's?
Our point is that some applications try to tick all the boxes and offer all services simultaneously. As expected, their products can't excel in all aspects. YNAB is a budgeting app and nothing more, but it does the budgeting part extremely well.
Cons of YNAB
Keeping the good in mind is okay, but you must also know where the YNAB budgeting application lags, so here are some of the negative aspects of the app you must know.
Price
While the $84, charged annually, or $11.99, charged every month, doesn't sound like a lot, and it isn't, we still decided to count it as a downside due to the simple fact that you can also find budgeting apps for free and with no hidden expenses.
That doesn't mean that the free apps have everything YNAB has, as they usually don't. If the price is a consideration for you, you can take advantage of the trial period, which runs for 34 days free of charge. But for some people, even this fee is too high, so they might consider one of the free options for starters.
Narrow scope
Yes, we know that we have already said that the narrow specialization of the platform is a good thing. However, that doesn't have to be your personal preference. If you like to do multiple things with a single program, maybe you should look at one of YNAB's competitors.
Lack of fanfare
This downside builds on the previous one. Because YNAB stayed true to its initial purpose, which is budgeting, some other apps have managed to outpace it in terms of additional features they offer.
Nowadays, you have apps to watch your investments or plan for retirement, which may not be the case with YNAB. As we said, if you are just here for the budgeting and not the bells and whistles, then YNAB is beyond compare.
Final thoughts
Determining the right platform for somebody is much like finding the perfect sweater. It's difficult for somebody else to guess it, and there is no telling if this will be your favorite thing until you try it.
If you are new to budgeting and are afraid to commit in a financial sense, you can always try its demo version, as they offer 34 days free of charge. If you are still reluctant to invest money in a budgeting app, plenty of free ones will help you in a similar sense.
Whatever you decide, keep in mind that YNAB offers specific experiences that the other apps, especially the free ones, cannot meet.