The top five tech stocks for long-term investment in 2021 include — Tesla, Google, Microsoft, Apple, and IBM.
Investment in the stock market is a profitable and most reliable way to make money from financial trading. Moreover, if we compare the price stability between stock, forex, and cryptocurrency markets, we can find stock trading more reliable.
Investing in the stock market requires knowledge about the broader market outlook, performance, and technical analysis. The following section will see a detailed overview of these five companies, including the possible target area.
Why can tech stocks surge in 2021?
Understanding the sector is the primary requirement for investing in a stock. There are many industries in the world with potential, but why are we focusing on tech stocks?
We all know that technology is the future. In every sector, most of the transactions will relate to technology. Nowadays we cannot think of a day without watching TV, using mobile, or personal computers. So, in an ordinary sense, technological instruments have a strong demand in our day-to-day life.
The most significant factor about tech stocks came after the Covid-19 pandemic that stopped the regular activity in the world. The introduction of home-based offices and schools involved a lot of people in technology. Now, this sentiment may extend to the next 2-3 years, according to several analysts.
Top 5 tech stocks to pick in 2021
Based on the market stability, future potentiality, earnings growth, and balance sheet position — we brought five tech stocks that may surge in the coming years.
1. Tesla
Testa is one of the exciting stocks right now, influenced by Elon Musk. Although Tesla is an electric car maker company, they plan to build other products that may change the world. And if you can catch the move, you will remain at the top.
Tesla is working to produce electric cars with a network from where these cars can refuel. The interesting fact is that the battery backup and performance of the Tesla car are outstanding, and it has all qualities to attract an investor's attention. Therefore, in the price chart, we can see how investors are hopeful about this stock.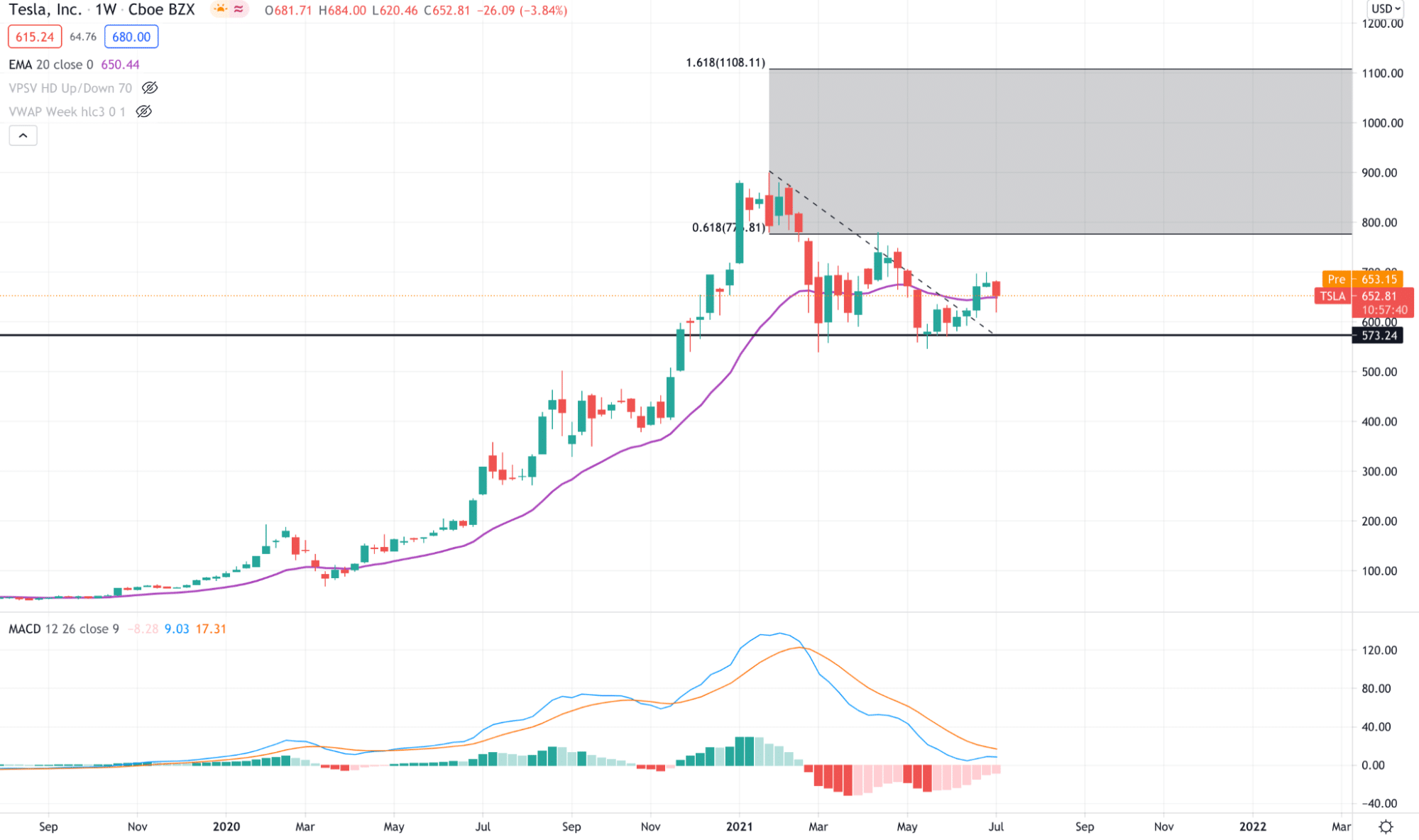 As per the current chart, Tesla stock is in a corrective momentum that may extend higher as long as it trades above the $571.24 level.
Besides, Tesla's Automotive revenue has grown to 75% from 2020 to 2021, and there are many indications that it would increase.
Tesla's debt: equity ratio remains near 1:1, where there is more room for equity investment, which is another sign for Tesla stocks to grow. The operating cash flow, net income, and several vehicles delivery are growing higher, extending in the next few years.
2. Google
Google showed remarkable business development under the supervision of CEO Sundar Pichai that started from building Google Chrome to Android and Cloud computing. The main goal of Google is to provide technology to the masses.
Google stock bulls have become highly probable, with a rebound in the digital advertising section after the Covid-19 vaccination expansion. Additionally, in the first quarter of 2021 earnings, Google showed a remarkable 46% recovery in Cloud computing revenue, where Apple is the biggest user.
Although Google expanded its position in the cloud computing and consumer hardware sector, its primary revenue generator remained as the digital advertising sector. Currently, Google has no plan to stop supporting third-party apps from the Chrome browser. Therefore, in the future, investors should focus on how Amazon is competing with Google.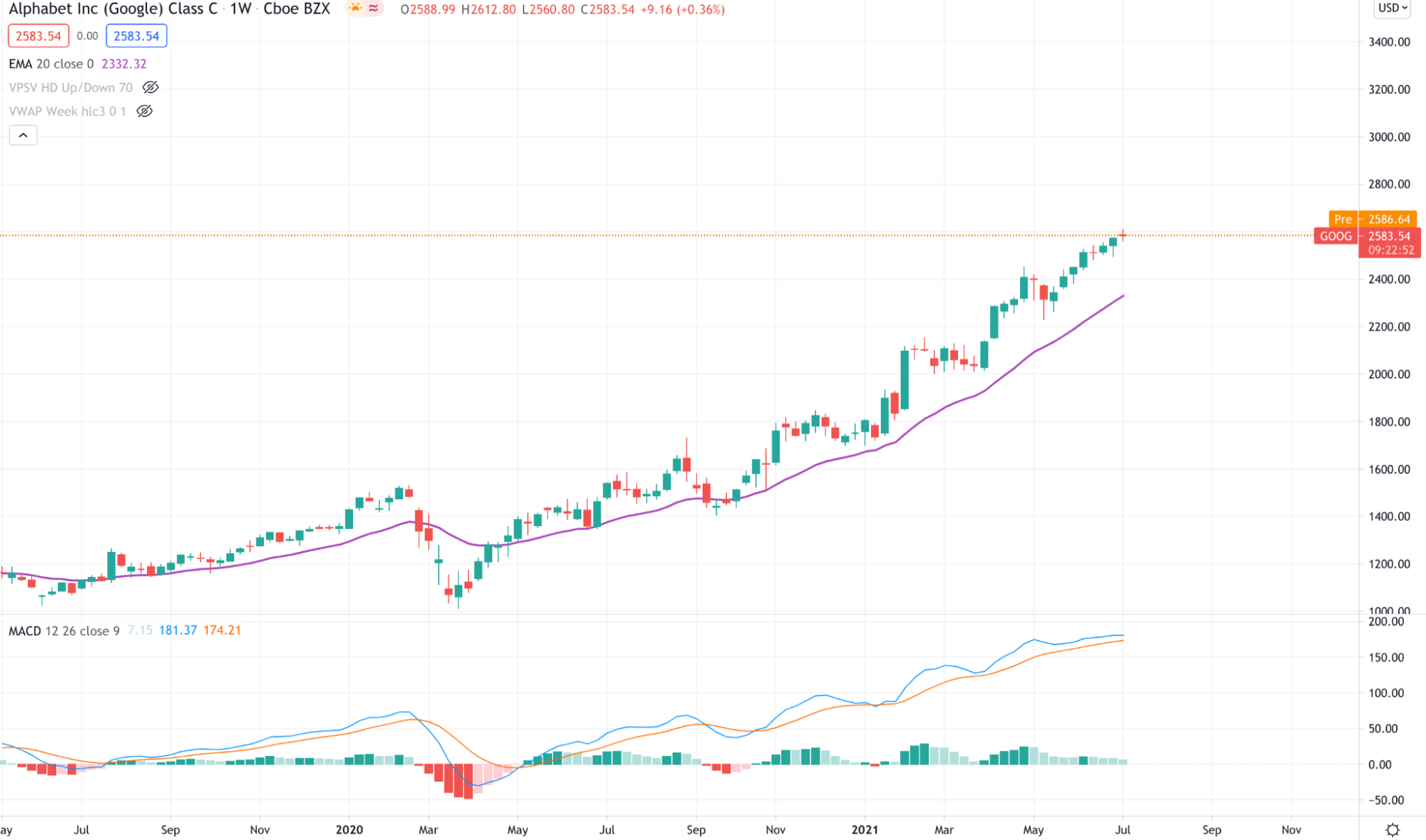 In the weekly chart of Google stock, we can see that the price is moving higher with an impulsive pressure that may extend in the coming years.
3. Microsoft
Like other tech stocks, Microsoft stock moved higher in the post-covid situation, which is a sign this stock may grow higher, but investors need a reason behind the movement.
Microsoft is a software giant company that earned a strong pivot from desktop computers to cloud computing. Bill Gates and Paul Allen brought this revolution in the personal computer era that recently launched a new version of Windows, Windows 10.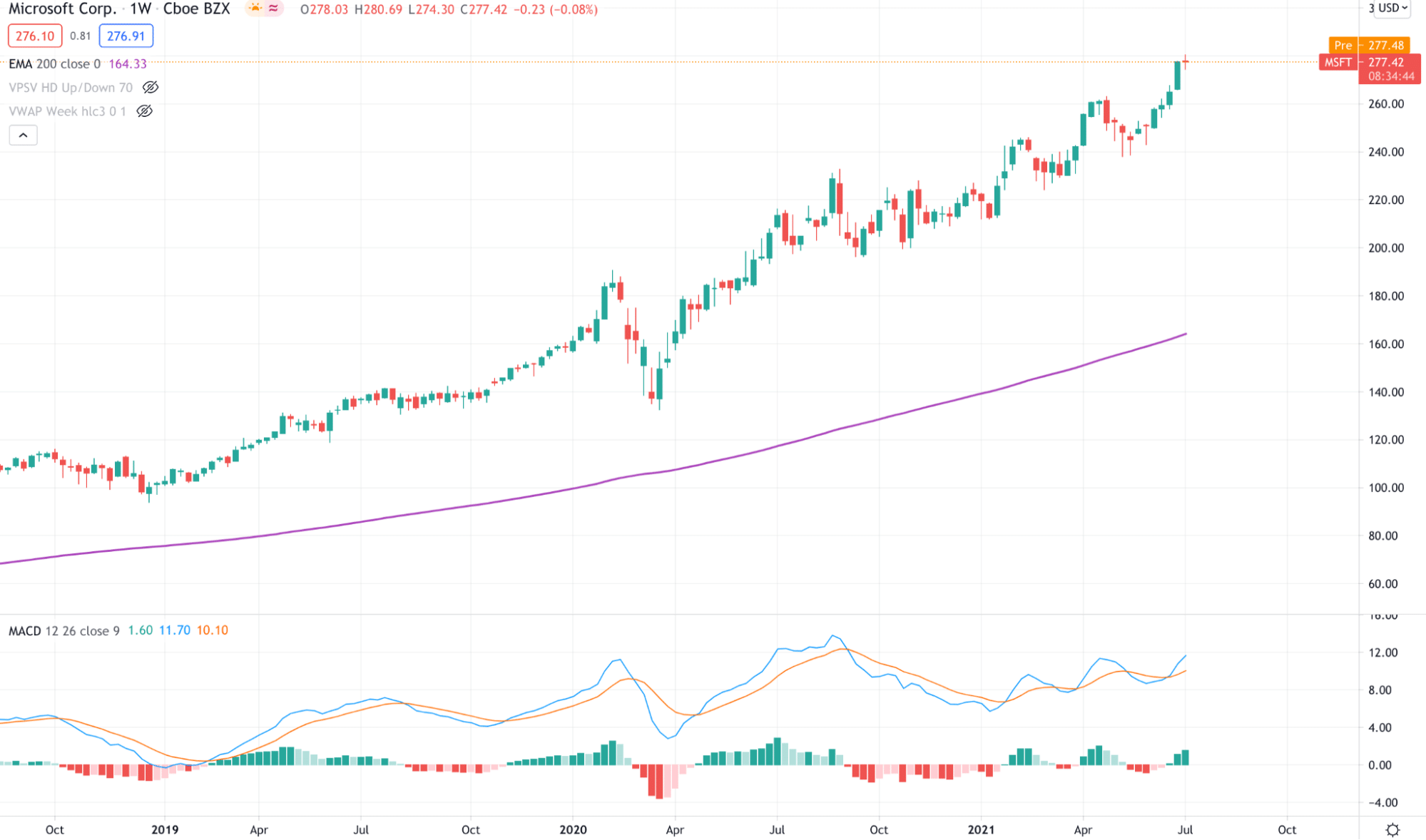 Microsoft stock is moving higher from the pandemic low, and still, there is no sign of a rebound. Although the stock is trading at an all-time high in the mid of 2021, it has a probability of showing a correction. However, the bullish price action is valid as long as the price is above the $200 psychological level.
4. Apple
Apple showed remarkable growth by bringing its new Apple Based CPU and GPU in its new MacBook Pro, air, and iMac. Moreover, the launch of iPhone 11 and 12 failed to catch mass investor's attention with a slowdown in iPhone sales. However, this slowdown came from better hardware and software that influenced users to hold their phones for a long time.
Now, investors should focus on how Apple brings change to its second phase of the M1 chip. Meanwhile, the vaccination and economic recovery signify that Apple products will be used more than previous.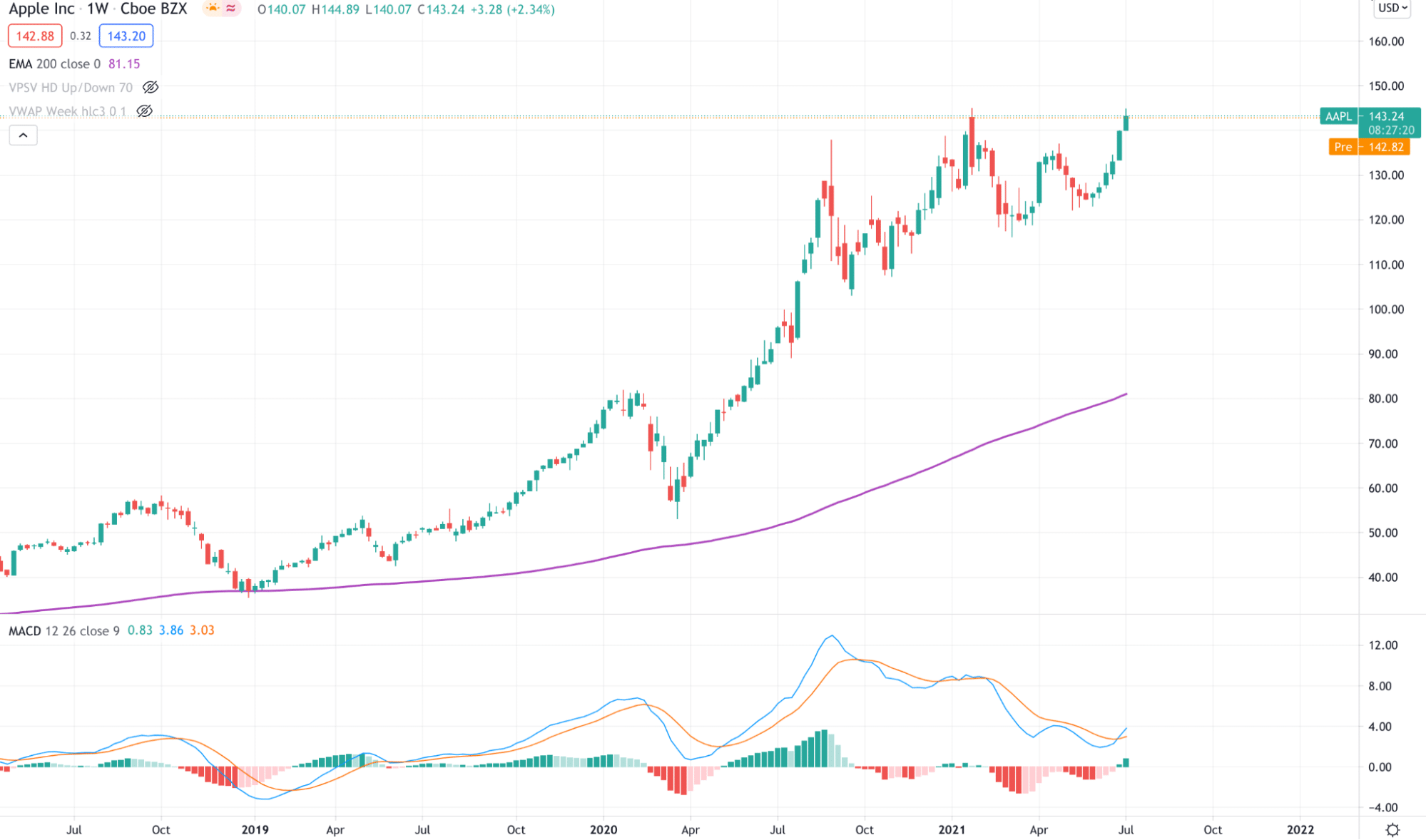 Apple stock was intensely moving higher in the price chart and got a stable position above the 200 EMA. Therefore, despite the possibility of temporary correction, this stock would be a good option for investing long-term.
5. IBM
There are very few companies that have a long history of success, like IBM. This company helped pioneer multiple segments and became a computer industry giant. However, in recent days, IBM has become less dominant than it was during the 1980s.
In 2020, IBM made seven acquisitions with an aggregated value of $723 billion, and its effect is expected to show in the next few years. Moreover, this company spent a lot on restructuring that includes 11 acquisitions, artificial intelligence, capital expenditure, and cloud computing.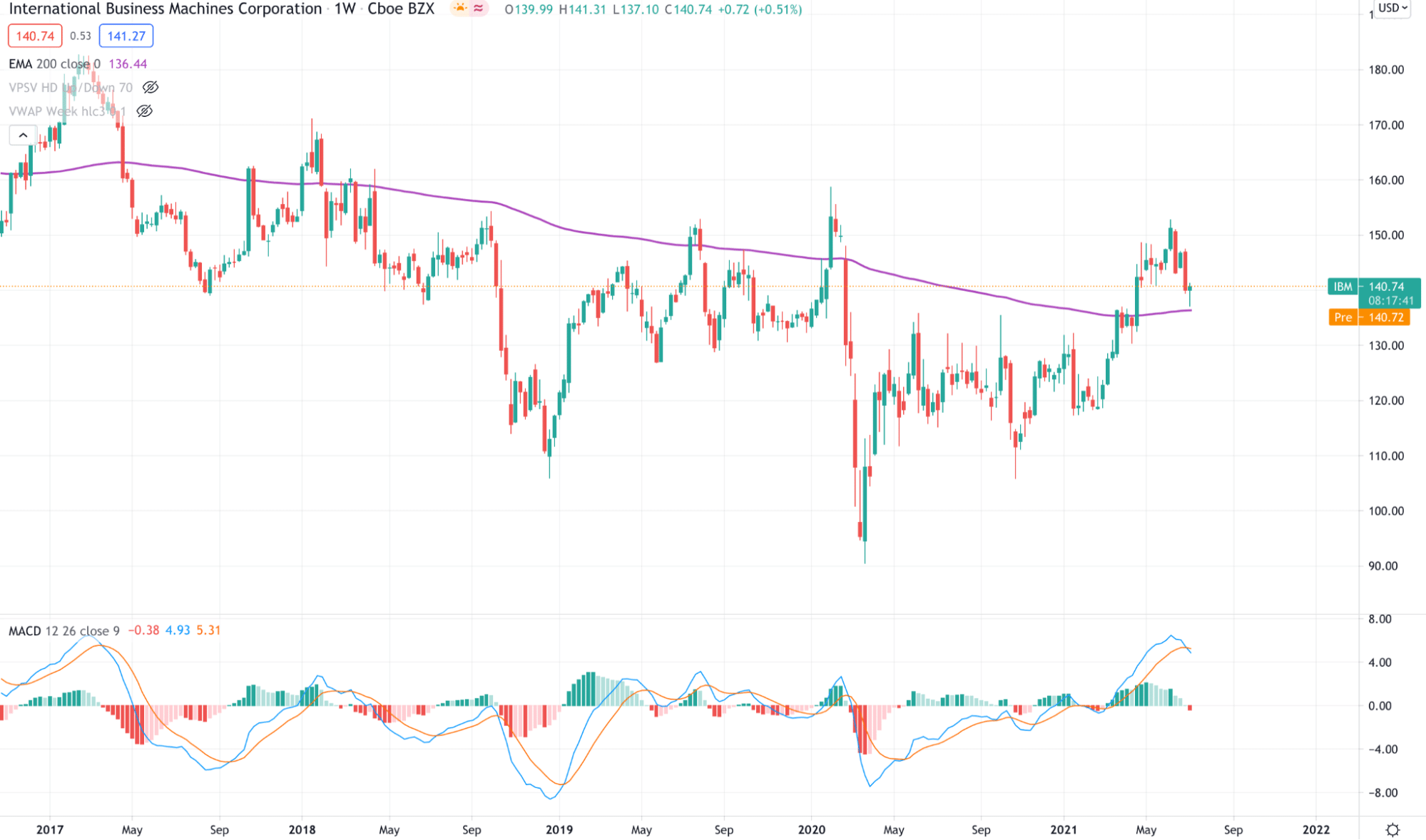 In the price chart, we can see IBM is above the 200 EMA but still has no stable price action to indicate an upcoming bullish pressure. However, investors need to know the result of these acquisitions and restructuring to jump into this stock.
Final thoughts
Lastly, we can say that investing in stock requires deep knowledge about the company and industry. Moreover, investors should do strong money management before buying or selling anything as the financial markets involve unavoidable risks.