Do you want to invest in companies that are potential for 2021?
Investing is a sophisticated way to earn money that requires a lot of analysis and attention. If you fail to choose the right company and performance, there is a possibility of losing all of your investment. Moreover, it is often impossible for retail investors to do extensive research to identify potential stocks. If you are confused or struggling to find likely stocks, the following section is for you.
TIME has released a new list of the 100 most influential companies in 2021 that make an extraordinary impact worldwide. TIME solicited nominations from different categories, including technology, entertainment, transportation, industrial, and other global networks.
Moreover, TIME did extensive research to identify critical factors of every company, including innovation, leadership, impact, success, and potentiality. Therefore, the TIME 100 list may help you diversify your trading portfolio by finding the most potential stocks from the following categories: Pioneers, Leaders, Innovators, and Titans.
Top 4 stock picks from the TIME 100 list
In this section, we will see the list of the top 4 stocks from the 100 lists based on their performance, innovation, and potentiality:
Pioneers — Hello Sunshine
Leaders — NBA
Innovators — Gro Intelligence
Titans — General Motors
Now, let's have a look at them one by one.
№ 1. Hello Sunshine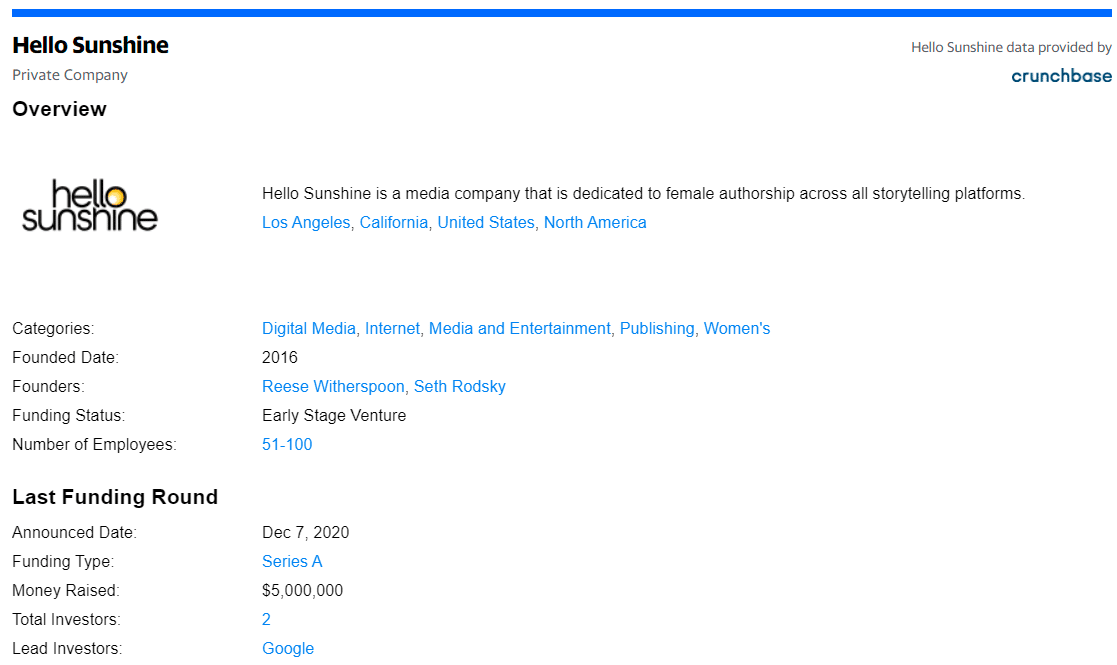 Hello Sunshine LLC is an advertising agency from West Palm Beach, FL, United States. Reese Witherspoon, an academy and Emmy Award-winning actress, formed Hello Sunshine as female authorship in all storytelling sectors like films, books, social videos, television, and audio.
Hello Sunshine's official projection on annual revenue is currently $25.8M per year. Now, its number of employees is 126, with an employment growth rate of 75%. However, sectors like advertising agencies and the professional service sector require innovative ideas to indicate future growth.
Rees Witherspoon, with her media company, Hello Sunshine, created opportunities for women on- and off-screen. As per the report from USC's Annenberg Inclusion Initiative, women on-screen account for not more than 25% of protagonists in the top 100 films in the US. Furthermore, the number of off-screen situations is worse. According to Hello Sunshine CEO Sarah Harden, women remain silenced a lot from the traditional storytelling process where Hello Sunshine is working to fill the gap.
Hello Sunshine's mission is not to fight for the seat. Instead, creating new opportunities for women. Based on the financial condition and the potentiality, you can consider Hello Sunshine in your trading portfolio.
№ 2. NBA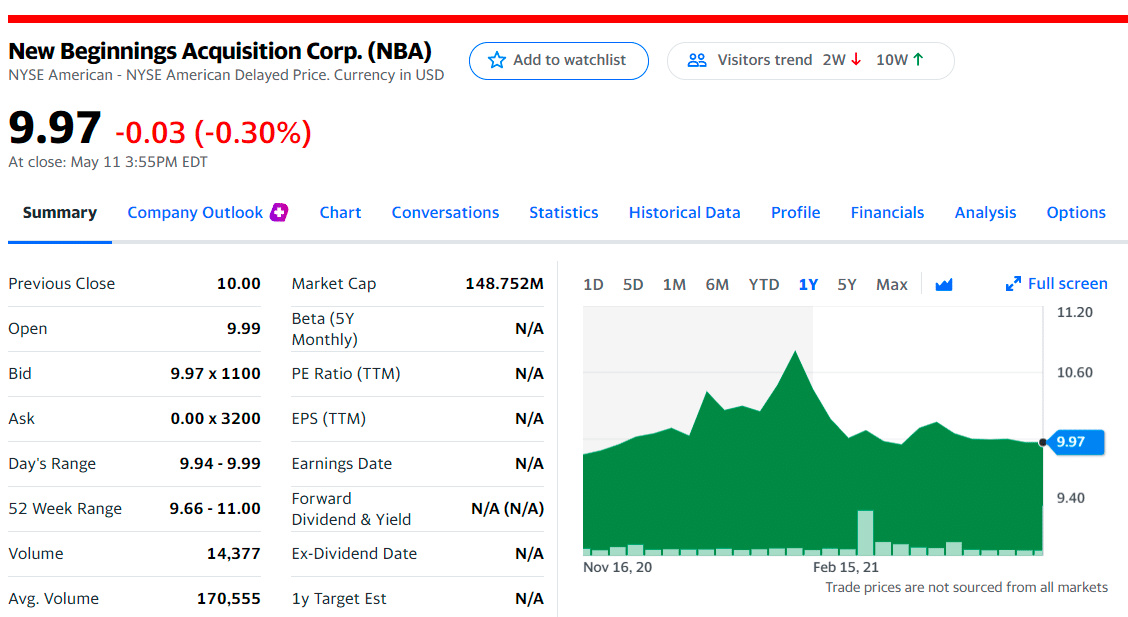 Adam Silver, the commissioner of the NBA, took over as commissioner in 2014. During the 2014 to 2019 session, the annual revenue has doubled to the north of $9 billion. Before the pandemic, the projection for 2020 revenue was $10 billion marks. However, it dropped lower by 10% due to the pandemic during the session. However, people praised A. Silver for overseeing the completion and completing the NBA's 2020 session.
Due to the Covid-19 pandemic, there was a salary reduction in league employees that may lower the NBA's financial performance. In the broader context, the impact of the pandemic was high among team players, coaches, and administrative staff.
Right now, as the vaccination program is running with limiting lockdowns in some essential parts of the country, investors may expect an improvement in NBA stock.
№ 3. Gro Intelligence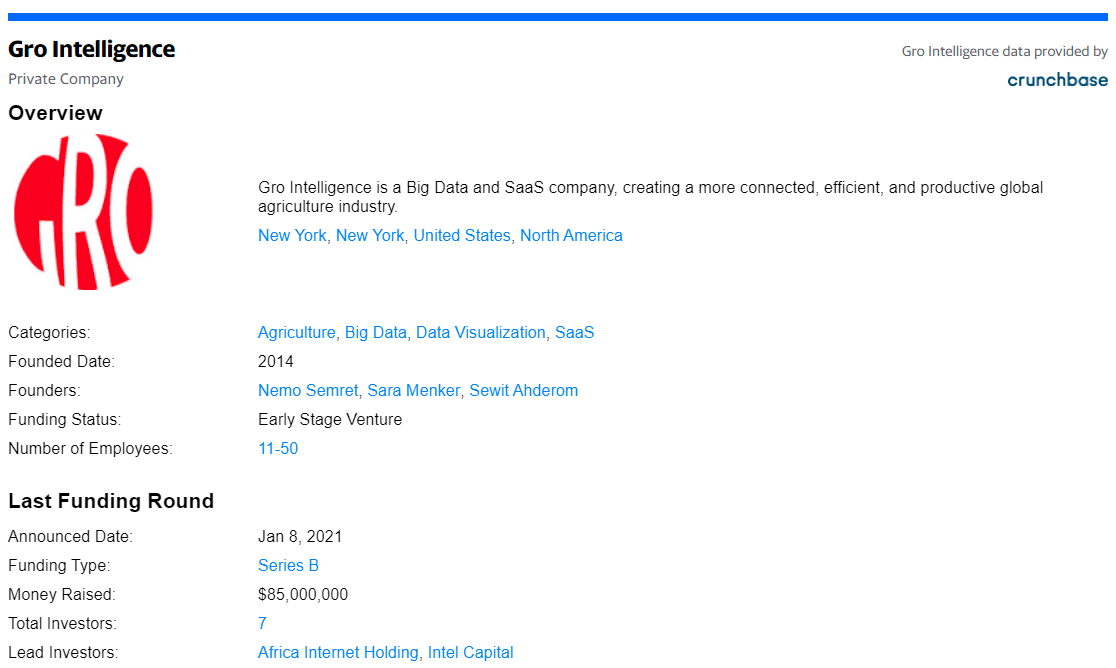 Gro Intelligence is an AI-powered insights company that provides decision-making tools, solutions, and analytics for agriculture, food, and climate economies.
In January 2021, Gro Intelligence raised $85 million in Series B funding. Intel Capital, Africa Internet Ventures, and the family offices of Ronald Lauder and Eric Zinterhofer were the leading investors in Gro capital.
Gro Intelligence collects, aggregates, and models complex to illustrate inter-relationship between food, agriculture, climate, and macroeconomic conditions. Currently, Gro Intelligence integrates more than 40,000 data sets and processes almost 650 trillion data points.
Grow Intelligence is forecasting and managing climate disasters right now. The company recorded 22 climate disasters in the US that brought a loss of $1 billion each. Overall, cyclones, wildfires, and storms brought a loss of more than $95 billion.
Right now, the use of artificial technology and providing decision-making solutions may consider the Gro Intelligence stock as a prominent investment opportunity.
№ 4. General Motors Company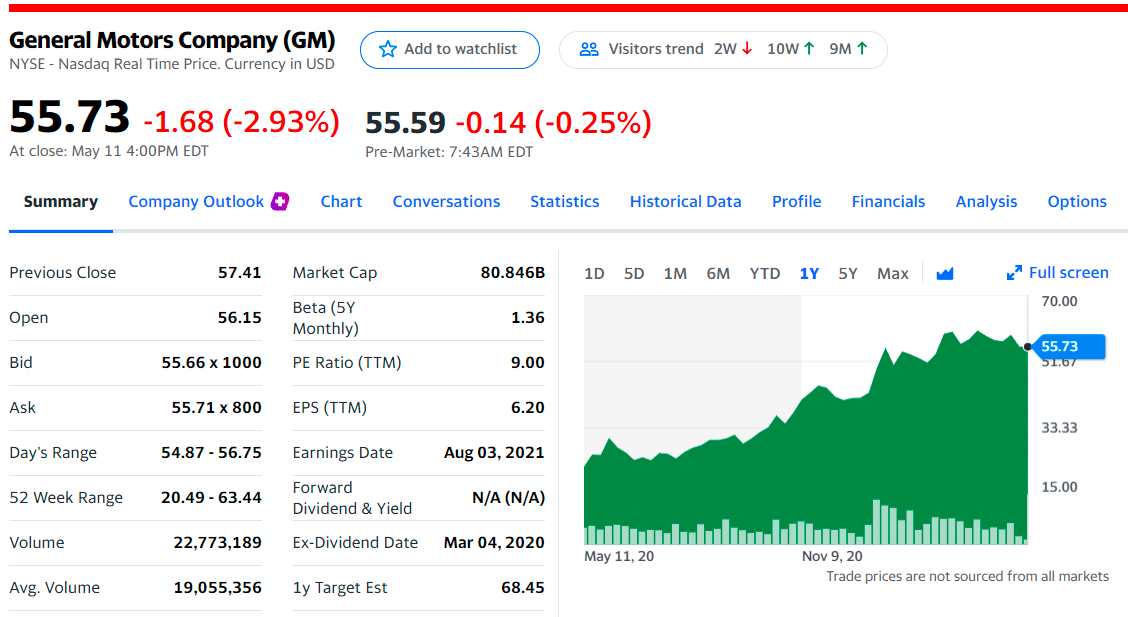 General Motors is one of the innovative companies in the electric vehicle game. The company's main success is that it sold less than 21,000 EVs in the US last year. Currently, the market cap of General Motor is $85 billion against $613 billion for Tesla. In the Q1 of 2021, the net revenue came at $32.5 billion, with the net income at $3.0 billion. Besides, based on the recent annual report, the liquidity is strong with 1:0.97 CA: CL.
ince the beginning of 2020, GM stock collapsed from 37.5 to 14.2 before making an all-time high at 63.45. Therefore the impulsive bullish pressure from the Covid-19 market crash with a strong potentiality may make GM stock work to include in your portfolio.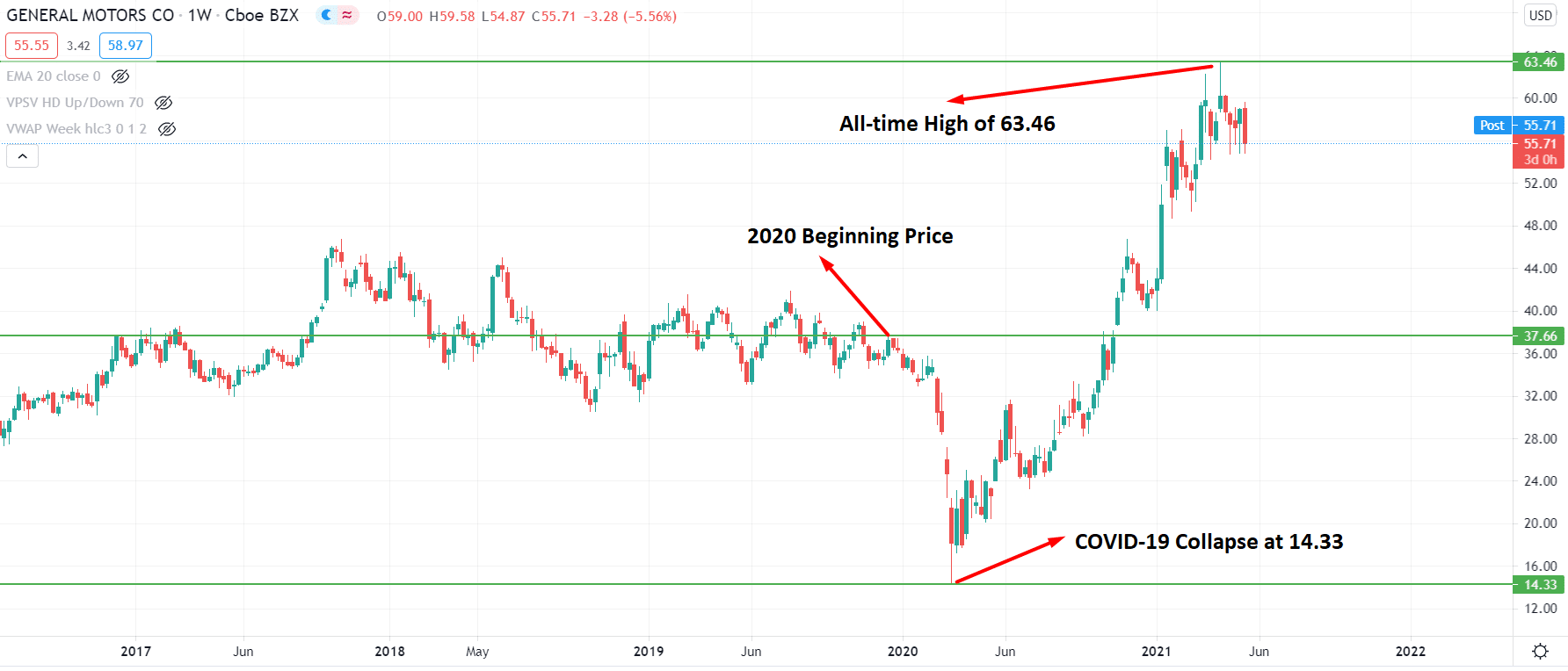 The biggest surprise is the logistic startup where the first EV600 vans may start assembling in Canada in late 2021. Moreover, GM's Cruise autonomous unit announced an investment from Walmart as a deal to provide robo-taxi service in Dubai from 2023.
Overall, GM's reinvention may continue this year with significant milestones and surprises. Among these, GM's BrightDrp unit and FedEx are already the focus of investors. Furthermore, the cruise sector is hinting at a launch in 2022 besides the robo-taxi service in San Francisco.
Investing in companies with a lot of innovation and potentiality often provides a huge return. Therefore, investors can consider GM stock as a part of their investment portfolio for future growth.
Final thought
In the above section, we have seen the top 4 stocks from the TIME 100 list you should add to your portfolio.
However, investing requires many precautions as it involves risks and uncertainty. Therefore, investors should consider proper management of funds, including how much they are willing to risk with a calculated method.