Before the legalization of cannabis for both recreational and medicinal use in Canada, you would be certified as insane for thinking about investing in cannabis and probably incarcerated.
Barely three years after Canada took this bold step, all US states have legalized a form of cannabis, and it is projected that this budding industry is set for a valuation of more than $100 billion by 2025.
Overview of the cannabis industry
The UN delisting marijuana from its dangerous opioid list might be the last spark this emerging industry needed for the global shift in how people view weed. Although considered an illegal substance when used recreationally, medical use of marijuana is almost becoming legal worldwide.
Most European countries have already legalized medical marijuana, with most of the leading economies having deliberations on the restricted legalization of recreational pot. This, coupled with the demand for weed during the coronavirus lockdown period, show that this multibillion-dollar industry is on the verge of a significant explosion-even Amazon is after this high.
Why invest in the cannabis industry? 
Investment is all about looking for undervalued investment assets and betting on their prices going up. The cannabis market is an emerging market on the brink of expansion given how fast countries are now changing their laws to accommodate not only medical marijuana but looking for a way to incorporate recreational pot without dooming the society to drug dependence.
Does this then mean that cannabis stocks are the best investment right now?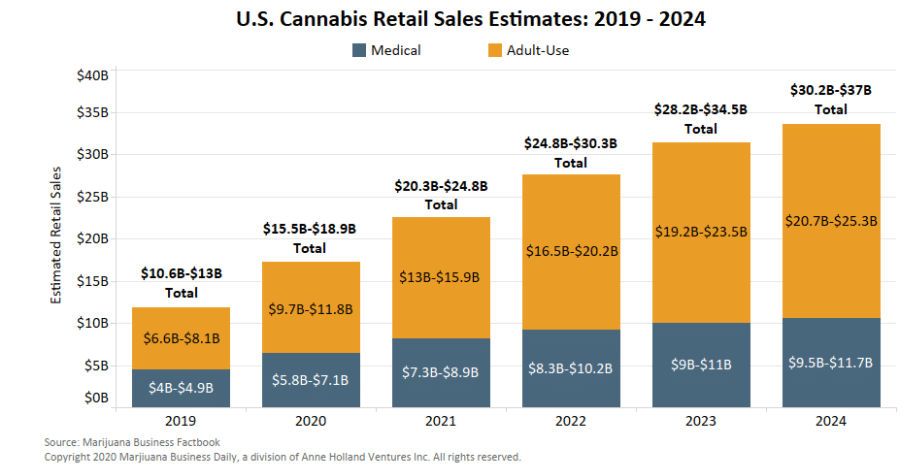 According to the Marijuana Business Daily data, pot sales in 2020 grew from $13 billion in 2019 to $18.9 billion in 2020. This is a 45% year-on-year growth rate. Analysts forecast an accelerated year-on-year growth for the next six years, with a 27% annual growth rate in a worst-case scenario.
Like all emerging markets, cannabis equities face the challenge of volatility, and in addition, unclear legislation, especially on dependency issues. Therefore, it is an industry with a lot of growth potential but also one full of risks.
Marijuana exchange-traded funds! 95% of the cannabis equities are US and Canadian companies limiting the choice in stocks. Furthermore, most of them are new organizations with limited financial records to base decision-making on, resulting in highly speculative investing. How then should one invest safely in this industry to avoid their investment going up in smoke?
Exchange-traded funds consist of a basket of equities. Cannabis ETFs consist of pot companies involved in dried flowers, edibles, oils, pot pharmaceuticals, marijuana technology, and cannabis-based real estate.
Investing in these ETFs means not relying on single cannabis equity but staking your money across the whole industry, which in the words of Warren Buffet, "In the long term the industry or economy has to grow."
How to trade & invest in marijuana ETFs?
You get to be a part of the ETF market in two ways, either through owning an ETF share or speculating on changes in their prices through the contract for differences, CFDs. For both instances, the services of a broker are needed; traditional call brokerage firms and online brokerage firms.
Once a broker has been identified, getting into the cannabis ETF market is a simple three-step process.
| | | |
| --- | --- | --- |
| Step 1 | Step 2 | Step 3 |
| Open a trading account | Decide | Start trading |
| Open a trading account with a broker offering marijuana ETFs and deposit money. | Decide on whether to own ETF shares or speculate through CFDs. | Screen the different ETFs and place orders according to money management rules. |
The top three cannabis ETFs to invest in Q3 2021
The marijuana ETFs below represent the best opportunity to invest in this emerging industry because they reduce the volatility of individual cannabis equities. They are also known not to do regular fund rebalancing, enhancing their flexibility when reacting to short-term market volatilities.
Here are the top three-pot ETFs to buy in Q3 2021.
№ 1. ETFMG alternative harvest ETF (MJ)
Price: $18.08
Expense ratio: 0.75%
MJ is one of the pioneering cannabis ETFs, having been available to investors since 2015. It is a non-diversified fund that tracks the Prime alternative Index Fund, investing at least 80% in the underlying holdings and assets of the index, ADRs and GDRs.
This ETF is ranked 11th by US News among passively managed various sector ETFs. With equities in the pharmaceutical, biotechnology, and life science groups, its global reach can only grow as more countries adopt medical marijuana legalization.
The top three holdings are GrowGeneration Corp. with a weighting of 9.2%, Tilray Inc. at 8.14%, and Canopy Growth Corp. at 6.69%. MJ boasts $1.36 billion in assets under management, with investors parting with just $75 in fees for every $10000 invested.
Since its inception, it has had an annualized return of 2.21%, with a record 1-year return of 42.65% during the pandemic year.
№ 2. Amplify Seymour Cannabis ETF (CNBS)
Price: $22.09
Expense ratio: 0.75%
CNBS is a non-diversified pure-play cannabis fund. It boasts $136 million in assets under management, with an expense ratio of 0.75%. It is actively managed to enhance its flexibility to the ever-changing landscape of the marijuana industry.
With interest worldwide, as long as a company operates within the pot ecosystem, this ETF has outperformed funds concentrating only in US and Canada cannabis stocks.
With cannabis giants such as WM Technology Inc. at 10.37%, Tilray Inc. at 10.26%, and Village Firms International at 8.51%, taking the top three spots, this ETF 92.72% 1-year return is a sign of things to come.
№ 3. AdvisorShares Pure Cannabis ETF (YOLO)
Price: $19.49
Expense ratio: 0.75%
The YOLO fund is a non-diversified, actively managed fund categorizing its underlying assets based on net revenues; at least 50% should be from marijuana-related industries and the hemp ecosystem. It thus invests at least 80% in its underlying assets or other investment vehicles that fit its categorization metrics.
The major challenge of this ETF comes in the weighting. The top three holdings account for 54.31% of the total weighting; Blackrock liquidity treasuries at 26.44%, Village Farms International Inc. at 15.16%, and Innovative Industries ltd. at 12.71%.
It boasts $313.22 million in assets under management, with an expense ratio of 0.75%. With the primary interest of this fund being in health care, consumer products, and real estate, not just recreational marijuana, this is an ETF to keep a careful watch on.