Travelling has always been a way for people to get out of their monotonous routines, explore new destinations, build social connections, and meet with their loved ones. However, the Covid-19 pandemic severely impacted this domain by imposing bans on traveling and gatherings.
Numerous reports show a massive decline in airline traveling and other leisure activities in the post-Covid period of 2020. According to Statista, the number of passengers boarding on global airlines plummeted to around 1.8 million from the pre-Covid 4.7 million.
Nonetheless, the traveling industry has begun its recovery with vaccines development and the lifting of travel restrictions worldwide. This restoration phase can enhance the revenue generation of this industry by addressing the suppressed demand.
Here the question arises whether it is beneficial to invest in travel stocks and ETFs at this point. Therefore, we have listed the top travel ETFs that can witness a massive boom in the upcoming period.
What is a travel ETF?
Travel ETFs seek to provide investors with diverse exposure to various facets of the traveling industry. These ETFs are a collection of stocks of companies associated with airline operations, airports, ride-booking or sharing, and cruise or hotel services.
Travel exchange-traded funds offer low-cost investing as compared to individual stocks. In addition, they have relatively low expense ratios and tax implications. Investors also face reduced broker commission fees by trading ETFs and not each separate commodity.
Moreover, travel ETFs are low-risk investments suitable for new investors with limited knowledge. They can be traded on stock exchanges and integrate adequate liquidity; hence easier to trade.
The best travel ETFs to invest 
The global traveling industry is experiencing bright sentiments with significant growth expectations in the coming days or months. Several travel agencies attribute the gradual recovery of the tourism sector to the opening of international borders, vaccination drive, and strong constrained demand.
Let us have a look at some travel ETFs that are worth investing in for long-term investors.
1. ALPS Global Travel Beneficiaries ETF (JRNY)
Price: $26.15
Expense ratio: 0.65%
ALPS Global Travel Beneficiaries ETF tracks the performance of the S-Network Global Travel Index, which consists of new and growing companies related to the traveling and tourism industry. These companies provide hotels, casinos and cruises facilities, airport and airline services, and booking or rental services.
Moreover, the index committee compiles its listed corporations according to a rule-based methodology. As of November 2021, this ETF has $8.54 million net assets with 325,002 outstanding shares.
Three major sectors of the JRNY stocks are consumer cyclical, industrials, and consumer defensive. This fund's top three holdings with their percentage of assets are as follows:
Marriott International Inc., -Ordinary Shares- Class A MAR: (5.02%)
American Express Co. AXP: (4.86%)
Hilton Worldwide Holdings Inc HLT: (4.82%)

2. Defiance Hotel, Airline, and Cruise ETF (CRUZ) 
Price: $22.90
Expense ratio: 0.45%
Defiance Hotel, Airline, and Cruise ETF track the BlueStar Global Hotels, Airlines, and Cruises Index performance. This index lists global companies' stocks that generate over 50% of their revenue from hotels, resorts, passenger airlines, and cruise services.
CRUZ is a relatively new fund, introduced at the beginning of 2021. At the time of writing, It has around $19.75 million net assets with 850,000 shares in circulation.
This fund contains stocks of only three sectors, namely consumer cyclical, industrials, and real estate. CRUZ has a total of 53 holdings, and the top three companies are as follows:
Marriott Intl Inc New: (8.70%)
Hilton Worldwide Holdings Inc: (6.99%)
Delta Air Lines Inc Del: (6.38%)

3. ETFMG Travel Tech ETF (AWAY) 
Price: $28.09
Expense ratio: 0.75%
ETFMG Travel Tech ETF tracks the investment results of Prime Travel Technology Index NTR. This index focuses on "technology-based companies" within the global traveling industry. These enterprises issue various facilities, including online reservations or booking, ride-sharing, price comparison, and travel advice or guides via internet and internet-based devices.
This fund has been operational since 2020, with NYSE Arca as its primary exchange. AWAY has around 381.2 million assets under management and a YTD daily total return of 5.69%. This fund's latest quarter-end performance report shows a value of  50.35% (NAV%) as its 1-Yr return.
AWAY consists of stocks related to three sectors, including consumer cyclical, technology, and communication services. The top three companies of this ETF out of the 36 holdings are as follows:
Airbnb Inc: (5.20%)
Expedia Group Inc.: (4.89%)
Booking Holdings Inc.: (4.75%)

4. SPDR S&P Transportation ETF (XTN)
Price: $97.08
Expense ratio: 0.35%
SPDR S&P Transportation ETF mimics the investment results of the S&P® Transportation Select Industry Index. This index encompasses the transportation sector of the primary S&P TMI. It consists of companies related to Highways and Rail tracks, Marine ports, and Air freight and logistics.
XTN is an established fund, functional since 2011 with NYSE Arca as its primary exchange. It has over $900 million assets under management and a price-to-earnings ratio FY1 of 13.82. XTN's outstanding shares stand at 9.34 million with an estimated 3-5 years EPS growth of 36.75%.
This ETF contains stock shares of two major sectors, industrials and technology. It consists of 48 holdings, and the top three holdings are:
Avis Budget Group Inc: (5.76%)
ArcBest Corporation: (3.10%)
Saia Inc: (2.72%)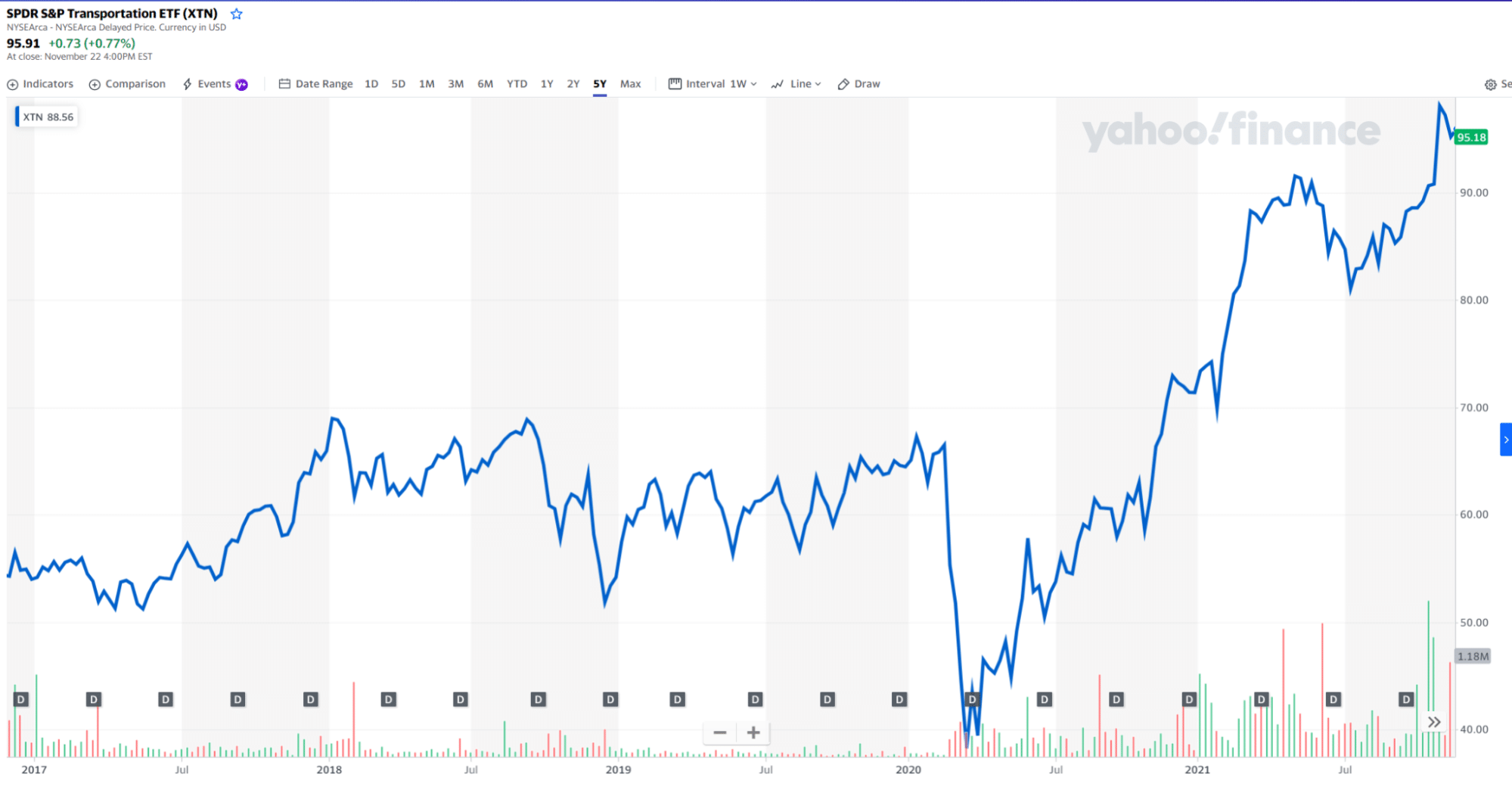 5. U.S. Global Jets ETF (JETS)
Price: $23.87
Expense ratio: 0.60%
U.S. Global Jets ETF seeks the investment results of the U.S. Global Jets Index, which lists the small to large-cap companies around the globe. They include aircraft manufacturers, terminal services companies, and passenger airlines.
JETS is the largest fund on this list, with over four billion assets under management. It has been on the NYSE Arca stock exchange since 2015. Its outstanding shares stand at 166 million with a weighted average market cap of $18.67 billion.
The stocks under this ETF are related to two sectors, namely industrials (91.58%) and consumer cyclical (7.40%). The top three holdings with the percentage of their assets are as follows:
United Airlines Holdings Inc: (10.44%)
American Airlines Group Inc: (10.33%)
Delta Air Lines Inc: (10.19%)

Final thoughts
All eyes are set on the approaching travel and leisure industry's recovery period. People are hopeful about the tourism sector's rebound amid rising vaccination rates and optimistic pandemic data. Moreover, they are longing to reconnect with their loved ones and leave the bounds of their homes.
Resultantly, investors are expecting a price surge of traveling stocks and ETFs. Travel ETFs accommodate all the central businesses and enterprises of the global traveling industry with well-adjusted asset percentages. Hence, these funds are an excellent investment choice for beginner and risk-averse investors.