With digital assets growing in popularity and demand, we can no longer deny that they are an important part of the global economy. There are new headways being made regularly in this technology, and the prices are fluctuating rapidly. This is why it is important for serious merchants to possess a tool that helps them monitor their assets closely. Here, we shall take a look at the best crypto portfolio tracker services in the market. 
Our website does not give financial advice and this guide should be used for the sole aim of financial education. It is important to conduct your own research and analysis before making any decisions on your investments to avoid the risk of losing capital.
Crypto portfolio trackers: why do we need them?
A portfolio tracker is an application or web service that lets you supervise your holdings and monitor the price shifts. These software programs link to exchanges and wallets, and if you are dealing in multiple digital currencies, it is imperative to sign up with one. Some of these systems allow for trading and offer a greater degree of convenience. 
Portfolio trackers vary widely in terms of functionalities, and you cannot find a system that will solve all your issues. While some of them support on-platform trading, they might not be compatible with all types of assets.
How do crypto portfolio trackers help us to control our cryptos?
The final objective of a digital currency trader is to expand their investment values by building their portfolios. In order to do this, you must know how to allocate assets and how to control risk. You must have a set time period by the end of which you wish to make a certain amount of profit. Trading style is another factor that you need to consider.
When you have your assets pooled in different locations, you may not know how to track cryptocurrency efficiently. Due to the frequent price swings, it can be a grueling task to perform manual updates for your portfolio. A portfolio tracker solves all of these issues.
5 Reasons why having the right crypto portfolio tracker is a key for investors
Let's look at a few reasons why you should invest in the best crypto tracker:
Track unlisted coins
These systems provide you with an insight into different types of coins, including the exotic ones that your exchange might not list. Thus, you can gain market knowledge and become aware of the lucrative opportunities. 
Personalized portfolio
You choose to make a watchlist containing the coins you wish to invest in. It is perfect for monitoring an asset you haven't invested in yet, but that has some potential. In case you have stored your funds in multiple exchanges, you can monitor the consolidated performance. 
Price notifications 
Most platforms allow you to set up alerts once the price crosses or falls below a certain threshold. You can get alerts for assets you don't own. 
Follow crypto-related news
Blockchain is a rapidly developing technology, and every day, there are tons of news articles being released on different media. Trackers let you follow the news updates for a particular asset.
Compare performance
These systems let you monitor the performance of an asset across numerous timeframes. This gives you an overview of the market trends. 
Comparison of the most popular crypto portfolio tracking apps
| Name | Best choice for | Fiat or other assets portfolio included | Pricing details |
| --- | --- | --- | --- |
| Delta | ICO investors, stock traders, and holders | Stock and crypto | Free and paid Android Early Back version costs $70 to $80 annually and iOS $60 to $70 annually. |
| CoinMarketCap | Regular day traders | NFTs and crypto | Free |
| Investing.com | Advanced tools | Stocks, crypto, ETFs, indices, commodities | FreeAd-free version costs $7.49/month for monthly, $5.99/month for yearly, and $4.49/month for 2-year plan |
| Cryptowatch | API integration | No | Free and paid$25/month for standard, $35/month for derivative |
| Blockfolio (FTX) | Individual and institutional traders | No | Free |
| CryptoCompare | Market insights  | No | Free |
| Blox | B2B services  | No | Free |
| Zerion | DeFi users  | DeFi assets and crypto | Free |
| Shrimpy | Those who use multiple exchanges  | No | Free and paid$19/month for Starter, $79/month for Professional, and $299/month for Enterprise |
| CoinStats | Tracking large portfolios | No | Free and pad$3.49/month for Pro, $13.99 for Premium |
| Altrady | Experienced traders | No | 14.95 Euros/month for the Basic plan, 29.95 Euros/month for Essential, and 44.95 Euros/month for Premium |
| Pionex | Automated trading | No | 0.05% Maker and 0.05% Taker fees |
| CoinTracking | Coin trends | No | Free for first 200 trades$10.99/month for pro, $16.99/month for Expert, $54.99/month for Unlimited |
| Kubera | Those who need online-only service | Stocks and crypto | $150/year |
| Lunch Money | Diversified traders | Forex, crypto, stocks, and indices | $10/month |
Top 15 crypto portfolio trackers overview
Let's look at the topmost crypto portfolio tracker apps in the market:
Delta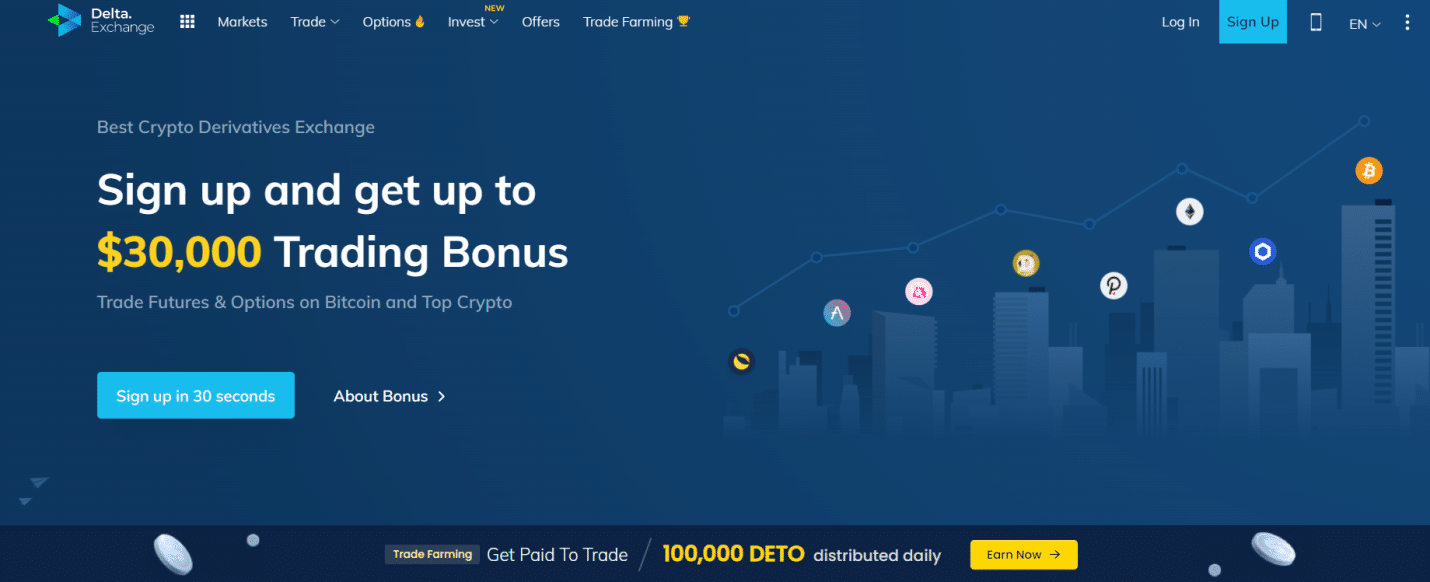 Launched in 2017, Delta features a modern design and a simple look. Apart from popular coins like Ethereum and Bitcoin, you can use this app to monitor more than 7000 lesser-known coins. 
Features
Here are the main features:
Detailed analysis: Here, you can access the coin whitepaper, order book, depth chart, market volume, market cap, and price charts.
Market watchlist: You can create a custom list of coins and monitor the market data.
Portfolio analytics: In the analytics dashboard, you can see your assets' location, exchanges, and fees breakdown.
Upsides
100x leverage available
Referral program
Futures contracts available for BTC
Downsides
Insufficient liquidity
Manual entries for buy and sell prices
CoinMarketCap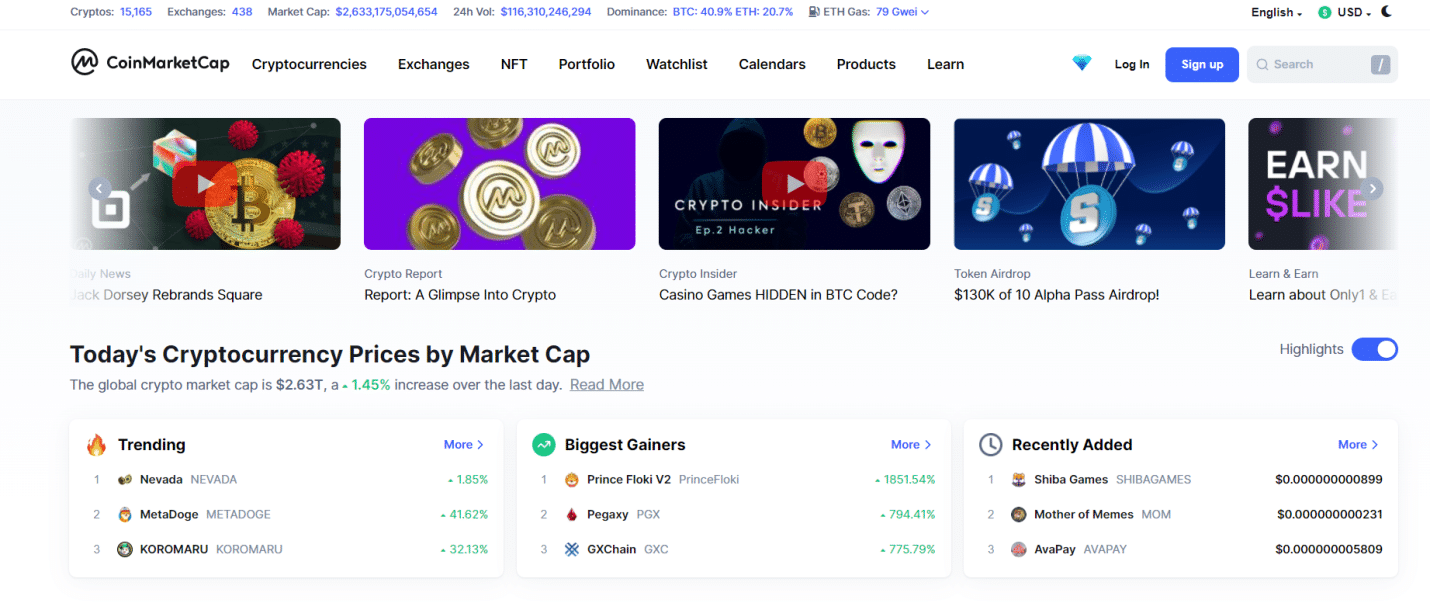 CoinMarketCap is the best free crypto portfolio tracker for millions of crypto traders all over the globe. Here, you can monitor more than 11,000 crypto coins. It lists different types of exchanges, including DeFi, derivative, and spot exchanges.
Features
Let's look at the top features:
Rewards program: By finishing various tasks on this platform, you can earn diamond tokens. Once you have enough of them, you exchange them for attractive incentives.
Airdrops: With this feature, you can earn rewards for supporting newly-launched crypto assets. After filling out a form, you need to furnish proof of completion to receive the coins.
News feeds: You get 24*7 live news that allows you to stay abreast of the market developments.
Upsides
User-friendly interface
Crypto glossary
Reward program
Investing.com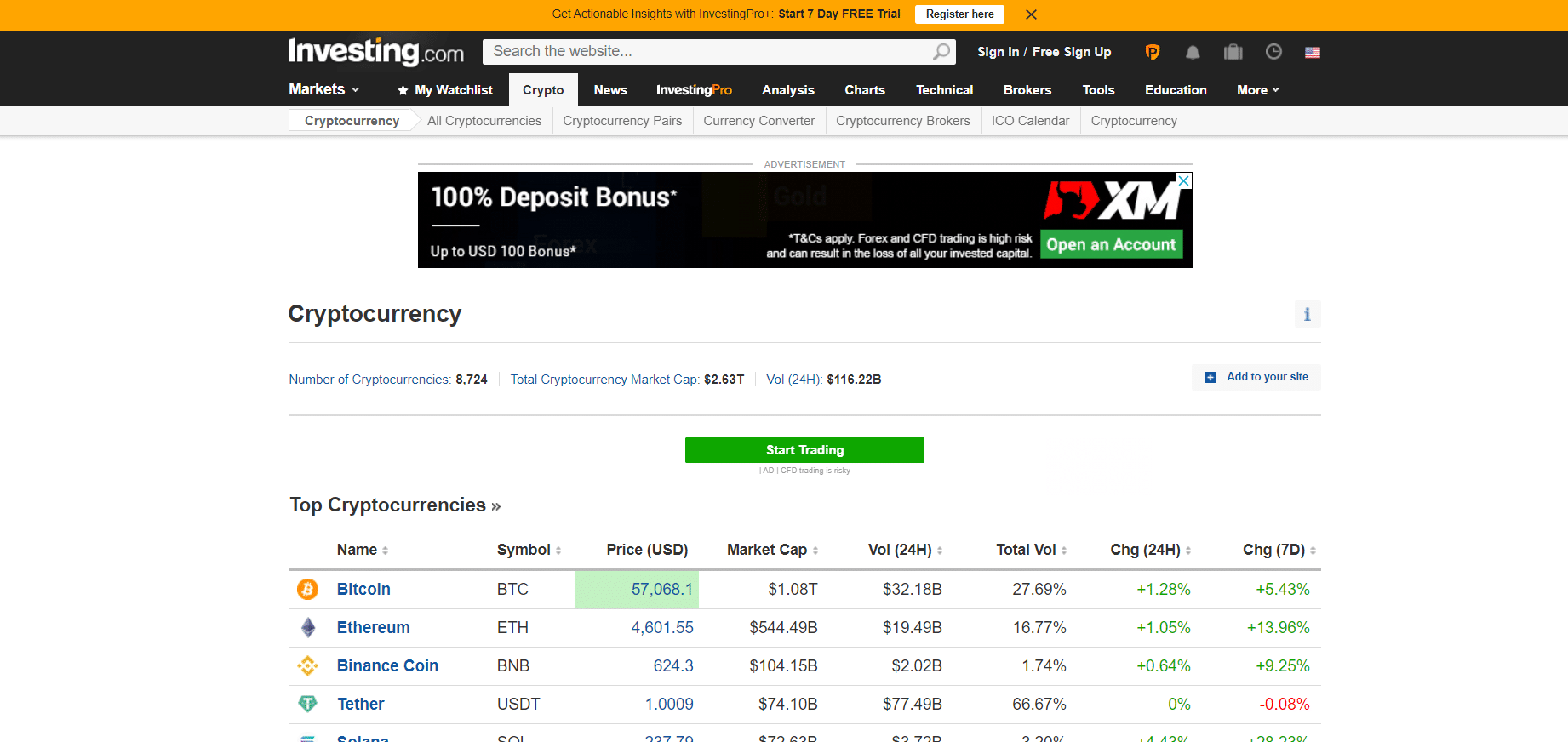 Investing.com is a cryptocurrency portfolio tracker website and mobile app with advanced charting and analysis tools. Here, you can follow a total of 8,724 crypto coins.
Features
Let's look at the main features of Investing.com:
Advanced charting tools: Investing.com lets you view crypto coin charts for 12 different timeframes. You can use different types of charts like Kagi, Line Break, Renko, Baseline, Heiken Ashi, Hollow Candles, Point & Figure, and Bars.
Analysis: On the website, you will find daily analyses shared by the best analysts.
Currency converter:  This is a handy feature that lets you convert one coin with another and also see the overview charts
Upsides
Compatible with various platforms
Trading facilities
Advanced indicators and charting tools
Downsides
Ad-free version is expensive
Cryptowatch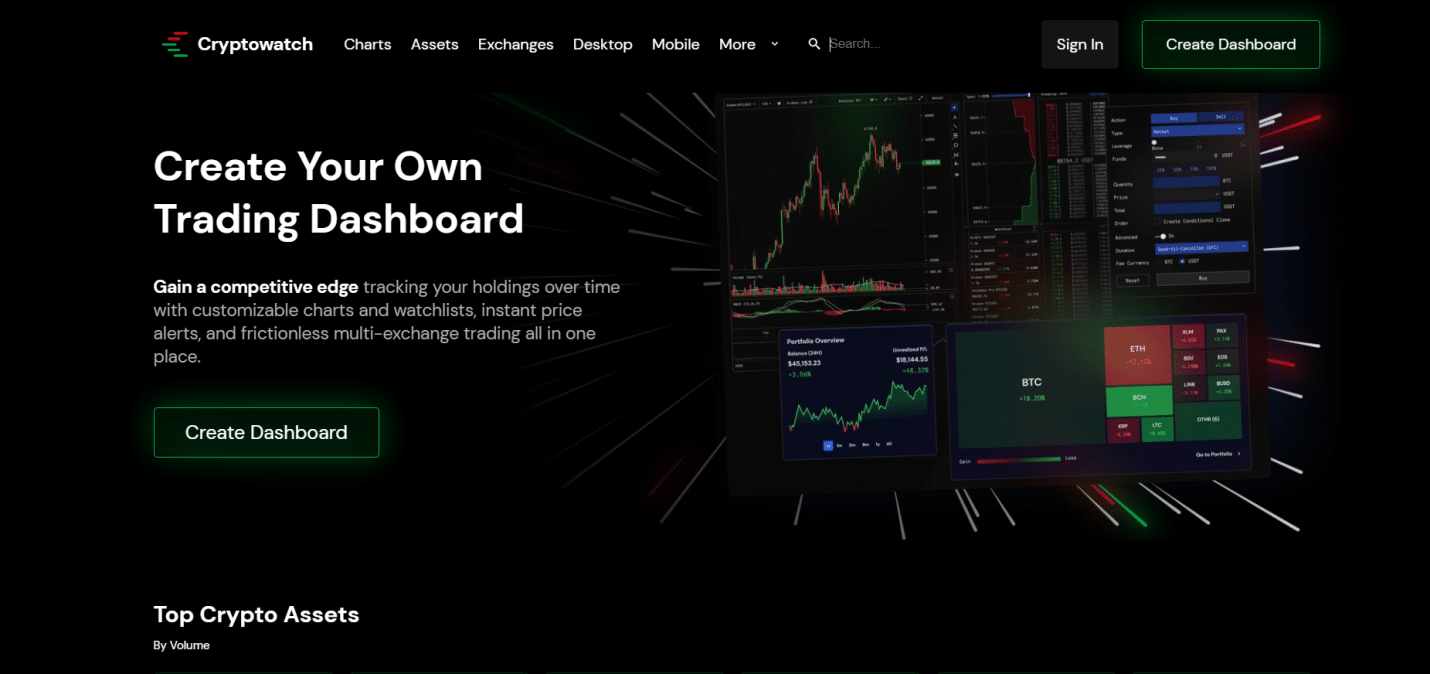 Cryptowatch is the best crypto tracker app providing trading functionalities. A highly customizable app, it works on different operating systems like Linux, MacOS, and Windows. 
Features 
The main features of the platform are as follows:
Charting: Here you can view charts for intervals ranging from 1 minute to 1 week. The different chart styles include Heiken Ashi, HLC, OHLC, candle body only, and normal candlesticks.
Direct trading: Cryptowatch lets you trade from within the app itself. You can link to top exchanges via APIs.
Comparison tools: Via Liquid Bids sorting, you can check the net buy orders for different assets. This lets you assess the market demand for particular tokens.
Upsides
Web-based app
Advanced metrics
High-end security
Blockfolio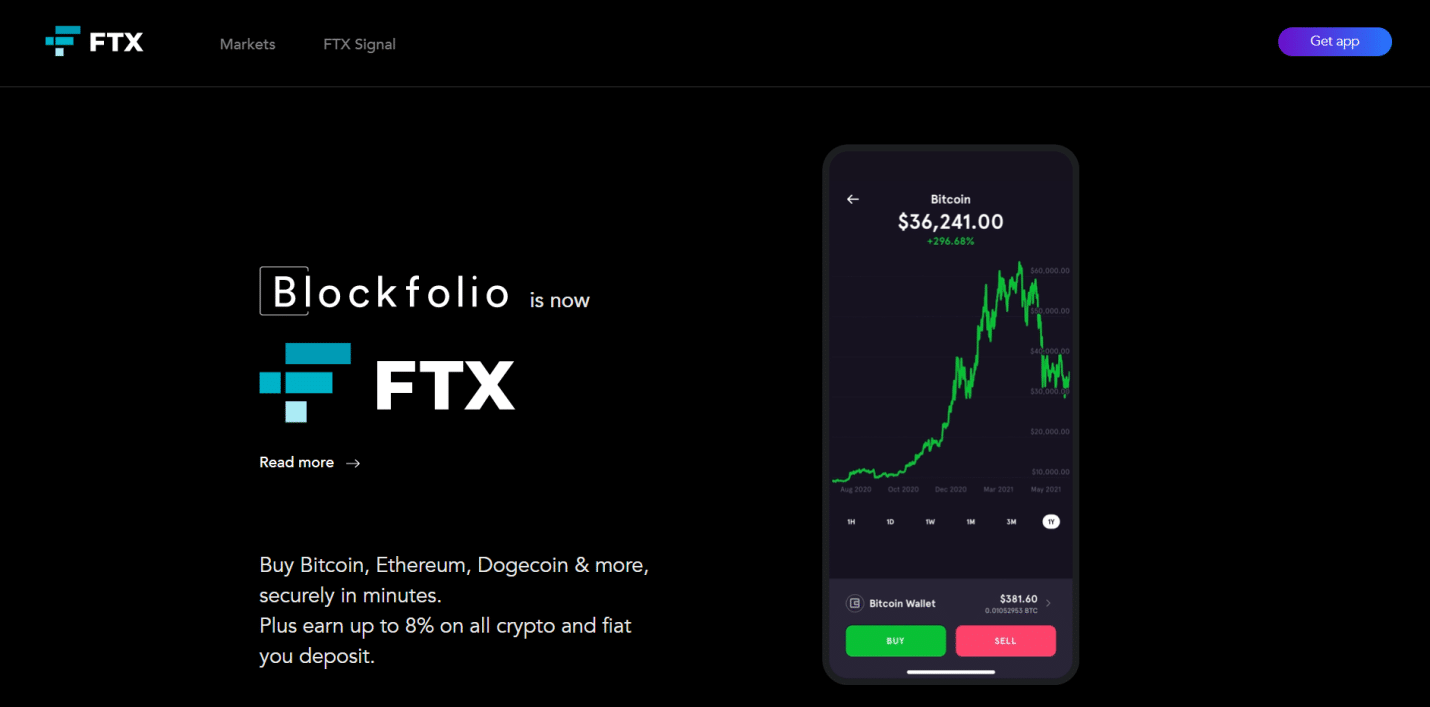 Blockfolio, now known as FTX, is one of the best CoinTracker alternatives in the market. You don't need to pay any fee for tracking your assets, and the platform provides you with regular updates regarding your crypto transactions.
Features 
Let's look at the main features:
Signal service: Thus, the platform sends you updates directly from the developers.
Customized notifications: Here, you can get alerts based on the chosen price levels.
News: Blockfolio publishes crypto news from multiple sources and lets you add updates through RSS.
Upsides
Discrete advertising
Free app
Customized alerts
Downsides
Manual entering of transactions
Cryptocompare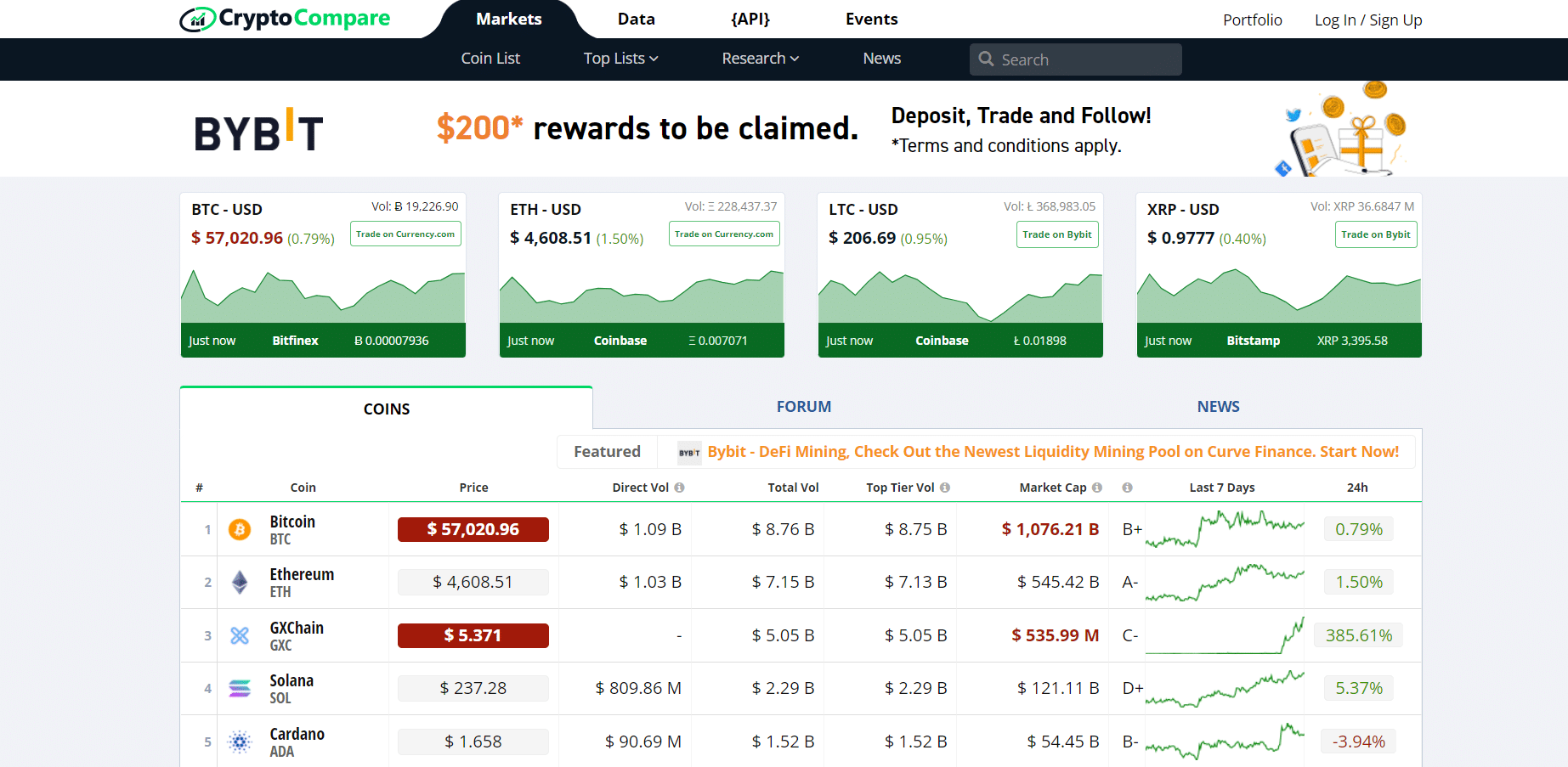 CryptoCompare has both mobile and web versions; however, the interface for the latter is much easier to work with. This app shares live streams of crypto price data. You can also find educational resources here.
Features 
CryptoCompare has the following features:
Risk analysis: By viewing the chart, you can see your holdings for various exchanges, which helps you perform risk analysis. You get to know which asset will change the worth of your portfolio.
Liquidity exposure: This functionality lets you assess the risk of not getting a counterparty for open orders.
Advanced tracking functionalities: You can keep an eye on the realized profit and loss as well as the acquisition cost and the net worth of holdings.
Upsides
Advanced analysis
Quality educational materials,
Available on mobile
Blox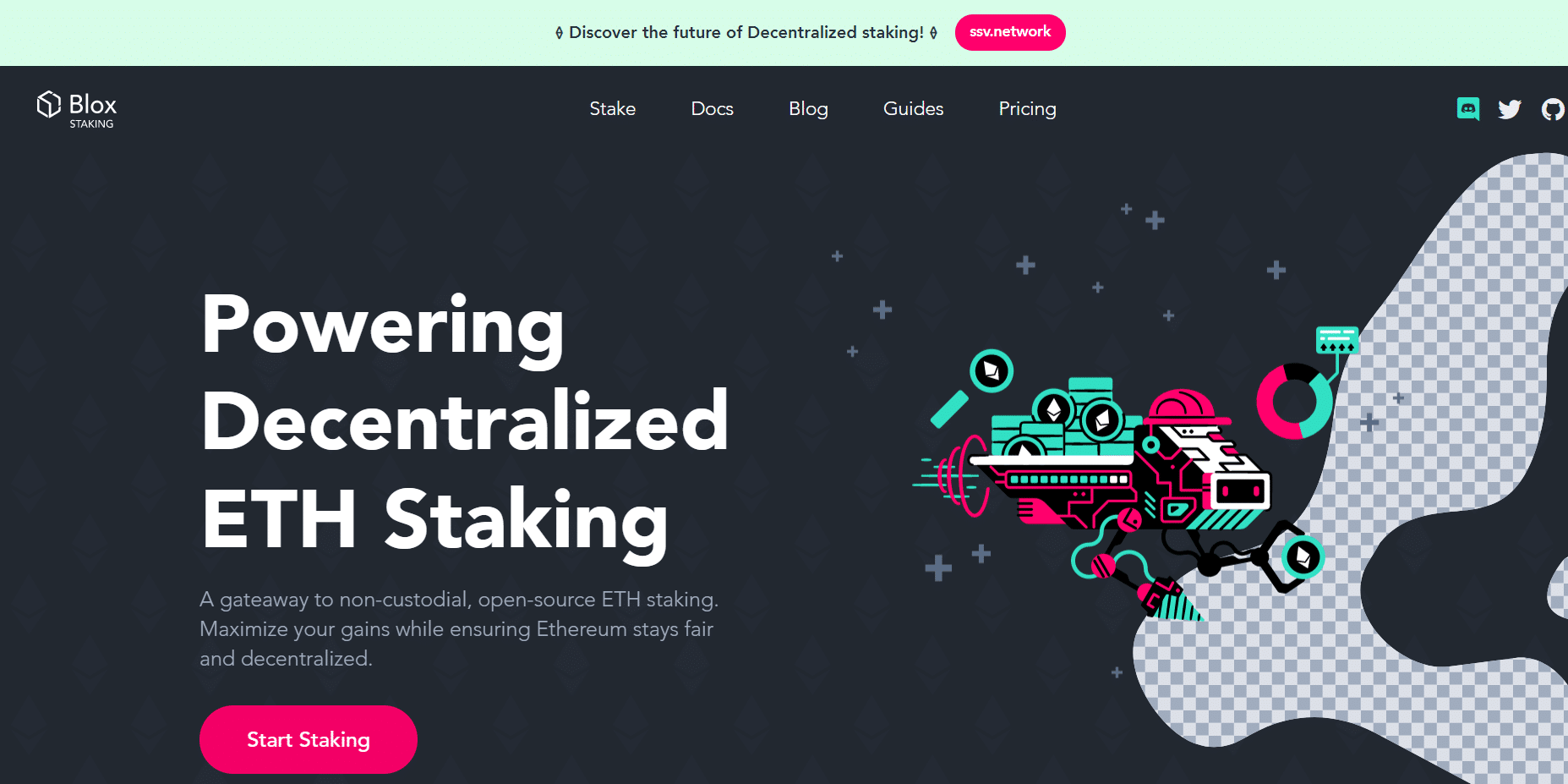 Blox is a portfolio tracker that has been adopted by reputed services like 0X, TenX, and eToro. It is chiefly a Business-to-business platform. However, you can also get Business-to-customer services here. 
Features
Auto-sync: Thanks to this functionality, you can link with the top wallets, exchanges, and blockchains.
Advanced security: To protect user data, Blox uses read-only access, distributed admin privileges, and touch ID.
Documentation: With Blox, you can access the entire document containing your transaction details and export it as a CSV file.
Upsides
Intuitive interface
Free service
Advanced market insights
Downsides
Some integrations missing
Zerion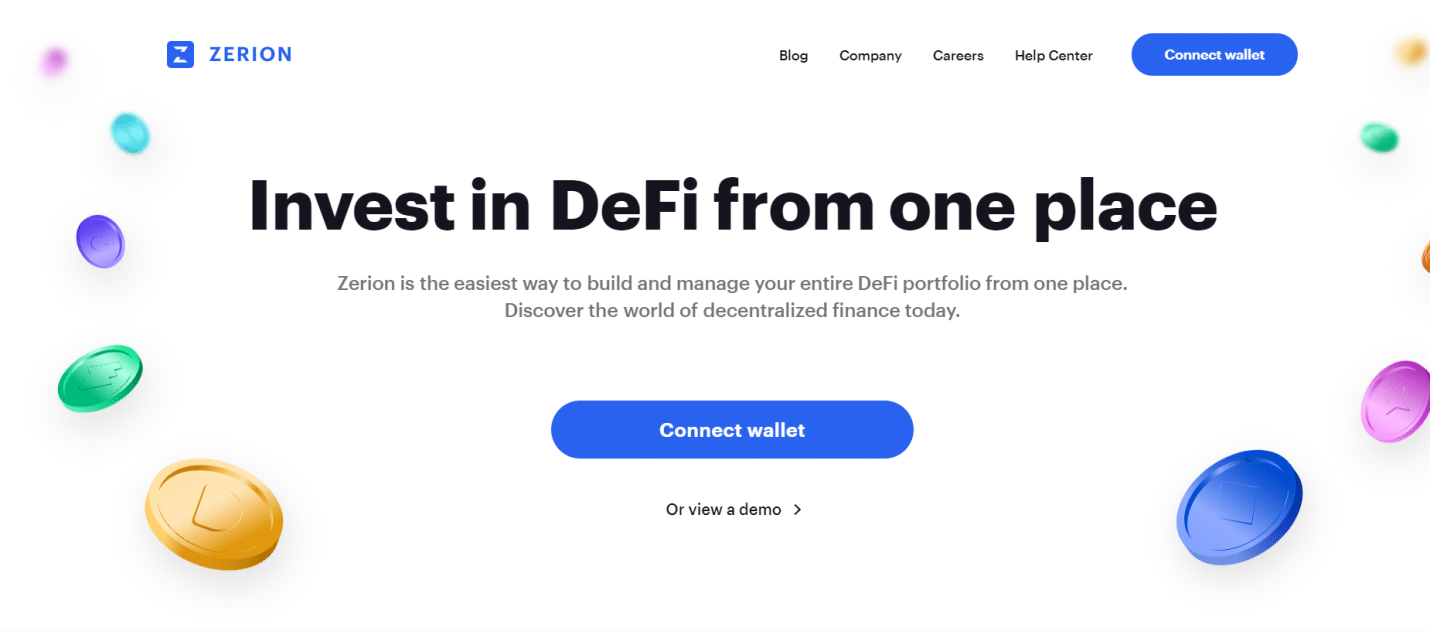 Founded in 2016, Zerion is one of the best apps to track a crypto portfolio. It is a user-friendly and secure platform with a simplistic design, which makes it suitable for beginners. 
Features 
Live price chart: There are multiple indexes and price charts to help you make prudent decisions. The system updates you whenever there is a shift in the market.
Trading history: With Zerion, you get a broad view of your transaction history and can filter it based on address, order type, protocol, and asset.
Asset details: By clicking on a particular asset, you can see details on how it is related to your account. You also get to know about the broader market.
Upsides
Non-custodial platform
Live chat support
Swift registration
Downsides
Not suitable for beginners
Shrimpy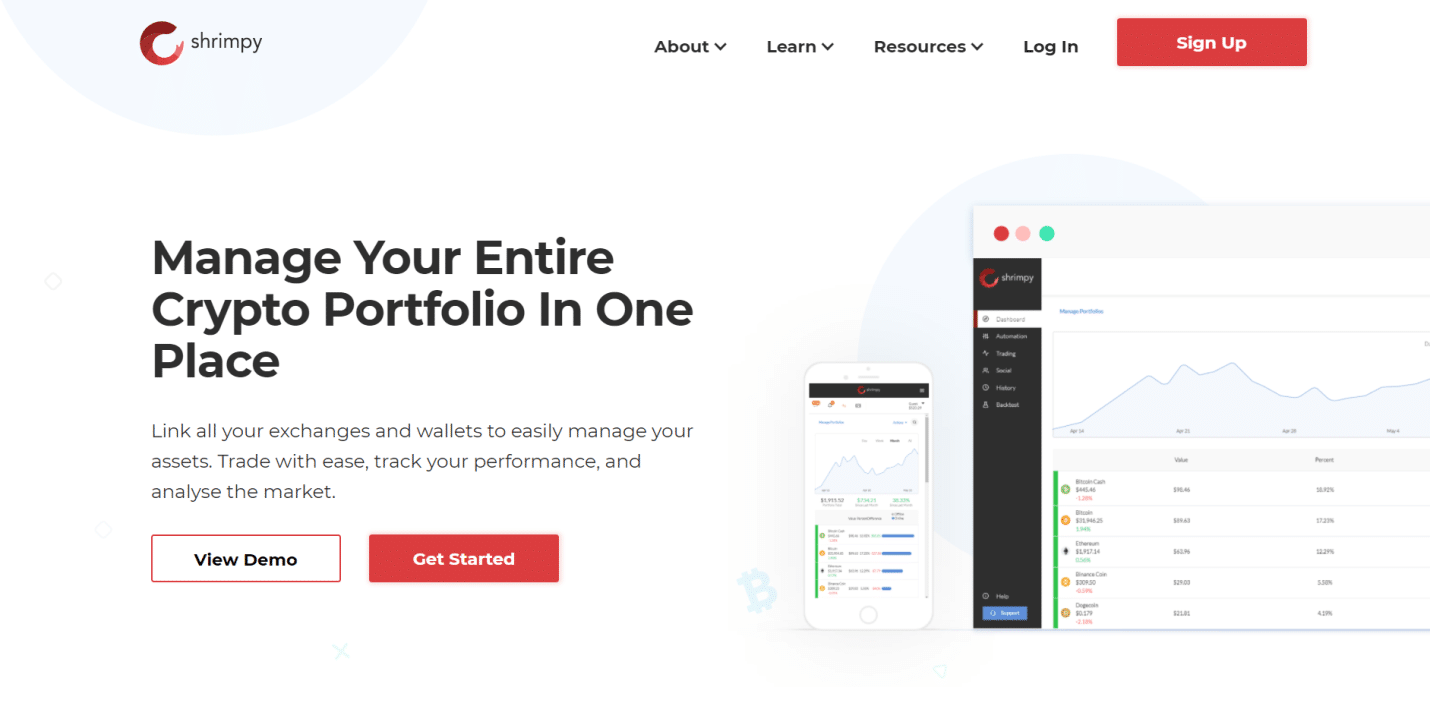 Majority of merchants consider Shrimpy to be the best way to track cryptocurrency portfolio. It has an excellent customer support team, advanced functionalities, and a distinguished user interface. Right now, this system supports more than 30 exchanges and wallets.
Features 
Here are the main features:
Portfolio rebalancing: By modifying your portfolio to suit market requirements, you can enjoy stable maturation for the long term.
Indexing: You can create a custom cryptocurrency index for multiple portfolios that rebalances automatically. 
Encryption: Shrimpy encrypts API keys and stores them with FIPS 140-2 validated hardware security modules.
Upsides
Automatic portfolio rebalancing 
Simple UI
Demo account for portfolio management
CoinStats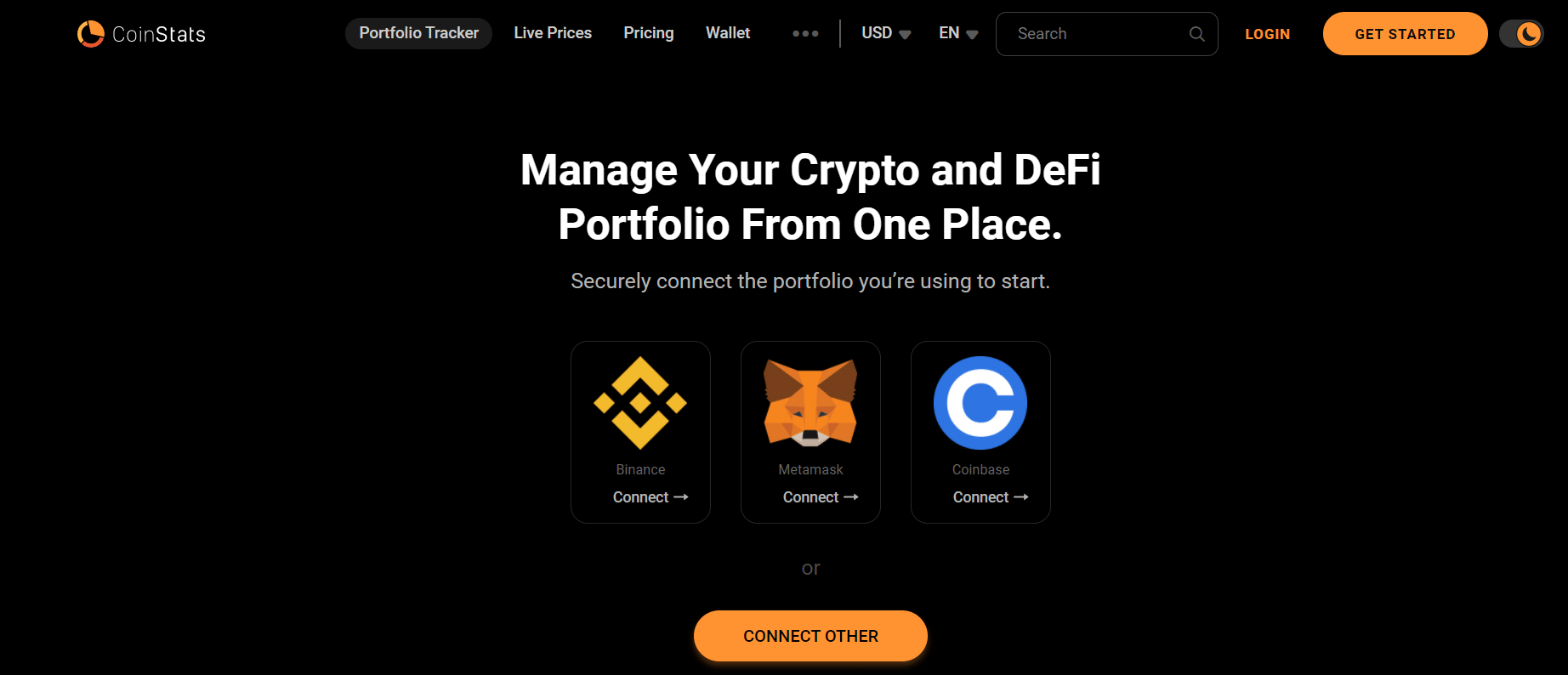 CoinStats is a one-stop platform for tracking crypto and DeFi assets. This platform supports Coinbase, Binance, and 400 other exchanges. It lets users sync their wallets directly with the portfolio tracker.
Features 
Portfolio export: With this premium feature, you can export all your order details to a CSV file.
Elaborate analytics: CoinStats tells you about the deposits, withdrawals, and fees paid for the assets in your portfolio.
Coin insights: This platform provides you with detailed market insight for each coin.
Upsides
Works on all platforms
24*7 crypto reports and daily recaps
Discounts for communities
Downsides
No support for major wallets
Altrady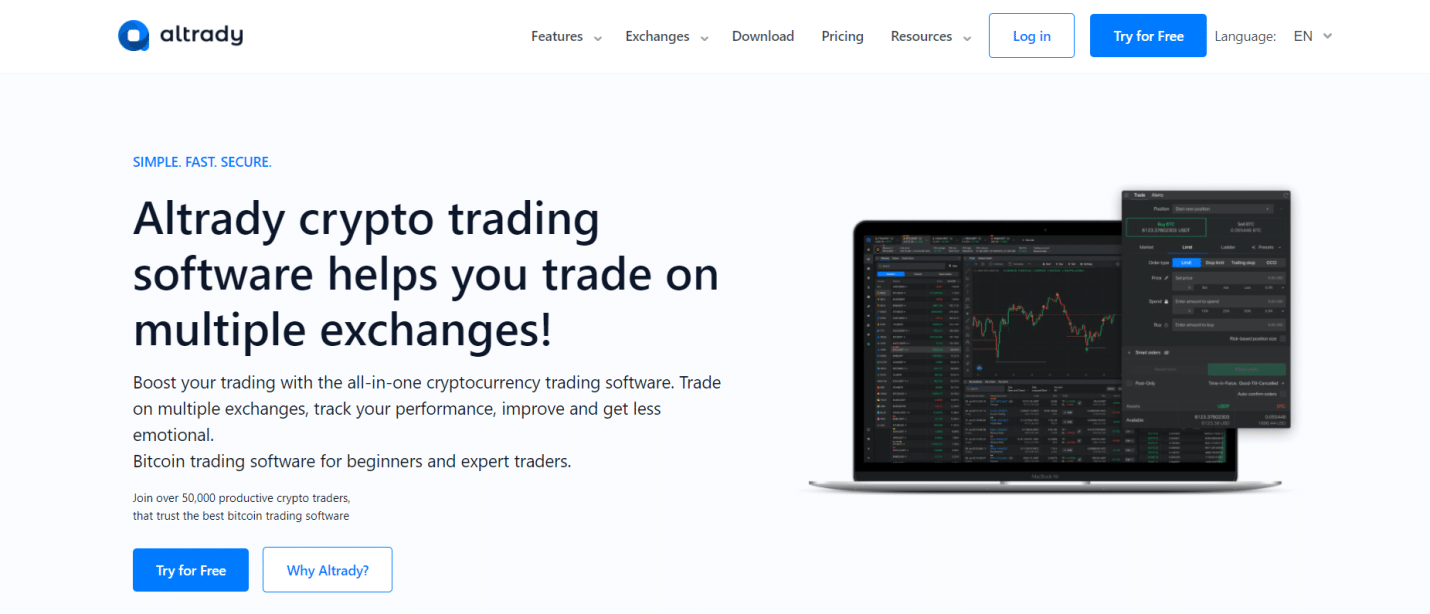 Altrady is the best way to track the crypto portfolio for day traders. It provides you with a large number of customization tools so you can build a personalized trading platform. There are several features on this platform for advanced users. 
Features
Customizable platform: This platform lets you personalize the layout and charting tools so you can only view the analysis techniques and coins that you use most frequently.
Trading analytics: The sophisticated analysis tools let you compare your strategies against live market data.
Free demo: You can access the demo version for 24 hours without even registering. This lets you test the features of the platform. 
Upsides
Multiple customization options
Journaling features
Supported by strong community
Pionex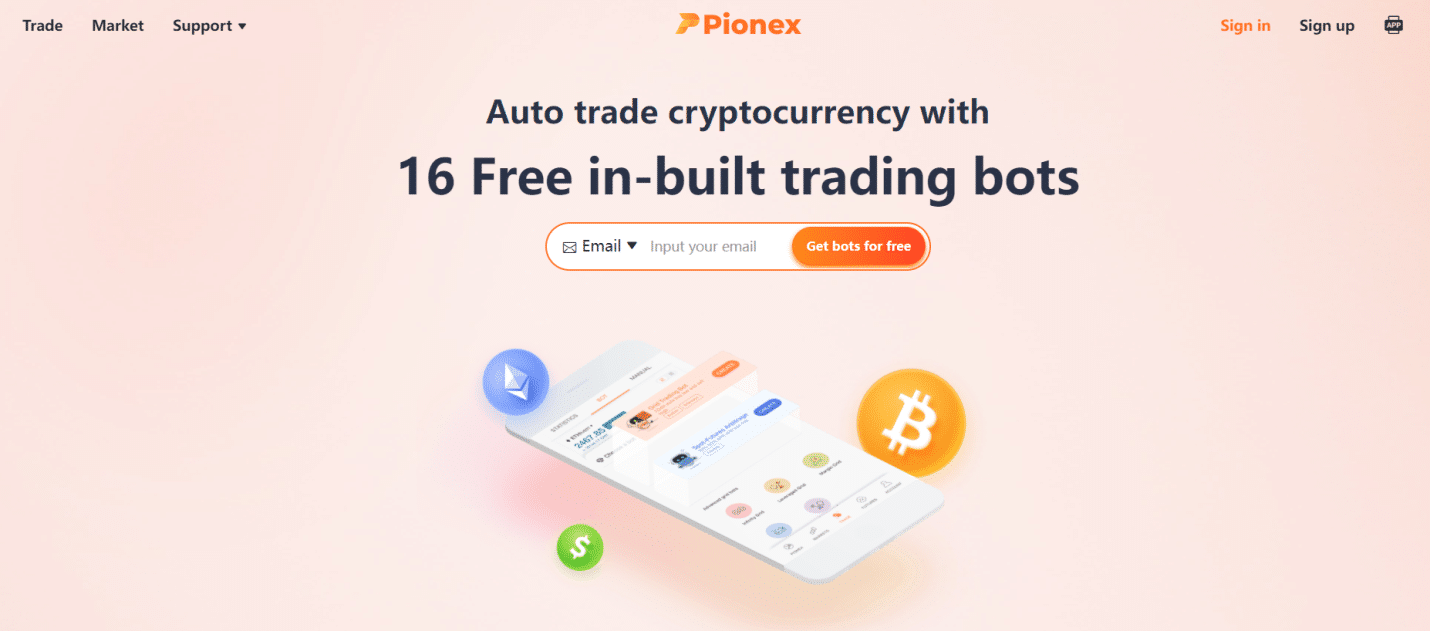 Pionex is a tracker service with automation features. It is ideal for those trading in high volumes and those who use mobile platforms for trading. 
Features 
TradingView compatibility: With Pionex, you can consult charts on TradingView while applying modifiable time filters.
Customizable interface: The platform has in-built live charts and a simple interface that can be customized by the user.
High-end mobile app: The mobile app for Pionex is easy to use and all the commands can be easily found.
Upsides
Well-designed mobile app
TradingView charts
Free service
Downsides
Fiat currency not supported
CoinTracking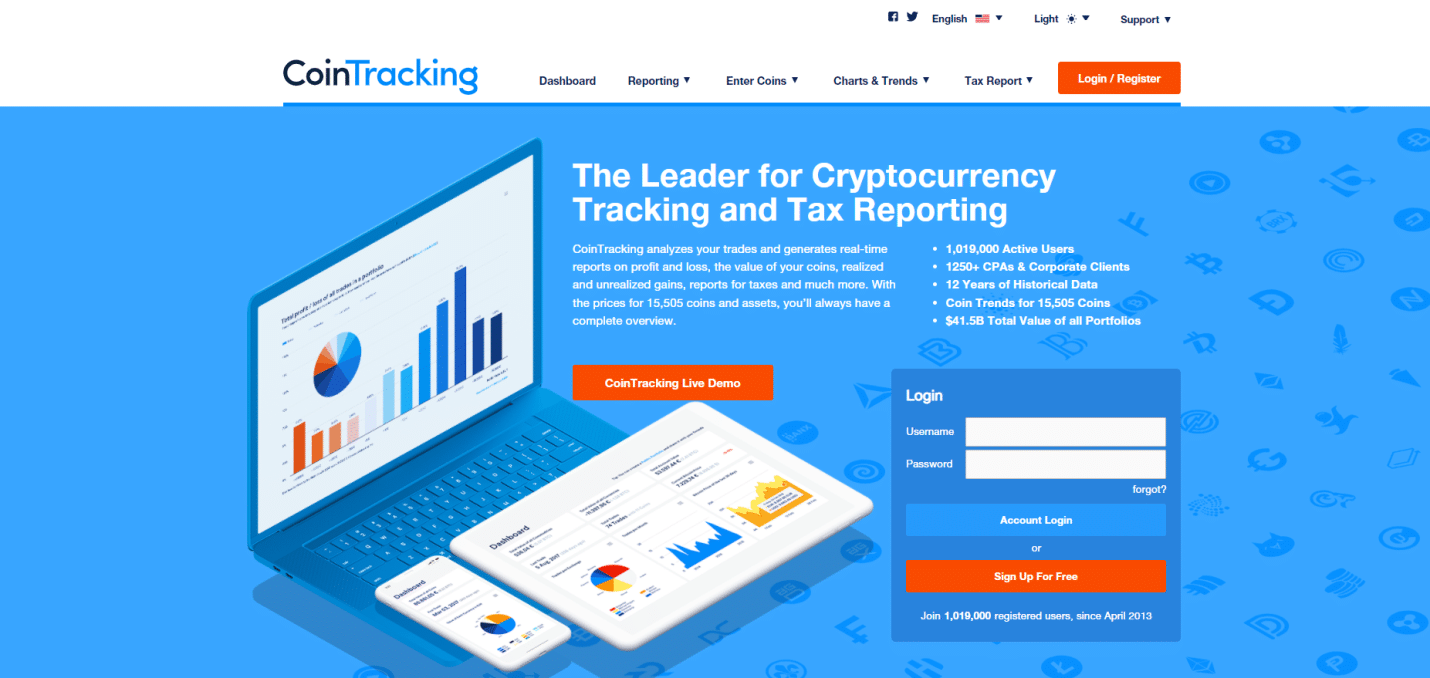 CoinTracking is a system that helps you calculate the overall worth of your assets, monitor the realized and unrealized profits, and generate tax reports. You can import transactions from multiple exchanges via API and CSV.
Features 
Below are the main features of CoinTracking:
Personal analysis: With CoinTracking, you can store your full transaction history on a single platform. You can also access audit and profit/loss reports.
Charts and trends: This platform contains chart history for tonnes of crypto assets. You can see the topmost assets in terms of the trading volume.
Automatic API import: Through this feature, you can import order details automatically from several exchanges. 
Upsides
Automatic entry of trades via API
Interactive charts
Tax reports
Kubera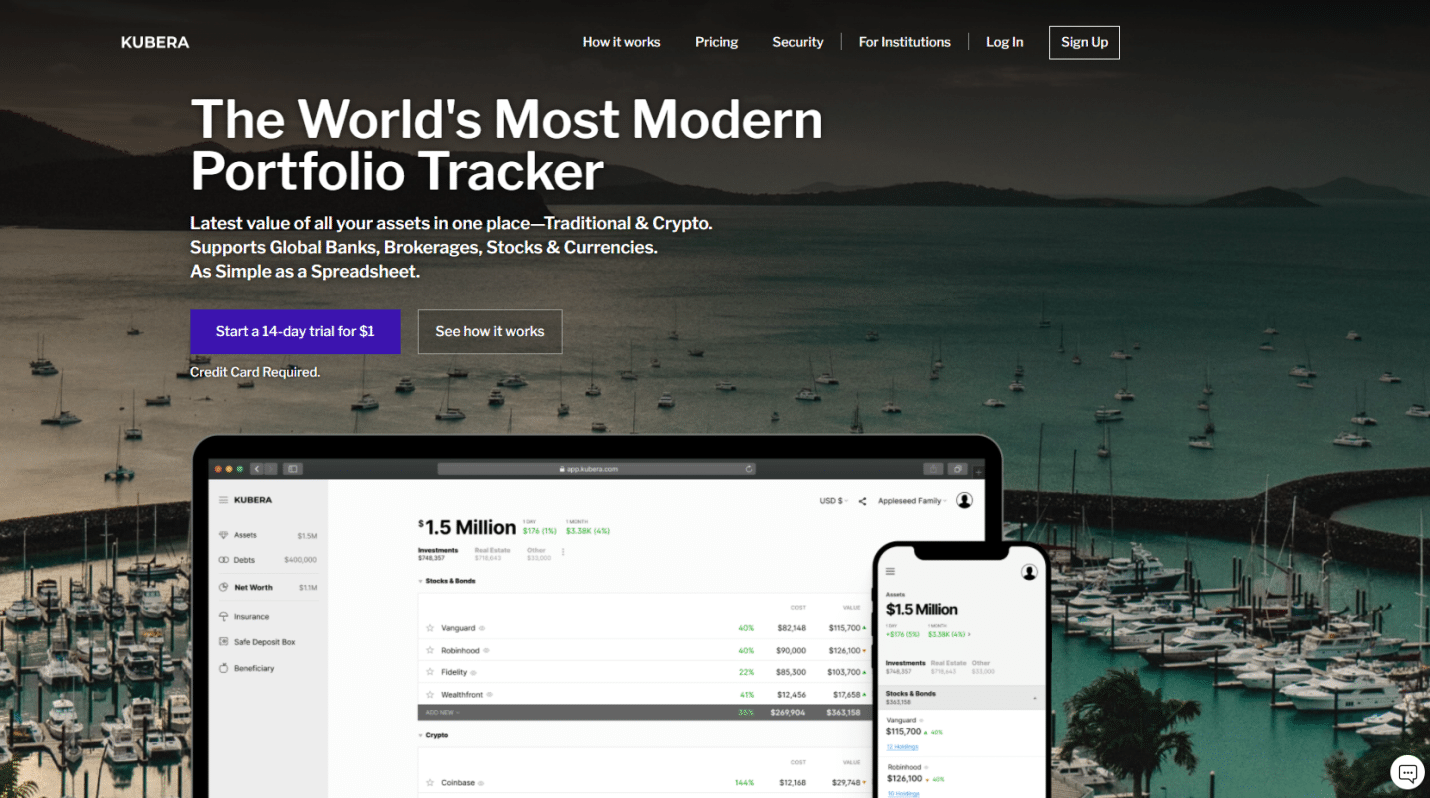 While other platforms only provide you with insight related to your assets, Kubera lets you manually enter the account details and store documents in digital format. It has a simplistic design that makes it easier to navigate.
Features 
Here are the main features of this tracker:
Net worth tracker: Here, you can sync your exchange via third-party software and monitor your net worth. There is also the option to enter the positions manually.
Investment tracker: This feature allows you to see latent gains for each position across different platforms.
Portfolio sharing: Using a link, you can share your portfolios with other people and let them view the details. 
Upsides
Free trial available
Beneficiary access
High-end security
Downsides
Android app not available
Lunch Money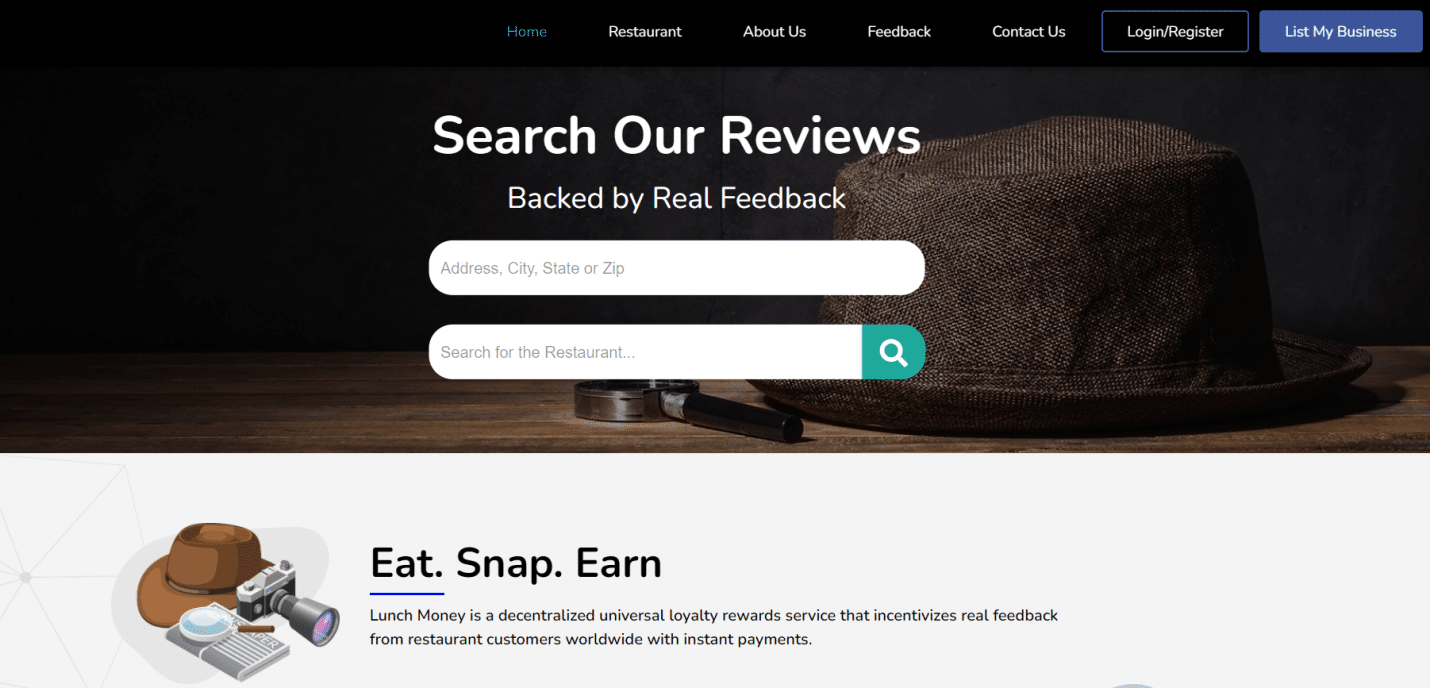 Lunch Money provides you with a full rundown of your holdings. Due to its simple user interface and advanced features, many traders consider it the best crypto portfolio app out there.
Features       
Let's look at the main features:
Net worth tracker: This feature lets you see the statistics related to your holdings and helps fulfill your monetary objectives.
Automatic import: By establishing a secure link with an exchange, you can automatically track your holdings.
Manual tracking: There are more than 1000 crypto coins supported on this platform. You get the latest exchange rates as well as live updates.
Upsides
Low monthly charges
Money management features
Transaction data import
Downsides
Lack of high-end analytics tools
What to look for when choosing a crypto portfolio tracker?
Simply knowing about the different services in the market is not sufficient. You must consider the following factors as well:
Safety and security
Since you will be importing data from your exchanges. It is imperative that the app has adequate security features. In the event of a cyberattack, other people can have access to your investment details, thus exposing your assets to theft. Most trackers use encryptions and multi-factor authentication to safeguard user data.
Simple to operate user interface
A portfolio tracker should display data in the simplest way possible. Ideally, the information should be visible on the home page itself, or at least, you should be able to access it with a few clicks. The whole idea of using such an app is to simplify monitoring and save time.
A wide range of coins and exchanges supported
A reputed tracker app should support the major tokens, including the ones that have been released recently. This lets you avoid linking with various exchanges and memorizing the login details for multiple management systems.
Advantages of using crypto portfolio trackers
The advantages are as follows:
Keeping track of all your holdings from one user-friendly application
Compare and analyze how different assets are performing 
Daily updates on price shifts
Easy access to profit and loss reports 
Disadvantages of using crypto portfolio trackers
Here are the disadvantages:
Security breaches can lead to loss of data
Only basic features available for free
The bottom line 
Now you know about the different tracking services available in the market, you need to decide which features you need the most. It is wise to opt for a free service in the beginning if you have never used a portfolio management app before.
You should look for an app that allows for a large number of customizations, and that automates a large part of the process. After all, the entire point of using such a service is to save time. The platform should present the information in a consolidated manner, and you should be able to access customer support whenever needed.