Electric vehicles are representative of the impending shift in the transportation industry. These environmentally friendly automobiles are rapidly becoming common and can largely contribute to the expanding world's economy.
Sales of electric automobiles showed an increase of 160% in the first half of 2021 from the previous year. Moreover, there are hovering expectations for the sales to jump over six million by the end of this year.
As a result of this industry's compelling data and growth prospects, many vehicle companies have announced the manufacturing of cost-effective electric vehicles in their future roadmaps. At the same time, some manufacturers have hinted their complete shifting to the electric vehicles department.
Corresponding to this booming potential of the electric auto industry, retail and institutional investors have become interested in securing shares in the related companies.
In this article, we have listed the top five electric vehicles ETFs that are worth your consideration.
What are electric vehicle ETFs? 
Electric vehicle ETFs are baskets of stocks related to the EV industry. In addition to the car manufacturers, these funds also contain car batteries and vehicle parts developing companies.
Exchange-traded funds accentuate the diversification of your portfolio by spreading the investments in various enterprises, thus reducing the risk element. Moreover, these funds are suitable for new investors with limited knowledge due to their transparency, flexibility, and cost-efficiency.
EV ETFs are witnessing an increased buyers' interest, evident by the expanding trading volume of these securities. This enhanced attention may be a result of the various reported benefits of the electric transportation system. Professionals believe that the era of electric vehicles will establish a clean and safe environment and reduce the utilization of non-renewable combustion oils.
Most of the EV vehicle ETFs track the result and returns of the overall electric automobile industry. However, the ETFs differ in their performance due to the difference in holdings, percentages of holdings, and other factors. Therefore, excellent analytical skills and investing knowledge are vital to picking out worthy stocks and ETFs from a large pool of financial securities.
The best electric vehicle ETFs to invest in 2022 
Before selecting a fitting EV ETF for your investment portfolio, it is critical to study several aspects of the fund, such as past earning records, market performance, growth potential, costs, liquidity, and percentage of assets.
We have compiled a list of the best electric vehicle ETFs with promising prospects.
1. Global X Autonomous & Electric Vehicles ETF ( DRIV)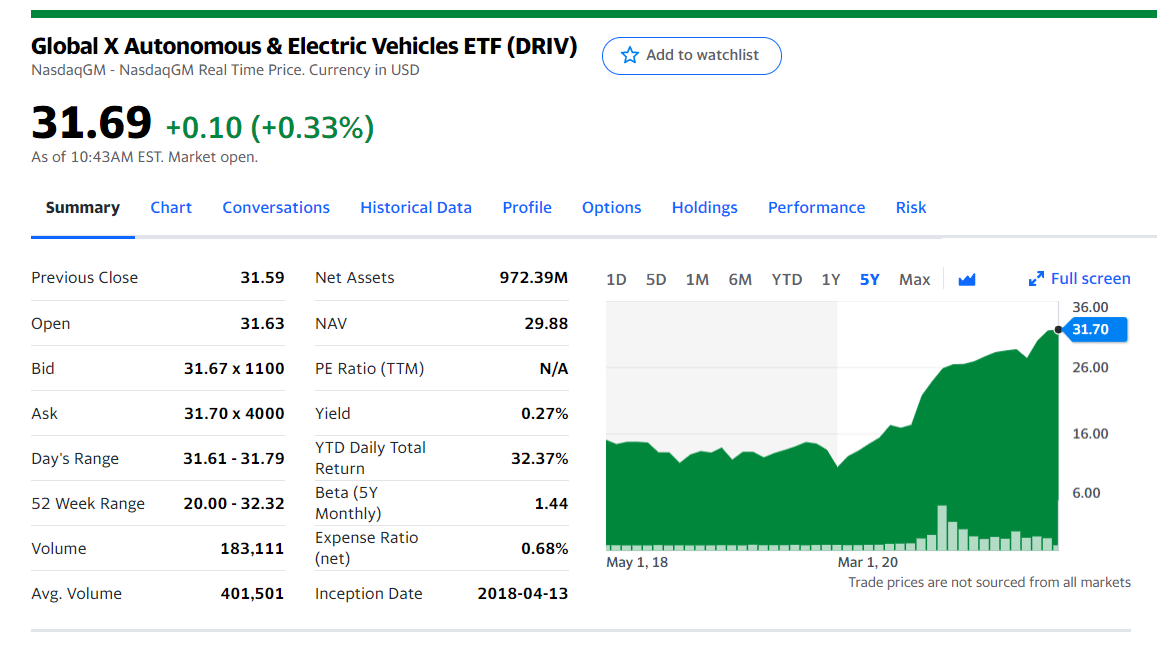 Price: $31.07
Expense ratio: 0.68%
Thus fund tracks the investment results of the Solactive Autonomous & Electric Vehicles Index. This Index lists the companies related to electric vehicles, hybrid vehicles, autonomous vehicles, vehicle components, and driving technology.
This fund has been operational since 2018 with around $1.2 billion assets under management. DRIV showed positive annual returns of 28% and 62.2% in 2019 and 2020, respectively. Moreover, its YTD daily total return is about 32.37%.
The prime holdings in DRIV are of autonomous vehicle companies as compared to electric cars manufacturers. This ETF's top ten holdings comprise 29.6% of the total assets in the Index.
The first three holdings with their asset percentage are:
NVIDIA Corp: (4.16%)
Alphabet Inc A: (3.93%)
Microsoft Corp: (3.53%)
Furthermore, the fund also contains some famous names like Tesla and Apple Inc.
2. iShares Self-Driving EV and Tech ETF (IDRV)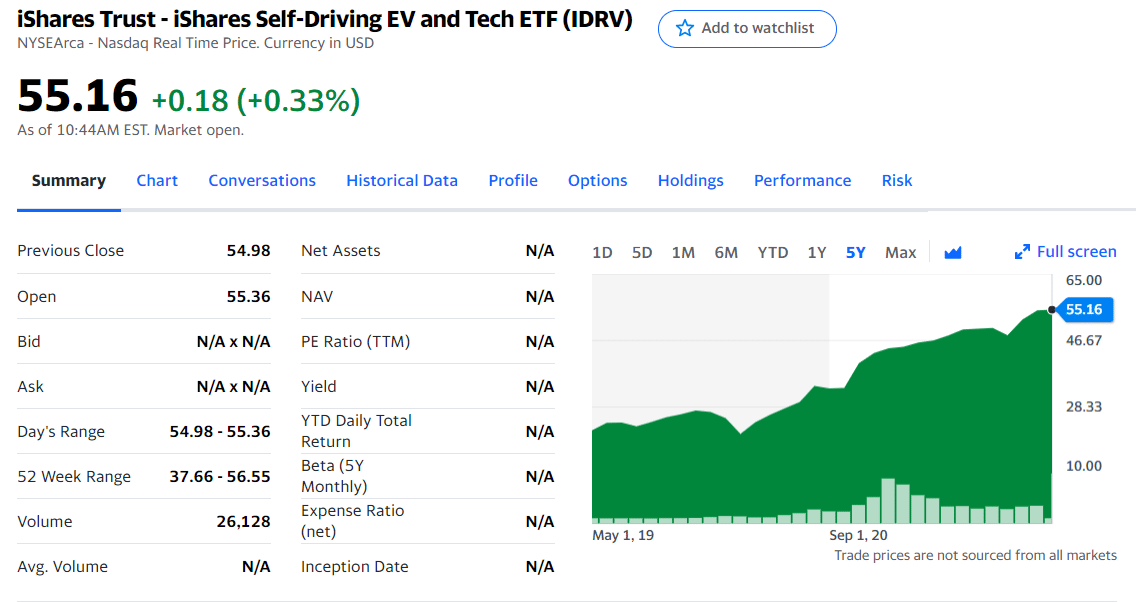 Price: $54.29
Expense ratio: 0.47%
This fund provide exposure to the investment results of NYSE FactSet Global Autonomous Driving and Electric Vehicle Index. This Index consists of developing and newly established companies that focus on self-driving technologies, electric vehicles, and battery technologies.
IDRIV fund has been functional since 2019 with 515.1 million assets under management and 9 million outstanding shares.  The YTD return of this fund stands at 28.87%.
As of November 2021, IDRIV consists of 99 holdings, with consumer discretionary and information technology as its main two sectors.
The top three companies of this ETF are as follows:
Advanced Micro Devices Inc (6.49%)
NVIDIA CORP (6.20%)
TESLA INC (6.08%)
3. SPDR S&P Kensho Smart Mobility ETF (HAIL)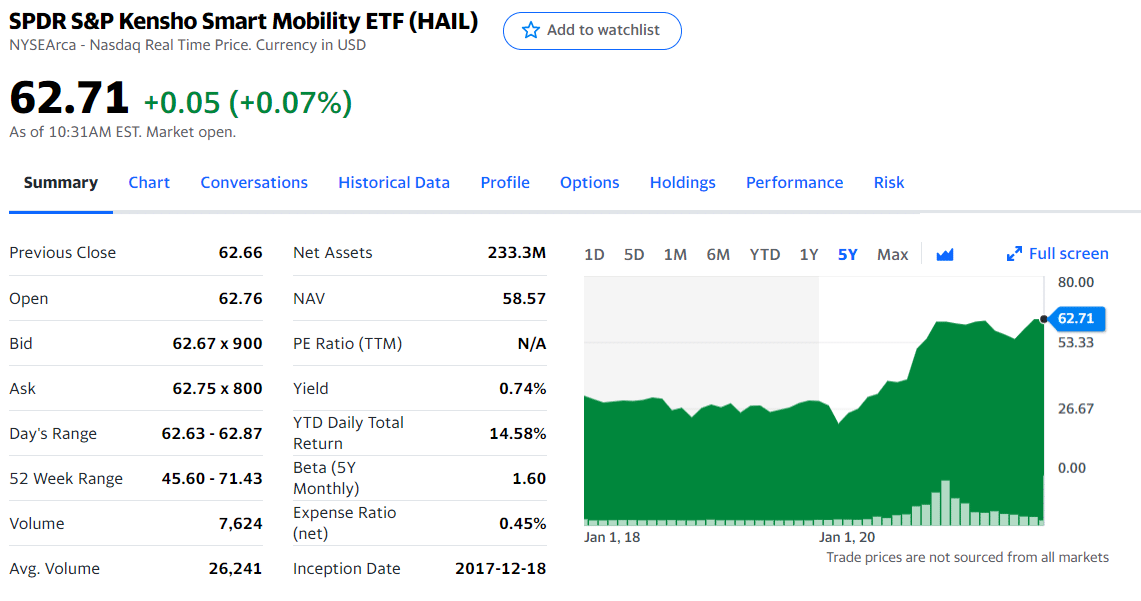 Price: $61.03
Expense ratio: 0.45%
This fund is a "smart transportation" ETF that seeks the investment results of the S&P Kensho Smart Transportation Index. The Index lists the companies focusing on progressive transportation systems, autonomous and electric vehicles, and commercial drones.
This exchange-traded fund has total net assets of around 230 million and an average price-to-earnings ratio of 22.46. Consumer cyclical, technology and industrials are the representative sectors of most companies present in the fund.
The top ten holdings of HAIL formulate 16.52% of the total portfolio.
The top three corporations are:
Li Auto Inc ADR: (1.85%)
NIO Inc ADR: (1.80)
HyreCar Inc: (1.75%)
4. KraneShares Electric Vehicles & Future Mobility ETF (KARS)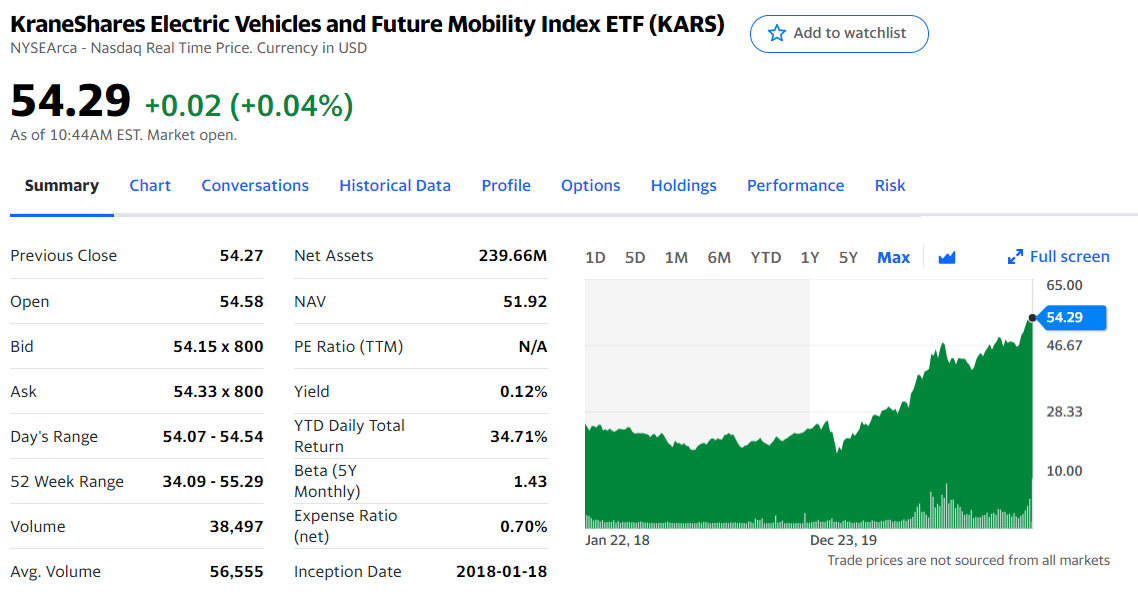 Price: $53.02
Expense ratio: 0.70%
This fund tracks the performance of the Bloomberg Electric Vehicles Index. This Index centers around electric vehicle companies and component manufacturers with plans to engage in innovative projects related to the mobility industry.
KARS fund has been operational on the NYSE Arca exchange since 2018. This ETF has above 220 million assets under management with a reasonable YTD total return of 34.7%.
The fund's top ten companies contribute to more than 40% of the portfolio's total value.
KARS top three EV companies are:
Contemporary Amperex Technology Co Ltd Class A: (5.95%)
NIO Inc ADR: (5.41%)
Tesla Inc: (4.94%)
5. Global X Lithium & Battery Tech ETF (LIT)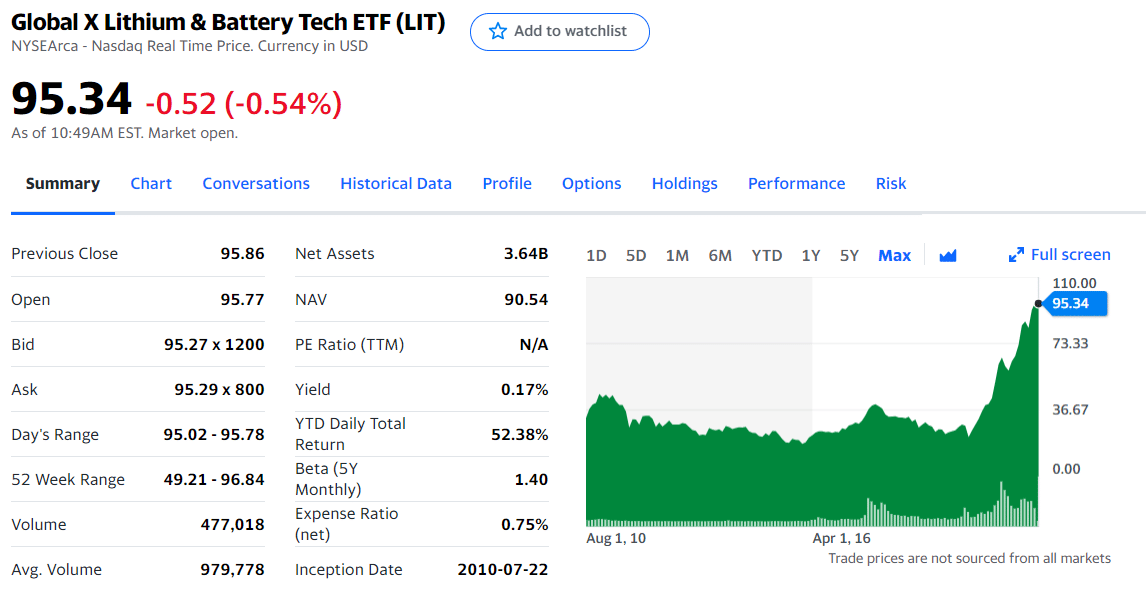 Price: $92.55
Expense ratio: 0.75%
This fund tracks the investment results of the Solactive Global Lithium Index. Instead of electric vehicle manufacturers, this Index consists of lithium companies, including battery developers, miners, and refiners.
LIT is a large ETF with over 5 billion assets under management and above 60 million outstanding shares. It also shows a good YTD daily total return of 52.38%.
LIT is the fund of choice for electric vehicles enthusiasts due to its primary focus on electric cars companies. This fund contains 40 companies with basic materials, industrials, and consumer cyclical as the major sectors.
The top three enterprises are as follows:
Albemarle Corp: (12%)
Yunnan Energy New Material Co Ltd A: (6.67%)
Contemporary Amperex Technology Co Ltd Class A: (6.41%)
Final thoughts
Electric vehicles are gearing up to settle as mainstream transportation around the globe. Battery cars and self-driving vehicles would most likely be at the forefront of this imminent transportation revolution.
According to a forecast by UBS bank, by 2025, 20% of all the sold cars would be electric. Investors can capitalize on the bright outlook of this industry by investing in EV stocks and ETFs. Moreover, electric automobiles exchange-traded funds are an ideal option for novice and intermediate investors to mitigate the risks of individual stocks.