As the forerunner of all digital coins, Bitcoin is leading the market cap and growth. BTC peaked in November 2021 at around $68,000 per coin. This growth is about a 126 percent increase from the starting price of approximately $30,000 when 2021 began. No wonder investors are interested to know how far the price can go.
The price of BTC, like other coins, violently oscillates every day and every hour. Despite the volatility, analysts say BTC could reach $100,000. When it comes to the timeline, experts have not come to an agreement. Bitcoin is volatile initially, so it is not a new thing. Anyone looking to invest in BTC must be ready because the journey can get wild.
Bitcoin price at the time of posting is a little above $40,000. Do you think another bull run will happen in 2022 or the year after? We will see if that is possible in this article, so keep reading.
History of recent Bitcoin runs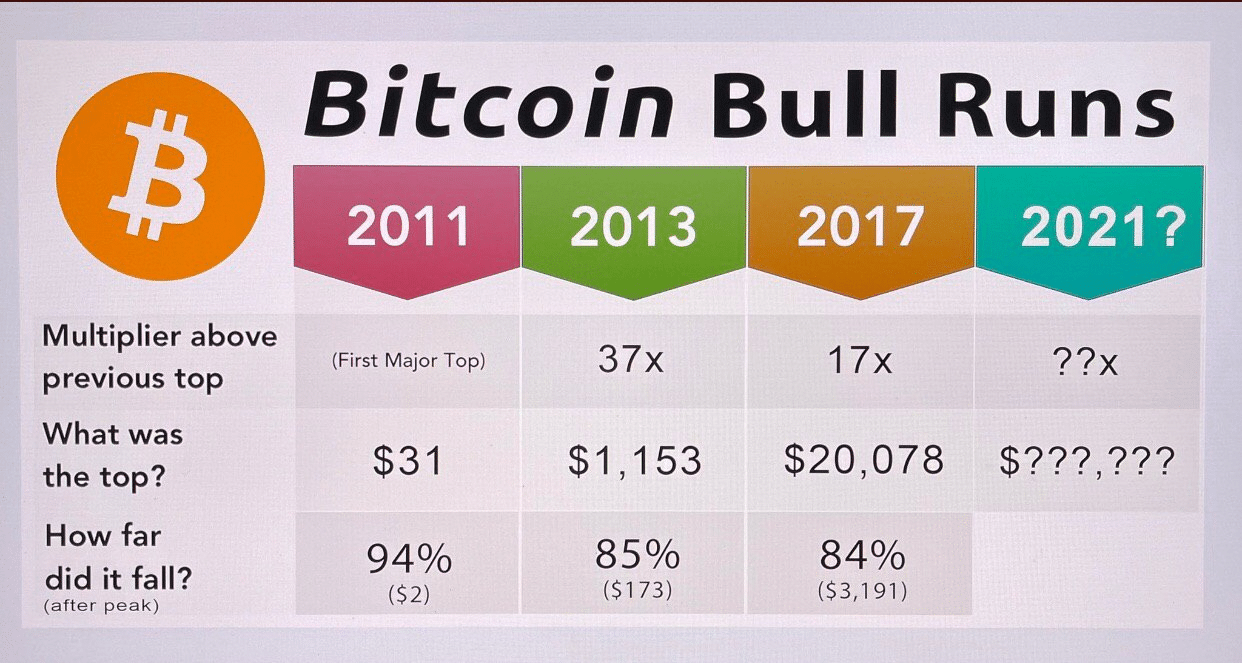 Anyone monitoring BTC knows that the asset went into a rollercoaster ride in the years since its inception. While some believe in the potential of BTC to disrupt the financial system, others think that the crypto king has no intrinsic value and will die down soon.
However, BTC remained and started earning a reputation as a store of value. Let us look at some BTC bull runs in recent memory and see if we can learn something moving forward.
If you have been monitoring Bitcoin for a while, you must have remembered its run in 2017. At that time, BTC peaked close to $20,000. That rally was primarily driven by propaganda about initial coin offerings. 
Due to the failure of the ICO hype, Bitcoin experienced a crash at the beginning of 2018. Being a new industry and market, cryptocurrency is expected to encounter challenges in adoption.
Another rally in Bitcoin happened in 2019, primarily due to the announcement of Meta about issuing its crypto named Libra. Because the project took a regulatory hit from Congress and some backers withdrew support, it sent ripples to the whole market, with BTC sustaining the most damage. The lowest price in the second half of the year was $6,000.
Bitcoin hit a new milestone in 2020 when the 2017 high was broken by November 2020. By the close of 2020, Bitcoin's price was sitting a little below $30,000. This massive growth came from stimulus packages finding their way into the crypto market.
Such packages were intended to sustain the economy in the wake of the Covid-19 devastation. Meanwhile, big investors found a haven in BTC as a store of value, using it as a hedged instrument.
Bitcoin price forecasts
Conservative estimates purport the possibility for Bitcoin to make the $100,000 mark in 2023. Aggressive analysts provide an earlier target, with one commenting that $100,000 could come in as early as quarter one of 2022. Other people do not give a date and a price, but they expect Bitcoin to grow in value organically.
You should know about BTC price forecasts that many of them have already failed in terms of price or time estimates. If you are a technical investor, you can consider the Bitcoin chart and consider possibilities. Fundamental investors are generally better at forecasting price and time targets because fundamental factors drive all BTC prices.
When is it optimal to buy Bitcoin?
The easy way to determine if it is time to repurchase BTC is through technical analysis. Because we cannot tell the future, we can only anticipate what will happen. The first component of your analysis should be to determine the trend. As you can see below, the weekly trend is still bullish because the price is above the 200 and 400 EMA.
The second component is location. Right now, price is exploring a support zone. We cannot say whether this support holds for sure, but we can see buying interest the last time price visited it. If it fails, the next support, which looks like the last line of defense, is the lower support in blue. There is also a possibility of price reversing right before it touches the lower support in sight.
What moves the price of Bitcoin?
Since technical analysis reflects all factors affecting the market, it cannot explain why price moves in a certain way. Fundamental analysis, on the other hand, can give us a clue. If you want to invest in BTC, you can balance these two types of analysis.
In this section, let us explore the key fundamental metrics affecting Bitcoin price.
Right now, about 18 to 19 million Bitcoins are already in circulation. No new Bitcoins will be created when a supply of 21 million is reached. This limited supply is one of the reasons why BTC can maintain a high value.
CoinShares estimated that businesses adopt Bitcoin at a growing rate of 113 percent annually. If this trend continues, it could push BTC price higher and higher. As an investor, watch out for new developments in this aspect.
The attitude of the Securities and Exchange Commission toward crypto in general and Bitcoin, in particular, will have a significant effect on price. Governments' keeping a rein on crypto can have a devastating impact on its valuation and even survival.
This factor is pretty obvious. If more investors pour money into BTC, you can expect a price increase. Monitoring the market cap of Bitcoin as it changes by the day can give you such an idea.
The fear and greed of market participants can give you a clue if an upside reversal is coming. You can use the crypto fear and greed index to track this behavior. January 6 recorded the lowest value of this index (i.e., 15). This value is pretty low. A rally might be around the corner.
Final thoughts
Investing in BTC or any other cryptocurrency is risky, primarily due to extreme volatility. Therefore, you must allocate a small portion of your investment funds in this asset. Before you dive into it, you must do your research and analyze multiple factors.
Consider the variables above that influence Bitcoin price, although there might be other factors to look into as well. Overall, the BTC trend is bullish, but the entry is a tricky one.